Let's face it: Crocs are a comfortable brand of footwear. The brand has evolved into a label of everything wonderful and awesome, making them people's favorite.
If that is the case, maybe the question you should be asking is, "can you always wear Crocs?" and "are Crocs proper even in formal and business settings?"
To find out the answer to these, you should read this article to the end. In it, you'll learn why Crocs are a comfortable shoe choice.
Are Crocs comfortable shoes?
Yes, they are comfortable shoes.
That is because the materials used to make these shoes are EVA, lightweight, and mold to the feet.
SEE: Reasons Why Crocs Are So Popular
Why are Crocs comfortable shoes?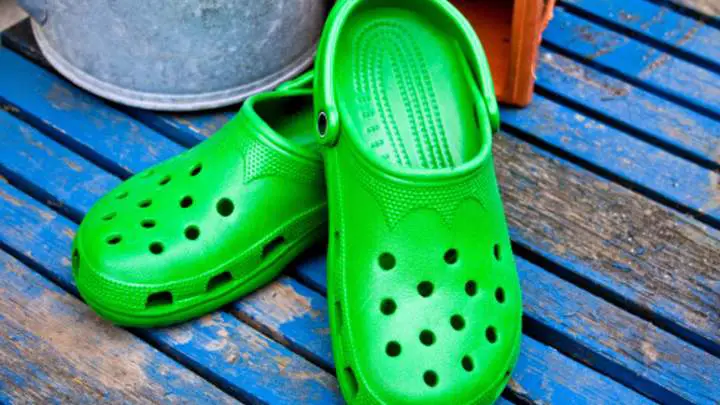 1. Lightweight
Crocs are an excellent choice for footwear because they are lightweight, comfortable, and easy to lift.
2. Easy to wear
With Crocs, there is no need to tie any laces or to overly take up time when wearing shoes as they are easy to slip into and out of.
3. Podiatric certified
Crocs have been accepted and certified as comfortable footwear by the American Podiatric Medical Association. They can be found on the feet of many people who work in demanding jobs that require all-day standing.
4. Breathable with enough toe room
Crocs are also spacious, promote enough air circulation, and have enough room to prevent toe compression.
5. Waterproof
The fact that you don't have to be overly concerned with water or dirt when wearing Crocs makes them very appealing.
Crocs are made of a proprietary material called closed-cell resin, which makes them water-resistant, lightweight, and non-marking.
6. Good for standing
These shoes are very popular among office workers, especially those on their feet all day. That's because they are so comfortable.
How long can you wear Crocs?
Crocs typically last between 3 and 5 years with everyday wear.
Are Crocs comfortable for walking?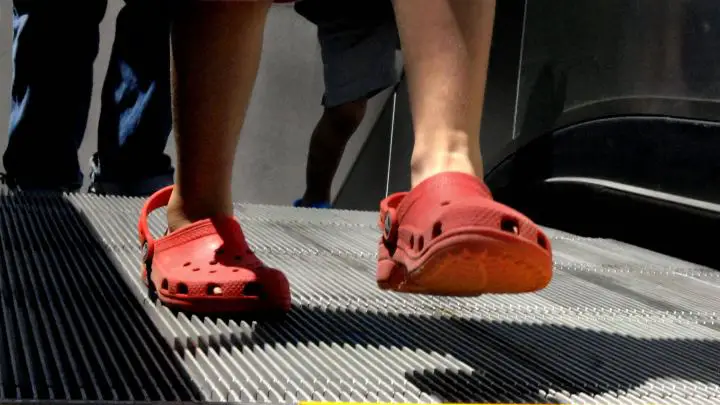 Yes, they are.
However, standard Crocs don't provide enough heel support, making them unsuitable for long walks. Consequently, overuse can cause tendonitis and toe problems.
Are Crocs suitable for flat feet?
No, they are not.
Crocs don't offer much support or stability, so even if you're only wearing them for a short while, they're not a good option if you have flat feet or plantar fasciitis.
SEE: Relieve Plantar Fascia Pain With These Simple Yet Effective Methods
Are Crocs suitable for work?
Yes, they are suitable for work.
Crocs work shoes are made with convenience, fashion, and functionality. Crocs' supportive and comfortable work shoes will help you and your feet get through those long shifts thanks to the comfort of the patented Croslite material.
However, if you choose to wear Crocs to work, be sure it is permitted by the office dress code, as not all shoes are designed to be worn in a formal setting.
SEE: What Kind Of Material Are Crocs Made Of?
Are Crocs comfortable for pregnant women?
It will become more difficult to bend over and tie your shoes as your pregnancy goes on. Think about a quality pair of slip-on tennis shoes or Crocs. So, yes, Crocs are comfortable for pregnant women.
Crocs are a good choice because they are inexpensive, flexible, and simple to clean and put on. I advise avoiding uncomfortable dress shoes and high heels.
Are Crocs comfortable for toddlers?
Crocs are the ideal shoe for children because they are incredibly cozy and simple to wear.
Since there are so many different styles of Crocs, they can be worn all year long.
SEE: Get A Chance To Win A Pair Of Vans Shoes Worth $85
FAQs
Should you buy Crocs?
Yes, you should buy a pair of Crocs.
Crocs attained their notoriety due to their usefulness, just like many other staple items and iconic shoes.
Even though the shoes can look funny, they are very functional. The brand has proven itself in the market space, like a pair of Goodyear welted boots, and has received praise from many non-fashion types for their comfort and waterproofness.
What is so special about Crocs?
They're waterproof and breathable.
The classic clog's distinctive whack-a-mole surface is what gives Crocs its unique appearance. They are the perfect summer shoe because they allow your feet to breathe and water drains easily.
Why are there 13 holes in Crocs?
Every pair of Crocs, whether they are for children or adults, has 13 holes at the top of the shoe. But their purpose goes beyond mere aesthetics. They are there to keep the shoes fresh and act as ventilation, which will help drain extra moisture.
Can Crocs be worn all day?
No, they can not. While Crocs have lengthy benefits, they are unsuitable for prolonged use or daily wear.
That is because they do not provide adequate foot cushioning and are occasionally too wide to hold the foot, causing your toes to bear an excessive amount of weight and increasing your risk of tendonitis and other foot injuries.
SEE: Do You Wear Crocs With Or Without Socks?
Conclusion
Due to its comfort and usefulness, Crocs keeps coming back to the surface time and time again. This is true, both financially and in terms of a devoted wearer base around the world.
Since their global release, the shoes have sold several hundred million pairs.
The label continues to receive endorsements and collaborations from major brands such as Balenciaga, Pleasures, Beams, KFC, and many more, all of which were engineered due to how comfortable the clogs are and how well-represented they are for all walks of life and individuals.
However, it is best only to wear your Crocs occasionally, as they can hurt your feet because they are not cushioned with arch support.
Thanks for reading.
If you enjoyed reading this article, check out Africana Fashion for more.