Fashion keeps evolving and expanding. There are new trends each year and some fade as quickly as they come. But one fashion trend that isn't going anywhere anytime soon is Ankara dresses. Yes, the vibrant colors and bold patterns have come to stay.
You might be wondering what is so special about these fabrics and styles that makes people rave about them. Answer- they are simple and easy to style. The colors and tribal patterns have a way of standing out. And there is no end on how to wear them. You can pair them up and mix and match.
Unlike some fabrics that are meant for certain seasons, the Ankara fabric can work for any occasion. It also makes you look traditional and playful. That doesn't mean you can't wear them for formal events. As mentioned earlier, the styling is endless. This is why the popularity is increasing in the U.S.
Best Ankara Dresses
When you think of Ankara dresses, you have to know that they are more than just gowns in patterns. These dresses use the colors and patterns of the Ankara fabric to create beautiful and artistic designs. This is why we have compiled the best Ankara dresses in colors and patterns that are great for any lady who wants to rock African prints in style.
1. Best Maxi Ankara Dress
Coming in sizes from small to extra-large, this maxi dress is the perfect choice for a fun day. It's a V neckline and wrap dress made from soft cotton. Also, the dress is fit for all occasions including weddings, banquet, a party, or work. you don't have to worry about comfort because it has enough legroom.
2. Best Midi Maxi Ankara Dress
Private Afripride's print Ankara dress is a midi maxi dress coming in different elegant Ankara prints. It is a dress meant for all occasions. You can wear the 100% cotton fabric to work, a party, wedding, or any other formal event you have. The design is unique and does not constrict the body. Also, it is simple and gorgeously fitted on the body.
The dress comes in varying sizes from 2-24. It is dry clean friendly and becomes softer after the first wash.
3. Best Fitted Ankara Dress
Looking for a formal cocktail dress? Then this long-fitted gown is your obvious choice. The fabric is made from 100% cotton. The simple style is elegant, coming in different patterns and colors to complement your skin tones. You can wear it for formal occasions.
4. Best Short Fitted Ankara Dress
This style is elegant, fun, and daring. If you are looking for a dress with a modern cut, then this fitted dress is your choice. Also, it's perfect for formal occasions and can be paired with statement heels and earrings to bring out its exquisite colors. The form-fitting style comes in all available sizes.
5. Best Ankara Dress Shirt
Dress shirts are occasion shifters. They fit in any occasion you style them for. The dress shirt with a flare at the lower bottom makes the dress playful and feminine. The buttons add a formal look. The dress design comes in different Ankara fabrics and colors. You can have your pick of the perfect dress. Furthermore, you don't have to worry about keeping it clean because it can be washed in a machine.
6. Best Simple Ankara Dress
This Ankara dress by Shenbolen is simple and perfect for casual occasions. You can pair it with nice sandals for a sunny day. It is a handmade dress that comes in different styles to compliment your fashion style. It's made of African wax that does not stretch the fabric.
To make the dress more comfortable, it comes with an invisible zipper. Also, the dress has pockets which are handy for a relaxed pose, and to keep things in. You can wear the form-fitting dress to a barbecue, a house party, or just a gathering with friends.
SEE: What Do You Wear Under Dresses?
7. Best Mixed Ankara Dress
A mix and match design is joining two fabrics together to create a unique design. The figure-hugging dress is made from stretchy material. Also, the sleeves and mermaid pleats at the bottom hem are made with an Ankara fabric. The colors of the fabric compliment the single color of the body material.
You can wear the dress for casual and formal occasions, including to work. It is best to hand wash the dress with mild laundry detergent. Also, do not wring or twist. But shake off excess water and leave it out to dry.
8. Best Mini Ankara Dress
A night out deserves a sexy dress and this Ankara dress by Beatrice and Francis offers you the best design. It's flirty and fun. The multicolored fabric will attract people's eyes to you. It is form-fitting and sleeveless. A great outfit for a summer night out.
Ankara Dresses FAQs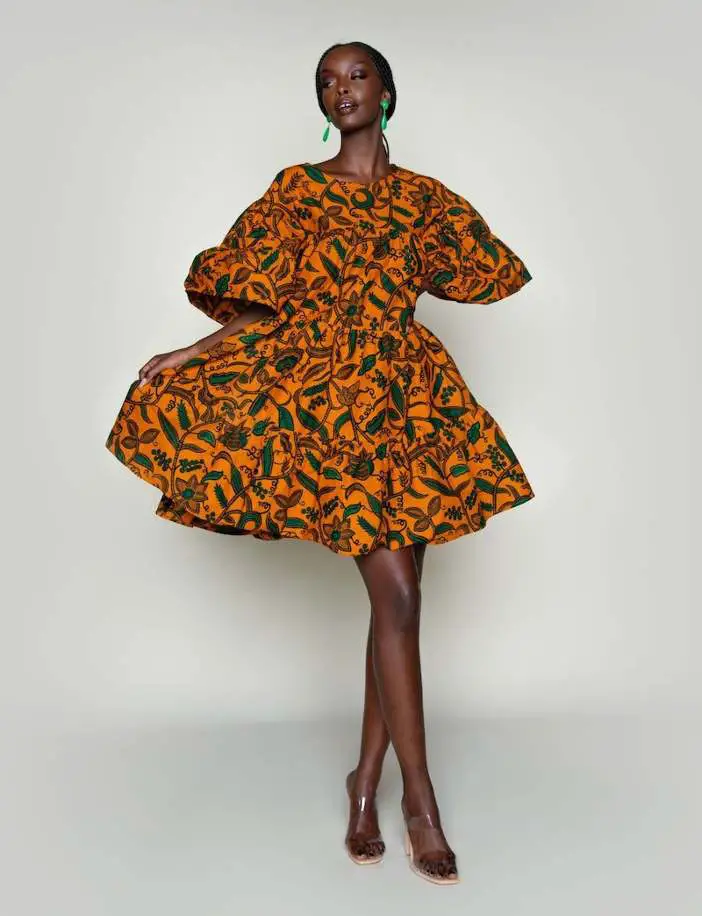 What are Ankara dresses?
Ankara dresses are dresses or gowns made from Ankara, a well-known African print. Ankara is a popular Dutch wax material that gained popularity in West Africa in the 1880s before becoming a modern global phenomenon. The Ankara gets its technology from the batik material making, which makes elaborate and detailed prints by wax-pressing on cotton materials.
Also, the Ankara is versatile and one of the things made from it is the best Ankara dress. These are modern-day designs and styles made from tribal-printed cotton fabric. Also, the dresses vary in shapes, cuts, styles, and colors; each suiting the colors and patterns of the Ankara fabric.
With Ankara fabrics, you can make a statement with just the lively colors and patterns. They stand out in the crowd easily. The ease with which the dresses are created and worn also made it a popular fashion movement in the Western world. People are now looking for these dresses to switch things up with their styles.
SEE: Differences And Similarities Between Gown vs Dress
Why do I need an Ankara dress?
You need an Ankara dress in your closet because of the loud colors and patterns. These patterns are statement pieces that make the Dutch wax exquisite. Furthermore, the designs on the fabric are complexion-enhancing. Whether dark, brown, or light skin, the colors on the fabrics bounce off your skin tone to highlight it.
Also, Ankara dresses are great pieces you can wear because they are comfortable, fun, and stylish. You can wear them to liven your wardrobe with color (winters won't be boring). Ankara dresses are best for all seasons. The light cotton fabric is breezy without sticking to the body.
Wearing African prints speaks of your personality. It means you are a lover of culture and its meaning. Ankara dresses are a lovely representation of modern style and culture mixed. It's classy yet deeply undertoned with culture and lifestyle. You don't have to think of it as confining but liberating because it opens up a worldview you never knew about. For this reason, the dresses have a deeper meaning than just a fashion item to own.
The detailed patterns also put you in the limelight. If you love colors and patterns and love to discuss how they gorgeously highlight your features, then Ankara dresses are for you.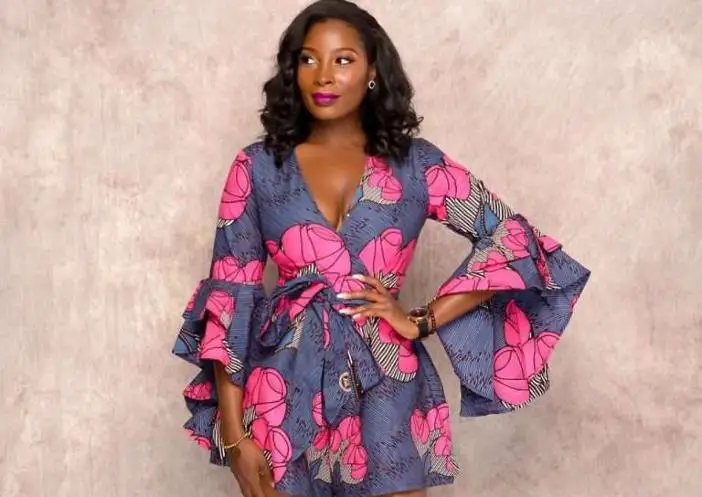 Are Ankara dresses for all occasions?
Yes, they are. You can wear an Ankara dress for any occasion you want. How you style the dress is what determines its appropriateness for your occasion. For instance, if you are attending a wedding, you would love something free and danceable. You can opt for a mid-length full skirt Ankara dress. The details of the dress can be simple and when paired with a nice heal, your elegance will be defined.
For corporate wear, you can wear Ankara gowns in A-line or form-fitting designs. Also, pair with nice flat shoes or heels. Your earrings can match the dress to give you a uniform look. Simple night outs or visits to the beach would be perfect with a nice Ankara shift dress. It is free and doesn't cling to your body, but still highlights your shape.
The best Ankara dresses are made for all occasions. How you style them is what matters. Though the colors and patterns and vibrant, it doesn't stop you from wearing them to any occasion. After all, the African tribal prints are what make the dresses unique.
Switch up your style with the best hair extensions for any occasion.
How do I style Ankara dresses?
You can style your Ankara styles in several ways. These styles are based on your preference and the occasion you choose to wear them to.
A fitted gown
You can wear the Ankara dress as a form-fitting gown that explores your curves. It can be worn in any length with ample slit to accommodate movement. A fitted gown is good from a casual to a formal event. Your accessories can be bold or simple, depending on your preference.
A full maxi gown
This is a free gown that is ankle length. It has wide space and can be worn for any occasion too. A maxi gown is packed with gathered fabrics from the waist to the ankles. A maxi gown gives you room to walk and glide with elegance. The cutting of the dress is what will bring out the fabric's beauty.
A midi maxi gown
This is a style that is just like the full maxi gown, but only shorter. It can be worn for casual and formal events. The gathered fabric stops at the knee or just below the knee. Also, it highlights the legs, making them look more like pollen from a budding flower. Furthermore, midi maxi dresses are playful and don't need too much to bring out their beauty. If you are looking for the best Ankara dresses, a midi maxi is the right place to start from.
A dress shirt
This is a simple style that is casual-formal. It is exquisite and brings out a comfortable side. You can pair them with nice sneakers to bring out their playful beauty. A dress shirt doesn't need too much attention. What matters is how it is paired. This is why shoes play an important role when it comes to styling a dress shirt. Any of the essential shoes in your closet go with a dress shirt anytime.  
A mini dress
This is more fun and sexier. How you wear your mini Ankara dress will determine the occasion. For something playful, you can wear a knee-length dress with pockets to make you comfortable. For instance, a night out with friends will require an Ankara dress with a more detailed cut. The mini dress plays with your sexy curves and highlights the right angles of your body.
A bohemian dress
A bohemian dress is for those who do not conform to tight-fitted clothes. Also, Ankara dresses styled in a bohemian design are loose-fitting but with elegant cuts. For instance, it could be a butterfly design with elongated hands or sides. It could also be in a kaftan style, to make it look free and playful.
Conclusion
Ankara dresses are a great way of representing the Ankara print fashion. You can style and wear the Ankara fabric however you want. For example, you can wear a nice midi gown for a wedding, or a short dress for a night out. You could even switch it up with a shift dress if you are looking for comfort and fun. There is no limit to styling the best Ankara dress.
What is important about Ankara dresses are the accessories you wear with them. So, pairing them with big statement jewelry will bring out the larger-than-life features of the fabric's pattern. You can also go down-to-earth with simple jewelry or accessories. Demure looks need no loud statement accessories, just let the fabric do the talking.
Africana Fashion has the follows provides the latest fashion articles to keep up with trends.