When you detangle your hair, you need as much help as you can get. Breaking free from the knots and matted hair would require using the best detanglers for black natural hair. And you also should not forget your handy brush and helpful tips.
Hair routine days are usually dreaded by some (me). So I try to cut corners or look for shortcuts. Like a helpful tool that would do the job quickly without losing too much hair, feeling tight around the neck, and getting weak fingers.
I know it is not easy to achieve such a feat. But you can if you have the best tools and products in your arsenal.
A detangler is one of such products you need to have with you when you want to treat your knots and tangles. It makes your routine easier and smoother when you have something made specifically to tackle your detangling woes.
Detanglers for Black Natural Hair
It's not easy trying to buy a product with a bevy of products and alternatives. Most times, the products only differ a little, except for a few specific features of each brand. This is why you need to have a selection of the best detanglers for natural hair.
It's easier to choose from the best set in the market. At least your hair would be protected and detangled. Here are the best detanglers for black natural hair.
1. Best Overall Detangler for Natural Hair
Oyin Handmade Oh My Glide Prestyling Detangler will get your hair smooth and tangle-free. The detangler provides lasting moisture by treating your hair from the inside. Besides this, it helps your hair stay nourished and freshly scented with its citrus flavor.
Also, it is fast-acting once you apply. The detangler is best for all hair textures, including braids and twists. However, the product can feel thick on the hair, so use it with caution.
2. Best Amazon's Choice Detangler for Natural Hair
This Combing Crème hair detangler by Carol's Daughter is a 4-in-1 package that moisturizes, defines, controls frizz, and shines your hair. Additionally, the product is lightweight and perfect for gliding and smoothening your curls.
Also, it has deep moisturizing properties with ingredients like cocoa butter, shea butter, and agave nectar to keep your curls nourished and bouncing. Furthermore, it is lightweight and does not contain harsh ingredients.
Styling becomes easier when you apply the detangler to your hair without leaving any residue. It's the perfect leave-in for dry kinky hair that also promotes hair growth.
3. Best Organic Detangler for Natural Hair
Treat your hair with the best organic detangler spray by Sun Bum. The 3-in-1 revitalizing spray detangles, condition, and protects your hair. Also, it enhances the hair strands and keeps them nourished and frizz-controlled. The product is organic. It does not contain chemicals like paraben, gluten, or chemicals.
Sun Bum's detangler contains rich ingredients like coconut oil, banana, and pulp to maintain healthy locks. You don't need to rinse out as it is leave-in. It's safe enough for daily use to keep your hair shiny and smooth. It is suited for all types of hair, including color-treated hair.
4. Best Affordable Detangler for Natural Hair
Pantene's Detangling Milk Hair Treatment is great for natural hair because it is fortified with ingredients like argan oil to soften your hair as it detangles it.
The detangler is inexpensive and thoughtfully developed to cater to black natural hair. Also, it relieves the hair of damage and strengthens your strands before you detangle.
Asides from the above, the formula is sulfate-free, dye-free, and parabens-free. You can get your curls shiny and soft when you apply the lightweight milk treatment regularly.
5. Best Detangler Spray for Natural Hair
Earth Vibes Detangler Leave-In Conditioner Spray is formulated with 100% Moroccan argan oil, jojoba oil, and coconut oil to condition and strengthen your hair.
The spray works as a mask to keep moisture retained in your hair. It controls frizz and split ends. And it also shines your hair while it is applied.
All types of hair can use it. However, it is specially made for damaged hair. The only downside is that it builds up easily. Therefore, you would need to wash your hair on a timely basis to avoid product buildup.
6. Best Detangler For Long Natural Hair
This detangler can be used pre and post wash to simplify the detangling process. Also, it can be used to treat hair strands from your ends to your root. It is deep penetrating and would help restore your hair's soft texture.
However, the detangler is not to be rinsed out after applying. You can use it to style your hair and keep it silky smooth. And the product is safe as it has no harsh components like sulfate, parabens, phthalates, petroleum, mineral oil, and propylene glycol.
7. Best Detanglers for Kids' Natural Hair
Cantu Care for Kids Conditioning Detangler will help your kid's hair stay soft as you work gently through the strands. It is made with tenderizing ingredients like shea butter, coconut oil, and honey. It is natural and doesn't contain any harsh ingredients.
The spray can be applied to curly and textured hair with tight knots. Also, the soothing formula will ease the knotted hair as it is combed.
8. Best Detangler for Curly Natural Hair
Keep your coils and waves in check and knot-free with Aunt Jackie's Knot on My Watch Instant Leave-in Detangling Therapy. The product is fortified with shea butter and olive oil to soften and moisturize your hair.
Also, it is sulfate as well as parabens-free. You can apply it to your wet hair to ease the knots and tangles.
9. Best Detangler for Thick Natural Hair
If you have thick lustrous hair, you can relax now. Just for Me Natural Hair Milk Detangler is packaged to detangle and treat damaged hair. The hair detangler helps to release the toughest thick hair from knots and tangles.
It is fortified with coconut milk, sunflower oil, and shea butter to get the hair smooth and protected. Also, it can be used for all hair textures.
Furthermore, it is paraben-free and doesn't contain any harmful components like formaldehyde and sulfates. You can leave the product in after applying it to wet or dry hair.
10. Best Detangler for Knotted Natural Hair
Keep your knots in check with Alikay Naturals Knot Be Gone Hair Detangler. With marshmallow root and aloe vera as active ingredients, the detangler gives hair natural slip. Also, it has mucinogenic properties to keep your hair soft and soothes a dry scalp.
Besides this, the detangler moisturizes your hair and conditions it. It works by coating and sealing the moisture in. This helps strengthen your damaged hair cuticle and cortex.
Detanglers for Natural Hair FAQs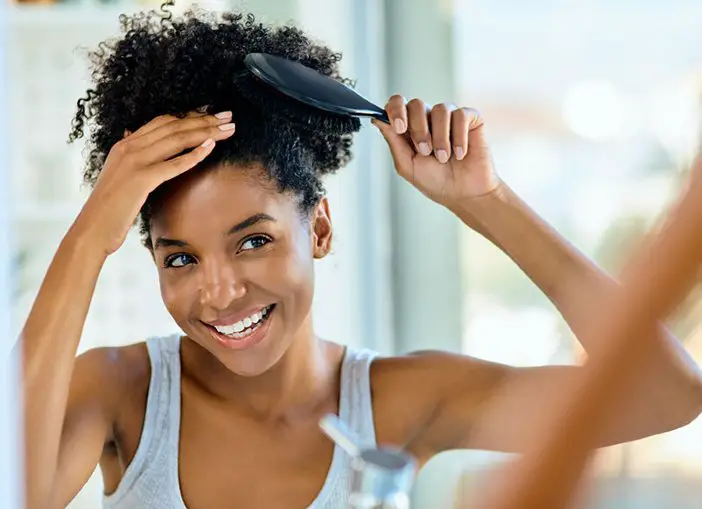 What are detanglers?
Hair detanglers are conditioning products used to alter the surface of your hair. It works by coating your hair with a polymer which is a small molecule particle. These particles are identical and help to smooth and slip your hair.
Detanglers have more slip than other types of conditioners because it has to ease the brush through your strands with ease. You would need detanglers to work through your tangled hair and lose as little hair as possible during the detangling routine.
Detanglers are usually made with natural ingredients like oils but mixed with chemicals like polymer. Other common ingredients in detanglers include silicone, which can be switched with polymer. They are there to give your hair the gloss and shine it needs.
Acidifier, hydrolyzed protein, and cationic surfactants are some other ingredients contained in a detangler. These components are used to strengthen, tighten, and repair your hair strands.
See Also: a simple guide on how to wash your hair properly.
Are detanglers good for my black natural hair?
Yes, they are. Detanglers have many functions asides from being able to detangle your hair.
For instance, they act as leave-in conditioners. They have nutrients and moisturizing properties that help to condition your hair and keep it smooth and sleek.
Also, they are used to smooth out frizz. If detanglers can function as normal conditioners, then they would help smooth your frizz and split ends. Detanglers reduce friction and dryness, which causes hair frizz.
Furthermore, some detanglers have UV ray blockers that protect your hair. This is a great option for color-treated hair because the UV rays could strip the nutrients of the hair easily. However, when protected, you won't lose your hair color.
And any hair product that does not protect the shine of your hair is not complete. Detanglers help to shine your strands, giving them a bouncy look.
Read Also: 6 Reasons Why Your Mattress is Causing You Back Pain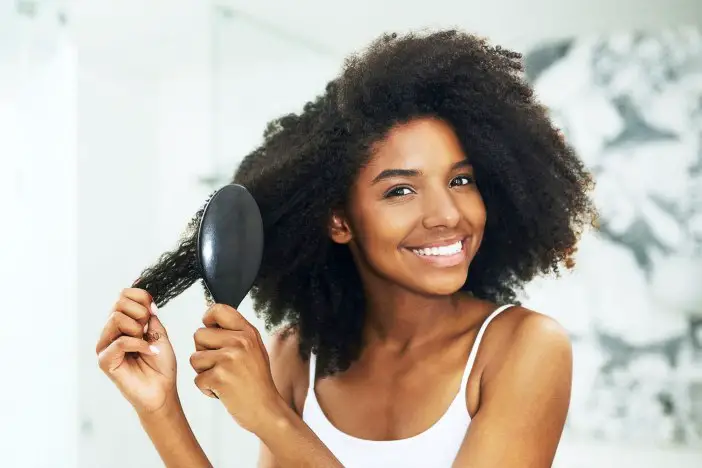 How does a detangler work?
This particular type of conditioner works by sticking to the hair surface.
The formula has electrically charged agents that stick to the outer layer of your hair (cuticle).  Then, as it settles into your strands, it tightens each strand, smoothening and slipping it.
When your hair strands are smooth enough, it becomes easy to comb or finger through them and loosen the knots. Also, there won't be a static charge that worsens tangles. This is because the detanglers are a positive electrical charge.
Dos and don'ts on how to use a detangler
To get detanglers for black natural hair to work properly, there are certain dos and don'ts you have to keep in mind. These tips will guide you through the best possible outcome when detangling your black natural hair.
Dos
Always start from the ends of your ways and work your way up to the roots.
Use a detangler with more than enough slip to make the brush glide through your hair.
Always detangle in sections.
Don'ts
Don't use a fine-tooth comb. Use a wide-teeth comb or detangling brush instead.
Don't detangle wet hair. Detangle damp hair.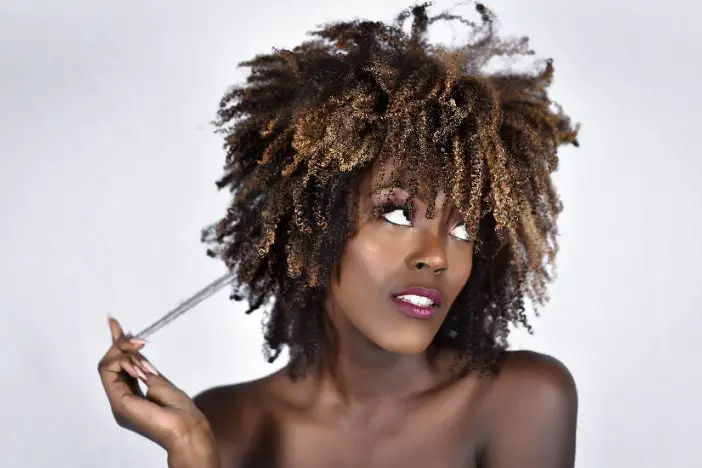 What happens if I don't detangle my hair regularly?
It's usually advised to detangle your hair at a regular interval. If you don't want to suffer from traction alopecia or serious hair damage, you have to get that comb through your hair.
Also, knotted and matted natural hair will give you headaches. You might have to deal with slight to severe headaches when you don't comb your hair. It would feel like a rock is sitting on your head, so the headache. You must relieve yourself of that pain by detangling.
Furthermore, styling your hair becomes worse if you don't detangle. No matter the styling products you add to slip or hold your strands, they won't sit. The reason is that knotted hair is very hard to style. And it takes all the shine away from your hair.
Therefore, if you don't want to have untidy hard to style frizzy hair, use detanglers for your black natural hair to get the tangles and knots out.
What is the difference between a detangler and a leave-in conditioner?
Detanglers and leave-in conditioners are both condition products used to slip and shine hair. They can be used for detangling natural hair. However, they are different in some ways.
The table below highlights the differences between detanglers and leave-in conditioners.
| Detanglers | Leave-In Conditioners |
| --- | --- |
| It is thicker | Has a light texture |
| Some need to be washed off after use | Leave-In is to be left in the hair |
| Detanglers can be used on wash or co-wash days | Can be used every day |
| Not all detanglers condition hair | Leave-in conditions hair perfectly |
| Detanglers can be used before or after wetting hair | Leave-In is used last after wetting hair |
Conclusion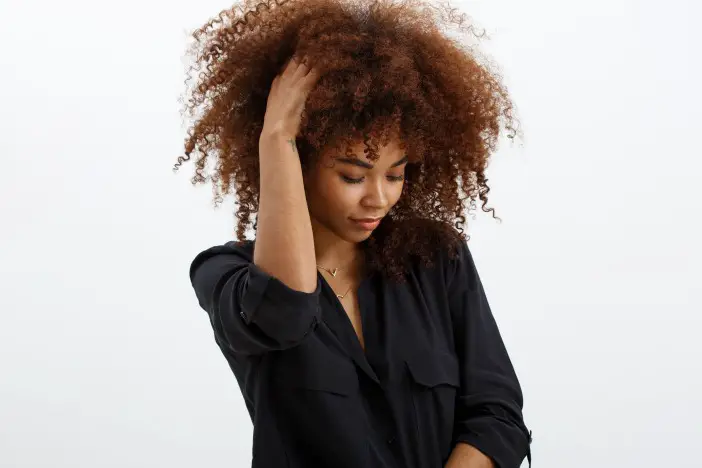 Hair wash days are usually dreaded because you have to detangle. You must make sure to use the right products like detanglers for black natural hair to work your way through your tresses with ease.
For instance, detanglers like Carol's Daughter Combing Creme Detangler help to keep your dry hair smooth and silky after use. Also, you can use Cantu Care for your kid's natural hair. It is scalp-friendly and would keep their hair strands.
And if you want organic products, try Sun Bum Detangling Spray to keep your hair naturally nourished and protected from UV rays.
However, my favorite has to be Oyin Homemade Oh My Glide Detangler because it works well with the most stubborn knotted hair to gentle natural hair. It won't damage your hair any further.
You need to keep your hair from shedding during detangling as minimal as possible. For this reason, detanglers for black natural hair are needed.
Learn more tips and tricks to keeping good hair from Africana Fashion with relevant haircare articles.