We certainly want that smooth and clear skin. I know I would. However, I can't use any skincare product to get that. Even when I want to use an exfoliator for my face, I can't pick any bottle I see.
The reason is that exfoliating is a vital part of our skincare. It helps remove dead skin cells and brightens the skin. You can't do without it when you want to cleanse.
Due to its high rank in your skincare routine, you most likely would want to use the best one for your face. But with the amount of exfoliating products in the market, you could get stuck in a terrible position and end up with a less than ideal product.
So to serve as a compass or guide, settle with the guide of the best exfoliators for face in the market right now.
Best Exfoliators for Face
Exfoliating is a vital part of your skincare regime. No matter your skin type, you have to take part in the practice. That's why you need the best exfoliators for your face to keep your healthy skincare routine.
Starting with the right product is a blessing, which is why the rounded up best exfoliators for your face would serve as a guide to help you in making your choice.
The products on this list are derived through engagement data on social media platforms and sales metrics from e-commerce stores.  
1. Best Facial Peel
Paula's Choice Skin Perfecting 2% BHA Exfoliant is great for sensitive skins. The exfoliator contains salicylic acid – a beta-hydroxy acid (BHA) – and green tea extract to help exfoliate and hydrate your skin without scrubbing off your skin oil.
The exfoliator also unclogs and diminishes your enlarged pores. Furthermore, it brightens the skin and helps to combat redness. It's known to help fight aging signs like wrinkles and fine lines. With the exfoliator, your skin gets back its vigor and bright complexion with ease.
You can use the exfoliator without worrying about abrasive side effects on your face.
2. Best Toning Exfoliator for Face
The Ordinary Glycolic Acid 7% Toning Solution gives you a clear complexion. Formulated with glycolic acid that exfoliates and glows the skin, the product helps to make your skin brighter.
You can also use the formula to improve the appearance of your skin texture and elasticity. The effective toning solution leaves a visible clarity in your skin if you want a natural radiance. You can use it daily for a brightened skin tone.
3. Best Gentle Scrub
I'd say you should start with this if you are looking for something less abrasive and pleasant to the skin. Cetaphil Extra Gentle Daily Scrub pulls double duty by cleansing and exfoliating your skin without irritating it.
The formula is designed for all skin types. However, sensitive skin types would get the most out of it. Furthermore, the formula contains hydrating components like glycerin, water, vitamin E, and citric acid.
It's one of the best at brightening dull skin, cleansing pores, and improving cell turnover, all the while being hypoallergenic and non-irritating to the skin.
If you want to start exfoliating properly, you should start with this scrub for optimum results. This includes keeping your skin radiant and smooth.
4. Best Facial Exfoliator for Dry Skin
Clean and Clear Deep Action Exfoliating Facial Scrub has an effortless solution to parched skin. The face exfoliator helps to remove dead skin cells and hydrate the skin with the help of glycerin.
Furthermore, it works as a cleanser, removing oil and grime from your face. The scrub is designed to refresh and reinvigorate the skin back to its silky glory. Moreover, it is oil-free and specially made for dry skin types.
The facial scrub is non-comedogenic. That is, it would not clog your pores. You can use the scrub to cool your tingling skin. What's more, it is suitable for everyday use.
5. Best Facial Exfoliator for Acne-Prone Skin
Neutrogena Oil-Free Acne Face Scrub has active ingredients like 2% salicylic acid, glycerin, and glycolic acid to treat acne-prone skin types. The scrub is safe for daily wash without irritating the skin.
Additionally, it contains micro clear technology that boosts salicylic acid which helps treat the source of the breakout. Besides, it clears all signs of dirt, impurities, and oil from the face. This leaves you with clear bright skin.
You can use the exfoliator in your morning or nighttime routine. This would give your face a clear and smooth texture.
6. Best Brightening Exfoliator for Face
Acure Brightening Facial Scrub gives the skin a brighter appearance through exfoliation. This product works to detox the skin with ingredients like sea kelp, lemon peel, walnut, glycerin, French green clay, shell powder, and Madonna lily.
The combination of these products creates a brightening result that leaves the complexion even-toned and refreshed. Moreover, you get to remove the dead skin cells on your face with relative ease.
In addition, the softening agent is parabens, mineral oil, sulfate, petroleum, and formaldehyde-free. You can use the scrub two to three times a week to get your glowing result.
7. Best Natural Exfoliator for Face
Burt's Bee Deep Pore Exfoliating Facial Scrub stands out for its unique and natural ingredients. With active ingredients like peach, wallow bark, glycerin, and grape seed oil, the facial scrub deep cleanses the skin.  
Furthermore, it is all-natural and does not irritate the skin. Additionally, the gentle scrub has peach stones that remove dead skin cells. The stones easily and smoothly work on the face.
Burt's Bees refines your pores and keeps them free from oil, dirt, and other impurities lodged in your skin. The result is clear and bright skin. All skin types can benefit from this natural exfoliating scrub.
8. Best Facial Exfoliator for Sensitive Skin
Aveeno Positively Radiant Skin Facial Scrub is hypoallergenic and non-comedogenic. That is, it would not irritate the skin or clog your pores. The facial scrub cleanses and improves your skin tone while clarifying and softening your skin.
Made with soy, jojoba oil, and castor oil, the formula works to even your skin tone and smoothen your skin surface. You would get glowing skin.
The formula is also sulfate-free; it would not leave any aftereffects on the skin. The facial scrub, in addition, delivers a brightening solution to your dull skin. Moreover, you would be getting a smooth skin texture and improved elasticity.
9. Best Facial Exfoliator for Oily Skin
SheaMoisture African Black Soap Facial Scrub clarifies and cleanses the skin. If you know about African black soaps, you would keep in mind their exfoliating and cleansing properties. The exfoliator also removes blemishes and transforms your skin from dull to glowing.
Asides from this, it helps to purify your skin pores. It would not leave any residue but rather mattify and smoothen your skin. It can also even your skin tone and balance it out, making it look fresh and silky.
More so, it is easy to use and would keep your skin looking bright and renewed after every use. The exfoliating soap scrub can be used every day to get a blemish and mattified skin surface.
10. Best Facial Exfoliator for Combination Skin
Kate Somerville ExfoliKate Intensive Exfoliating Treatment is a skin-perfecting chemical and physical exfoliating product. The exfoliator has AHAs to remove dead skin cells. Meanwhile, the silica smoothens and brightens the skin.
The dual exfoliator also has fruit enzymes that keep the skin moisturized and not "overdried". Furthermore, it removes skin dullness and aging effects. You can treat your wrinkles and fine lines, giving you a silky skin texture.
You should use this exfoliator once or twice a week to brighten your skin pores and surface. Massage on your face, then rinse off after two minutes.
11. Best Facial Exfoliator for Normal Skin
Skinceuticals Micro-Exfoliating Scrub is a soft cleansing exfoliator great for all skin types, including normal. It improves the skin tone and texture with its microbeads. Moreover, it hydrates the skin and gently cleanses it.
It's versatile and caters to the skin, no matter the humid weather or season. You can hydrate your skin when it's dry, and you can moisturize it when it's feeling congested and rough.
12. Best Sugar Scrub Exfoliator for Face
Palmer's Coconut Oil Sugar Facial Scrub uses coconut sugar to scrub dead skin cells off your skin. The scrub peels dirt and impurities from the skin, revealing a brighter and smoother surface. Furthermore, coconut oil exfoliates the skin and moisturizes it.
The quality scrub also uses its natural moisturizing components to keep the skin glowing and dewy, keeping your skin fresh all the time. Use the facial scrub two times a week to get the shiny complexion you want.
13. Best Exfoliating Pad
If you are looking for a smooth and fast exfoliating routine, use an exfoliating pad. QRxLabs Glycolic Acid 20% resurfacing pads help to treat the skin with its vitamin B5, C, and E component. The antioxidants protect the skin from free radicals and external agents.
Furthermore, the pad is saturated with 20% glycolic acid, green tea, and calendula to soothe the skin with its anti-inflammatory properties. You can reduce scars, wrinkles, bumps, and exfoliate your skin thoroughly.
The pad fully hydrates the skin with its moisturizing ingredients. Additionally, they repair your sun-damaged skin.
14. Best Drugstore Exfoliator for Face
With active components like alpha-hydroxy acids and beta-hydroxy acids, CeraVe Acne Treatment Gel cleanses and treats the skin of acne and breakouts. It uses salicylic acids, lactic acids, and glycolic acids to soften your skin.
The cleanser is your go-to if you need brightening and cleansing products. Moreover, you can minimize your pores by using this exfoliating cleanser.
15. Best Exfoliating Powder
Dermalogica Daily Microfoliant Exfoliator is great for brightening the skin. The powder scrub removes debris and evens your skin tone. It also makes your skin look silky smooth after use.
It has rich hydrating ingredients like salicylic acid to remove gently dead skin cells. All skin types can use this revolutionary exfoliator from Dermalogica. That is why it's one of the best on e-commerce stores.
The powder is also easy to use. All you have to do is dole out a sizeable portion on wet hands, and rub together until it is creamy paste. Then you massage on your face and rinse off. You can use the gentle exfoliant every day for smooth and bright skin.
16. Best AHA/BHA Exfoliator for Face
Rich in AHAs and BHAs, Glossier Solution Exfoliating Skin Perfector is the right chemical exfoliant you need in your skincare routine.
The exfoliator uses a 10% blend of acids to peel or detach dead skin from the surface of your skin and seep it away with a swipe.
Furthermore, it contains Poly Hydroxy Acid (PHA), which improves the appearance of enlarged pores. You can also control your blemishes and redness. The liquid wonder reduces their visibility.
You can use this exfoliator every day if you want a smoother and softer face.
17. Best Facial Mask
If you are into clays and deep exfoliating products, then Fresh Umbrian Clay Purifying Mask would help achieve the clear skin you desire. The formula has ingredients like minerals and chamomile to soothe and clear your skin complexion.
Besides this, the mask is a multi-tasker. It not only purifies your skin, but it also reduces your pores and deep cleanses them.
Moreover, the Umbrian clay is known to clarify skin complexion. And with other active ingredients like sandalwood oil, your skin can stay treated and calm.
You can use the mask daily or three times a week to cleanse and brighten your skin. The mask is suitable for oily to normal skin types.
18. Best Dark Spot Exfoliator
Dark spots are a bane to anyone's beauty. Sometimes it feels they never disappear. However, they can be treated and removed with exfoliation. Voibella Glycolic Acid Peel contains AHA acids lactic and pyruvic fruit acid to lighten the dark spots area on the skin.
The peel is a 3-in-1 solution if you want to exfoliate, resurface, and smoothen your skin. Furthermore, the formula works by trapping dead skin cells in its small particles, which slip off when rinsed.
The exfoliator also reduces the appearance of wrinkles and fine lines on the face. You can use the facial cleanser to clear blemishes, dark spots, acne, blackheads, and tighten your pores. If you are blemish-prone, use the formula every day to get brighter and enviable skin.
19. Best Exfoliator for Night Treatment
Derma-E Overnight Peel is non-abrasive to the skin. The peel contains AHAs that treat your skin overnight. Furthermore, it has vitamin C to help brighten and exfoliate your skin. The rich formula also treats pigmentation and age spots while your skin rejuvenates.
Your complexion would improve with the natural formula. Similarly, it does not contain sulfates, mineral oil, parabens, and gluten. You can use the moisturizing formula in your nighttime routine to hydrate your skin.
20. Best Exfoliator for Morning Treatment
Era Organics Microdermabrasion Facial Scrub is designed to give your skin optimal hydration and glowing skin. The mask is formulated to treat dull, dry, and sensitive skin types. It also cleanses the skin and minimizes the appearance of large pores.
Additionally, it is rich in organic and natural ingredients. Your skin is bound to look brighter than its former dull state. Asides from this, you can use it to reduce aging effects like wrinkles and fine lines.
Why Do You Need to Exfoliate Your Face?
As I said, exfoliating your skin is a vital routine in any regimen you partake in. The process involves removing dead skin cells on your skin as well as brightening and evening your complexion. Generally, you would need to exfoliate your face to get a natural and glowed face.
Asides from this, you can unclog your skin pores of sebum and bacteria, keeping your skin healthy and fresh.
Similarly, your skin is free of any signs of aging. This includes wrinkles and fine lines. Your skin elasticity is renewed and skin cell turnover is stimulated with exfoliation.
Exfoliation, in addition, removes impurities. Your skin will have grime and dirt, and makeup residue lodged in your pores.
However, with exfoliation, your skin is renewed and cleared. You also get to hydrate and reduce the enlarged pores when these residing particles are removed.
See Also: 13 Simple Home Remedies To Get Pink Lips Naturally
How to Pick an Exfoliator for Face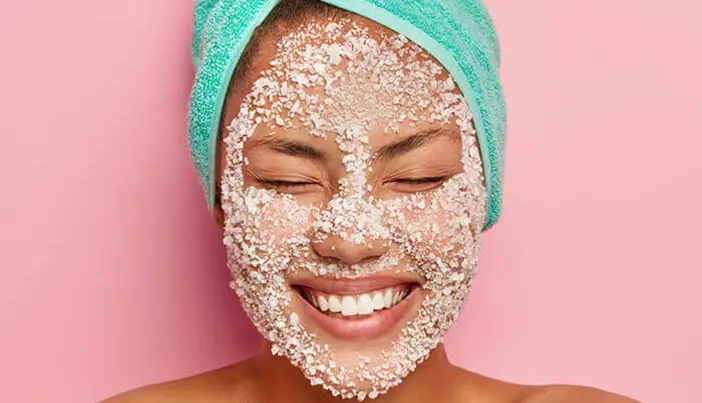 1. Skin Type
Your skin type is a compass that directs what type of exfoliating method you use. For instance, oily skin is most suited for mechanical exfoliation because it peels sebum and grime from the open pores.
Acne-prone skin can use mechanical/physical and chemical hybrid exfoliators because you need soothing enzymes. Moreover, particles in scrubs remove and treat your acne skin.
Meanwhile, dry skin needs products that would help with hydration. Such skin types need chemical exfoliators that would hydrate the skin and not irritate it. The same goes for sensitive skin. It needs soft chemicals to remove the impurities in the skin.
On the other hand, combination and normal skin types can use both mechanical and chemical exfoliators depending on their skin condition.
2. Ingredients
There are active ingredients that would get you better and faster results when added to a formula. Alpha hydroxy acids (AHAs) like lactic acid and glycolic acid are perfect chemical exfoliators that would clear and brighten your skin. Also, beta hydroxy acids like salicylic acids help to cleanse the skin.
In addition, components like sugar, salt, coconut sugar, shell particles, walnut powders, and any other particle-like components would help peel the dead skin off your skin.
Then you should look out for hydrating and brightening ingredients like vitamin C and hyaluronic acid.
How to Exfoliate Your Face
Before you start your exfoliating regimen, you have to consider what type of exfoliant you are using. We have mechanical and chemical methods of exfoliating.
Mechanical is more coarse and technical than chemical. It uses friction to remove dead skin cells from the skin. Meanwhile, the chemical is less forceful but slips dirt and grime off the face.
If you want to use an exfoliator, you should follow this simple guide:
Cleanse or wash your face
Apply your exfoliator product on your face
Spread evenly and massage on your face, focusing on your problem areas.
Leave it on your face for as long as recommended.
Wash off if it needs rinsing off
Apply your moisturizer
Read Also: How to Exfoliate Your Face Without Hurting Your Skin [Pro Tips]
Frequently Asked Questions
Will face exfoliators burn my skin?
No, it won't. Face exfoliators do not sting or burn the skin.
However, you could experience this if you are allergic to any ingredient or component in an exfoliator. Also, you could experience burning sensations if you are using a mechanical exfoliator for your sensitive skin.
It is best to use the right exfoliating product for the right skin type.
Are face scrubs good for sensitive skin?
Sensitive skin types can only use face scrubs designed for them. For instance, the face scrub should read hypoallergenic, non-comedogenic, and non-irritating.
This means the exfoliator would not cause skin redness, inflammation, or irritation on the skin.
Can I use expired exfoliators for the face?
No, you shouldn't. Generally, expired products should be discontinued as soon as it goes bad.
Exfoliators that do not have expiry dates should have a PAO (period after opening). This is the period a product can maintain its potency after opening or coming in contact with air.
Conclusion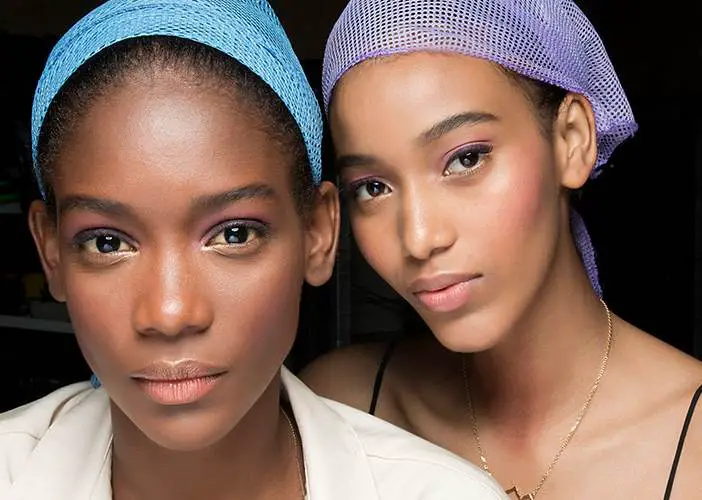 What do you use to get clear skin? Exfoliators are one of the products you can use to get clear and smooth skin. However, skincare product does more than giving you clear skin. It also helps to hydrate your skin.
Nevertheless, some exfoliators stand out among the rest. These exfoliators will guide your purchase if you are looking for the right one to slip your skin to smoothness.
For instance, use Kate Somerville ExfoliKate Intensive Exfoliating Treatment. It suits all skin types and does not clog the skin pores. Furthermore, it is a hybrid product that uses mechanical particles and chemical enzymes to exfoliate your skin.
In addition, if you want one that suits your skin type, use Clean and Clear Deep Action Exfoliating Facial Scrub, SheaMoisture Facial Wash and Scrub, Aveeno Positively Radiant Skin Facial Scrub, and Skinceuticals Micro-Exfoliating Scrub for dry, oily, sensitive, and normal skin types respectively.
Exfoliators for the face are not exhaustive. Nonetheless, you can pick out the best exfoliators if you know your skin type and ingredients that are beneficial to the skin.
I am sure you know you can't not exfoliate your skin if you want shiny and healthy skincare. Therefore picking the right choice will serve as your best bet to getting perfect skin.
Thanks for reading.
Africana Fashion provides relevant skincare articles to boost your daily skin goals.