Makeup for dark skin tones is not complete without the right products to cater to the skin. Thanks to makeup brands with wide and inclusive products for dark skins, we realize that one shade does not always fit all.
I'm so glad we have different options as to when I was growing up, and there wasn't much you could do. After all, if it says for dark skin, it must be for dark skin. Not even minding that dark has different shades, we could end up looking ashy or worse, pasty.
Then let's not even talk about eyeshadows, lipsticks, and other makeup products. You realize that not all shades of nude go with anyone. The same goes for eyeshadow.
 So glad that phase is over.
When the skin color wheel became reinvented, and people realized there isn't just a light-medium-dark range, it opened up an avenue to represent the in-between and the after-dark shades. Those are the ones that got it worse.
So now we have varieties. And with the varieties comes another headache; choosing the right makeup. This is why I am diving into the best makeup for dark skin tones.
Best Makeup for Dark Skin Tones
Your dark skin color is rich and vibrant and needs to be catered to by brands and products that would highlight, define, and glow the tones of your rich skin. As I said before, there is no single shade of dark.
Now that most brands realize this, there are still some that do not do it justice. This is why I have gathered the best makeup brands based on user feedback and ratings.  
1. Best Foundation for Dark Skin
Make Up For Ever Ultra HD Invisible Cover Foundation trumps most of the foundations out there. The foundation is meant to provide a creamy finish on the skin, with a buildable medium to light HD coverage.
Also, the foundation works well with undertones. There are over 40 shades to cater to any skin tone. Furthermore, you can count on it lasting long as it is longwear and provides lasting coverage without smearing. And it is great for all skin types.
Alternative: Rihanna's Fenty Beauty Pro Filt'r Soft Matte Longwear Foundation
The foundation has a range of over 40 shades to provide a matte finish with long-lasting results. Oily, combination and neutral skin can wear the foundation for absolute smooth and dry coverage.  
2. Best Concealer for Dark Skin
NARS Concealer has a wide set of colors and shades. Its concealers come in matte and creamy formulas to provide the best finish for the skin.
NARS Radiant Creamy concealer has shades in olive, deep, neutral, and golden undertones to light the skin. Also, the concealer can be used for hiding blemishes, dark circles, and dark spots.
Alternative: L.A. Girl Pro Conceal HD Concealer
This concealer is inexpensive and the best for beginners. You can wear the concealer with a long-lasting effect. Furthermore, it's perfect for concealing fine lines and skin imperfections.
3. Best Setting Powder for Dark Skin
Touch up your face with Black Opal's True Color Velvet Finishing Powder. The makeup for dark skin has a soft velvety texture that is smooth to the skin. Also, it helps to balance the multicolored pigments on your face, giving it a true-to-tone match.
The powder is long-lasting and does not oil up. Rather it is oil-absorbing and great on the face of all skin types. You can enjoy the perfecting goodness of the powder all day without needing any touch-ups.
Alternative: Iman Cosmetics Translucent Powder
This powder by Iman Cosmetics is inexpensive and light on the face. Also, it is perfect for quick touchups, providing a semi-matte finish on your foundation. It is available in Sand, Clay, and Earth tones.
4. Best Bronzer for Dark Skin
Covergirl's Full Spectrum Sculpt Expert Bronzer in Ebony shade gives the perfect sculpt and illuminating effect for your dark skin.
The bronzer also provides full coverage you can use to flatter your dark skin. Also, it has a shine control and keeps the color subtle but visible.
The makeup for dark skin is also long-lasting and is perfect for contouring the face. You can wear it all day without touching up.
5. Best Blush Makeup for Dark Skin
Black Radiance Artisan Color Baked Blush is a highly pigmented formula that is silky smooth on the skin and easy to blend. The blush offers a light glow and sheer finish that intensifies the bronzer and highlighter on your face.
Also, the blush can be used wet or dry to contour the cheeks. It has a natural finish on the cheeks and can bring drama if you want. It all depends on how you want the blush to function.
6. Best Highlighter for Dark Skin
Get a fantastic light reflection with Becca Shimmering Skin Perfector Pressed Highlighter. The highlighter offers basic coverage to brighten and reflect light off your cheeks.
The formula also comes in liquid, providing both wet and dry effects to highlight your face better. You can use the ultra-buttery texture makeup product for dark skin to create a definitive impact glow.
Furthermore, the highlighter can contour the face, bringing out all the angles of your dark skin tone. And the product is simple and easy to the skin. It never cakes on the face or looks ashy.
7. Best Eyeshadow Makeup for Dark Skin
Glo Skin Beauty Elemental Shadow Palette provides eyeshadow colors in deep pastel colors. If you want to create a smoky eye, the eyeshadow palette is your choice.
The powder formula offers a matte finish and is buildable. Also, the eyeshadow can function with simple natural makeup with nude shades that bring out your natural dark tone. Or in bright night makeup colors that make your eyes stand out.
The eyeshadow is long-wearing and has natural ingredients like vitamin C, E, and green tea extract. The intense color is what you need for any occasion. All you have to do is layer it properly.
8. Best Lipstick for Dark Skin
If you want lipstick colors in shades that complement dark skin tones, then Mented Lipsticks are just right for you.
The makeup product offers colors in shades that are natural and brighten or darken the skin according to how you want. The colors flatter the dark skin complexion and keep things simple. You can wear the long-lasting lipstick without touching it up.
Also, the colors offer a matte finish with a velvet feel that is lightweight and non-drying. The makeup for dark skin is also made from natural ingredients and does not cause harm to the skin and environment. Furthermore, it hydrates the lips and keeps them supple.
9. Best BB Cream for Dark Skin
Maybelline Dream Fresh Skin Hydrating BB Cream is an 8-in-1 perfecting beauty balm that is great for all skin types. It hydrates, blurs imperfections, has SPF, enhances, smoothens, and is oil-free.
It comes in all available skin shades and makes a good no-makeup alternative with a natural finish. Also, the formula is non-comedogenic and would not clog your pores. Rather it keeps it fresh and moisturized.
The product is a good makeup for dark skin because it is skin health-preserving and also matches dark skin tones without feeling unnatural.
10. Best CC Cream for Dark Skin Tones
It Cosmetics Your Skin But Better CC Cream is oil-free and provides a matte finish that is great for all skin tones.
The color-correcting cream is fortified with ingredients like peptides, tea tree, hyaluronic acid, collagen, and antioxidants to keep the skin healthy and moisturized.
The makeup product comes in cream format and is lightweight on the skin. Also, it is enhanced with an SPF of 40, protecting the skin from harsh sun rays.
The makeup for dark skins offers rich colors like Deep, Rich, Rich Honey, and Medium shades. You can wear it any day you want a natural look but would like to cover up the discoloration on your face.
How to Choose Makeup for Dark Skin
I mean, it should be easy, right? You look at your skin, decide the tone, head to a store and get the makeup for the tone you are seeing. It should be this easy. However, it is not.
When you want to choose makeup products for dark skin tone, your skin tone is not all that matters. Many factors come into play and would affect what you get. Don't worry, these factors help you get the best possible outcome for whatever you choose.
1. Skin Type
When you choose the right foundation for your skin, or any other skincare or beauty product, this is your No.1 influencing factor.
You have to find if you are a combination, dry, oily, or neutral skin type. This will influence your foundation, concealer, powder, and any other pigmenting product on your face.
Your skin type decides the texture of these products and their finish. Skin type will always be important for any skincare product because you have to use what works for it. If the product you choose is not for your skin type, you could get breakouts and reactions.
2. Undertone
An undertone is like your skin's under glow. It is a natural shade that reflects on you under any lighting. A perfect example is a picture or editing filter. This filter will either complement or repel the colors you put on your body. So just go with colors that complement it.
Undertone plays an important role because it's what determines if you look ashy or clear-skinned. We all have undertones, which could be warm (yellow, golden), cool (pink, blue, red), or neutral (olive).
You can find out what undertone you are through simple tests. But the easiest is to check the color of your vein. If it is green, then you are warm-toned. If the color is blue, then you are cool-toned. And if the color of your vein is in between, then you are neutral.
There is also the white test. You wear a white shirt or t-shirt and stand against a pure white background. The color that stands out when you compare is your undertone.
For instance, I found I was warm-toned when I got more of a yellow filter while standing against a white background.
Dark skin catering makeup products put undertones in mind now. You would wonder why two foundations of almost the same shade exist. However, they are meant to provide pigment for different undertones.
3. Shades
When it comes to choosing foundations or concealers, you have to know that there are different shades of dark skin tones. Some parts might be lighter than the others.
Moreover, you would need to match your shades together, so mixing shades is the best option. For instance, your face and neck, and chest are of different shades.
When you buy your makeup, you should swatch the shade against your chest. This would allow a smooth over of colors. Also, you would be getting a uniform blend with your face, neck, and chest.
Then when it comes to concealers, you have to choose your concealer based on the purpose. For instance, you go lighter when you want to hide blemishes or dark circles. On the other hand, you need a shade the same as your foundation for your face in general.
4. Finish
When you choose your makeup, you have to decide what finish would suit you best. As I said earlier, your skin type would determine your finish too.
Oily skins are best with products with mattifying effects. On the other hand, dry skin needs dewy finishes to keep its skin moist and shiny. Satin finishes can look great on combination skins.
And neutral, though it is not selective, would have to choose a finish based on the weather or seasons. Warm seasons would need the skin dry, so a mattifying product. And winter seasons need hydrating products.
The same goes for choosing your lipsticks. If your lips are the dry type, you need gloss to keep your lips soft and moist, while moist lips need matte lipsticks to keep them dry.
5. Coverage
Do you need full, medium, or sheer coverage? These are based on your preference. Although your skin type, like oily skin, needs light to medium coverage because the makeup could clog the pores.
Dry skin type needs hydrating makeup, and combination and neutral are in between depending on how your face is. But as I said, your preference is what matters.
Also, if you are choosing your coverage, you should make sure the makeup is buildable. This way you can control the level of coverage. Most foundations and concealers are buildable to provide sheer to full coverage.  
Dos and Don'ts of Makeup
To effectively get the perfect face beat, you need quick tips to help your makeup application. These dos and don'ts will guide you when you apply your makeup.
Dos
Do moisturize your face before applying makeup.
Do use a primer before applying pigments. A primer is meant to set your skin for the products you would be applying to it. Also, it would make it last longer.
Do use a foundation brush to apply your foundation.
Do use a beauty blender to get between the corners of your face.
Do use a bronzer to glow up your face.
Do contour your cupid's brow to highlight your lips.
Do remove your makeup at the end of the day.
Do exfoliate your face to unclog your pores.
Don'ts
Don't apply too much foundation and concealer at the same time. Apply in bits and build up.
Don't use a highlighter as blush.
Don't wear heavy colors for day time look. Use natural colors as your eyeshadow for an everyday makeup look.
How to Apply Makeup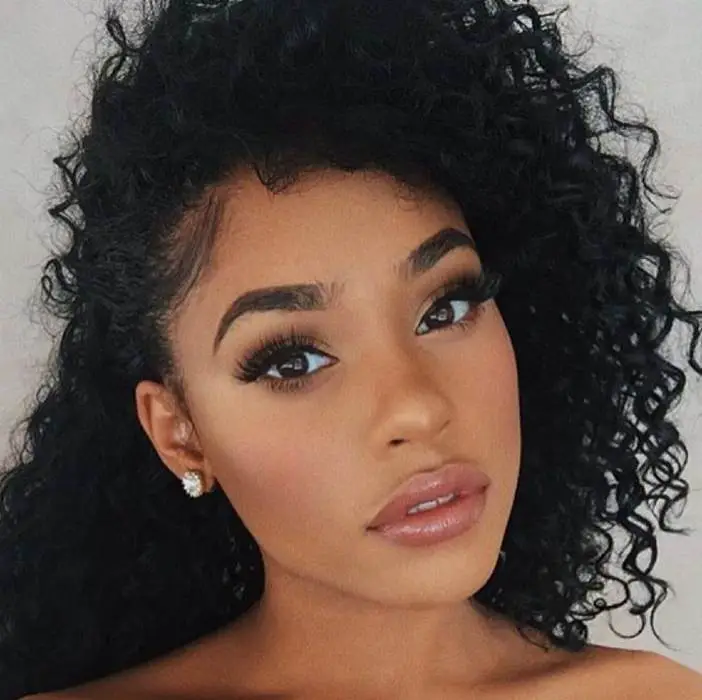 Before you apply your makeup, you have to decide what type of look you want. If you want everyday, minimal, or full night makeup, you need the essential products. This includes foundation, concealer, lipstick or lip gloss, and of course setting powder.
How you arrange your makeup product is also essential. For instance, a foundation should come before concealer.
The only time a concealer comes before a foundation is to color correct and hide blemishes. Then you add your foundation, and then you add a concealer for your dark circles.
For a full makeup look, you can watch this tutorial video by socialite Lori Harvey for Vogue on how to wear '90s inspired makeup.
Makeup for Dark Skin Tones FAQs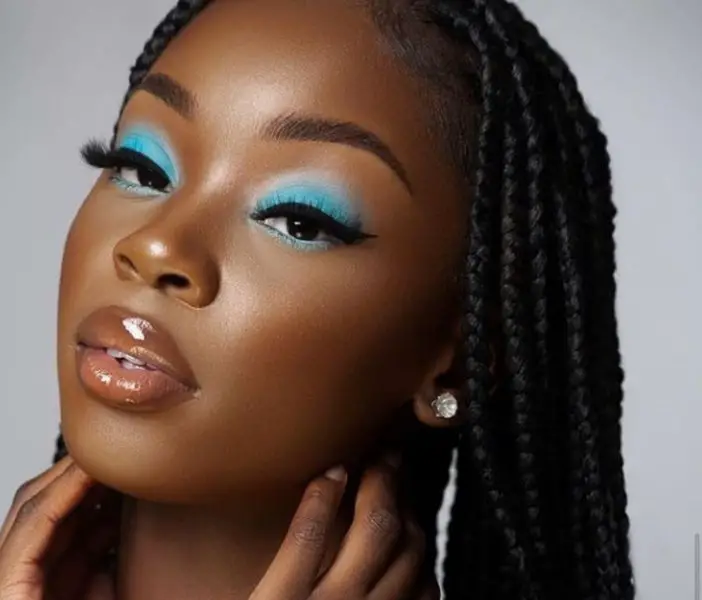 Do I need to buy the same brand for makeup products?
No, you don't. It is not necessary to use the same brand for all your makeup products. However, it is recommended you should.
Some products complement each other better when they are from the same brand. But some brands offer better makeup products than others. A makeup product should be able to mix well with other brands.
Can I use more than one foundation on my face?
Yes, you can. You can mix and match foundations with your skin.
The face has different shades. You can mix the shades up to get a perfect blend. Also, when you can't fit yourself between particular shades, you can mix either lighter or darker foundations to get the particular shade you need.
Can I use bright eyeshadow colors for my dark skin tone?
Yes, you can. You can use bright eyeshadow colors for your dark skin tone.
When choosing your eyeshadow palette, you should choose a color that would flatter the skin. It shouldn't come out as unnatural or cakey.
For instance, an eyeshadow palette with white, cream, or bleach colors may make you look ashy.  But you can use gold, bronze tones mixed with white to brighten your eye area.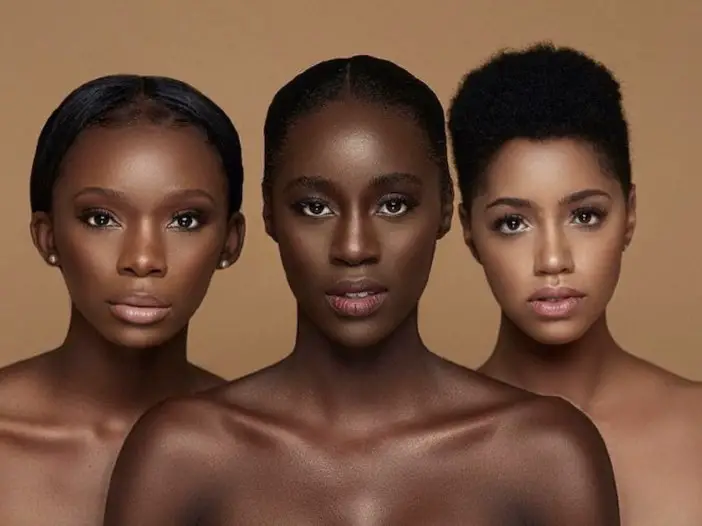 Conclusion
You need good makeup for dark skin tones if you want to get a perfect face beat. This includes having Make Up Forever Ultra HD Invisible Cover Foundation to give you full coverage. It also has enough shades for dark skins and anyone in-between.
Also, you need concealers like NARS Radiant Concealer to hide your dark circles and keep the blemishes away. Then you can't forget to use Covergirl's Full Spectrum Sculpt Expert Bronzer and Becca Shimmering Skin Perfector Pressed Highlighter duo to help get your glowing skin. 
Then you can finish up with Mented Velvet Matte Lipstick to give you a natural glowing lipstick finish. 
When you want to buy your makeup, remember your skin type plays an important role in choosing what product you get. Your undertone and shade are also equally important. 
And we can't forget to thank brands for putting these factors into consideration when creating makeup for dark skin tones. Because without it, dark skins would still be carrying their ashy looks, thinking it is the best thing that ever happened to them. 
Africana Fashion provides relevant beauty product review articles to suit your daily lifestyle needs.