A misconception you should debunk is that brown skin complexions do not need sunscreen. You actually need the best sunscreen for brown skin tones to get through your day, even if you have the darkest skin shade.
Sunscreens are formulas used to shield our skin from the UV rays of the sun. Furthermore, they are skin protectors against hyperpigmentation and dark spots on the skin.
Your skin needs sunscreen. However, dark skins, in general, are at a loss when it comes to picking sunscreens for their skin complexion. Picking the right one that wouldn't dry off too quickly or form a white cast can be difficult.
Well, that has changed.
If you are looking for the best sunscreen for brown skin, use this list as a guide to get the best for your melanin-rich skin shade.
Best Sunscreens for Brown Skin
You will need to keep your skin protected from harmful UV rays. Therefore, use a sunscreen designed to keep your melanin-rich skin from burning up. Although you won't get sunburned easily, you still need to keep your skin protected every day.
Here is a list of the best sunscreen for brown skin tones. This best list was derived through sales data metrics on e-commerce stores and engagement on social media platforms.
1. Best Sunscreen for Hyperpigmentation
Black Girl Sunscreen does just as it says- it is a sunscreen designed for brown skin tones. It is worn by women of color to hydrate and protect their skin from UV radiation. Designed to specially cater to melanin-producing skin, the sunscreen provides a sheer and perfect layer without a white cast.
Asides from this, it works well as a moisturizing lotion, keeping your skin in perfect hydrated condition. With ingredients like jojoba oil, carrot juice, avocado, sunflower oil, and cacao, your skin would stay moisturized and soothed; it does not irritate the skin.
Moreover, the sheer texture makes it a suitable base for your makeup. It would not transfer or blotch your makeup, rather it keeps your skin firm underneath its protective formula.
2. Best Drugstore Sunscreen for Brown Skin
Sum Bum Original with SPF 50 is a sunscreen lotion that provides total protection to your skin. The lotion is also vegan. It would not leave a white cast on your brown skin after applying. The non-comedogenic formula is suitable for all skin types.
Fortified with vitamin E, the sunscreen keeps your skin color intact. Additionally, it is water-resistant, oil-free, and reef-friendly. However, you need to reapply the sunscreen after more than 80 minutes in the water to keep your skin safe.
3. Best Household Sunscreen for Brown Skin
Supergoop! Unseen Sunscreen with SPF 40 works for every skin type and complexities in mind (facial hair too). The sunscreen is also invisible and clear on the skin. As a result, you wouldn't have a white cast on the skin.
Asides from this, the sunscreen is lightweight and does not leave any residue after washing.
Furthermore, it protects your skin from skin-damaging blue light, IRA rays along with the UVA and UVB rays. The broad-spectrum sunscreen also contains antioxidant properties that keep your skin healthy and soothed.
If you need an exceptionally lightweight and no scent sunscreen in your home, you should use this sunscreen.
4. Best Face Sunscreen for Brown Skin
Aveeno Protect + Hydrate Face Moisturizing Sunscreen is a double-duty product. It protects the skin from UV rays and hydrates the skin with its rich antioxidant formula. The product is great for daily use because it nourishes the skin and keeps it soft and healthy.
The simple yet effective sunscreen shields your skin with the required SPF 30 protection you need every day. As a result, the sunscreen is travel-friendly. Furthermore, you won't have to wait too long for it to dry. It is fast-absorbing, and wouldn't clog your skin pores.
Moreover, it's simple and effective with it being water and sweat-resistant. You can wear it daily if you are the outdoorsy type.
5. Best Physical Sunscreen for Brown Skin
EltaMD UV Physical Tinted Mineral Sunscreen with an SPF of 41 is one of the best sunscreens for brown skin because it uses colored particles to coat and protect the skin.
The sunscreen formula is lightweight and does not contain chemical UV filters. Rather, you have mineral-based sun-protecting components like zinc oxide. The formula is also oil-free, and it would not clog your skin pores.
It is safe for daily use to prevent sunburn and skin aging. The facial sunscreen works for all skin types. However, the cream is best suited for sensitive, oily, and post-procedure skins.
6. Best Invisible Sunscreen for Brown Skin
With its hydrating and antioxidant properties, Neutrogena Invisible Daily Defense Sunscreen Lotion helps the skin to resist environmental aggressors, acting as a barrier against free radicals.
In addition, with an SPF of 60+, your skin stays protected from UV rays. Furthermore, it keeps your skin moist, radiant, and renewed. The invisible sunscreen does leave a white cast when applied to the skin.
In addition, it prevents sunburn and fights aging effects like dark spots, fine lines, and wrinkles. You can wear it if you want to protect your skin with its quick-drying formula for long-lasting use.
Moreover, it is safe for the skin. It does not contain harmful properties like parabens and mineral oils. You can wear it daily to keep your skin protected.
7. Best Tinted Sunscreen for Brown Skin
If you want a sheer and skin-complementing sunscreen, then CeraVe Tinted Sunscreen with an SPF of 30 is one of the best sunscreens for brown skin in the market right now. The sunscreen not only has hydrating components but also zinc oxide and titanium dioxide.
These components help in maintaining your healthy glowing skin. Additionally, it does not have the white cast mineral sunscreens are associated with. You can keep your skin moist with its ceramides components.
Furthermore, it does not have harmful chemicals. Properties like parabens, fragrance, and oxybenzone are not present in the formula. You can apply the sheer and lightweight formula under your makeup or alone.
8. Best Mineral Sunscreen for Brown Skin
Farmacy Green Defense with SPF 30 contains mineral components that help to protect and smoothen your skin. The broad-spectrum mineral sunscreen contains titanium dioxide, zinc oxide, and antioxidants to glow up your skin and protect against sunburn.
Additionally, the sunscreen for brown skin acts as an invisible shield, deflecting the UVA/UVB rays off your body. It rests on your skin rather than penetrating your pores, working as the perfect chemical film.
You can apply it any day anytime. Moreover, it serves as a protector against blue lights emitted from smartphones, computers, and tablets.
9. Best SPF Sunscreen for Brown Skin
La Roche-Posay Anthelios Melt-In Sunscreen is fortified with an SPF of 60 with a water-resistant formula. The face and body lotion is non-greasy on the skin yet fast-absorbing. It's fully absorbed into the skin in almost 15 minutes or less.  
Formulated with Cell-Ox Shield Technology, the sunscreen's texture is velvety and smooth on the skin. As a result, all skin types, including sensitive ones, can use it.
You can wear the sunscreen anywhere including underwater, as long as you reapply every 80 minutes after submerging in water and two hours under the sun.
10. Best Sunscreen for Sensitive Brown Skin
Babo Botanicals Sheer Zinc Continuous Spray Sunscreen is all you need for a quick spray. The sunscreen contains SPF 30 with mineral actives to protect the skin from UV rays. Similarly, it protects and shields the skin from environmental elements.
This sunscreen is unique for adding water-resistant and sweat-resistant coverage for all skin types and tones. However, it is most suitable for sensitive skin types. They can use this sunscreen because it is hypoallergenic and has no harsh chemicals that harm the body.
It is also safe enough for kids and babies to use. It does not contain oxybenzone and octinoxate. Furthermore, it is reef-friendly and fragrance-free.
11. Best Water Resistant Sunscreen for Brown Skin
Going underwater or for a swim? Then you need a good waterproof sunscreen is what you need. Block Out Dark Skin Tone Sunscreen is the best bet. The sunscreen with an SPF of 50 protects the skin underwater for up to 80 minutes and then needs to be reapplied.
You need this sunscreen if you want glowing and protected skin. The broad-spectrum protection covers both UVA/UVB rays. Moreover, it is safe on the skin. It is a hypoallergenic formula that is gentle on your skin.
You also don't have to worry about the sticky white cast. The sunscreen dries quickly on the body, leaving a natural film on your skin.
How to Pick the Right Sunscreen for Brown Skin
The best sunscreen for brown skin should be one you can easily apply. Furthermore, the sunscreen should seep into the skin with ease without leaving a patchy look.
You should remember the following when picking a sunscreen:
It should not leave white casts on your skin.
It must have an SPF of 30 above.
The sunscreen should not leave any residues.
The sunscreen must be sealed and in good condition. Any sunscreen that has been opened before buying should not be used.
It should also be of the best quality. Avoid sunscreens with harmful ingredients and components.
Frequently Asked Questions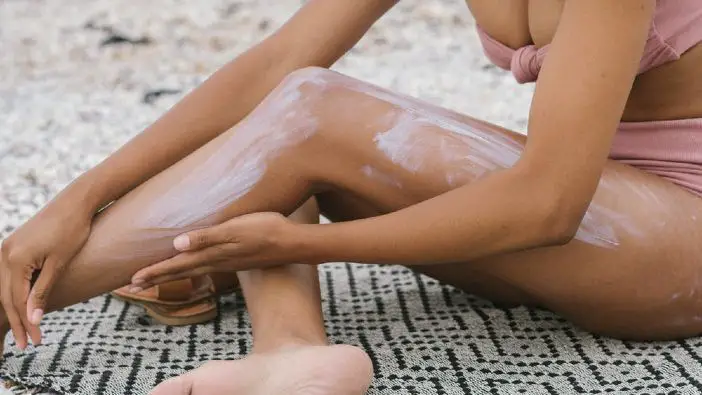 Do brown skin tones need sunscreen?
Yes, they do. Brown skin tones need sunscreens just as any other skin complexion.
Brown skin tones do get affected by the sun's UV rays and free radicals. Although tanning is hard to see for some brown skin tones, the negative effects of exposure to the sun, including sunburns, are very real for dark skin and the likes.
As a result, you need to protect your brown skin against the sun to prevent skin issues like skin cancer.
SEE: Bursting the Myth – Is Sunscreen Good For Dark Skin Tones?
Will sunscreen make me darker?
No, it will not. Sunscreen will not make your brown skin darker. It is designed to protect your skin from burning and it reflects the UV rays of the sun.
However, there are times where you are using bad sunscreen. At such times, your skin is not protected, therefore, it gets sunburnt after overexposure.
Can I use sunscreen with SPF less than 30 for my skin?
No, you shouldn't. The recommended sun protection factor (SPF) you are required to use daily is SPF 30.
You are under-protecting your skin if you use an SPF under 30. You should get the best sunscreen to protect your skin.
Conclusion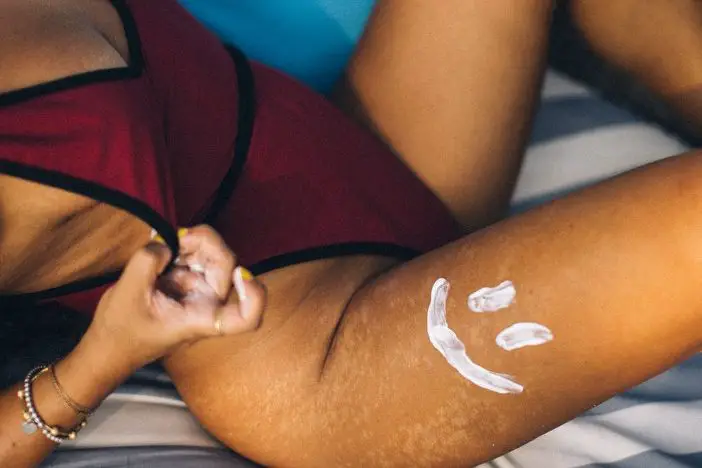 No doubt your brown skin needs to be protected at all times (even when indoors). I will advise you to use the sunscreens on this list.
However, I would specifically recommend Black Girl Sunscreen because it is tailored for brown skin. It knows your pigmentation problem more than you think. Aveeno Face Moisturizing Sunscreen is another helpful product to moisturize and protect your face, even when indoors.
Nonetheless, you should pick a sunscreen according to your needs. But when picking for brown skin, always remember to pick sunscreens that do not leave residues or white casts. A sunscreen like Neutrogena Invisible Daily Defense Sunscreen Lotion creates a transparent film on your body.
If you use the right sunscreen for your skin, you have a better chance of protecting your skin against harmful UV rays. So pick a sunscreen and stay protected.
Thanks for reading.
Africana Fashion provides skincare articles to help you get flawless and healthy skin.