There's nothing I love more than laid-back hair in the fall. Not that I don't like my afro-textured hair, but sometimes I need it to slip for a while and also to switch things up. That's why I straighten my curly hair, even when I worry it might frizz.
Straightening my hair, I realized have many factors that need to be considered. And if I want to do it without frizz, I have to be extra careful to make it as healthy as possible.
I've heard many times that straighteners or any other heat tools are bad for natural hair strands. They damage the hair strands or dry them up till they frizz. But sometimes, these tools are necessary for a hair care routine. They work well.
So how do you go about straightening your curly hair without frizz?
There are safety and handy tips to straighten curly hair without frizz. These tips were helpful when I learned about them, and I haven't stopped using the hack to keep my curls in check.
You can benefit from these tips because I would be passing them along. After all, what's the fun of knowing a useful hair hack and not sharing it?
How to Straighten Curly Hair Without Frizz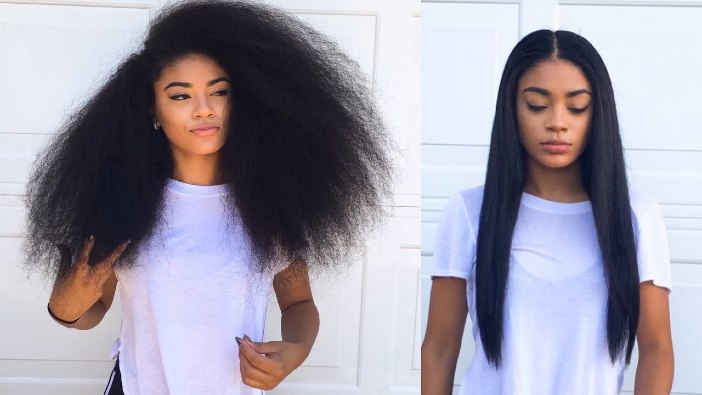 1. Buy the right tool
If it's a flat iron or blow dryer, you need to buy the right straightening tool for your curly hair. There is a need to invest in a good flat iron and blow dryer. You could do some research on what works for your curly hair.
You should also read reviews or watch YouTube videos on how to use the heat tools properly. Knowing the criteria your blow dryer and flat iron needs to fill out makes it easier to get the right tools.  
For instance, Deogra Flat Iron is great for curly hair. It is made for afro-textured hair. The flat iron can straighten and curl any hair type. It also has multiple temperature control and keratin and argan oil-infused ceramic plates that help the hair stay nourished.
Remington D3190 Damage Protection Hair Dryer is a great blow dryer you need.  It helps to reduce damage and keep your hair healthy. It is made with ceramic, ion, and tourmaline grills to reduce frizz in your hair.
2. Blow dry the right way
A blow dryer is an essential tool for straightening curly hair. However, most times, it is not done well. This is why hair turns frizzy.
Blow drying your hair the right way would help reduce frizz. For example, pulling your hair in an upward motion helps to create volume at the roots of your hair.
Therefore, you must blow dry from the roots upward to create volume. Then you can blow dry the length and ends of your hair downward to create a straight movement. So don't think hairstylists are being extra when they blow dry hair funnily.
3. Use heat protectant
Heat protectants are a must, especially if you have high porosity hair. And when you want to use a heat protectant, use a thermal heat protectant. Thermal heat protectants serve as a barrier between a heating tool and your hair.
When using a thermal protectant, use the right one for your hair. That is a thermal protectant spray for fine or thin hair. On the other hand, thicker hair should use cream protectants to get a smoother texture after using the heating tool.
Thermal heat protectants are a must-have tool after flat iron when you want to straighten curly hair without frizz.
One of such is CHI 44 Iron Guard Thermal Protection Spray and L'Oreal Paris Thermal Smoother Cream.
4. Use low heat
An easy mistake people make when straightening curls is thinking the hotter the hot tool, the better. This is far off from the truth.
Your natural curls don't need to be put through hot temperatures, and if the hot tool does not have temperature control, you are even in worse hands.
Your tool should be easy to adjust, especially when everyone's hair texture is different, and what could be okay for your hair could be dangerous for mine.
Therefore, when you buy your flat iron, it should have a wide heat setting range that mustn't go from hot to cold, but has varying degrees of temperature.
A big NO is using a hot tool when your hair is still wet. You could be frying your hair if you use the tool (including the dryer) while your hair is wet. So, dry off your hair first. Then you can resume using the hot tool after you have applied your protectant, that is.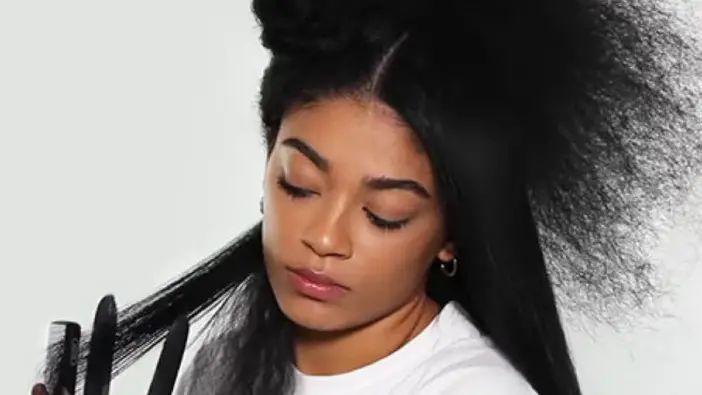 5. Wear protective styles
If you want to straighten curly hair without frizz, protective styles would be your hair's shield. You have to protect your straightened hair from humidity, friction, and heavy styling. This could lead to shrinkage.
To reduce your hair from shrinking back to its curls, wear protective styles like braids and cornrows. This is especially good before you sleep at night to protect your silky smooth hair.
Before sleeping, section your hair into five to eight rows and weave the hair back. It would save your hair from getting frizzed up. And you won't get to sleep on your hair. Also, you won't have to use hot tools regularly to hold your blowout.
6. Keep your hair in a silk wrap
Sleeping pretty is not meant for all of us, I included. So what better way than to protect your hair with a silk scarf. You won't have to worry about your hair and the friction that could get it tangled and curled up.
Also, if you are not in the mood for braiding it up, you can wear the scarf instead to protect your hair. Pulling it into a nice pineapple would keep your tips free, and at the same time, your roots and middle strands wouldn't be open.
Tip: You can also use silk pillowcases in case your scarf somehow falls off while you sleep. And when you wake up, all you have to do is oil it up and run your brush through your hair.
7. Maintain your hair with as little product as possible
Adding products to your hair protects it and keeps it nourished and shiny. However, when you want to straighten curly hair without frizz, you should keep in mind that products may not help your straightened hair.
You need to apply as few products as possible before and after you straighten. Greasy curly hair is not the best candidate for hair straightening. As mentioned earlier, a heat protectant is all you need.
When you are done, you can use a leave-in to moisturize or a spray to keep it moisturized. Also, limiting your styling products to a few will protect your hair from frizzing up.
The pro-tip to always remember is to keep your hair, especially your roots, from building up. A weighed hair shrinks easily.
8. Section your hair in little chunks
When straightening your curly hair, you need to section your hair. But doing this could affect whether you get a frizzy end or smooth ends.
Who knew there would be so many things to remember when all you want to do is straighten your hair?
It's not that hard to remember these, don't worry.
To save your hair from frizzing, you need to section your hair in little chunks. This would make the process much faster. Also, you would end up with cleaner and smoother straightened hair.
When you section in smaller inches, you can control the temperature of your hot tool. You can also work with a lower temperature without harming your strands.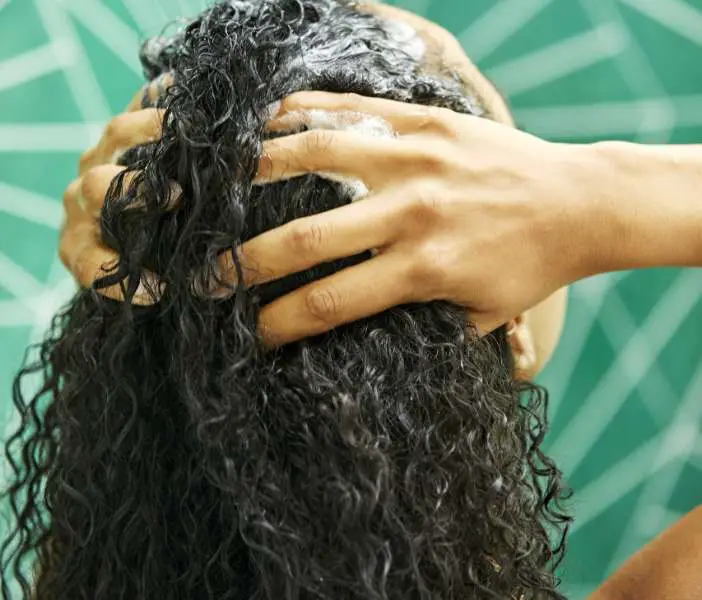 9. Deep condition your hair
Before straightening your hair, a good deep conditioning routine would help save your hair from frizz or split ends. Also, deep conditioning pads your hair with moisture.
You need moisture when using a hot tool. Naturally, your hair would lose moisture when you apply the hot tool. But you can save your strands by deep conditioning your hair before applying the blow dryer or any other hot tool.
10. Apply light oils or serums
Oils and serums are essential during this period. When straightened, keep your hair bouncy and weightless as much as possible. Even though you need oils and serums to shine and moisturize your hair, they must be lightweight.
Furthermore, a little drop at a time is more than enough to keep your hair shining.
For your oil, you can mix a little essential oil with a carrier oil. This would maintain the sheen of your hair and also smelling refreshing.
For example, jasmine oil and almond oil mixed are light for your hair. They also won't weigh your strands down, yet the mixture would keep it shining.
On the other hand, hair serums like Herstyler Hair Repair Serum With Argan Oil, Vitamin E, and Aloe Vera would keep your hair shining. All you have to do is add a little at a time.
11. Get a trim regularly
Before you straighten your curly hair, a good trim would remove split ends and frizz from your ends. So you are starting afresh. Also, it gives your hair an even look, making styling a wonderful experience.
Trimming your hair regularly is the best way to prevent frizz and split ends. I would recommend trimming your hair once every 6-8 weeks. But this depends on how well you care for your hair.
Guide: How to Straighten Curly Hair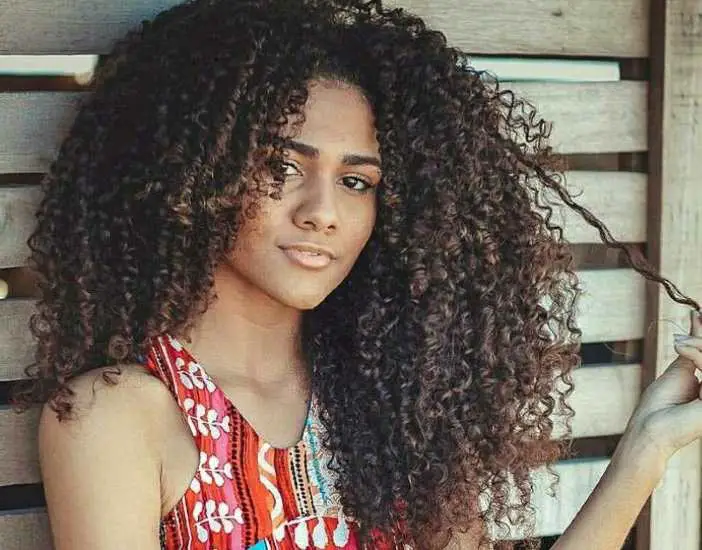 Learning the tips behind a good straightening is the first step in correctly straightening your hair. What comes next is applying the tips to your routine.
I would be walking you through quick steps in straightening your hair. The steps require you to be patient with your strands and keep them healthy after the routine.
1. Wash your hair
You can use a sulfate-free shampoo to get the grease out of your hair without stripping it of its natural oils. Also, the shampoo should be nourishing to keep your hair moisturized. Rinse with lukewarm water after washing.
Apply a hydrating and moisturizing conditioner on your hair to keep it deeply moisturized and prepped for the hot tool. After rinsing the conditioner off, dry your hair with a microfiber towel or a t-shirt to keep your hair in less friction.
2. Detangle your hair
Detangling your hair would help straighten your curls, keeping the process smooth. You can use one of these detanglers for natural hair to get your hair as tangle-free as much as possible.
Also, use a wide-tooth comb to get through your tresses without stress.
3. Apply your protectant
Before applying your hot tools, protect your hair with a nice heat protectant. Don't forget to use a thermal heat protectant right for your hair. Fine or thin hair should use sprays, while thick hair should use cream protectants.
4. Blow dry
Use a blow dryer and a round brush to work through your hair in sections. As I mentioned, section your hair in little inches and hold off with hair clips.
Make sure to use a blow dryer with a temperature setting. Start with low or medium temperature as you work through the sections to keep damage to a minimum.
5. Flat iron
You can part the sections into smaller inches when you get to this stage. This is the main event of the routine and should be done with care.
Also, set your hair straightener to the lowest temperature, making sure to not swipe more than two times at each section.
When you run the plates through your sectioned strands, do it slowly and with precision. This would reduce the damage and frizz later on.
Tip: make sure your hair is completely dry before you use your flat iron.
6. Apply the Chase Method
You might be wondering what this is, but it would be familiar to you if you frequent a hair salon.
The chase method is like a securing method to get your curly hair straightened. A flat iron alone won't completely straighten your curls, so you use the chase method. It involves using a rat tail comb and running it along with your flat iron through a section.
This would lift the roots of your hair and create a smooth strand. The rat tail comb should be one or two inches away from your roots with the flat iron above the comb. Then run them through your sectioned strands at once to straighten them.
Do this until your curls are completely straightened.
7. Spritz your hair
You can apply an oil mixture or a conditioner spritz mixture to shine your hair after straightening your curls. Your serum or oil spray should not weigh down your straightened hair.
Frequently Asked Questions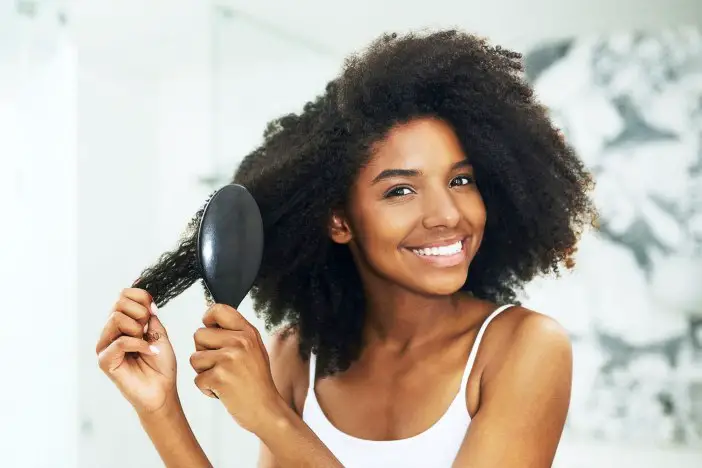 When is the best time to straighten my curls?
During less humid seasons.
The best time to straighten curly hair is during cold seasons; that is, fall and winter. Flat ironing your hair during these seasons will make your style long-lasting.
Summer is more humid and could cause your hair to frizz easily. And keeping your straightened curls from frizz is a priority when your curls are smooth.
Can straighteners frizz my curly hair?
Yes, they can. Hot tools can cause your hair to frizz when they are not applied correctly. This is why most naturally curly hairs stay away from hot tools.
However, you can use the hot tools optimally if you follow safety tips like not applying them on wet hair, keeping products a minimal as possible, trimming your ends, and using the right hot tools for your hair.
How can I fix frizz caused by straighteners?
You can fix frizz caused by straighteners by trimming.
Trimming your ends regularly will reduce the frizz or clear it off. However, you can use products like natural oils to get the ends of your hair shiny again.
Also, hair serum would help to treat the frizz of your hair. The serum would shine your hair and keep it moisturized.
Can I straighten my curly hair without a flat iron?
Yes, you can.
You can straighten curly hair without a flat iron through several means.
The methods range from natural to using tools. For instance, you can add a hair concentrator to your blow dryer. The technique involves adding concentrated heat to your hair, causing your hair to be smooth.
Also, you can use essential oils or natural ingredients like milk spray, hot oil, aloe vera, and apple cider vinegar for hair straightening. However, this process requires patience and consistency.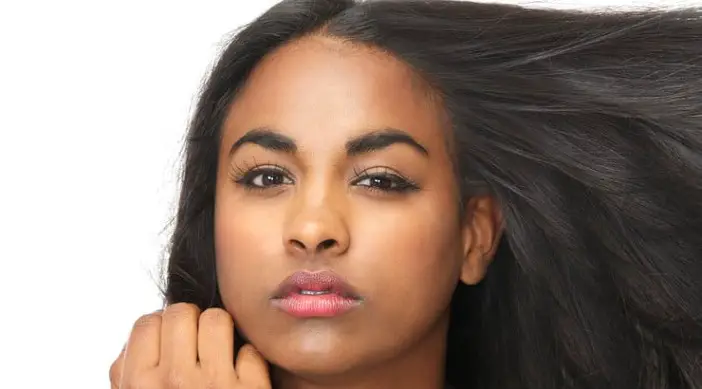 Conclusion
Sometimes you want to have smooth silky hair. This doesn't mean you love your naturally curly hair less. It just means you want to switch things up, but you are worried about getting frizzes and split ends with hot tools.
This is a natural fear for most curly hair. However, you can switch hairstyles when you have hacks on how to straighten curly hair without frizz.
Also, you need to straighten your hair the right way. Saving your curls is important, but knowing how to use your hot tools would help protect your hair. So you need not worry about harming your healthy hair.
All you have to remember when you want to straighten your curly hair is to keep the temperature to a minimum, section your hair in thinly, and use less products.
And you will get the perfect result of straightening your curly hair without getting it frizzy.
Africana Fashion provides hair care articles to improve your hair care lifestyle.