Knowing that some of the Nike shoe lines can help one gain a few extra inches in height is comforting for someone who loves the Nike brand. As one of the popular lines, Nike Air Max shoes also fit in this category. However, do Nike Air Max shoes make you look taller?
Although arguable, I believe the Nike Air Max outperforms the other Nike sneakers since it fulfills two functions: style and extra height.
Therefore, you should read this article to learn more about why the Nike Air Max gives you a few extra inches of height and a list of the Air Max models that do this.
What is Nike Air Max?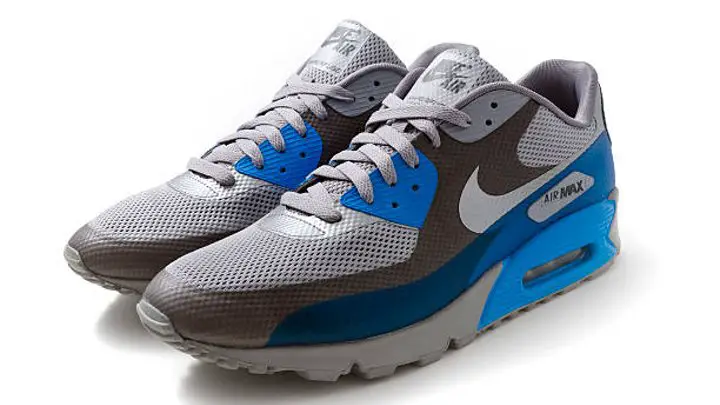 Nike Air Max is a shoe line manufactured by Nike, Inc., with the first release hitting the retail shelves in 1987.
Air Max shoes are distinguished by visible flexible urethane pouches filled with compressed air you can see outside the shoe and intended to provide underfoot cushioning.
SEE: Can You Wear Nike With Adidas All The Time?
Who can wear Nike Air Max?
The Nike Air Max can be worn by anyone. However, it is especially popular among athletes.
Nike is the world's leading manufacturer of athletic footwear and apparel; as a result, the majority of its products are aimed primarily at professional athletes. That is because Nike's innovations, products, and services seek to help athletes reach their full potential.
Do Nike Air Max shoes make you look taller?
Yes, they do.
The Nike Air Max adds over 1 inch to the wearer's height. The Air Max series continues to be one of Nike's most generous offerings because of this innovation.
Why does the Nike Air Max make you look taller?
You gain extra length when you wear the Nike Air Max because of the shoe's thick sole.
Even though wearing them doesn't increase your height biologically, they still give wearers a certain amount of self-assurance.
How much taller does Nike Air Max make you?
When you wear the Air Max shoes, you will gain between 1 to 1.6 inches in height. This extra length is due to the shoe's sole padding.
SEE: Do Nike and Jordan Mean the Same Thing?
Nike Air Max shoes that make you look taller
Because of the elevation advantage that the manufacturers gave it, the Air Max series is one of the best products, and it never fails to receive praise.
However, not every pair of Air Max will offer you height. Below are a few pairs of maxes that may make you appear a little taller.
Nike Air Max 270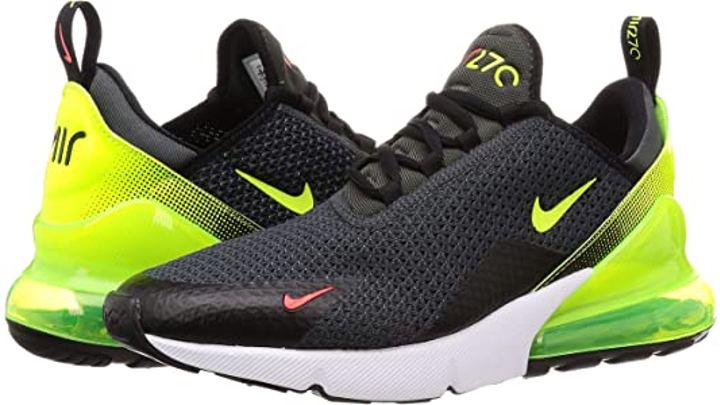 The Air Max 270 is a cushioned, lace-up shoe with a Nike Air unit in the heel for all-day comfort. It also adds an added boost in height inspired by vintage running shoes.
The sneakers provide all-day comfort with their lightweight woven upper, plush foam midsole, and stretchy inner sleeve that conforms to the shape of your foot. With these functional, sporty sneakers, you can get up to 3.2cm (1.25 inches) of extra height.
Nike Air VaporMax
The futuristic and fun Nike Air VaporMax shoes add style and extra coolness to any outfit. The targeted rubber provides durability, while the underfoot cushioning is extremely light.
They come in a variety of styles and colors for both men and women, and they go well with casual attire like joggers or shorts and a T-shirt while helping you look a bit taller, too. With the VaporMax, you will get 3.3cm (1.3 inches) of extra height.
Air Max 1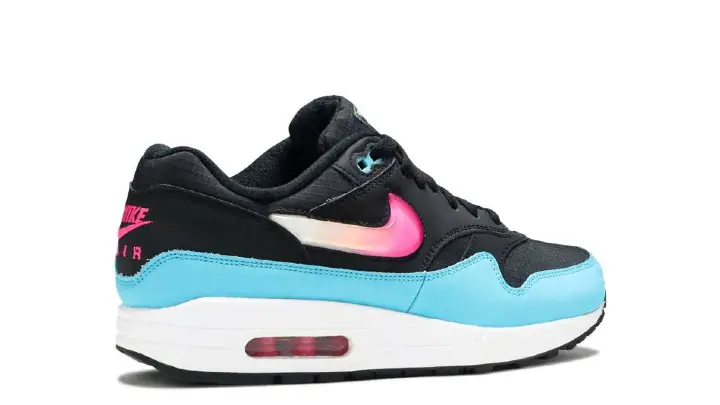 Tinker Hatfield's Nike Air Max 1 was the first sneaker to include the unmistakable trapped air in the midsole.
It was the one that birthed the extra heights, which were eventually adopted into other designs when it gained worldwide acclaim. These shoes will add roughly 3.4cm (1.3 inches) to your height.
Nike Air Max 97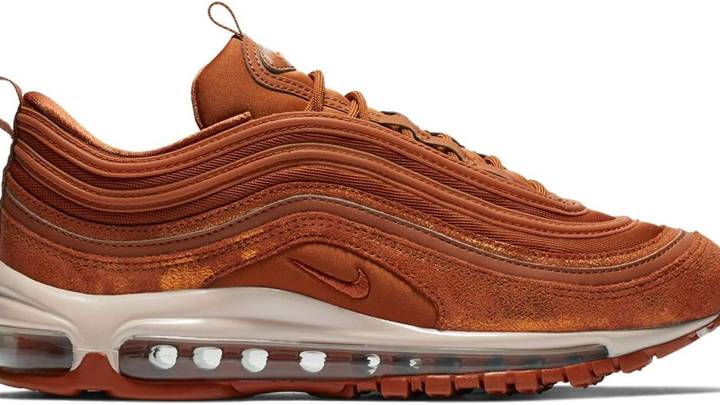 The Nike Air Max 97, which has a full-length air unit for plush cushioning, stands tall. The ripple design, inspired by Japanese bullet trains, is offered in various colors and with interchangeable uppers.
It is made of breathable mesh, synthetic fabrics, and sturdy rubber outsole traction. Wear these informal shoes with joggers, jeans, or leggings for a chic streetwear look. You will get about 4cm (1.6 inches) extra height from this shoe.
Air Max 90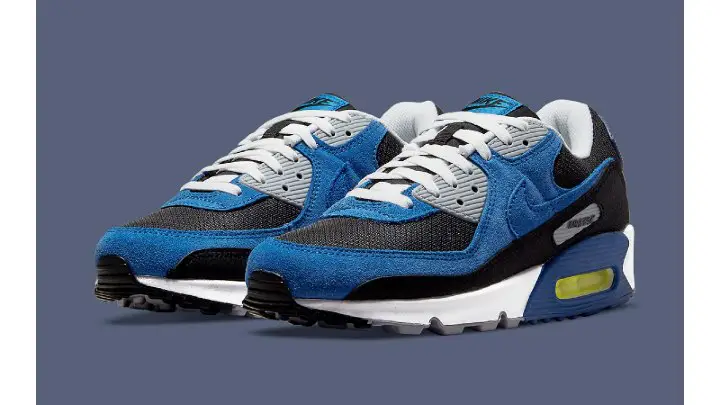 The Nike Air Max 90 is one of the most well-known Air Max shoes ever. It became the number at a point because the foam in between the outsole was removed, making the Air-Sole unit larger than the ones made before it. The sneakers will give you 3cm (1.2 inches) additional height.
Nike Air Max 95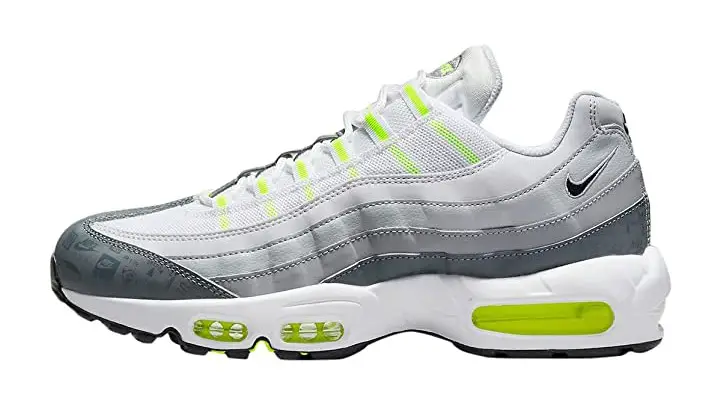 The visible air units in the sole of these traditional, retro-inspired sneakers add comfort and height. The Nike Air Max 95 is made of plush suede, resembling a pair of running shoes from the 1970s.
These athletic sneakers look great with joggers and a hoodie for a casual look. Choose from a variety of pre-made color schemes or make your own. In addition, these shoes will give you 3.4cm (1.3 inches) of extra height.
Air Max 720 
Nike's second tallest Air Max model at the moment is the Air Max 720. It easily surpasses the Air Max 270 at 3.8cm (1.5 inches) tall. Therefore, this sneaker perfectly fulfills the function of an instant height enhancer if you're someone who needs one.
SEE: Get A Chance To Win A Pair Of Vans Shoes Worth $85
FAQs
What other Nike shoes make you look taller?
The Nike Air Force 1 series also helps you to appear taller.
These shoes have a comfortable padded collar, a stretchy, punctured upper, and a sturdy stitched frame for support — as well as a slight height increase.
Is Air Max a running shoe?
Yes, it is. Both the Air Max 270 and Air Max 2090 are made to be both stylish and functional running shoes.
SEE: Do Nike Shoes Run Small Or Big Or True To Size?
Why are they called Nike Air Max?
It was given the name Air Max because of the larger and better air cushioning bag, visible and connected to the ground through the outsole.
Is Air Max good for working out?
Yes, it is. Nike Air Max training shoes provide all-round support for completing the most demanding agility drills at the gym.
Conclusion
Any shoe that can give its wearer a little extra height is regarded as one of the most stylish and the best. Knowing that the Nike Air Max series falls into this footwear category gives an elating feeling to those who love the sneakers and need a little boost.
However, you should consider the design and color you want while purchasing these incredible shoes.
Besides, if you're still unsure, I recommend you look over the various types discussed in this article to help you make a better decision.
Thanks for reading.
If you have enjoyed reading this article, check out Africana Fashion for more.