There is no denying that shapewear has become increasingly popular in recent years, with many wondering if it can work. Countless women (and even some men) have turned to these garments in an attempt to achieve a slimmer, more toned appearance. 
But does shapewear really work? The simple answer is yes, but don't expect any overnight weight loss transformation. 
Let's take a closer look at how you can make them work for you.
What is shapewear?
Shapewear is a type of clothing that helps to change the shape of your body. People often wear it to slim down their waist, hips, and thighs or to create a more hourglass figure.
It is often made from firm, stretchy materials such as spandex or nylon. Furthermore, it comes in the form of bodysuits, slips, shorts, and leggings.
Does shapewear really work?
Yes, they work to some degree.
There are a lot of variables to consider when it comes to shapewear, such as the type of garment, the size and fit, and the intended purpose. 
The best way to find out if a certain type of shapewear works for you is to try it on and see how it feels. In general, though, shapewear can be a great way to improve your appearance and make you feel more confident.
How does shapewear work?
There are a few different ways that shapewear can work. One is by providing compression. Your body fat then moves into areas where your muscles are compressed, making your body appear slim.
Another way is that it creates an illusion of a smoother, more toned appearance.
Why do women wear shapewear?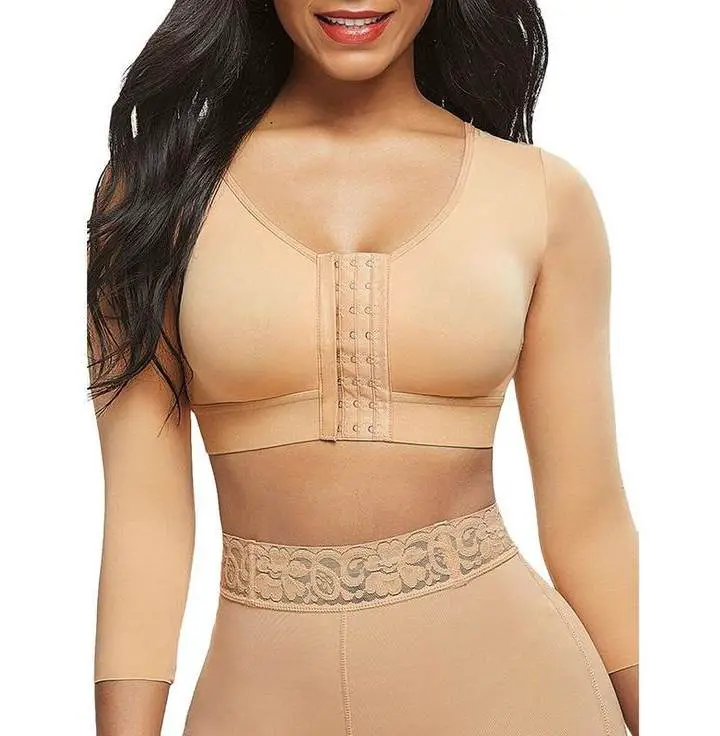 Here are the most common reasons for this:
​To smooth and sculpt the figure
Shapewear can help to smooth out any lumps or bumps on the body. Also, it provides gentle shaping and definition to create a more flattering overall silhouette.
To improve posture
Wearing shapewear can help to improve your posture by pulling in your stomach and keeping your shoulders back. This can, in turn, help to prevent back pain or aches.
To avoid wardrobe malfunctions
No one wants a wardrobe malfunction, and shapewear can help to avoid them by holding everything in place.
To boost confidence
Wearing shapewear can help to boost your confidence by knowing that you look good and everything is where it should be.
To make clothes look and fit better
Shapewear can help to make your clothes look and fit better by providing a smooth base underneath. This can especially be helpful with fitted clothing or dresses with clingy fabric.
SEE: What to Wear in 60-Degree Weather
To help with weight loss
Wearing shapewear can help to give the appearance of weight loss by creating a slimming effect. This can be helpful when trying to lose those last few pounds or get over a weight loss plateau.
For post-pregnancy
Shapewear can help to hold everything in place after pregnancy and childbirth when your body is going through so many changes. It can give you the support you need during this time and help you to feel more comfortable in your own skin.
Does shapewear reduce belly fat?
Yes, it can.
It can help to slim down your waistline and give it a more toned appearance. It'll also hide your belly fat so you can feel more confident in your clothing.
There are a few different types of shapewear that can help with this, such as high-waisted shaping shorts or bodysuits.
If you're not sure which type of shapewear will work for your body, it's always a good idea to consult with a salesperson or even ask for advice from friends who have experience with shapewear.
Does shapewear help lose weight?
No, it doesn't.
Shapewear can help to create the appearance of a slimmer figure, but it will not help you to lose actual weight, nor will it burn belly fat.
Wearing shapewear may help you feel more confident and comfortable in your own skin, but it is important to remember that it is not a substitute for healthy eating and exercise. 
If you are looking to lose weight, focus on making lifestyle changes that will help you to achieve your goals. Eat a healthy diet and get plenty of exercises, and you'll see the results you're looking for in no time.
SEE: Create Your Unique Style With Tips on How to Be More Fashionable
Does shapewear help tighten skin?
No, it doesn't.
Shapewear can help temporarily smooth out bulges and dimples, but it will not tighten the skin. Likewise, if you have loose, lax, and overstretched skin, surgery, not shapewear, will likely cure it.
For people with good skin elasticity, shapewear may help to improve the appearance of their silhouette.
Can men wear shapewear?
Yes, they can.
More and more men are turning to shapewear to help them look their best.
Shapewear can help to slim the appearance of the waist, hips, and thighs. It can also help to smooth out any bulges or lumps that may be present.
Are there side effects of wearing shapewear?
A possible side effect is that it can irritate your skin because of how close it gets.
If you have any skin conditions, it may worsen them. Also, if you are pregnant, it is best to avoid shapewear as it can put extra pressure on your stomach. 
Moreover, if you wear shapewear that is too tight, it can cause discomfort and pain. So make sure to buy the right size and take breaks from wearing it throughout the day.
FAQs
Do tummy-control pants still work?
Yes, they do. Tummy control pants can hide back fat, make your thighs appear smaller, and accentuate your cleavage. 
Does arm shaper really work?
There's no proof yet that they'll help you lose weight in your arm. You may reduce a few pounds at first but you'll gain it back almost after eating. So, it's not a permanent solution.
Do sweat shapers work for arms?
Yes, they do. They can help you minimize the sagginess in your arms for a while. You'll have to add regular exercise and eat healthy to see faster results.
SEE: Find From Simple to Grand Evergreen Gift Ideas for Women
Conclusion
Shapewear will work by compressing your body into a more desired shape. This can help to temporarily reduce the appearance of cellulite, love handles, and other problem areas. In some cases, it can even make you look a few pounds thinner.
Shapewear is not a miracle solution and will not instantly give you the body of your dreams. Healthy eating and regular exercise are still the best ways to achieve long-term weight loss and a healthier body.
Thanks for reading.
Found this helpful? Visit Africana Fashion for more.