Eye makeup says a lot more than what we see. Just as the eye lights up the body, eye makeup is the accent to your face beat. That is to say, when you are getting your eye makeup done, it has to be an eye in every sense of the word.
Eyeshadows can either lighten up or tone down your eyes and consequently, your face. You will agree with me that before you choose eyeshadow, you must consider it well.
We can see the value of eyeshadow from how many tutorial videos are available to help you accentuate your eyes either as a beginner or as a pro. 
Have you ever wondered why and how your faves steal shows?
Regular things quickly get boring. Certainly, on some days, we want to look fabulous but then, we run out of ideas on what to do and how to do them. This sure sounds like your cup of tea.
What Is Eyeshadow?
Eyeshadow is a cosmetic that is applied to the eyelids to make the eyes stand out. Besides the eyelids, eyeshadow is also applied under the lids or high up the brow bones. 
Based on color choice and eyeshadow looks, your eyes could appear larger and have more depth. Eyeshadow comes in pallets that contain varieties of colors alongside their different shades. 
These pallets come with eyeshadow brushes for the application of this eye cosmetic. However, based on your level of expertise, you can use your fingertips to apply your desired colors.
Types of Eyeshadows
When you go cosmetic shopping, it's only natural to get attracted to colors and shades that match your dresses. Rather than focusing on the beautiful colors, carefully considered the formula and how it suits your lifestyle. 
There are different types of eyeshadow and each comes with its distinct texture formula and finish effect. Here's a quick run-through on the different types.
Powder eyeshadow
Most commonly, eyeshadows are in powdered form. This texture best suits beginners because it is the easiest to blend. They come compressed into pans arranged in a palette. 
Powdered eyeshadows have a variety of finishes for different purposes. Matte finish suits daily usage, shimmer finish gives you the dramatic and evening look, and satin-finish leaves your eyes looking smooth and satin-like. 
Remember to note that, you should not rub powder eyeshadow. Gently apply it by putting the color on your eyelid using your fingertips (for beginners) or an eyeshadow brush.
Cream eyeshadow
Some women and makeup artists prefer this type of eyeshadow because of its long-wearing formula and shimmery finish. These are packaged in pans, tubes, or stick forms. Cream eyeshadows blend easily and well. You can combine two or more colors for your creativity. 
The issue with cream eyeshadows is that they are not waterproof. During the hot weather, they can easily melt down and they are very susceptible to creasing.
Liquid eyeshadow
These come in the same packaging as most lip glosses. Like the powder eyeshadow, they're a good start for beginners. Its liquid nature allows it to grab onto pigment, enhancing its vibrancy and staying power when used as a base. 
However, liquid eyeshadow, like cream eyeshadow, is very susceptible to creasing. This makes it a bad option for those with oily lids. To apply, you can apply directly using the wand or a fine, thin liner brush. Being liquids, it is important to note that they dry quickly.
Loose powder eyeshadow
These powder eyeshadows come in a loose form. They are finely milled, highly pigmented eyeshadows. Loose powder eyeshadows come in the form of glitters or metallic eyeshadows. This is why they're used to achieve dramatic looks like the smokey, glittery Iook. 
But, it is not a good option for women with dry skin because it can further dry out the skin into wrinkles. For an effective glittery metallic look, apply eyeshadow primer before putting the pigments onto your eyelids. Also, ensure you wet the brush with water or a makeup setting spray.
Stick or crayon eyeshadow
These are the best options for minimalists. Stick eyeshadows are ultra-versatile and easy to carry. The highlight of these shadow sticks is the primer and pigment combination in one that makes it long-wearing. 
If you love to apply eyeshadow on your lower lids and tear ducts, these are your best bet. It is very easy to use. All you need to do is slide it on your lids and blend as you wish.
Baked eyeshadow
Baked eyeshadows have an ultra-smooth and blendable formula. You can apply this eyeshadow wet or dry depending on whether or not you want a dramatic look.
Read Also: Best Makeup Kit in All Sizes You Could Possibly Want
Eyeshadow looks
When it comes to what your eyeshadow should look like, there is an endless list. After choosing your eyeshadow type, you can go ahead to make the color pick. Some shades are just so lovable and you can do almost nothing to resist experimenting. 
Most importantly, regardless of what type of eyeshadow you are using, always use an eyeshadow primer. It will serve as a shield between your eyelids that naturally produce oils and the eyeshadow. Eyeshadow primer helps to prevent creasing and improves staying power. 
To achieve that stunning eyeshadow looks, you should know what color and/or shade best complements another. 
1. Simple Eyeshadow Looks
As the name implies, your eyes are simply shaded. Nothing artistic. You could be a beginner or maybe you just want something that isn't screaming. Then, this is for you. 
Simple eyeshadow is easy to do and perfectly suits every skin tone and eye color. They are not picky when it comes to outfits or accessories. Just as simple as it sounds, the shades for a simple eyeshadow look are usually nude colors.
2. Colorful Eyeshadow Looks
These very artistic styles have a way of pointing you to the crowd. If you will successfully pull off a colorful eyeshadow, you must carefully pick out your colors. Also, you should have a picture of what you want your eyes to look like. 
Since your eyes are the focus of your makeup look, every other thing should be kept simple. Natural lips and cheeks with amped-up lashes and brows will perfectly complement your eyeshadow. 
Whether your colorful eyeshadows will include just one color or not, make sure you pick different shades of complementary colors, if that is the case and, blend very well.
3. Blue Eyeshadow Looks
You can call this fairytale beauty. Blue comes in different shades and is one of the most universal and complementary colors. There is a wide array of shades of blue to pick from. What you need to do is, pick the shade that works for you. 
There are different ways you can wear your blue eyeshadow. It could be blue brown smokey eyes or blue ombre. And, if you like to add another color to blue, be mindful to pick complementary shades and most importantly blend well. 
You can pair your blue eyeshadow with white and different shades of brown, pink, gold, and purple. For the fairytale look, apply silver eyeshadows to your tear ducts. Almost every eye color has it good with blue when properly shaded or paired.
4. Pink Eyeshadow Looks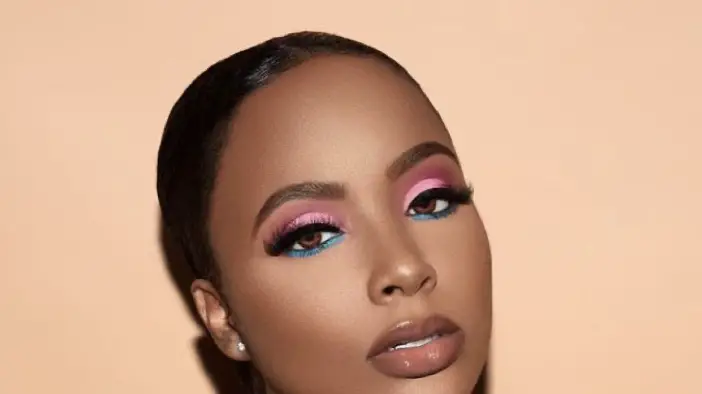 Some people do not fancy pink as a choice of eyeshadow hue. This is because some can be too red and make you look tired. Nonetheless, it is a beautiful stop for brown, blue, and hazel eyes. 
When choosing eyeshadow colors, be sure to pick complementary colors. Colors like blue, brown, gold, silver, and purple are good pairing options. Go for a smokey eye, to up your pink game, or use some glitters to get a glittery look.
5. Purple Eyeshadow Looks
Wearing purple eyeshadow isn't as arduous as we think. Like with every color, you just need to pick a good shade and pair it with nice colors or other shades of purple. Purple can be mixed with brown for smokey eyes. 
Purple eyeshadows perfectly accentuate green eyes by bringing out the hidden yellow colors. Women with blue, hazel, and brown eyes can also wear purple eyeshadows. You can also add glitters for the glittery look. Blue, green, gold, and silver are other great color pairs for purple.
Read Also: Best Makeup Foundation
6. Red Eyeshadow Looks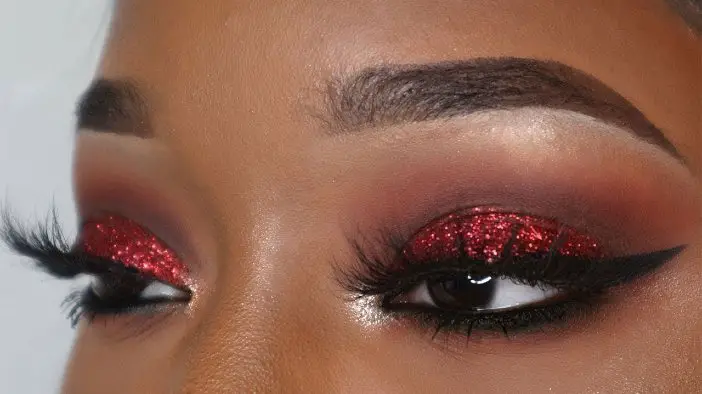 Red is most likely one of the underrated and less used eyeshadow colors unless on Halloween or runways. You can wear red eyeshadow. 
First, pick a red that complements your skin tone and make sure it's the only bright color on your face. If you want to wear red alone, it is best to tone it down with a concealer. If you are considering a red smokey eye; use extra concealer, a highlight color, and maybe some gloss to add shine. 
Red perfectly suits brown eyes and can be paired with brown silver and some shades of purple.
7. Green Eyeshadow Looks 
It could be much easier to stick with your trustworthy go-to's that don't have you racking your head on what complements them and what doesn't. You don't get to see colors like green every day but that doesn't make it less of a beauty. 
Like every other color, green needs to be perfectly paired and blended to give that beautiful eyeshadow look. Green smokey eyes are a good escape if you don't want your eyes screaming. When you add glitters to green, you become a goddess.
Other colors that complement green eyeshadow are yellow, brown, gold, and silver. Green eyeshadow is a perfect color to pop out hazel eyes when toned with gold and green eyes in silvery shades.
8. Brown Eyeshadow Looks
This one is absolutely lovable. Brown tones down any color and it is a very important color for smokey eyes. Wearing brown alone is just as beautiful as pairing it with brighter or darker colors. 
Different shades of brown can be blended to give your eyes a simple and elegant look. Very beautiful shades of brown can be worn alone or complemented with colors like gold, silver, blue, red, black, purple, yellow, and almost every color. 
You can also sparkle up your brown eyeshadow with glitters. Brown eyeshadow brings out brown eyes even more, even though they are the same colors.
Frequently Asked Questions
How do I know what color of eyeshadow to wear?
Basically, a color choice should be based on your skin tone and eye color. You can go with palettes that suit your skin undertone.
Do I apply light or dark shade eyeshadow first?
You should go from the lightest to the darkest shade. Prepping your crease with a lighter shade makes it easier to blend the darker shades.
How far up should I apply eyeshadow?
Concentrate a majority of the pigment on the outer corner of your eyelid and blend up and out towards the tail of the brow. This will give a beautiful illusion of a lifted eye.
Can I wear just one shade or color of eyeshadow?
Yes, you can wear just one shade or color to give you the one-shadow look.
Conclusion
Eye makeup cannot go out of style, it only gets better. There are so many variations of eyeshadow looks to make you a queen in every scene.
To make a perfect choice of an eyeshadow palette, you need to know your skin undertone. It's time to let the emphasis be on your eyes. Whether it's a hangout with friends or a work dinner, allow your eyes do the talking.
Thanks for reading. Africana Fashion provides you with beauty tips to keep you in the know.