Your body has natural ways to maintain itself, but sometimes things get out of balance. One of those things is your pores. And if you're not careful, they can get clogged and infected.
Clearing your pores is important for maintaining healthy skin. However, it's not always easy to figure out how to clear your pores, especially if you have oily or acne-prone skin.
Luckily, this article will walk you through how to clear your pores so they look less visible to others and feel less irritating to you. So, whether you have oily or dry skin, keep reading to get your confidence back.
SEE: Is Aloe Vera Good for Acne? Get Your Answers Here
What Is a Pore?
A pore is a natural opening located on the upper layer of the skin, which is called the epidermis. It allows for the release of sweat and sebum, which is an oil produced by our bodies.
Usually, these pores are barely noticeable. But sometimes they get clogged up with excess oil, dead cells, and bacteria, which make them appear larger than usual. This can also lead to blackheads and breakouts on the surface of the skin.
How to Clear Pores
There are many ways to clear your pores and get them back to a healthy state. You can use exfoliants to slough off any excess buildup on the surface of the skin that could block your pores.
You can try using a toner to close pores down for smoother-looking skin or you can use products like masks or moisturizers to unclog your pores. Below are some tricks to avoid oily skin and clear your pores for beautiful skin in no time at all.
1. Cleanse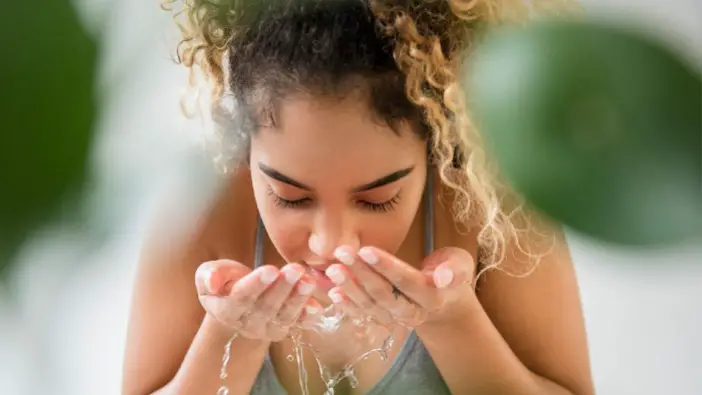 Cleansing your face is the first step to clear pores. You should cleanse your face at least twice a day: once in the morning and once at night before bedtime. This helps to kill any germs or dirt that may have built up on your skin.
To cleanse your skin:
Gently rinse your face with warm water and pat dry with a towel.
Apply a cleanser of your choice on your face.
Rub your cheeks, forehead, and chin in small circular motions.
Rinse off with warm water.
Apply a second layer of cleanser if needed and rinse off gently.
A good trick is to use a gentle cleanser like Neutrogena Ultra Gentle Hydrating Daily Facial Cleanser that is designed for oily skin types because they are usually more effective at removing oil and dirt from pores.
2. Use a Face Toner
Face toner is a beauty product designed to cleanse the pores of any residue left by cleansing agents and prepare it for moisturizing. They work by removing the excess oil and dirt that are stuck in your pores after cleansing.
Toners also help to balance your skin's pH level and improve skin color. They come in various forms, like gels, liquids, or sprays. You can use an alcohol-free toner like Proactiv Hydrating Facial Toner for Sensitive Skin because they are mild and gentle on sensitive skin types.
To use a face toner:
Pour a small amount of the toner on a cotton pad.
Apply it all over your face and rub in circular motions.
Leave it to dry.
Follow up with a moisturizer.
SEE: Experts Say This Is the Best Skincare Routine for Acne
3. Moisturize
Moisturizers work by hydrating the outer layer of the skin, which in turn reduces dryness and opens up pores. Moisturizing your skin regularly will not only help to clear clogged pores but also helps reduce the appearance of wrinkles.
You can find moisturizing products in many forms, such as lotions, oils, and serums. But keep in mind to choose a moisturizer like Aloe Infusion Body and Face Moisturizer that contains natural ingredients such as aloe vera, olive oil, or tea tree oil, as these ingredients have cleansing properties that help to reduce inflammation and unclog pores.
4. E For Exfoliate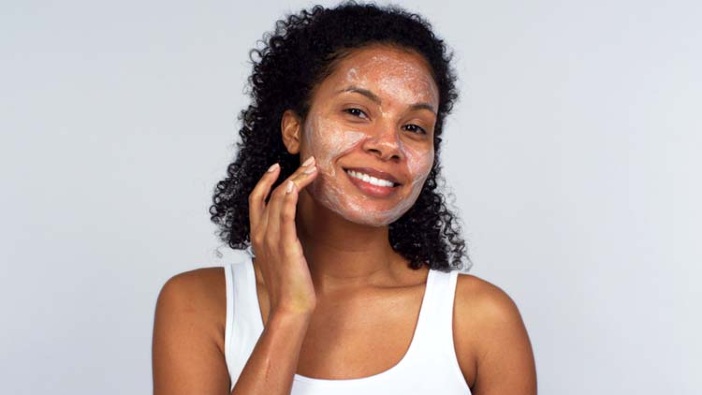 Exfoliating your skin is great for removing dead cells, dirt, and other unwanted substances that can clog pores. The best time for this treatment is in the morning, before applying makeup, or at night.
There are many ways to exfoliate, but the most popular method is using an exfoliating scrub. These scrubs can be made with different ingredients, such as salt, sugar, honey, or oils. I suggest you use a sugar-based scrub like Brooklyn Botany Brown Sugar Body Scrub because sugar has natural exfoliating properties.
To exfoliate:
Use a gentle facial scrub and rub over your face.
Massage gently in small circles to get rid of dead skin cells.
Rinse it off and pat dry with a clean towel.
5. Use Pore Strips
Pore strips are thin pieces of adhesive fabric that have been soaked in a chemical solution. You can apply these strips to your nose, forehead, or chin where they will stick to your skin and hold open your pores so that the chemical can clean them out.
Pore strips are effective, easy to use, and the perfect choice for when your skin needs a fast, deep clean. Unlike some products which just cover the problem up, pore strips work by pulling all of the gunk and dirt from your pores.
Here are some tips to use pore strips effectively:
Cleanse your face with water and dry with a clean towel.
Apply the strip to your nose, chin, or forehead evenly and firmly until it becomes tacky.
Keep in mind to avoid your hairline.
Wait 10-15 minutes before slowly peeling off the strip from one end to the other.
Rinse your face with water and apply moisturizer.
You can purchase pore strips at any drugstore or pharmacy for a low price but I strongly recommend purchasing pore strips that come in a pack of 28 like SHILLS Purifying Pore Strips for economical purposes.
6. Use a Face Mask
One of the best ways to clear pores and make your skin look healthier is to use a facial mask. Not only will it help to clear out the dirt in your pores, but it will also tighten your skin and leave you feeling refreshed.
I recommend using PUREDERM Deep Purifying Yellow O2 Bubble Mask for supple, healthy skin.
To use a face mask:
Choose a mask that is best suited for your skin type.
Apply the mask evenly onto your face and wait for it to dry.
Remove the mask with a washcloth or cotton pad and rinse off any residue before patting your skin dry.
Moisturize your skin after to enjoy that tingly feeling
7. Steam Your Face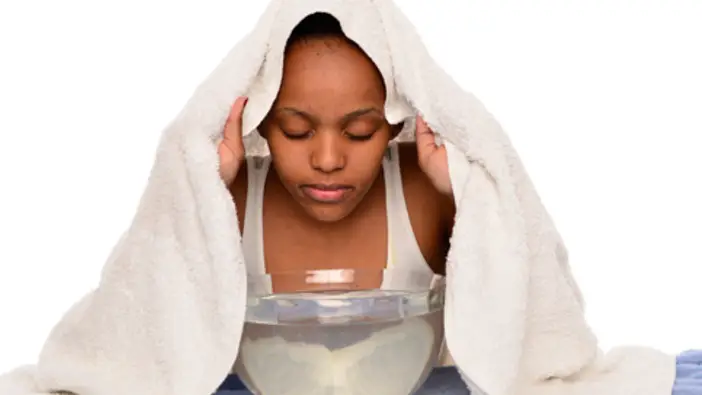 For acne-prone or oily, steaming skin, your face can be a great way to clear pores. It's also a wonderful way to relax and unwind after a long day.
Steaming your face will help open up pores and clear them of dirt, oil, and bacteria. It can also reduce redness and inflammation, which may be due to acne.
To effectively steam your face:
Fill a bowl with water and place it on the stovetop.
Add a few drops of essential oils to create a pleasant smell.
Bring the water to boiling point and then turn off the stovetop.
Place a towel over your head and lean gently over the bowl.
Hold this position for 5-10 minutes to steam your face properly.
SEE: See the Best Skincare Routine for Combination Skin
8. Drink Water
The importance of drinking water cannot be overstated. Water can help clear up pores and prevent wrinkles from forming prematurely; it also helps to flush out toxins and oil from your system, which can help clean your pores to create a smoother complexion.
The added benefits of drinking water include reduced puffiness, faster healing, reduced itchiness, and tighter skin. So go ahead and make your skin a priority by drinking up.
9. Eat More Greens
There's no denying that greasy, oily foods can clog your pores and cause acne. Your best bet for clear pores is to avoid these foods and eat more vegetables in times like this. By eating more vegetables, you can clear up your pores and improve skin quality.
That is because vegetables are packed with antioxidants, vitamins, and minerals that help to flush out toxins, clean your pores and keep your skin healthy. More so, eating a diet rich in fresh vegetables can help you maintain a healthy weight.
So, the next time you want to order takeout, try replacing the greasy chicken wings with some broccoli. You'll be glad you did.
10. Use a Pore Vacuum
A pore vacuum is a handheld device that typically has a small metal head with an opening to suck the dirt and oil from pores. This device uses suction to suck up all the oils and bacteria in your pores to keep them from clogging up and becoming blackheads or whiteheads.
Pore vacuums are available in many different styles and sizes in the form of an electric massager or suction device. The best way to use it is to apply your normal skincare regimen before using the device to loosen up any dirt and oil that might be in your pores.
To use a pore vacuum:
Turn on the device and start on the lowest setting.
Gently massage your face in small circular motions with the nozzle.
Rinse off your face with warm water.
Apply toner to clean face.
Apply moisturizer to hydrate.
11. Retinol
Retinol, also known as vitamin A, is a popular ingredient in skincare products because it helps with skin cell turnover, reduces wrinkles, and improves the appearance of photo-aged skin.
Using products that contain retinol is also an effective way to clear pores and reduce acne breakouts. You can find it in many over-the-counter moisturizers, cleansers, and serums.
To clear pores with retinol:
Apply your choice of retinol serum to clean skin twice daily
Use a moisturizer that contains retinol
Avoid sun exposure (wear sunscreen)
Use face masks and eye creams that contain retinol
12. Facial Extractions
A facial extraction treatment is a procedure where a dermatologist or skincare professional removes clogged pores or blackheads from the skin, either by manually applying pressure on the skin around the clogged pores or by using an extractor.
This extractor contains a loop-shaped head at one end and a sharp wire loop at another end, which is used to remove clogged pores and blackheads that are embedded deep in the pore opening or follicle openings.
It's important to leave facial extractions to a dermatologist or a skincare specialist, do not attempt to try this at home.
SEE: These Are the Best Blackheads Removal Methods for You
FAQs
Is it okay to squeeze my pores?
No, it's not. Squeezing your pores introduces them to more bacteria and dirt from your hands, leading to more acne and breakouts. Excessive squeezing can also cause inflammation, which stretches your pores and makes them larger over time.
What foods reduce open pores on the face?
Foods rich in omega-3 fatty acids such as fish, eggs, soybeans, and nuts help to shrink pores by regulating skin oil production, reducing inflammation, and improving hydration.
Why do I have acne?
You have acne because your hair follicles are clogged by excess oil, dead skin cells, and bacteria. This can be caused by several factors such as stress, hormones, genetics, and even bacteria.
Conclusion
We all want to have clear skin. But, with the climate and environment changing more rapidly than ever, we expose our skin to many harmful conditions without having a clue.
Factors like pollution, smoke, and even temperature changes clog the pores, leading to a build-up of bacteria, which will eventually result in acne or blackheads. And if you don't clear your pores in time, they can even lead to skin infections.
So why wait till you get a skin infection? It is important to clean your pores regularly to remove dirt and debris from your skin. Clearing your pores regularly will also help reduce other skin problems like acne or blackheads and balance your skin's pH.
Thanks for reading.
Check out Africana Fashion for more relevant beauty article updates.