Box braids are not only common, but they are also very flexible. You can modify your braids with thickness, length, and color. When you have box braids installed, you can also wear them in different ways. There are so many ways to style old or new box braids.
So, if you always take out your braids when you notice that they're frizzy or you easily get bored of one style, you should worry no more. This article contains a list of carefully selected ways to style your box braids and keep them looking new again.
1. Blunt Box Braids With Cords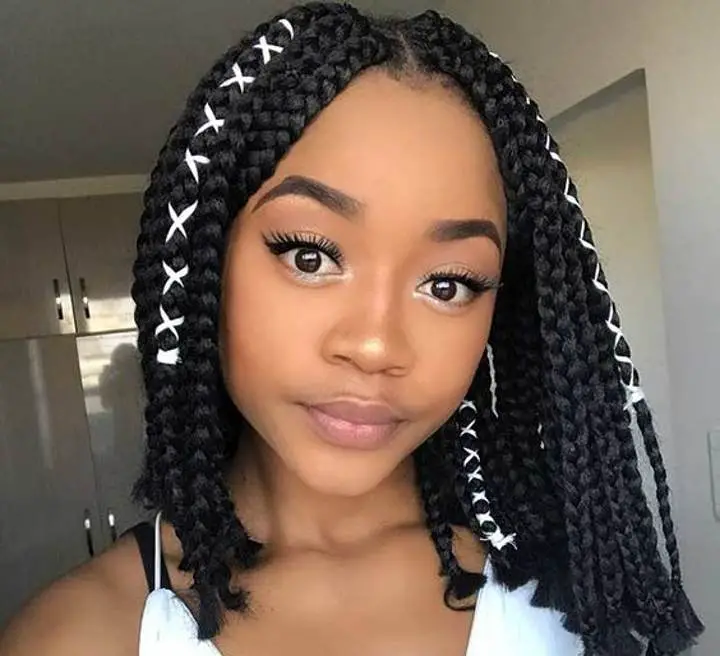 If you love to wear your braids without the extra length and bulk, good for you. After wearing short box braids in plain style for a while, you can accessorize with cords.
This style is very easy to do; you don't need a salon's attention for this. Tie cords around two or three strands in the front and you're good to go. If you had long braids, you can cut them short or medium-length to have the blunt ends.
2. Box Braids + Shaved Sides and Back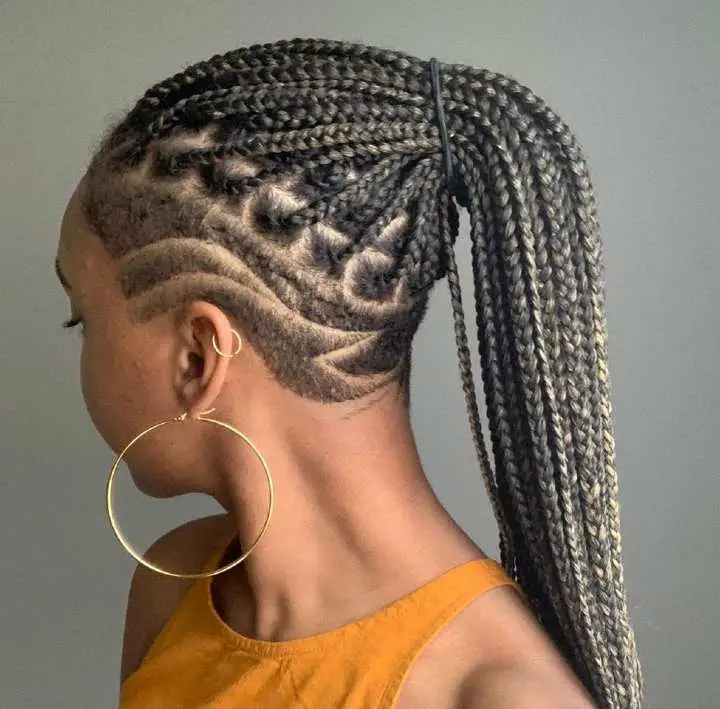 Box braids with shaved sides are commonly seen on women who wear a mohawk or undercut haircut. However, some of them braid the top part of their hair to change their look.
So, if you are thinking of cutting your hair after taking out box braids, take the few weeks left to rock the style before you make the final chop. Revive the loose roots and flyaways with styling products.
SEE: Short Natural Haircuts for Black Females: Classics for You to Try
3. Half Up-Half Down Style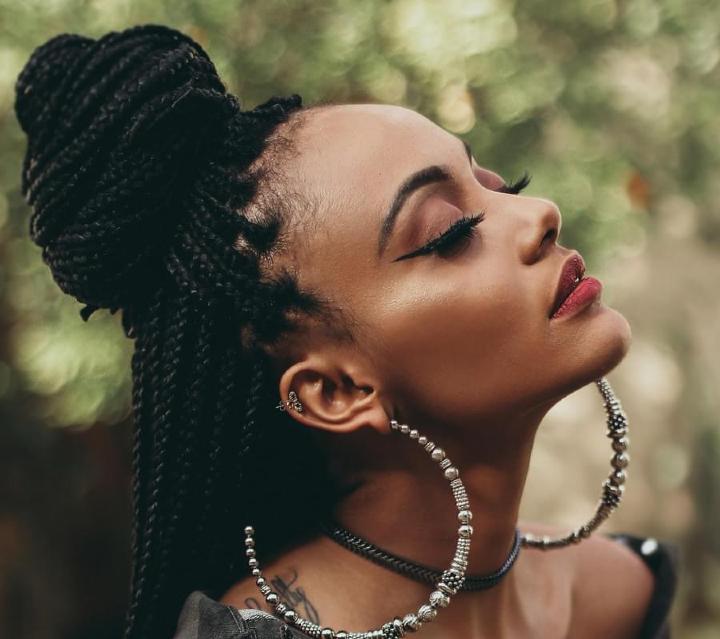 Another way to wear your box braids is to style them in a half updo. It's also easy to do by yourself. All you need to do is divide your braids into half horizontally and gather the top part into a bun or ponytail. Then, leave the lower part hanging loose.
This style can help cover braids with new growth at the back. Moreover, it gives you a more youthful and laid-back look.
4. Box Braids in a Bun
Gathering your hair into a bun is one of the most common and easiest ways to style hair and this includes box braids. It helps to take hair off your body, especially during the sunny summer months. In addition, it allows you to flaunt your facial features and makeup.
Box braids in a bun suit every face type. Feel free to accessorize with big hoop earrings and a dainty necklace.
5. Top Knot Bun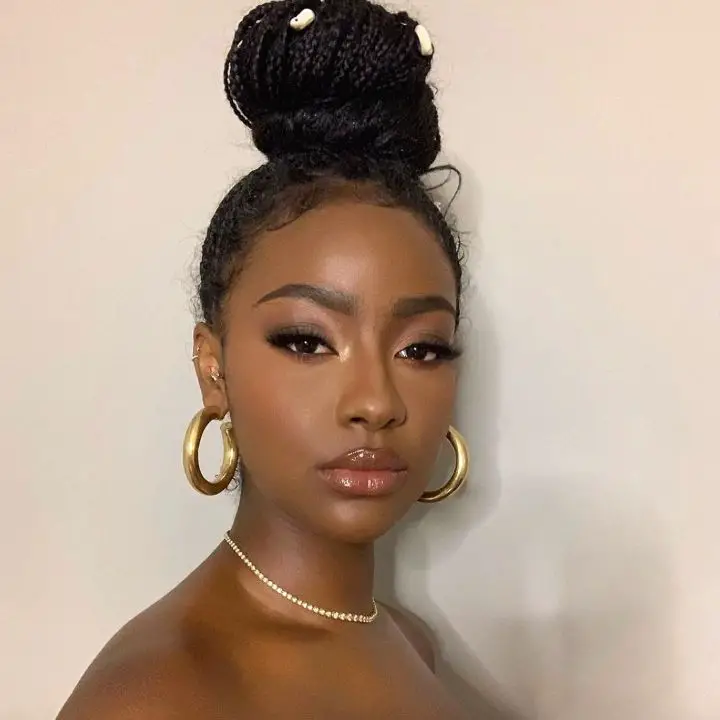 There are so many ways to style your braids in a bun. One of them is a top knot bun. This style of bun keeps your hair at the top and high. As the name implies, the bun is tightly knotted, so you can wear the style for a long period without having to do the bun over and over.
Just like with the regular bun, you can go simple or heavy on accessories while you flaunt your chiseled chin and jaw.
6. Style Box Braids With Scarf
Scarves have a way of adding so much detail to your look. And there are several ways to style box braids with a scarf. You can either use the scarf to wrap the whole braids or to cover just the roots if there is new growth. You can also weave the scarf into the length of the braids for a more stylish look.
7. Box Braids Ponytail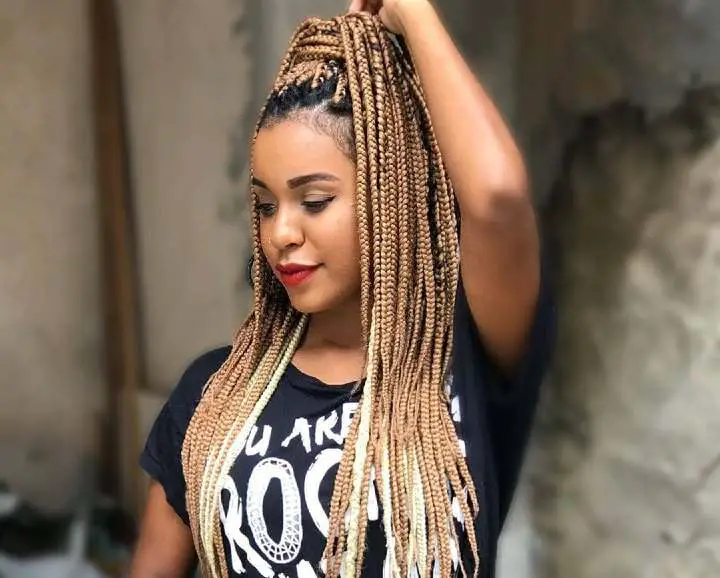 A ponytail is an alternative to a bun. The difference is that it lets the ends of your braids hang loose and bounce. If you want to get hair off your body but still want to flaunt the curly or beaded ends of your braids, this box braids style is for you.
You can wear this box braids style to almost any setting including a corporate workplace.
8. Box Braids Messy Bun Style
There is no end to how to style your box braids in a bun. For a more laid-back and youthful look, wear your braids in a messy bun. Moreover, it helps to put less pressure on your roots as the braids are not tightly wrapped or pulled.
You can also switch things up by accessorizing the length of your hair with beads, cuffs, and shells.
9. Box Braids High Top Bun
A high-top bun is another way to wear your braids in a bun. It is less knotted than the top knot bun and firmer than a messy bun. However, it is just as stylish as any bun style.
10. Box Braids + Middle Part
Neatly sectioned box braids effortlessly fall into a middle part. The style is easy to wear and perfect for the woman who has little time to sit in front of a mirror styling her hair. Moreover, you can either allow the braids to fall to the sides of your face or pull them to the back in a low ponytail, still retaining the middle part.
11. Box Braids + Side Parts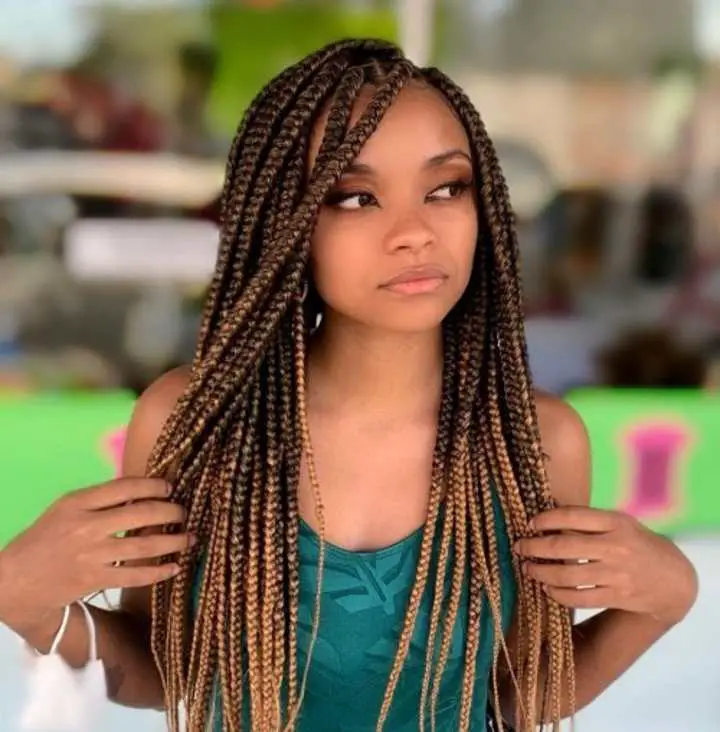 Instead of to the middle, move the part on the side of your hair and flaunt your well-angled jaw and makeup. Just like with the middle part, you can either let the braids hang loose or pull them to the back.
12. Box Braids Butterfly Style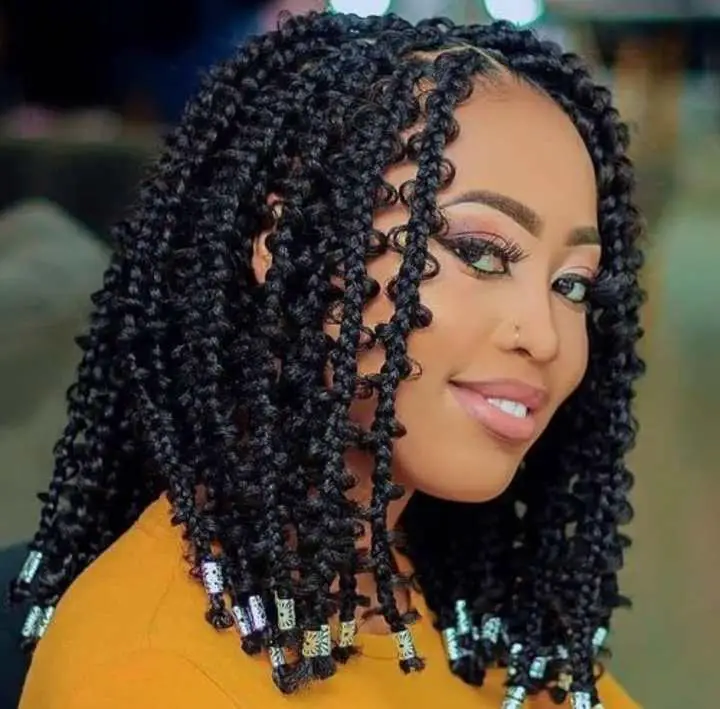 Box braids butterfly style merges two different hairstyles. Rather than always having plain strands, ask your stylist to switch things up a bit with butterfly locs. You'll be glad you made the change.
13. Box Braids Bantu Knot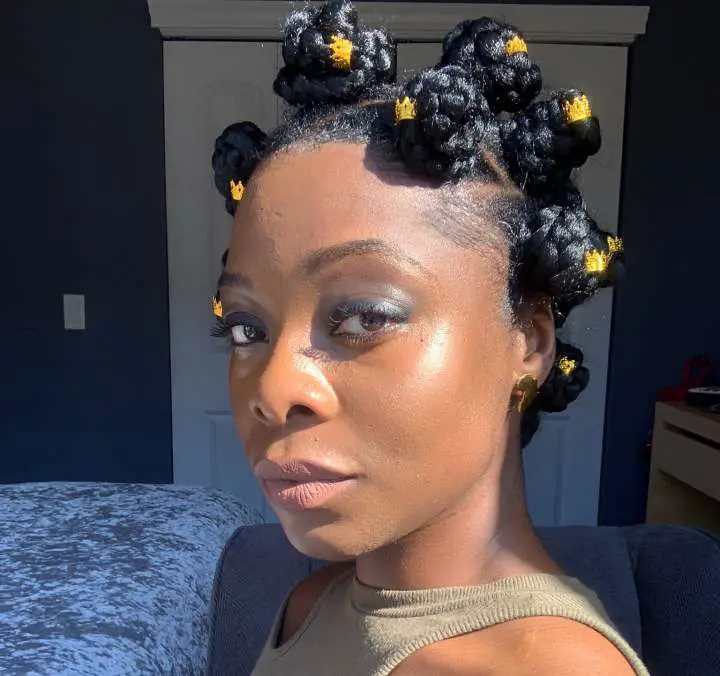 If your braids are old but you're not ready to take them out, Bantu knots are a good box braids revival option. You may need an extra hand to help knot the braids at the back.
However, box braids in Bantu knots may not work so well with small box braids. It works better with jumbo braids. Remember to smoothen your edges with styling gel and apply mousse to the knots for better hold.
14. Space Buns Box Braids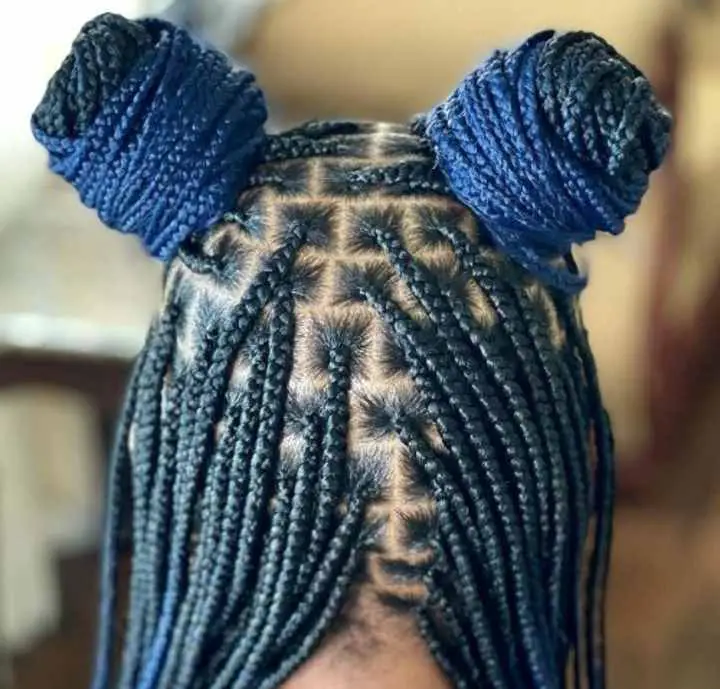 Why have one bun if you can have two? Space buns are another style of buns to wear for a youthful look. It is also a great back-to-school option for the kids if you're not ready to take out their braids. And you can also wear space buns as an adult.
15. Braid on Box Braids Style
Change your box braids by braiding the braids. You can braid three to four strands individually or make cornrows. You can also braid a few strands on the side and pull them to the back. However, this style is more manipulative and may not be a good option for thin hair.
16. Box Braids Twist to the Side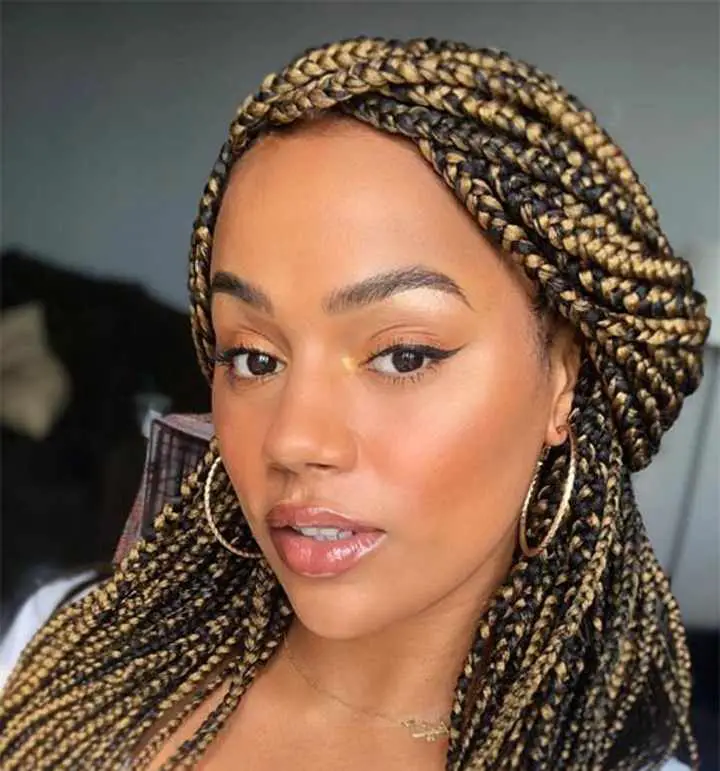 Simple yet stylish. Take a few strands on both sides, gently twist them, pull them to the back of the head and hold the braids together with an elastic band. It'll add a crown-like effect to your look. Twisting box braids to the side help to take hair off your face and flaunt your facial features.
SEE: Want to Relieve Tight Braids? These Helpful Tricks Will Help You Out
17. Box Braids Bob Style
If you had thick box braids, you can change your style after some weeks by cutting the length to a bob. This will relieve your scalp of the tension from having a lot of extensions on your hair. If the ends seem to be unraveling, you can hold them with small elastic bands.
18. Box Braids Bob + Accessories
Make your old bob look new with accessories. Also, you can add accessories if you're want to wear a different look to an event like a carnival or something of the sort. Your accessories could be cords, cuffs, beads, or shells.
19. Box Braids + Full Bangs
Box braid with full bangs is another hairstyle switch option if you're bored of wearing your hair the same way. And it's a great choice for a new look. Fringes are one of those features that greatly change your look. Give it a try before you take out the braids.
20. Short Box Braids Style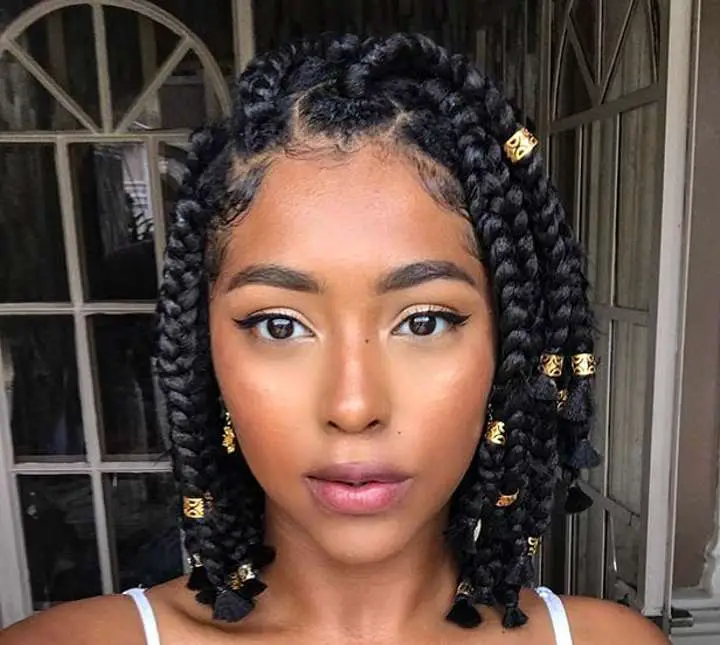 Maybe you already got long braids before summer but they're becoming a burden now. Simple…chop the length and have yourself some fresh air. As it relieves you of so much hair, it relieves your scalp of so much tension.
21. Box Braids in Ponytail + Two Bangs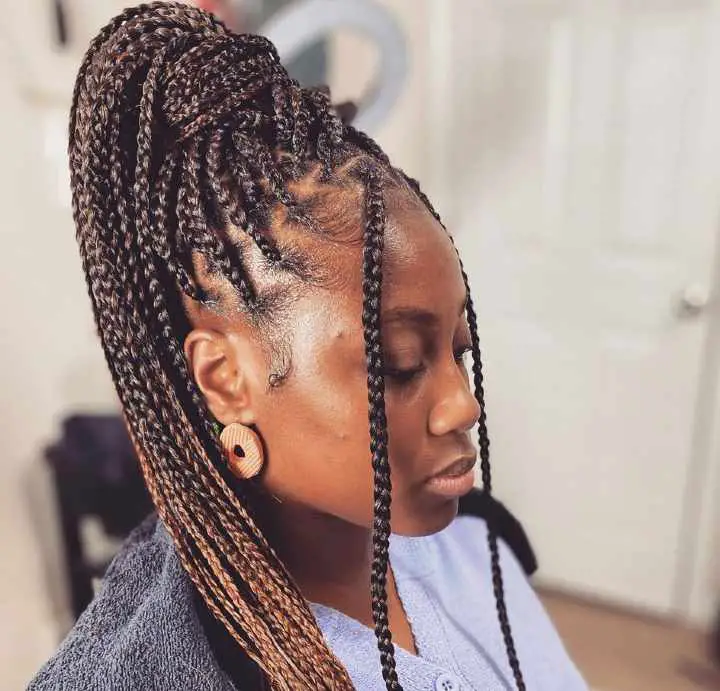 Instead of full bangs or a plain ponytail, leave two strands- one to either side of your face. What I love the most about this hairstyle is how it effortlessly makes you look chic and young again. In addition, it is great for every face shape and almost any setting.
SEE: Does Braiding Damage Hair? Find Out if Braids Are Bad for Your Hair
22. Box Braids Lob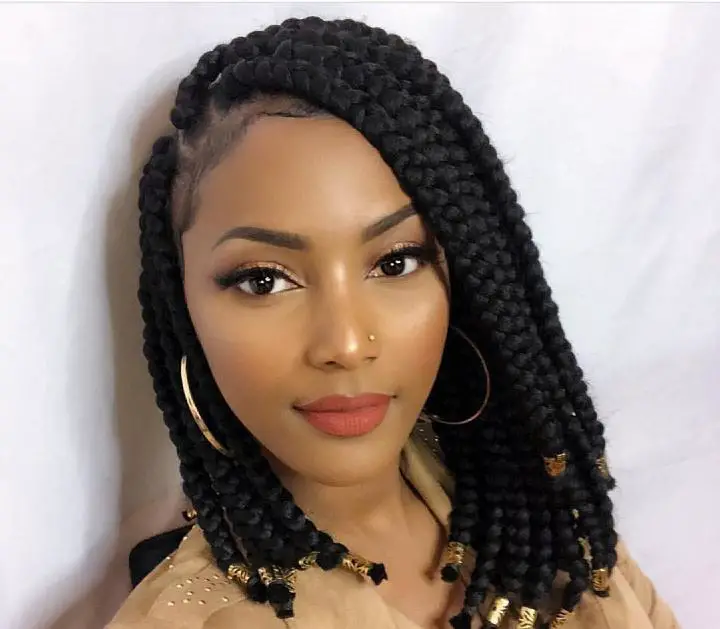 If a bob is too short for you, try a lob. One great thing about a full box braids lob is that it makes the face look slimmer, especially when you style it will a middle part. If it looks too plain, please, tie a cord on one strand and accessorize with cuffs or shells.
23. Let It All Down
If you don't want any manipulation on your scalp, you can just let all the braids fall to your back. A hint… this style is best worn during the cold months and beach time. At other times of the year like summer, it could be quite the burden.
24. Box Braids in Back Bun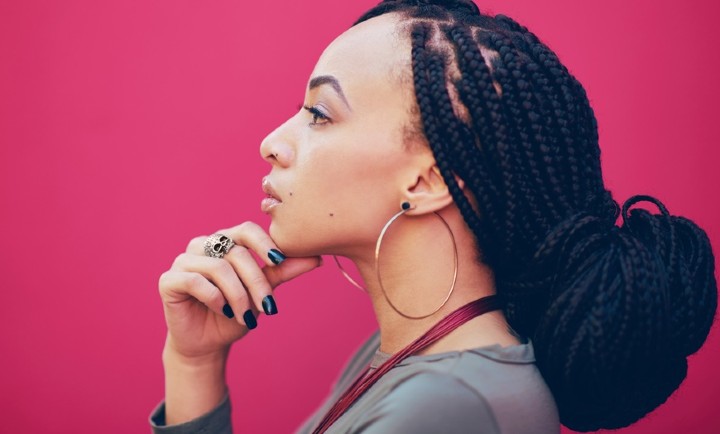 Another way to style box braids in a bun? Yes, what's there not to love about buns? If you don't want to go all the way up, bring the bun down. You'll enjoy this box braids style more if you're not wearing voluminous braids.
25. Stylish Bun + One-Sided Bangs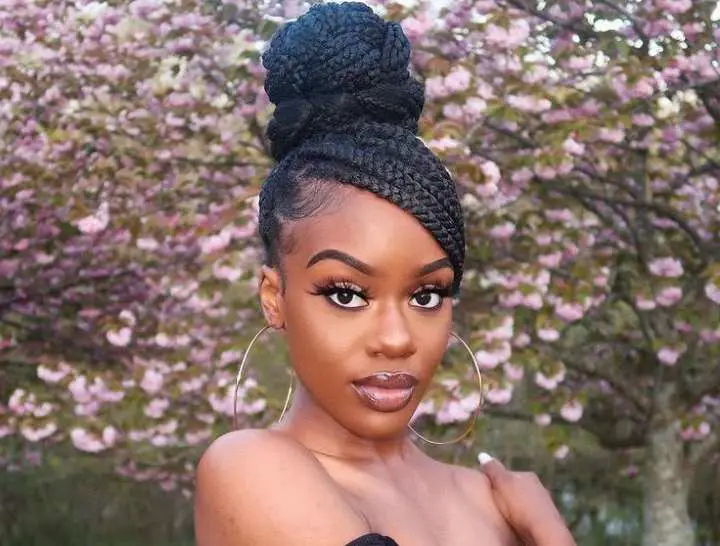 The detail of this box braids style is the one-sided bangs that join the bun at the back. This style is for you if you don't want to take hair off your face completely but want a bun.
SEE: Are Serums Good for Your Hair? Here's Why You Need at Least One
26. Funky Box Braids Style
Get funky with a scarf. This style is more common among teens and young adults. If you're looking for a different way to wee your box braids to a party or outdoor event, here you go. Get funky with a pair of boyfriend jeans or a jacket.
FAQs
How long should you keep your braids in?
Braids can last up to 6-8 weeks. How long your braids last depends on how well you care for them. Ideally, you should take out the braids after two months to prevent frizz and hair loss.
Can you get your braids wet?
Yes, you can. It's okay to wash your braids to remove build-up and keep your scalp clean. However, when you wash your braids, focus on getting your scalp clean rather than getting the extension clean or wet. Additionally, after washing, make sure you dry your braids properly.
How can you get old braids to look new again?
Braids are a class of protective hairstyles and they last very long. To make your old braids look new again, moisturize and style your edges with styling products like gel and mousse to hold down flyaways and control frizz.
Conclusion
Box braids are very flexible. There's no being rigid with them. So, I believe you are no longer taking out those braids after two or three weeks. Keeping braids in for a little longer can help protect your hair from the pressure of frequent styling.
All you need to do is revive your box braids with any of these styles using styling products. However, remember that you should take out the braids after two months to keep frizz away.
Thanks for reading.
Got old or new hairstyle and want a new look? Visit Africana Fashion for more articles on how to style your hair.