Dreadlocks are fast becoming the next best thing. To join the club, you either invest in growing out your hair into locs or you get faux locs to protect your transitioning hair. However you get them, dreadlocks are better appreciated when you know how to style them easy and classy.
Back in the day, dreadlocks seem to belong to just a sect of people. In our modern world, it's not uncommon to see a great number of ladies wear this iconic hairstyle. Hairstylists and enthusiasts have gone further to whet our appetite with charming hairstyles.
Moreover, faux locs are available for those who do not want permanent dreadlocks. So, if you already have dreadlocks or you're contemplating getting faux locs, this article is just the guide you need.  
Look through this collection of modern and easy-to-wear ways to style your dreadlocks for any occasion.
Modern Ways to Style Dreadlocks
1. All Locs to the Side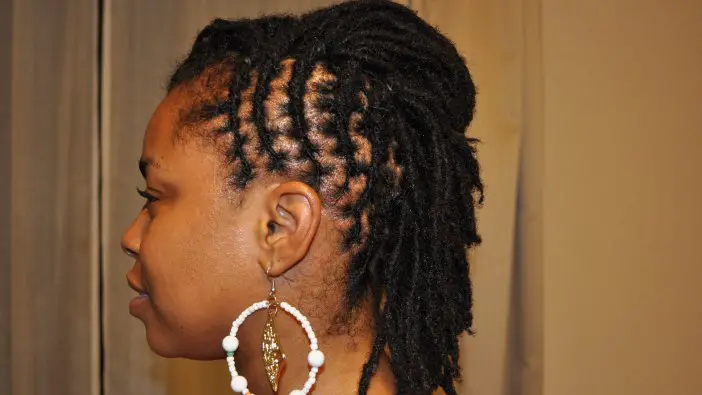 Dreads are simple-looking hairstyles but you can wear them in a variety of ways as you would your braids. Here's one of the modern and convenient ways you can style your dreadlocks.
To achieve this hairstyle, start by twisting your locs in twos. Then, bring all the twists to the side of your face that is convenient for you. Use bobby pins to secure them and if they are long enough, allow the bunch to fall to your side.
However, if you'll like to wear this style for longer days, you should go to a stylist. There, you'll have the dreads tacked with a thread for a longer hold. Although dreadlocks are lightweight, this hairdo still takes the bulk of the strands off your body.
You can wear this hairstyle to work, a wedding, and any occasion that doesn't require your hair in a bun.
2. Bantu Knots
Naturalistas surely will patronize this hairdo. Bantu knots have always made fashion statements with the cool vibe they come with. To perfectly style your dreadlocks into bantu knots, they should be over 4 inches in length. Otherwise, they may loosen.
Meanwhile, you can get faux locs styled this way. And, you can conveniently get this done at home. If your strands are thin, take them in twos or threes according to the thickness you want. Then, firmly roll them into knots.
To get them to look firmer, you can spray some mousse or using styling gel. Add some color to the tips of your locs to highlight your hair. You can also wear this hairdo anywhere.
3. High Bun Dreads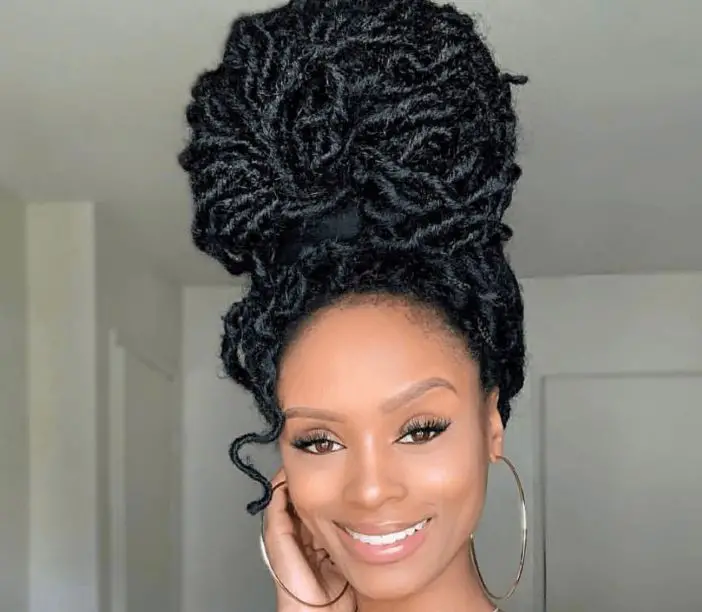 Here's another modern and convenient dreadlocks style for you. Who doesn't like comfort and elegance in a pack? Holding your locs up in a high bun frees you of hair on your back and around your face.
Besides, it highlights your cheekbones and jawline and also allows you to flaunt your makeup and jewelry. You can go to a salon if you want a loopy bun that will draw attention to your hair.
So, if you've got dreads or faux locs and a wedding to attend, your worries are settled. Style your dreads into a classic bun and slay that event, even if it's an interview. Explore the world of bright colors to take your locs to the next level.
4. Dreadlocks Bun With Bangs
Go extra with your updo and add twisted chunky or medium-sized bangs to look super cute. You can wear this to work or in an everyday setting. Additionally, you can highlight your dreads with colored tips and hair jewelry.
SEE: How to Dread an Afro With Easy and Natural Methods to Change Your Look
5. Dreadlocks Space Buns
Still on the matter of how to style your dreadlocks into a bun; and you can have two buns. Start by vertically parting your dreads into two halves. Afterward, gather each half up into a ponytail and secure firmly before wrapping them into individual buns.
Make sure the buns are firm and won't fall out of place. Tuck the ends into the tie you used for the ponytail. Finish off the look with hair rings and cuffs if you like. You can also have blonde buns by adding color to about half the length of your hair before styling.
SEE: How Fast Does Hair Grow: Find Out How With These Tips
6. Long Dreadlocks
Long years of patience and care eventually yield long, admirable dreadlocks. While they look very bulky, natural long dreads actually do not have so much weight. The blessing is, with long dreads, you can style your hair in an endless number of exotic ways.
However, if you do not have natural long dreadlocks, you can add faux locs extensions for extra length and maybe curly ends. Get creative with your hair and style it into twists, buns, swirls, or braids. You should also get traditional with beads, cords, and hair rings.
7. Medium-Length Dreadlocks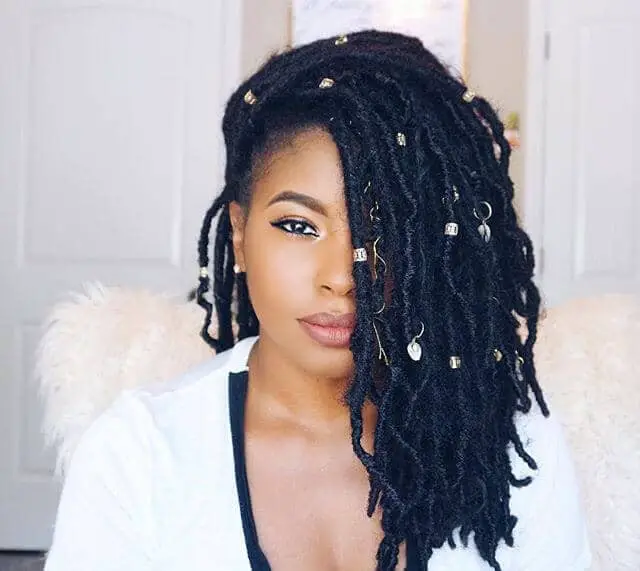 Medium-length dreads are long dreads with extra length. You can call them shoulder-length dreads. Naturally, you can get this length after many years. On the other hand, you can get medium-length faux locs with extensions.
Adorn the length of your hair with different hair accessories and colors. Feel free to rock any one of the options of hairstyles for medium-length dreads to the office or an informal setting.
8. Short Dreadlocks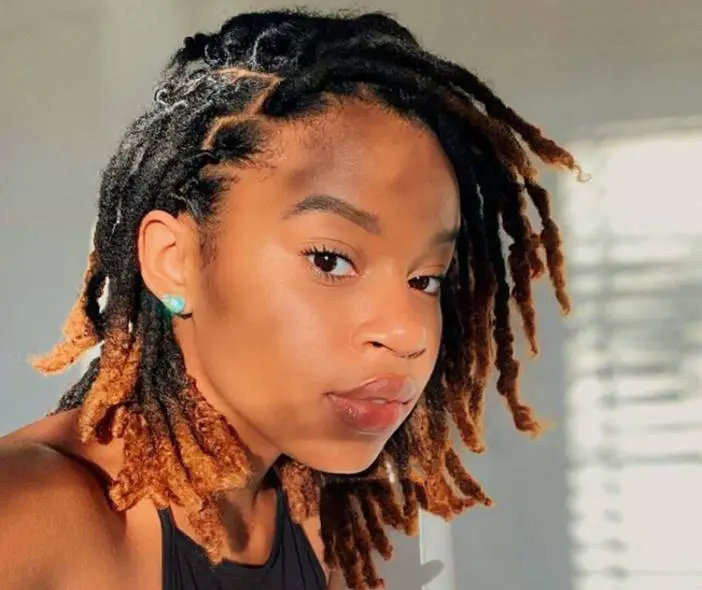 When you are just growing out your dreads, it doesn't mean you cannot get styled up. While your hair is still short, it is only natural you get compliments here and there on your daring move.
Short dreadlocks are very comfortable to wear and easy to style because you actually do not need so much styling. You can wear them all down and allow them to enjoy the fresh air. On other days, maybe for an event or something more formal, you can style them into a criss-cross.
9. Half up-Do Dreads
Just like you can have braids styled into a half up-do, you can do the same with dreads. Half up-do will always draw attention to you. With short and medium-length dreads, it gives off an edgy vibe anyone will want to relate with.
And, for medium-length and long dreads, wrap the pony into a bun to perfectly define your style. Get comfortable with color and accessories for the traditional touch. This hairstyle is a great choice for a hangout with friends, brunch, and a less formal meeting.
10. Dreadlocks With Mohawk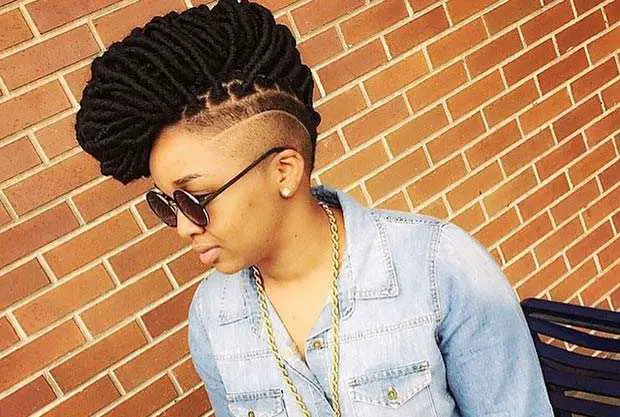 Mohawk has prevailed in the women's fashion world and different hairstyles are adopting its touch. This bold hairstyle is for daring and adventurous women. It is also for women who are keen on fashion and like to have the attention of the crowd.
To get mohawk dreads, you'll have to shave your hair on both sides short. However, to keep the look, you have to keep on shaving the sides. If you're not ready to go through this, you can get a faux hawk by making flat twists of the dreads on the side.
Bolden your look the more with pronounced jewelry like big hoop earrings and some hair accessories.
11. Dreadlocks With Fade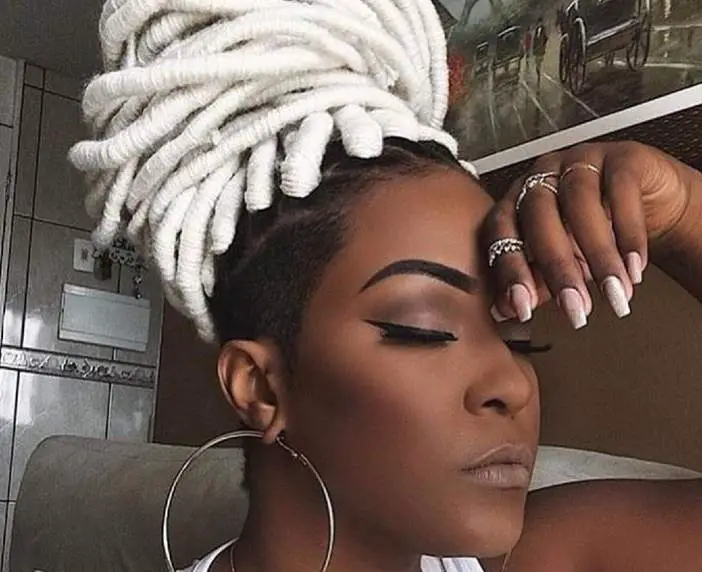 If you can have your dreads in a mohawk, then, you can have them in fade too. Create the contrast with either a low, medium, or high fade. This hairdo is also for the adventurous and brave at heart woman.
For as long as you'll like to maintain the look, you should keep the fade in shape and style. Also, wear the locs at the top of your head in very stylish and trendy ways like sweeping them forward.
12. Twist Dreads
Make your natural or faux locs look different by twisting them together. It could either be flat twists or twists in an up-do. You can make twists of your short and medium-length dreads to add fun to your look.
Style the twists whichever way you want and adorn the lengths with hair cuffs and rings.
SEE: Skin-Popping Hair Dye Color Ideas Ideal for Your Skin Tone
13. Crinkle Dreads
Bring back the curls and coils you used to have on your normal hair. Braid locs of wet dreads in threes and leave them to dry. Afterward, loosen the braids with care so you don't ruin the already formed kinks. You can do this with dreads of any length and color.
14. Wrapped Dreadlocks
Sometimes, you may feel so much monotony from wearing just your dreads every day. Whenever you feel this way, try wrapped dreads. Besides, it is a protective hairstyle against frizz.
Whether you have short or long dreads, wrap them with either wool or yarn. These hair materials are available in natural and bright colors for you to pick from. And, they can also help add extra length to your hair.
15. Colored Dreads
Take your dreads to the next level with different hues, shades, and tints. Blonde and brick red are the common colors we see around. For me, I love how blonde matches almost every skin tone and creates a lovely contrast.
You can color your dreads at home with little assistance. For natural hair, you have to comb the color in. On the other hand, to color dreads, you'll have to use a tint brush to apply the color.
Feel free to get experimental with other colors like burgundy, blue, a deep shade of green among many others.
16. Rasta Dreads
Rasta dreads were the commonly seen dreads especially among a group of people called Rastafarians. These natural dreads originate from Africa. Back then, it was daring to allow your dreads to grow out into freeform dreads.
With civilization, faux rasta locs are available in crotchet locs packs and different colors. 
How to Care for Your Dreadlocks
Locs require that you care for them just like you care for your natural hair. For your locs to thrive, you need to shower them with a lot of TLC.
Wash your locs
Use sulfate-free shampoo and conditioner to clean your scalp and locs. This cleansing removes natural buildup, dirt, and excess oil from your hair. Once a week or thereabout, treat your locs to deep conditioning to renew their strength.
SEE: Use These Best Shampoo and Conditioner Sets for Better Hair Care
Dry your locs
Unlike natural hair, you can gently wring and squeeze out water from your locs. Afterward, wrap your locs in a microfiber towel to remove the remaining water. These towels absorb better than cotton and do not leave lint on your hair after use.
Add moisture
Hair thrives better with adequate moisture. When your hair is dry, it is prone to split ends and breakage. In the same vein, leaving your locs without moisture may jeopardize the efforts you have put into years of growing them out.
Moisturize your locs with a moisturizing spray or hair oils that contain essential hair growth oils. These hair care products also help to add shine to your dreads.
Trim the ends
Make a routine of trimming the ends of your locs. You may do this once every 4-6 months to avoid frayed ends.
However, if you just started growing your locs, you shouldn't get trims yet. Otherwise, you'll be disrupting the locking process. At the beginning of the locking process, your hair naturally shrinks and becomes shorter. So, this is the wrong time to trim the ends.
Wrap your locs in silk/satin at night
Before you go to bed, gather your locs into a loose ponytail and wrap them with a silk/satin scarf or bonnet. This protects your hair from the friction that can occur between your hair and the pillowcase.
SEE: Organic Makeup: Is It the Next Best Thing?
FAQs
1. What do dreadlocks symbolize?
Dreadlocks generally symbolize non-conformity and socialism. But, with different cultures and causes come different meanings. However, if you dare to get thick mane like dreads, it speaks volumes of your courage, power, influence, and devotion to purity.
2. Will my hair grow faster in dreads?
No, it will not. Hair naturally grows at a specific rate of 6 inches per year. So, whether you have dreads or not, your hair will grow at its natural rate.
Dreads rather protect the ends of your hair from breakage and split which tend to alter hair growth. Also, getting faux locs is a perfect way to protect your hair during transitioning.
3. How do I style my dreadlocks for an interview?
An interview is going to be a formal setting. So, you can wear a style like high bun dreads. Gather all your locs into a high ponytail and wrap the pony into a firm bun.
Another style is to make bantu knots with your locs. But, they shouldn't be big knots that will divert the attention of the interviewers.  
Conclusion
There is an increasing demand for low-maintenance hairstyles that will still look elegant. Do not get carried away by the simplicity of dreadlocks. These versatile hairstyles can only be bound by your imagination.
If you do not have natural locs, get faux ones and be experimental with length, colors, and accessories. From ceremonial events to business dinners to informal outings, this list has you covered.
Most importantly, to keep your dreads lovable and thriving, you need to shower them with proper care. Also, get them to look very stylish. You'll have heads swooning every day.
Thanks for reading.   
Check Africana Fashion to stay updated with trendy hair articles.