Deserving a peaceful and quiet me-time does not come easy if you are a busy bee. This is why I cherish the little moments by optimizing the experience. I'm using a bath bomb? Then I make sure I know how to use bath bombs to get the best minutes of my life.
Bath bombs are the ultimate unwinding therapy you need after a long day. It relaxes the muscles and soothes tension, all the while keeping your skin nourished. It also provides an aromatherapy session while you relax in a warm tub of water.
If you are thinking of joining in on the bath bomb therapy trend but don't know how to use bath bombs, you need to read up on it here.
If you are also asking why you should know how to use a bath bomb, I'll just say it's in your best interest if you want to stay nourished, refreshed, and glowing, while having your me-time.
How to Use Bath Bombs
1. Pick a Bath Bomb of Your Choice
Bath bombs are known to bubble and fizz. Therefore, you have to pick one that suits your sense of smell and flavor (yes, flavor). You have to pick one that promises to create the best sud and fizz for you to relax in.
Additionally, there is no general or definite style in which a bath bomb comes in. It also comes in different colors, shapes, and designs. It could come with crushed flower petals that melt in the water, or with an exfoliating sugar scrub, which gently exfoliates your body.
A bat bomb could be made with hydrating and moisturizing properties like shea butter, oils, or AHAs like lactic acid. This helps to moisturize the skin- especially dry skin.
You can also pick a bath bomb with a unique aroma. Essential oils are the best at providing scents and fragrance to bath bombs. Essential oils commonly used are lavender, rose, chamomile, and eucalyptus.
SEE: Is Shea Butter Comedogenic? Here's What You Should Know
Additionally, bath bombs are available and can be bought in e-commerce stores or the local Bed Bath & Beyond.
2. Run a Bath
It's preferably you run a warm water bath in the bathtub. The water should be above lukewarm temperature. It should however be comfortable enough for you to soak in for a long while.
The water should not be too hot or too cold when filled so you can dive in almost immediately. Also, the water temperature should be able to dissolve and melt the ingredients and components in the bomb.
3. Drop the Bomb
Literarily drop the bath bomb in water. As soon as it sinks into the hot water, it begins to fizz and bubble. For faster dissolving, you can break the bath bomb into two or three pieces.
As the bath bomb begins to dissolve, the trapped beneficial components like oils, salts, butters, and essential oils dissolve and mix with the water.
On the other hand, if you want more bubble, you can run the bath bomb directly under the faucet for more fizz and suds to spread.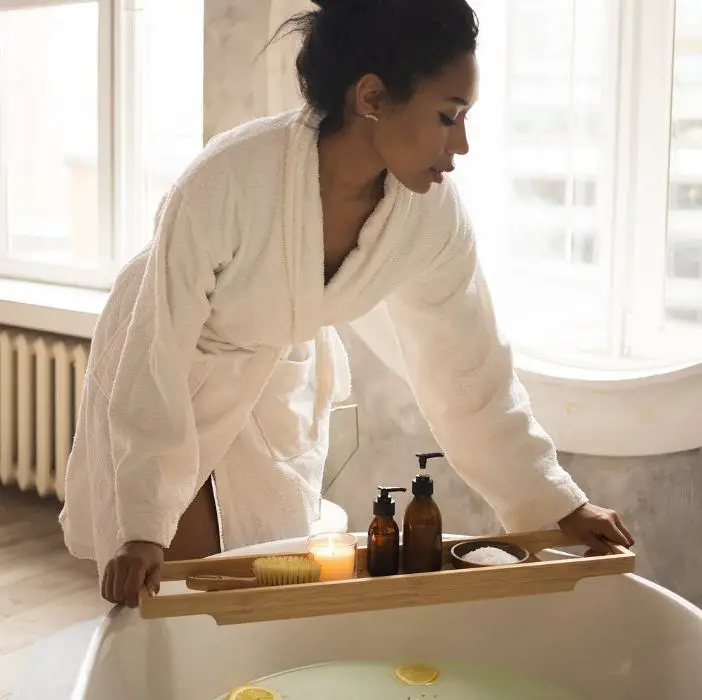 4. Dive In
Once the bomb dissolves fully and the bubbles and fizz are all you see, dive into your bathtub and relax. You can enhance this experience by playing soothing and relaxing songs off your playlist.
A scented candle would also set the mood, giving you a spa-like experience. On the other hand, you can pick up that book you've been putting off. You have enough time to go through some pages and elevate your mind.
I personally love taking a bath pillow with me so I can lean back, close my eyes, and get a few minutes' nap.
Since I will be sitting in my bathtub for a while, I can add moisturizing butter or essential oils of my preference to the mixed water. This gives added benefits to your skin.
Pro Tip: You can top the warm water, as it gets cold. This increases the minutes you spend in the bath bomb. However, you do not want to overheat your skin. Consequently, make sure you are adding warm water at a skin-appropriate temperature.
Your skin doesn't have to feel the heat of the water, but it should feel the warmness around you.
Similarly, you can create a story or a concept for your session. This has to do with setting the room and mood. If you want a relaxing session, you can play soothing sounds in the background with the lights dimmed.
On the other hand, reading will require a well-lit room. Scent candles to calm your body are a plus to have. And if you want to relax after a tasking day, pop a bottle of champagne with chocolate for a sweet experience.
5. Step Out and Dry Off
Once the bath has run its course and longevity, it's time to come out and cool off. If you stay in the water too long, your skin might get wrinkly.
While it would be nice to cool off and dry your skin, there is a need to clean your skin. You can run a cold shower on your skin to wash off excess oils and residues from the bath bomb.
6. Moisturize
After drying your skin, moisturize to keep your skin nourished and hydrated. You can use a good nighttime moisturizer that would keep your skin supple and regenerate your skin while you sleep.
SEE: How to Use Body Scrub Effectively for Smooth Supple Skin
Other Uses of Bath Bombs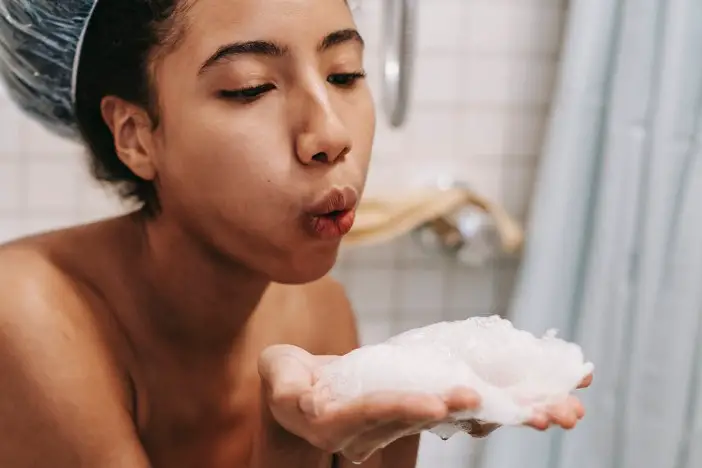 1. Bath Scrub
You can convert your bath bomb to a scrub. This is mostly useful if your bath bomb has sugar and sea salt in it.
How to use it:
Crush your bath both in tiny pieces.
Put in a jar and screw shut with the lid.
When you need it, take out enough crush bath bomb.
Exfoliate with the bath bomb in the shower.
You can add sugar and honey or coconut oil as emollients to scrub your skin smoothly and properly.
2. Aromatherapy
Bath bombs contain essential oil in a concentrated dose. If you want to set a mood and relax, use bath bombs to give your space a fragrance.
How to use it:
Put a bath bomb concentrated with essential oil like lavender, roses, lemon, or peppermint in a bowl of water.
Let the fizz and bubble out.
You can put your face above the bowl with a towel or blanket over your head.
On the other hand, you can let the scent permeate the room while you sit and relax.
3. Fragrance Spray
Bath bombs can be used as sprays to deodorize your home. It's easy to use too.
Dissolve the bath bomb in a bowl of water.
Sieve and transfer the mixed water to a spritz bottle.
Spritz the fragranced water in your home as you please.
4. Foot Wash
You can use bath bombs as a foot wash too. When removing calluses or exfoliating your foot, a bath bomb proves useful.
How to use it:
Dissolve the bath bomb in your foot bowl.
Dip your feet in the bowl.
Use a sponge, a foot scrub, a brush, or purmise stone to scrub your feet.
Dry and moisturize after exfoliating.
You can use bath bombs for foot massages to moisturize your feet.
Tips for Using Bath Bombs
When you want to use your bath bomb, keep these guides in mind:
Always use warmer than lukewarm water and top the water as it cools.
Add tub edges to your drain to separate the water from particles or components like flowers, glitter, and herbs. You can also put the bath bomb in a plastic bag or fabric it can dissolve freely in. This prevents the particles from clogging your drain.
Cut or break your bath bomb in two if it is large enough to be used twice.
Customize your bath bomb with essential oils, butter, and fragrance to set the mood.
Wash your bathtub with warm water after draining fizz water.
Moisturize your skin after your bath therapy.
SEE: Best Handmade Soap Made From Organic Materials
How to Make Bath Bomb DIY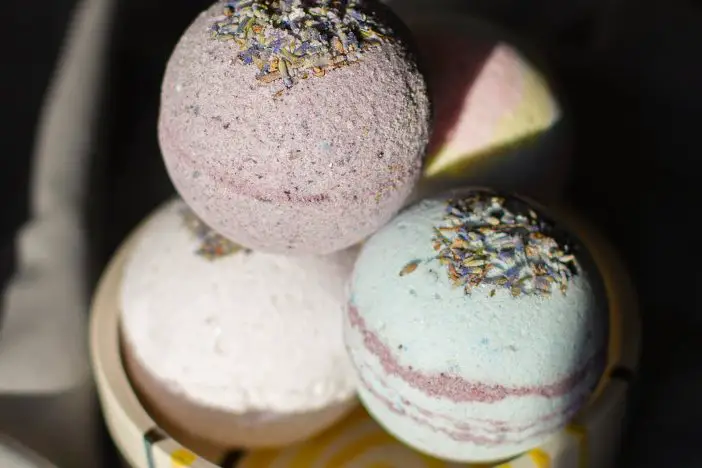 You can make bath bombs from the comfort of your home if you love DIY experiments. The ingredients for your bath bombs can be found in any your home, asides few ingredients you will have to get to a store.
This is how to make one bath bomb.
Ingredients:
1 cup of baking soda
1/2 cup of cornstarch
1/2 cup of epsom salt
3/4 cups of water
1/2 cup of citric acid
2 tablespoons of any essential oil of your choice
Food coloring
2 tablespoons of carrier oil (jojoba oil, coconut oil, olive, or almond oil)
A mold (muffin or candy pan)
Glitter or dried flowers for personal effect
Procedure:
Mix the dry ingredients together in a bowl (excluding the citric acid)
Mix all the liquid ingredients in a jar with a lid. Shake the covered jar to mix the liquids together.
Add the mixed dry and liquid ingredients together and meld.
Add citric acid once the ingredients form a thick mix.
Then you mesh the mixture in your desired choice of mold. You can also overfill the mold. However, it should be pressed tightly and firmly.
Release the bath bomb from the mold immediately onto a wax paper.
Let the bath bomb sit and dry for a day or two.
Your bath bomb is ready for use.
Frequently Asked Questions
Is a bath bomb good for the skin?
Yes, it is. Bath bombs contain essential oils, butters, and other natural ingredients that moisturize, heal the skin, and relax your nerves.
Also, thanks to essential oils, bath bombs have a lasting fragrance on the skin that leaves you smelling good.
Additionally, the ingredients are non-abrasive and wouldn't damage your skin. However, you should avoid sitting in the bathtub for too long.
Can I use a whole bath bomb more than once?
Yes, you can. You can break or cut your bath bomb into pieces if they come in a large-sized ball.
Nonetheless, small to medium-sized bath bombs can be used once. If the bath bomb is concentrated, you can use it more than once too.
Can I wash my hair with a bath bomb?
No, you shouldn't. Bath bombs contain oils, petals, glitters, and other components that could make your hair greasy and residue-filled.
If you are using a packed bath bomb, avoid getting your hair wet with it. Moreover, you will have to wash your hair again with a shampoo to get the excess oils and particles out of your hair, which is extra time in the shower.
Conclusion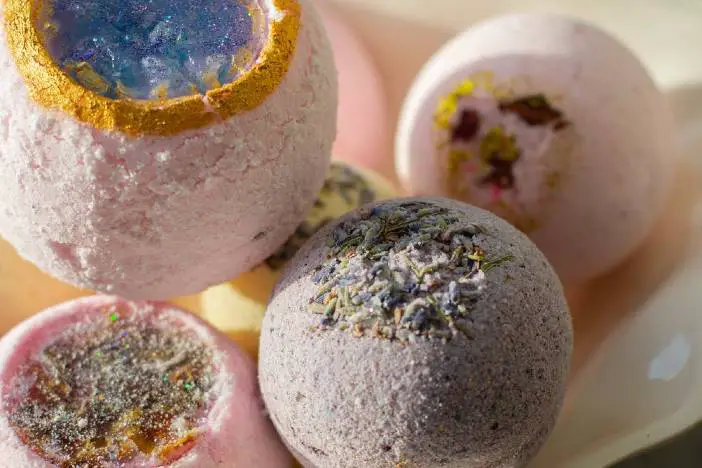 Trying to get a spa-like treatment at home is easier if you know how to use the bath bombs sitting in your bathroom cabinet. It's a simple step that requires you to run a hot bath and drop the bath bomb in.
However, you have to choose a bath bomb of your choice based on the mood you want to set. Furthermore, the bath bomb should have beneficial ingredients like essential oils, thick butters, and natural oils to moisturize your skin why it soaks in.
Bath bombs are a classic at-home treatment anyone should not miss out on. The feeling it gives is relaxing. Additionally, it gets the tensions in your skin to smoothen, giving your body the peace it desires.
As a result, you should have it stored at home as a perfect ending for long days.
Thanks for reading.
Africana fashion provides relevant beauty articles to improve your daily lifestyle.