Would you like to improve your makeup by learning how to use eyeliner for eye effect? Eyeliners rank as one of the makeup products that instantly glam you up when applied. Find out how to make your eyes pop and stand out more with the use of eyeliner. 
Eyeliner is a makeup product that you can apply on your eyelids and under the eyes; to emphasize the eyes and make the eyes stand out more. The use of eyeliner has now become a popular thing and the main essence of it is to accentuate the eye by making it look bigger.
You can simply use eyeliner to upgrade your makeup to the next level. Using an eyeliner not only makes your eyes look big, but it can also as well change the shape of your eyes.
You can use eyeliner by applying it to your eyelids and you can also apply it on the lower lid. However, you need to learn how to use it and all that will be outlined in the step-by-step guide ahead in this article. 
How to Use Eyeliner
The ability to line perfectly winged eyes is a valuable skill in the world of makeup. As nice as the idea of adding an effect to your eyes with the use of eyeliner is; nothing beats the knowledge of knowing how to achieve it.
Even as a beginner and first-timer when it comes to using eyeliners, all you need is little practice to be able to rock it. That, dearest, is the reason for this article. Follow the step-by-step guide below to line your eyelids like a diva. 
1. Prep Your Eyes For Makeup
This step is often skipped when in fact it is the most important step to begin any makeup. To do this, cleanse your eyes with a gentle face cleanser and after that, moisturize your face. 
The next preparation step is to apply your eye cream around your eyes; this is to even out any discoloration around your eyes.
2. Start With a Clean Base
For every face makeup, one must create a clean surface for makeup products. This is usually done with the use of a primer. Now to achieve a good base for your eyeliner, apply a little amount of eye primer around your eyes.
After applying an eye primer around your face; apply and blend a concealer on top of your eyelid. Then proceed to apply some setting powder on it. 
3. Apply Your Eyeliner 
Now it is time to apply your eyeliner. This is the main part. To apply eyeliner on your face, you can make use of the brush that comes with it as an applicator or you can just buy one. 
Now, start the application by lining above your lashes with small strokes and lines. This way, you will have control and be able to achieve a clean line. After achieving this, repeat the process on your other eye and try to make them as even as possible.
With that, you have achieved a basic lining. You can proceed to the next step if you would like to draw a wing. 
4. Extend the Line to Create a Wing
A basic eye lining might not be enough to achieve your desired effect. You can create a wing by extending the line you already made with your eyeliner in the previous step.
The best way(which is probably the only way) is to line through the curve and angle of your lower lash line. Follow through slowly till you fill it out completely. Do not rush if you do not want to create a mess of it. 
5. Finish The Look
Apply false lashes after you achieving the wing line; to improve the appearance of your eyes. After that, curl your false lashes and apply mascara on them. 
SEE: MUAs Outline Makeup Hacks Perfect for Dark Skin Tones
How to Use Liquid Eyeliner
Liquid liners make the best precise and clean finish lines and it is very easy to take thin strokes with them. However, as a beginner, it takes a lot of practice to be able to achieve a clean line with a liquid eyeliner. 
It's quite easier to use a liquid pen eyeliner, but using the liquid liner in form of a vial and brush takes time to practice.
How to do it: 
The first thing to do is prep your liner for use. Do this by shaking the bottle of the liquid liner for few seconds to mix it. 
Now remove the brush from the bottle and remove the excess liner from it by swiping it across the edge of the bottle. 
You can now use the brush to line from your upper lash line to the outer edge of your lash line. 
For better effect, you can use your pencil liner first before using the liquid liner to go over the line. 
Now line through the inner edge of your upper lash line to fill up any gap.
You can add wings to the line by following the natural line of the lower lash line.  
How to Use Gel Eyeliner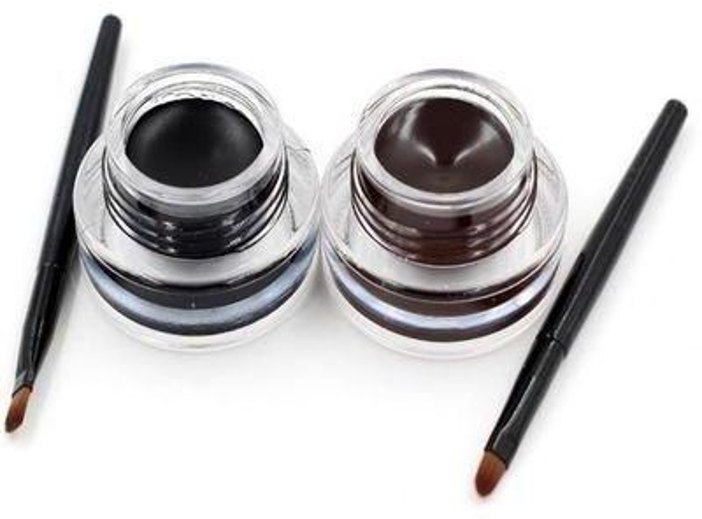 Gel eyeliners are made of wax and this automatically means that they won't come off easily like other forms of eyeliners. 
How to do it:
Apply the gel liner to one side of the brush. 
Place it on the inner corner of your lash line and begin to apply from there to the outer corners.
Another way to do that is to dot the liner along your lash line and connect the dots to create a line. 
Go over the line again and fill any gap in the center. 
You can blend eyeshadow on the edge of the liner to give it a smokey effect. 
How to Use Pencil Eyeliner
If you are looking for the easiest way to achieve stunning eyeliner makeup, this is for you. It's quite easy to apply eyeliner with a pencil liner. Use this kind of eyeliner as a beginner; for smooth application.
How to do it:
The first step is to prepare your pencil liner for use. If it feels hard to you, heat it with your hairdryer. If it feels too soft, place it in your freezer for about 10 minutes to cool it down. 
Now stretch your eyelids by using your fingers to pull the outer edge of your upper lashes.
Start to apply the liner from the inner corner of your upper lashes and work it across to the outer corner. 
Go slowly and with a small stroke; this is to ensure even lining.
To line your lower lash line, use your fingers to pull out the outer edge of your lower lid and then apply the eyeliner slowly. 
SEE: How Do Magnetic Eyelashes Work: The Pros, Cons and Tricks
Other Useful Tips 
If you are hoping to achieve a clean line, avoid stretching the surface of your eyelids when applying your eyeliner.  
If you do not have an eyeliner pencil, you can create one by simply dipping a black eye pencil into warm water.
Apply your eyeliner in small strokes as this will help you create a clean line. 
If maybe your eyeliner is dry and won't come off the pencil, you can heat it using a hairdryer. This will help it work again; however, ensure that you do not melt your eyeliner in the process. 
Applying powder eyeliner after applying your pencil eyeliner first will help it stick and look soft. 
Avoid touching your eyes after applying eyeliner as touching will make a mess of the eyeliner on your eyelid.
You can easily remove eyeliner by rubbing a wet tissue on the spot you have it on. 
Moisturize your skin before applying eyeliner on your eyelids; if you have dry skin. This is to avoid smudging.
If your eyeliner is waterproof, use a baby oil and cotton bud to take it off. 
Safety Precautions
Avoid lining your waterline; as this may cause makeup to get in your eye; thereby causing eye infections. 
As with other makeup, avoid sharing your eyeliner with others. Doing this increases the risk of transmitting bacteria and infection from one person to another. 
If you do not have a choice but to share your liner, make sure that you rinse the tip of the brush with a makeup remover or rubbing alcohol.
Also, it is best to replace any eye makeup once every month to reduce the risk of eye infection.
How to Create a Smokey Eye Look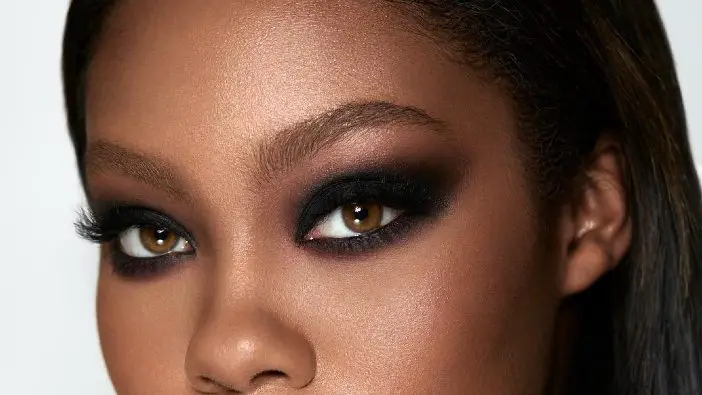 A smokey cat eye is one of the most common eyeliner looks and here is how to do it: 
First, you have to create a base for your eyeliner by applying a simple eyeshadow on your eyelids up to your brows. 
Blend the eyeshadow using a brush or the tiny end of your beauty sponge. 
Now apply a darker color of eyeshadow to the outer edges of your eyelids. (This will help to enhance the outer eyelids by creating a nice background for your eyeliner to pop)
Add black eyeshadow to the mix by applying it to both the inner and outer edge of your eyelids to create the smokey eye effect.
Add a shimmering eyeshadow to highlight the center of your eyelids. Do this using a small makeup brush to brighten your eyes.  
Apply your black eyeliner now to your upper lash line. Apply to the outer and inner edges of your eyelids first before filling the center.  
The next step is to lengthen your eyeliner past the edge of your eyelid and upwards close to your brow area. To easily do this, line through the curve of your lower lash line. 
Fill in any gaps with your liner. 
By now, you should have a smokey cat eyeliner look. 
Finish up your look by applying mascara and false eyelashes. This will help to give you a more dramatic look. 
SEE: Learn the Basics of How to Do a Smokey Eye Look
Frequently Asked Questions
How do you remove liquid eyeliner stains?
You can correct or clean off mistakes and stains by using a cotton ball and make-up remover. Simply soak the cotton ball into a makeup remover and clean the error with it. If the eyeliner is not waterproof, you can use water to clean the mistake.
What kind of eyeliner is best to use as a beginner?
You can use several kinds of eyeliner as a beginner; ranging from eyeliner pencil, powder eyeliner, and even gel eyeliner. However, as a beginner, you should steer clear of liquid eyeliners as it takes a lot more practice to be able to apply them perfectly.   
Why is putting eyeliner on the waterline not considered safe?
Wearing eyeliner on a waterline can obstruct and block the opening of the meibomian glands; which are specialized glands that produce and excrete natural oil to the eyes. Therefore, wearing eyeliner on the waterline is not recommended. 
Conclusion
Eyeliner is a cosmetic product that adds color to your eyelids to accentuate and give emphasis to the appearance of the eyes. You can use an eyeliner to make your eyelids stand out and/or to change the shape of your eyes. You can also use this product to define your eyes.
The ability to line perfectly winged eyes is a valuable skill in the world of makeup. As nice as the idea of adding an effect to your eyes with the use of eyeliner is; nothing beats the knowledge of knowing how to achieve it.
Thanks for reading. 
Liked this article? Visit Africana Fashion for more beauty guides to upgrade your lifestyle.