Coconut oil is a common ingredient in many hair products and there is a lot of hype around it. But does it grow hair? In this article, we're going to answer this question and several others regarding coconut oil.
Coconut oil stimulates hair growth because it contains saturated fats, which are important for optimal hair health. These saturated fats are high in energy and help your body to generate more red blood cells, which improves circulation and promotes hair growth.
Also, studies have shown that coconut oil has anti-fungal, antibacterial, and antioxidant properties that help protect your hair against sun damage, provide anti-inflammatory benefits and keep your scalp safe from infections.
"In addition to these benefits, coconut oil encourages hair growth by stimulating hair follicles and penetrating your hair shaft to give it more shine and softness," explains Dr. Visevlav Tonkovic-Capin, a board-certified dermatologist.
How Fast Does Coconut Oil Grow Hair?
There's no scientific evidence that shows how fast coconut oil grows hair. However, coconut oil is made of fatty acids, capsaicin, and vitamin E, which provide the nutrients needed for the scalp and hair to grow faster.
The amount of time it takes for your hair to grow with coconut oil primarily depends on the thickness, length, and texture of your hair. For instance, a person with thick hair will take about two months to see significant growth, while someone with thinner hair may see growth in as little as one month.
That said, individual differences exist; some people may take longer than others to see the same level of growth after using coconut oil because many factors affect how quickly or slowly your hair grows, such as age, genetics, hormones, and nutrition.
SEE: How to Use Coconut Oil for Hair Growth: Here's the Best Treatment Method for You
Is Virgin Coconut Oil Good for Hair Growth?
Virgin coconut oil is a type of coconut oil that has been scientifically proven to promote hair growth. This type of oil is obtained from the cold pressing fresh mature coconuts, and it's processed without the use of heat, chemicals, or additives.
Furthermore, virgin coconut oil is made up of medium-chain fatty acids, which are responsible for its antibacterial, antiviral, and antioxidant properties. These properties have been shown to have benefits for hair health as well as skin health.
A 2019 study found that the MCTs in virgin coconut oil were more effective at promoting hair growth than refined coconut oil. In addition to this, coconut oil can improve the strength of the hair follicles and elongate their periods of growth.
Does Coconut Oil Stop Hair Loss?
Coconut oil is packed with fatty acids that are great for your hair follicles and scalp. It also contains antioxidants that fight off free radicals that can damage your cells and cause hair loss.
"However, coconut oil is not an all-in-one solution to stop hair loss. There are no conclusive studies indicating whether or not coconut oil stops hair loss," explains Dr. Tonkovic. Understanding the cause of your hair loss will help you determine the best ways to address it.
SEE: Is Castor Oil Good for Hair? How to Improve Your Hair's Health With It
Is Coconut Oil Good For Eyelash Growth?
"Coconut oil is an excellent natural remedy for dry and brittle eyelashes. It is rich in fatty acids that could help repair damage to your eyelashes while promoting the growth of new ones," explains Dr. Joshua Zeichner, a board-certified dermatologist.
So if you have trouble getting your lashes to grow out or you lose them due to over-curling or pulling on the lashes, coconut oil might be the solution. It helps to strengthen and lengthen your lashes so you can use it in place of your regular mascara (or in addition to).
You can also use it on your eyelashes as an intensive lash growth serum, or as a general moisturizer to help with dryness and flaking. Moreover, it does not contain any harsh chemicals or additives and it is mild enough for everyday use.
If you want to give it a try, make sure that your lashes don't appear shiny after applying the oil. Also, make sure you use a clean mascara wand to apply the oil so you don't introduce new bacteria into your eyes.
Is Coconut Oil Good For Eyebrow Growth?
Coconut oil is beneficial for growing thick and long eyebrows because it contains fatty acids like lauric acid, capric acid, and myristic acid. These acids promote hair growth and thicken thinning strands; they also protect against free radicals that cause hair loss.
So if you're looking for a way to make your eyebrows grow back, or even get thicker than before, try coconut oil. You can use it as a natural and cheaper alternative to expensive cosmetics brands.
To use coconut oil for this purpose, it is important to use virgin coconut oil that is solidified in a jar with a lid that closes tightly. Apply it directly to your brows with a cotton swab or a mascara wand. Repeat this process daily or until you have achieved your desired fullness.
Is Coconut Oil Good For Beard Growth?
Coconut oil is a natural and healthy way to help your beard grow faster and fuller. You can use it as an additional treatment for your beard, but you shouldn't use it as a replacement for essential treatments or other types of beard oils or creams.
"Coconut oil has moisturizing properties that can help keep your beard healthy and soft. It's also easily absorbed by the skin and is even more beneficial for those with sensitive skin because it helps soothe irritations and inflammations," says Dr. Zeichner.
Besides being a moisturizer, coconut oil has antibacterial properties which make it great at preventing beard issues like acne or beardruff. It also has soothing and healing properties that make your beard less itchy and more comfortable.
So whether you want to grow your beard for style or health reasons, coconut oil is a good and effective way to help you get your dream beard.
What to Mix with Coconut Oil for Hair Growth?
Coconut and olive oils are two natural remedies that can be mixed to promote hair growth. Olive oil is rich in antioxidants that protect your hair follicles from damage due to dryness or environmental factors.
In addition, olive oil contains monounsaturated fats, vitamin E, D, and B6, which are all important for hair growth. It's also great for strengthening your scalp, which has important implications for preventing hair loss.
Together, these oils will supply your scalp with important nutrients while providing great conditioning properties, reducing breakage, and promoting healthy hair growth at the same time.
SEE: Here are the Best Home Remedies + Tips for Faster Hair Growth
How to Use Coconut Oil for Hair Growth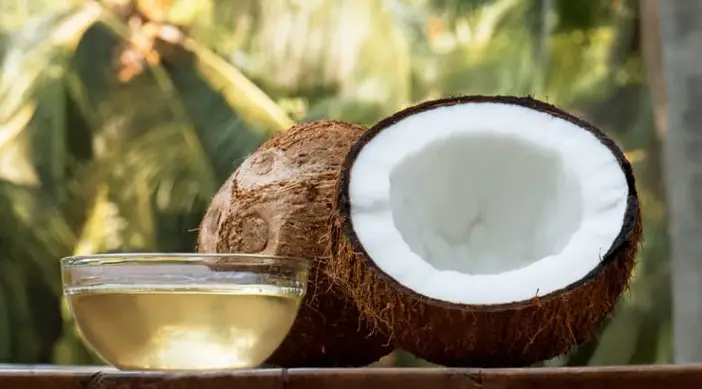 Hair Mask
Coconut oil is an excellent natural hair mask. That is because it is rich in vitamins and nutrients that penetrate your hair shaft and helps to prevent breakage from combing, brushing, chemical treatments, and heat styling.
Ingredients: 1/4 cup of coconut oil, 1 egg yolk, and honey
Steps:
Mix the coconut oil with egg yolk in a bowl or small container
Beat the mixture until it is well-blended.
Add at least 2 teaspoons of honey into the mixture.
Stir thoroughly to combine ingredients and then cover the mixture in cling wrap.
Place it in the fridge for 20-30 minutes to set.
Take out the mask from the fridge and apply it to your hair (make sure not to miss any areas on your scalp .
Wrap your head in a clean towel for 20 minutes to allow the mask to seep through your hair follicles and soften your roots.
Wash off with your regular shampoo and conditioner.
Scalp Massage
Coconut oil is a natural way to give yourself a scalp massage. It helps stimulate the scalp and increase blood circulation. This can make your scalp healthier, hence promoting hair growth and overall appearance.
Steps:
Take a few drops of coconut oil in your hands and rub it together until it's warm, but not too hot.
Starting at the nape of your head, apply slight pressure with both hands moving towards the crown of your head.
Use gentle strokes up and down the entire length of your hair
Release, then repeat for about 10 minutes.
Allow the coconut oil to remain on your head for a few minutes before washing it off with shampoo and conditioner.
Moisturizing
Coconut oil is an excellent way to moisturize your hair naturally. With regular moisturizing, you may experience increased hair growth and thickness of hair, and reduced hair loss or hair thinning. Coconut oil can also help to eliminate itchy scalp conditions like dandruff.
Steps:
Put a small amount of coconut oil into your hands and rub together until it's warm.
Rake your fingers up and down the entire length of the hair (make sure you don't miss any strands).
Repeat steps 1 and 2 for more even distribution.
Dry your hair with a blow dryer if you started with damp hair.
Detangling
If you have a hard time detangling your hair, try coconut oil. It works well for detangling hair because it repels water and is greaseless. Moreover, swapping your regular detangler with coconut oil will give your hair that much-needed natural shine and scent.
Steps:
Rub a small amount of coconut oil into your hair, starting at the tips and working towards the roots.
Grab your trusted wide-tooth comb and comb out your hair in small sections.
Continue combing through your hair until you have untangled all the knots.
SEE: Make Your Hair Thicker and Fuller With These Natural Home Remedies
FAQs
Can I leave coconut oil in my hair overnight?
Yes, you can. Applying coconut oil to your hair every night will help eliminate dandruff, dryness, itchiness, and scalp infections.
For best results, wrap your head in a clean towel or scarf to allow the coconut oil to fully penetrate your hair follicles. Doing this will also ensure that you don't stain your sheets with excess coconut oil.
Can I use coconut oil as a leave-in conditioner?
Yes, you can. Coconut oil is a versatile product that can also work as a leave-in conditioner for your hair.
It is rich in medium-chain triglycerides (MCTs), which are easily absorbed to condition your hair and soothe your scalp. It also has antibacterial and anti-fungal properties that can help you avoid the itchy and flaky skin caused by dandruff.
Can I mix castor oil with coconut oil for hair growth?
Yes, you can. Castor oil is an excellent source of monounsaturated fatty acids and vitamin E, which help to reduce breakage and improve hair growth.
Incorporating both coconut and argan oils into your hair care regimen will help strengthen your scalp. This will ultimately lead to reduced hair thinning and improved scalp health.
Conclusion
So, is coconut oil good for hair growth? Yes, it is. According to research, coconut oil is one of the best natural remedies for hair growth. It is rich in medium-chain triglycerides (MCTs), vitamins A, E, and K, which work together to give you healthy strands.
Along with promoting hair growth, coconut oil helps reduce inflammation, protects against free radicals, and moisturizes dry skin. Research has also proven it to have anti-bacterial properties which can help treat scalp infections that lead to hair loss.
However, there are mixed reviews about whether or not coconut oil will help grow hair. Some people say that coconut oil helps their hair grow faster, while others say it doesn't. The only way to know if it will work for you is to try it out!
Thanks for reading.
Africana Fashion provides you with relevant hair articles to improve your hair health.