Is Poshmark safe to buy from? Yes, but there's a clause. Poshmark is a favorite eCommerce platform for online spenders, but for some reason, questions have been raised about how safe Poshmark is, especially for buyers. 
I know that online shopping has its fair share of risks, like people posting conflicting pictures of what they ordered versus what they got and frauds trying to pose as sellers to rip people off their hard-earned money.
But we can also agree that it has made shopping easy, and many eCommerce founders have found ways to minimize the risks of buying with features like buyer protection. However, not all follow through.
Therefore, this guide will explain whether or not it's safe to shop on the platform and what to avoid if you must buy an item online.
What is Poshmark?
Founded on May 2011, Poshmark is a social marketplace where people can buy, sell, and share new and fairly used shoes, clothes, accessories, household items, and electronics. 
Similar to eBay and Mercari, it's the perfect place to find that unique item or designer brand you've been searching for at a pocket-friendly price. With millions of items available from thousands of sellers, there's always something new to discover on Poshmark. 
Whether you're looking for a new outfit for your next night out or a vintage treasure to add to your collection, Poshmark has it all.
Plus, you can shop conveniently via the website and mobile app on the go. This buzzing online marketplace has become a household name for many.
Poshmark's virtual shopping parties have also become a fun and social way to resell items and shop from anywhere.
With a vibrant community of over 60,000,000 online buyers and sellers and people sharing over 38 million items daily, the platform shows no signs of fading into oblivion anytime soon.
How does Poshmark work?
Poshmark is a platform that allows users to buy and sell fashion items. To list an item on Poshmark, users must first create a listing by uploading photos and providing descriptions of the items they wish to sell.
Buyers can then browse through these listings and purchase items they are interested in. Shipping is handled by Poshmark, and sellers are typically paid through PayPal.
Is Poshmark safe for buyers?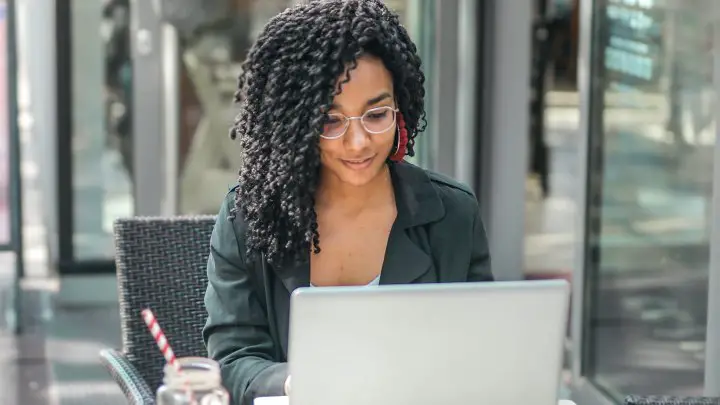 Yes, it is.
But what makes it safe, you may ask? It has a dedicated team of Trust & Safety specialists who work around the clock to keep the community safe. Furthermore, every listing is monitored by the Poshmark team to make sure it meets set guidelines.
Poshmark integrates buyer and seller protection plans and has fraud detection tools that are favorable to the safety of buyers.
Another feature that stands out is Posh Protect. When you buy an item on Poshmark, the company holds back your payment till you indicate that you've received your order from the seller. This is one way they are mitigating fraud in the community.
You can also report any suspicious listings or activity, and their team will take a look. So go ahead and shop with confidence.
SEE: Tips That'll Help Upgrade Your Style Without Buying New Clothes
Is Poshmark safe to use?
Yes, it is.
Poshmark's protection covers buyers and sellers. As a buyer, you have the option of returning an item if you're not satisfied with the delivery, and Poshmark will refund you the amount you used in purchasing the item.
On the part of the sellers, their shipments are protected by Poshmark if they choose to use the site's pre-addressed and pre-paid shipping details. That way, when items are returned, Poshmark ensures it gets to the sellers in the same condition they went out.
Is it safe to use a credit card on Poshmark?
Yes, it is.
Poshmark is a secure marketplace and takes many measures to protect both buyers and sellers. When purchasing on Poshmark, your credit card information is encrypted and transmitted securely to their payment processor.
You can also feel confident knowing they will never store your credit card information on their servers.
No doubt, there are always risks associated with using any type of credit card online. However, many users have had success using their credit cards on Poshmark without any issues.
If you are concerned about using your credit card on Poshmark, you can opt for a different payment method like PayPal.
Is Poshmark safe for direct deposit?
Yes, it is.
All of your information is encrypted and secure. They also have a team of software developers and cyber security experts that ensure your financial information never leaks through the app. I'm yet to hear of any issues regarding paying via direct deposit.
Also, if you need to redeem your funds through direct deposit, you'll need to provide your bank account and routing number, and your funds will arrive within 2-3 business days.
SEE: Best Evergreen Gift Ideas for Women
Can you get scammed when buying on Poshmark?
Yes, but the chances are slim. 
Poshmark has a built-in system to protect its users from scammers, but there are always a few that slip through the cracks. If you're ever unsure about a seller, you can always contact Poshmark's customer service for help.
How to avoid getting scammed on Poshmark
When buying on Poshmark, it's important to remember that you are dealing with individuals, not businesses. This means that there is always a risk of fraud or scams.
However, Poshmark has several measures in place to protect its users from being scammed.
If you're worried about getting scammed, there are a few things you can do to protect yourself:
The most important thing to do when buying on Poshmark is to only buy from sellers verified by the site. You can tell if a seller is verified by looking for the verification badge on their profile.
If you're unsure about a seller or a listing, you can always contact Poshmark's customer support team for help.
Check the seller's feedback score and reviews before buying.
Pay with a credit card so you can dispute charges if needed.
Be aware of common scams (like sellers asking for extra money outside of Poshmark) and report them to Poshmark if you come across one.
When paying for your purchase, always use Poshmark's built-in payment system. This ensures that your payment is secure and that you have a record of the transaction.
Finally, remember to never give out your personal information to anyone on Poshmark. This includes your full name, address, and phone number. If a seller asks for this information, it's likely a scam.
By following these simple tips, you can avoid being scammed on Poshmark. If you do end up getting scammed, Poshmark has a buyer protection policy to help you get your money back.
What happens if you get scammed on Poshmark?
If you get scammed on Poshmark or buy something that turns out to be fake, it's safe to say you can still do something about it.
File a claim via the website or app immediately and add picture proofs. Poshmark will review your claim, and upon approval, you'll get a refund.
How to tell if a Poshmark seller is legit
If you're looking to buy items on Poshmark, you'll want to make sure that the seller is legitimate. Here are a few things to look for:
Check to see if the seller has been active on Poshmark for a while. A legitimate seller is likely to have been active on the site for at least a few months.
If the seller is offering a deal that seems too good to be true, it probably is. Be wary of sellers who are offering steep discounts on designer items.
Read through the seller's reviews. Look for red flags such as multiple complaints about items not being as described or buyers not receiving their orders.
When you contact the seller, pay attention to how they respond. A legitimate seller should be professional and prompt in their replies.
If you're still not sure about a particular seller, you can always ask Poshmark's customer service for more guidance.
How to know if an item is fake on Poshmark
If you want to buy an item on Poshmark, it's safe and important to be able to spot a fake. Here are some things to look for:
Check the seller's feedback score and reviews. If they have a lot of negative feedback or mostly 1-star ratings, that's a red flag.
Examine the photos carefully. If they look like they've been doctored or are of poor quality, that's another sign that the item may be fake.
I know I've said it before but be wary of prices that seem too good to be true. If an item is being offered at a significantly lower price than its market value, there's a chance it could be a fake.
Ask the seller questions about the item. If they can't provide you with satisfactory answers, that's another red flag.
Google the product to crosscheck the labels and design on other platforms.
If you're ever in doubt, look for other sellers. There are plenty of them on Poshmark who are selling authentic items at fair prices.
SEE: Learn How to Be Sexy with These Simple Steps
What should you not buy on Poshmark?
Poshmark caters to specific products like ​​fashion, accessories, new personal care products, select home goods, select pet items, and select electronics.
Anything outside of these is not encouraged on their platform, and as a buyer, it may not be safe to buy and step out of the Poshmark boundary.
FAQs
Is Poshmark a waste of time?
No, it isn't.
It's a legitimate platform that helps you get what you want at an affordable price and fast.
Does Poshmark still have buyers' protection?
Yes, they do.
Poshmark is keen on buyers' protection, as well as sellers' protection. So, you can shop safely anytime.
What is the 30-minute rule on Poshmark?
It is Poshmark way of saying the platform is so user-friendly you can get everything you need within 30 minutes.
Conclusion
When it comes to online shopping, people want to know that entering their bank details will not breach their privacy. Buyers also want to be sure that what they order is what they'll get, and there is nothing wrong with that.
Poshmark does a great job with its buyer protection policy, keeping the community safe for spenders like you who want value for their money.
So, is it safe to buy on Poshmark? Overall, the answer is YES.
Thanks for reading.
Found this guide helpful? See more of this on Africana Fashion.