It's good to see a trend pop back into the limelight as a better and brighter version of itself. That's the case of the knotless braids hairstyle.
It's been around for decades, but for seasons now, it's the staple braid hairstyle African American women and women of color, in general, hide under as a protective hairstyle.
Moreover, it's getting more traction because TikTok and Instagram are doing their best to highlight the benefits of the hairstyle. At this rate, you might be the odd one if you don't get on the trend.
I won't hassle you on why you haven't tried the painless hairstyle, but now that you want to give it a try, you have picked the right place to learn all about the rave of social media and to pick your preferred style to upgrade you from okay to the trendiest.
What is a Knotless Braid?
As I said, a knotless braid is not a new hairstyle. However, it's coming back with a literal bang because of its features that make the hairstyle unique.
Knotless braid is a variant of the box braid. It's a type of braid that does not have the regular knots at the root of your hair. That is, rather than start your braid with a knot, you start with a feed-in. This is a technique where you add synthetic braiding hair in pieces.
The braid is started with your natural hair then the braiding hair is added in small pieces as it weaves. Consequently, you have lightweight and painless braids attached to your scalp.
If you are tired of experiencing painful braids, this is a suitable alternative to rescue you from headaches and neck pains.
This protective style would save you from not only the tight knots and pains but also the headaches and tangled hair. Furthermore, your hair is bound to be saved if you have a sore and tender scalp.
It's essentially the go-to hair for those who want to wear protective hairstyles and still look top-class with their hair. That's why it's the rave on social media right now.
Trendy Knotless Braid Styles
Knotless braids are good for both natural and chemically treated hair. The fascinating hairstyle can also come in various styles, which makes it hard to pick a favorite. Nevertheless, you can start with these trendy knotless braid styles if you are ready to try out the hairstyle.
1. Jumbo Knotless Braids
If you love jumbo braids, then jumbo knotless braids should easily slide to the top of your favorites. The style is chic and simple. Additionally, you won't have the weight you naturally would with your regular jumbo braids.
It is a style you would love for its ease and framing of your face to make it look smaller.
2. Knotless Braids + Triangle Cut
The triangle cut has always been a favorite of mine because of the angular cuts that shine beneath. And with a knotless braid, the triangle cut would shine better because your hair starts the braid.
Therefore, there is an easy blend from hair to braiding hair, creating a nice synergy. Furthermore, it looks cute when you have symmetrical lines on your scalp.
3. Loose Knotless Braids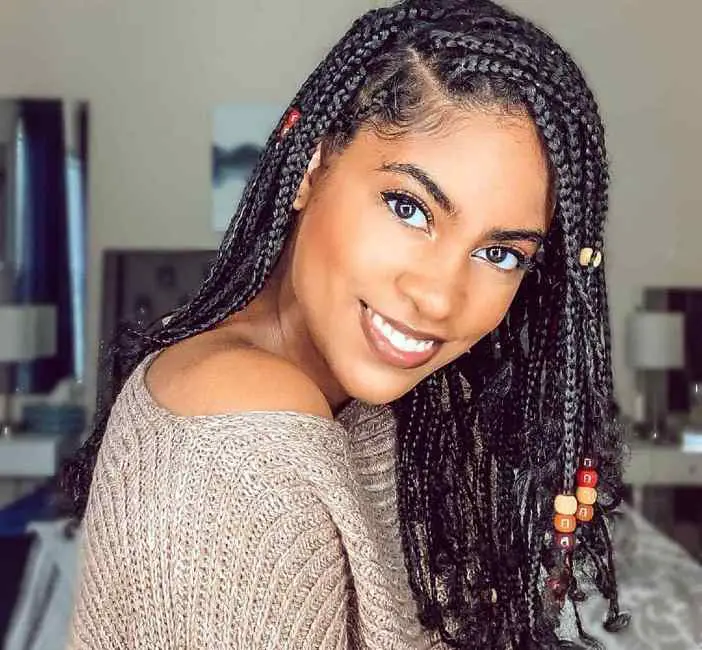 This is for my natural or transitioning hair sisters. If you need something that wouldn't constrict or feel tight, you should try loose knotless braids. The style is easy, and it would protect your hair from harsh conditions and climate.
In addition, it is great for humid climates that could stick your hair to the braided hair. This is a hair of choice for summer days in the sun or on vacation to the beachside.
4. Knotless Braids + Beads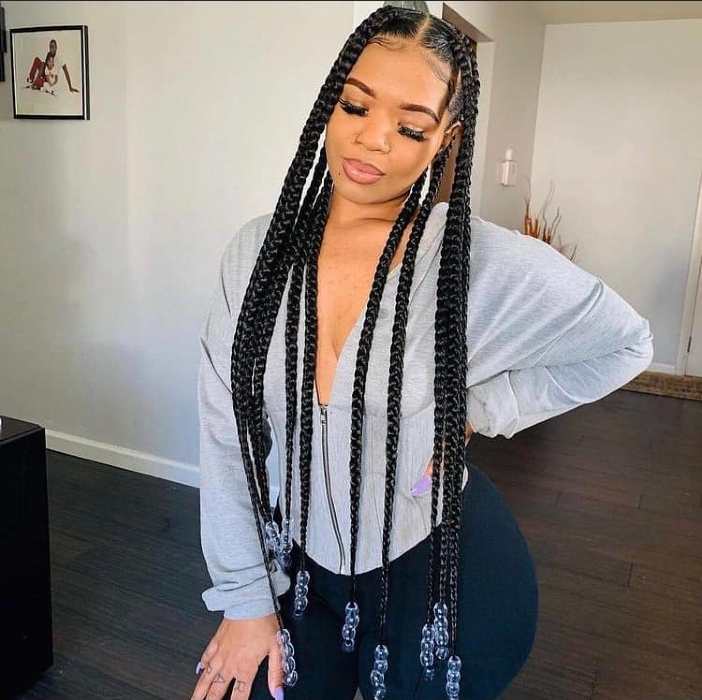 Accessorizing your braids would give it the edge you need. If you love tribal braids with beads, then knotless braids should be effortless for you.
The style also gives you a complimentary look that ages you down. Your youthful features are highlighted with this hairstyle.
5. Knotless Braids + Curly Ends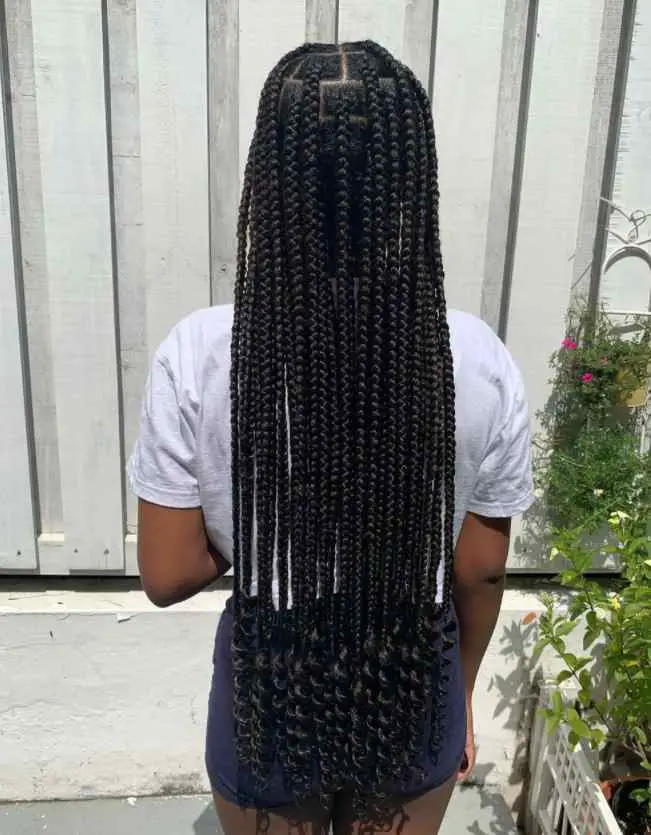 Just as beads give your braids an edge, so do the curls. However, curls give your braids a sophisticated and chic look. They have an elegant feel about them. Furthermore, it is pleasant and eye-catching.
With this style, you would certainly turn heads. I would know because I have tried it before. More so, it gives the wearer a set of confidence when it comes to styling your curls.
6. Bohemian Knotless Braids
The knotless braid style uses a feed-in technique. The style is already unique in its own right. However, adding curls to chosen strategic parts of your braids, makes it even more elegant. The bohemian braids play with a freedom concept and elevate it to top-class.
In addition, the style makes your hair look fuller and gives the illusion of more. The defining style is truly in a class of its own.
7. Short Goddess Knotless Braids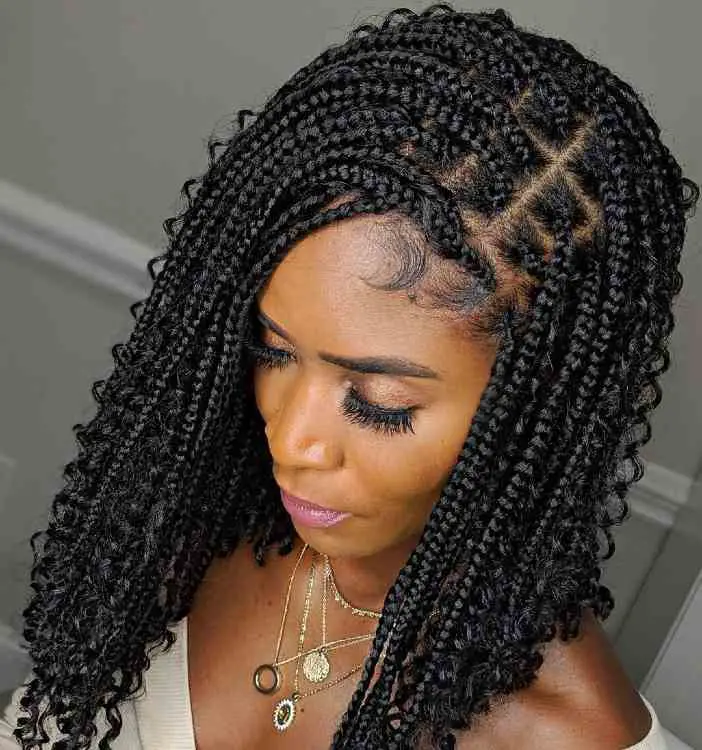 Goddess knotless braid is classy, just like the bohemian braids. The style consists of medium-sized braids with even length and curls with the right appeal. However, the braid is not big enough to draw too much attention, neither is it too small to go unnoticed.
You can wear braids full or light. No matter how you wear it, with the knotless roots, the braids would not weigh your head down.
8. Gorgeous Knotless Braids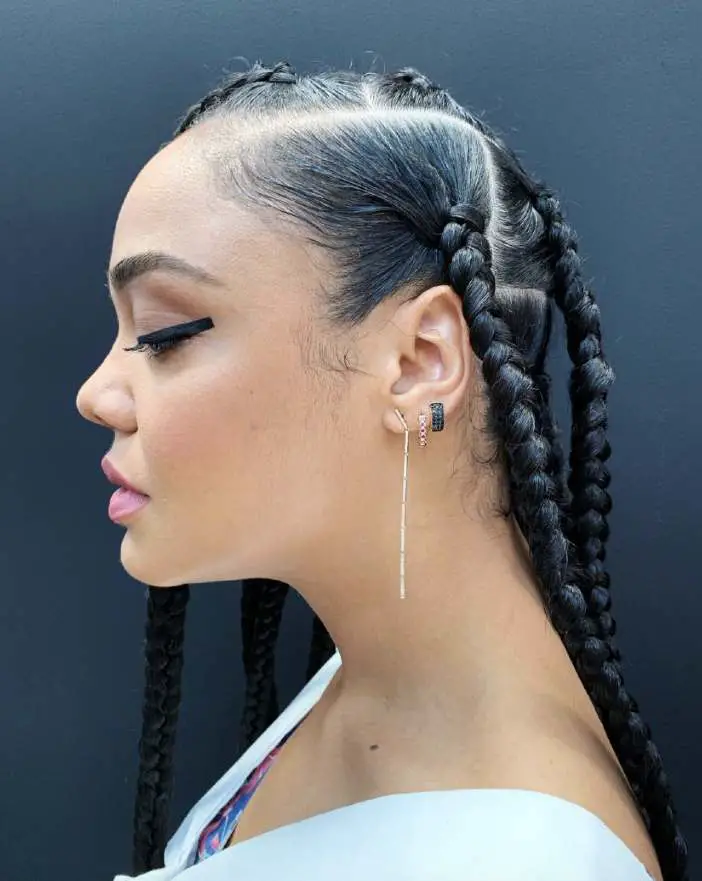 This is a style you can whip up if you are in a hurry. It doesn't need too much effort and it would be as painless as possible. The style's concept is down to earth. The scanty number of braids can be counted on your scalp.
9. Bob Knotless Braids
If you are looking for something short and fancy, try the bod braids with a knotless twist. You can wear the hairstyle if you want to let your hair down. Moreover, you can add an edge to this style by adding a fade or taper to your edges.
10. Deep Parted Knotless Braids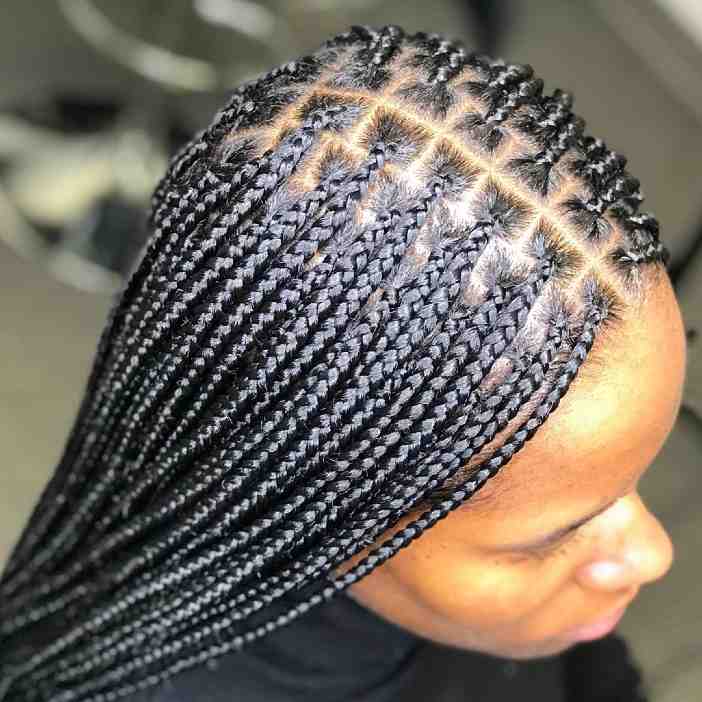 It could be middle or side parted braids you opt for. Deep parting frames your face nicely, no matter the style you choose. The reason to deep part your knotless braids is to give you an edge and accentuate your face's shape.
11. Ombre Knotless Braids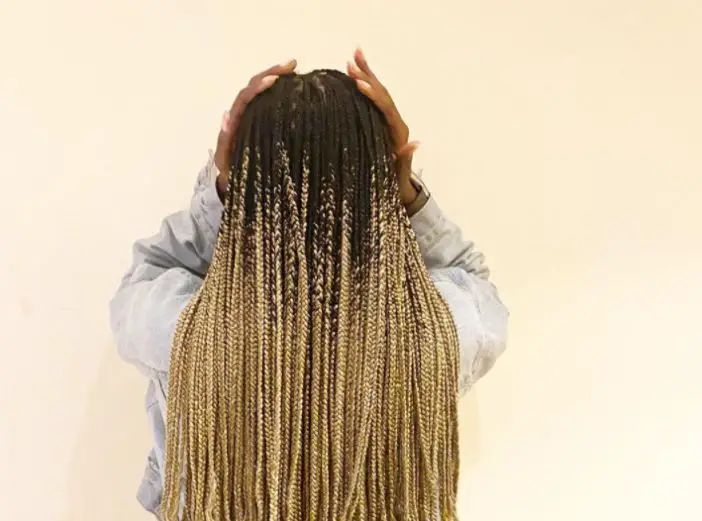 Styling your braids in cute colors stands out. However, by styling it in complementing colors, you are bound to stand out. You with ombre braids ups the edginess about yourself. Furthermore, the style highlights your skin if you choose your colors wisely.
Ombre hairstyles stand out more when the color uniquely blends with your natural hair or deeper shade.
12. Blonde Knotless Braids
Dyed your hair gold? Then get a knotless braid the color of your blonde strands. The braided tresses would look natural. It also doesn't matter if you have your dark hair color. You can create a stunning lowlight that contrasts pleasantly with the braided hair.
Wear a hairstyle that would glow up your face with its bright color. The outcome can be different depending on the shade of the color.
13. Red Knotless Braids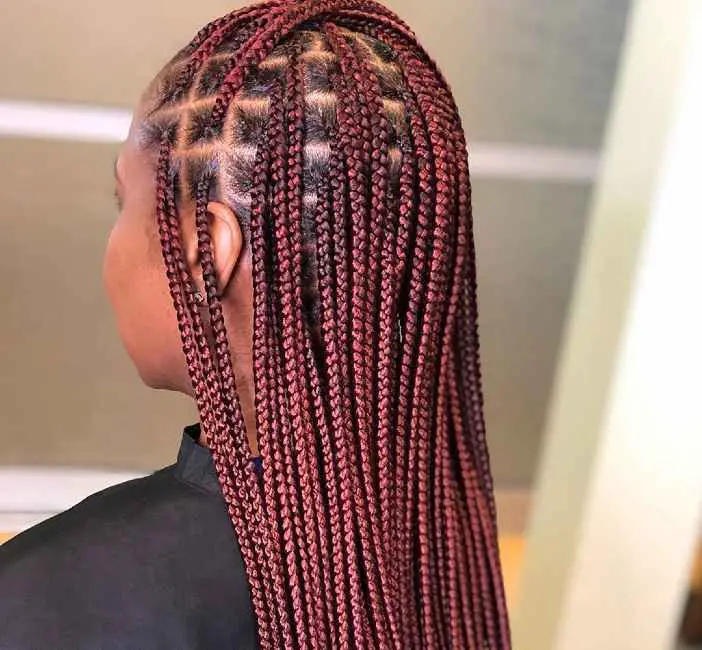 Red is a fiery color. It's bold and dangerous. Wearing your knotless braid hairstyle in red also gives you an edginess that is young but mature. The color also pops out on dark skin tones, so you would look good on it.
14. Tiny Knotless Braids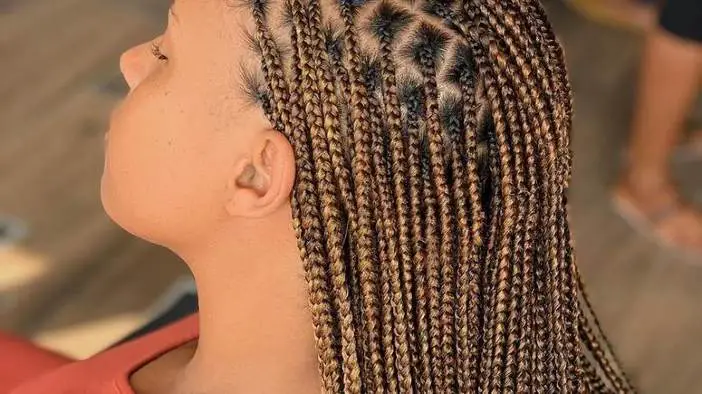 You won't have to worry about alopecia with your tiny knotless braid hairstyle. If you are planning to wear long-lasting tiny braids, it's best to go knotless not only to secure your roots but also to keep them from breaking.
Moreover, tiny braids can be styled just as you do a weave. You can be creative with your styles.
15. Knotless Braids High Ponytail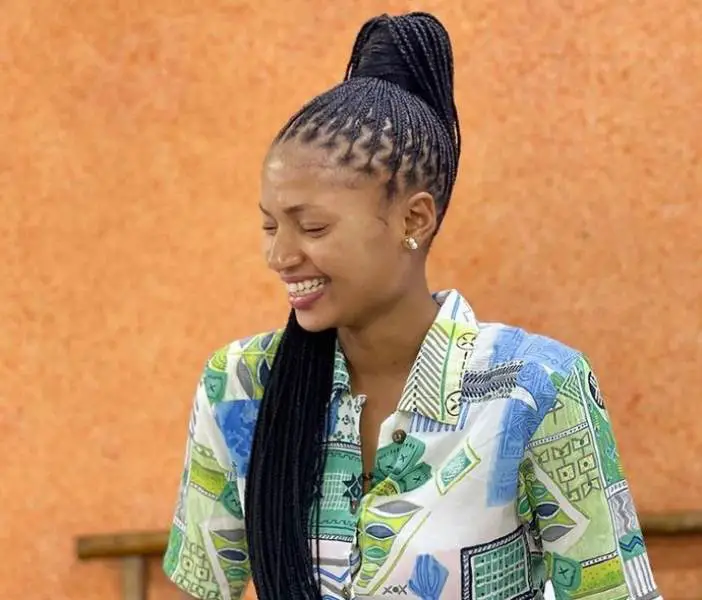 Keep it simple with nice long braids in a feed-in style. You can make a nice ponytail and this time, you don't have to worry about your roots feeling heavy or painful. The style is lightweight and painless.
16. Medium Length Knotless Braid + Bead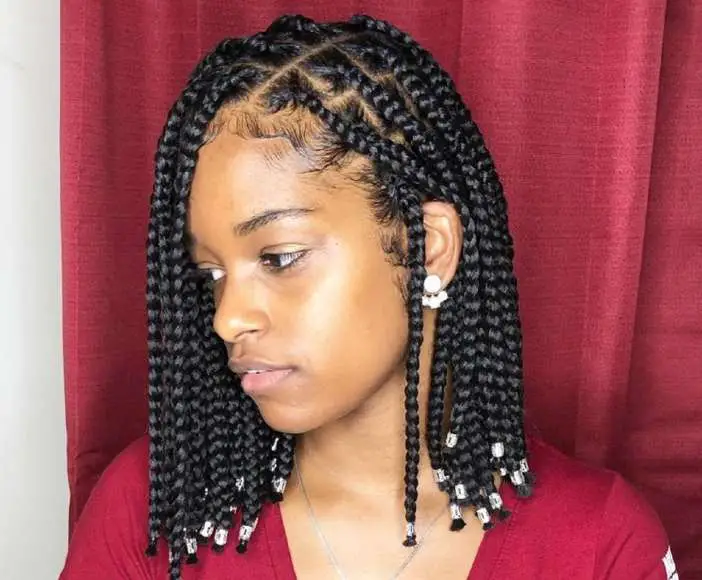 Stay chic with this hair. You can wear beads with different colors or go tribal braids with your hair. The medium knotless braid is perfect for those who do not want something short, yet long enough to style.
17. Knotless Braids + Colored Curls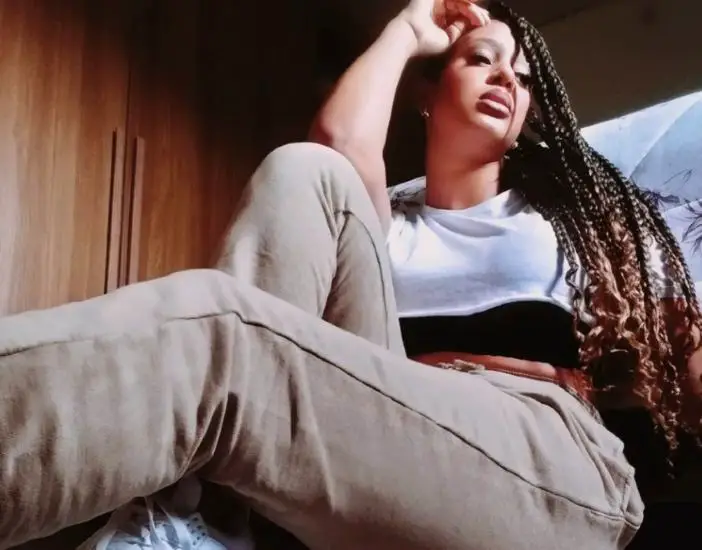 This style is a cute and unique blend of curls and colors. You can stay chic with curly ends on your braids. And you can also look youthful with the color. It is the perfect hair for the urban woman.
The style gives you freedom even you wouldn't think was possible. Additionally, it is effortlessly stylish.
18. Knotless Braids in a Bun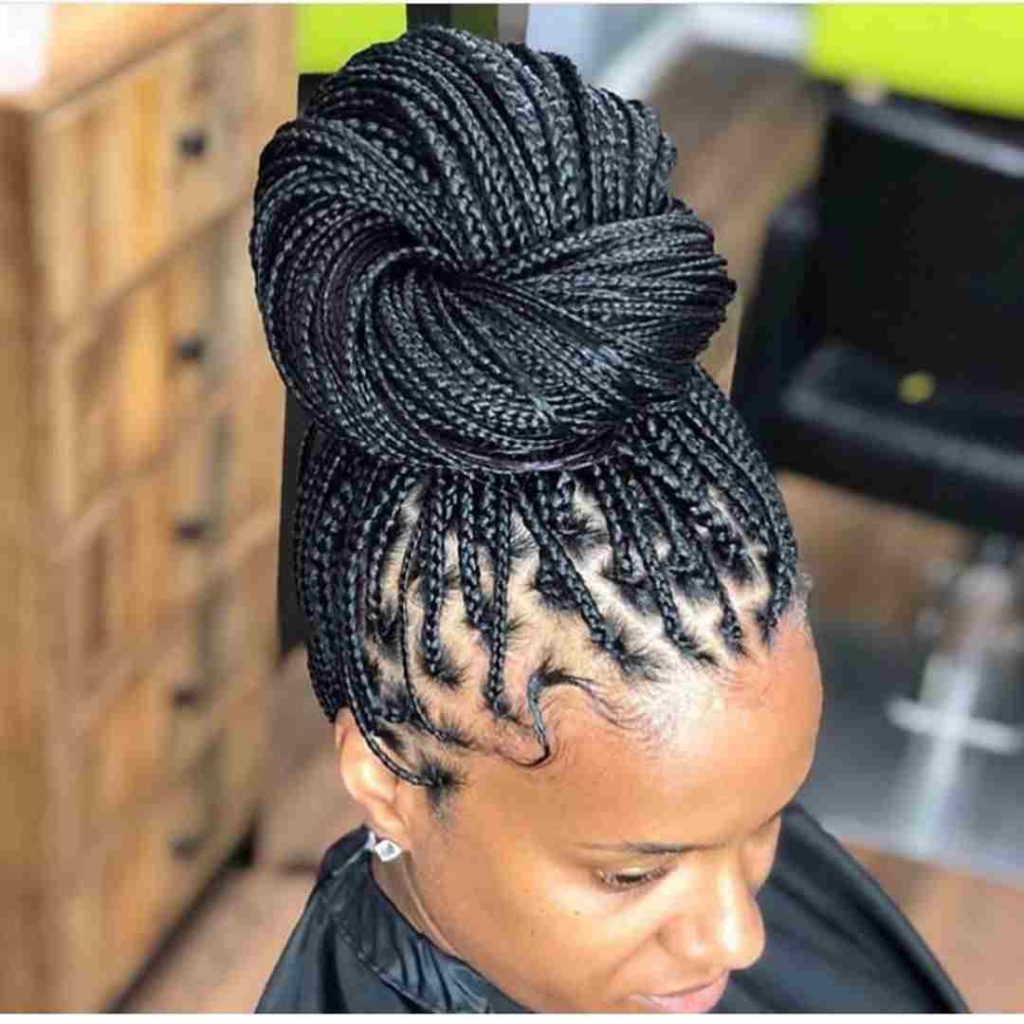 What type of bun do you like? Top, middle, or low buns. The bun you wear with your knotless braid hairstyle will pop out, especially if you are wearing a top bun. In addition, the style is exquisite. How you style your bun will make you look formal, playful, or avant-garde.
See Also: 15 New and Trendy Ways to Wear Box Braids for Men
How to Care for Your Knotless Braids
After getting your braids done by a braider or a stylist, caring for them for their duration is the next step to take. The braids will certainly look gorgeous for the time you wear them, but this does not stop your hair from losing its sheen.
Therefore, there is a need to know what to do to make the hair long-lasting. The following guide will keep you on track.
Use a mousse, leave-in conditioner, or oil to keep your hair hydrated. Applying the product once or twice a week will do the trick.
Use edge control for your edges. It would protect and upgrade your hair.
Get a perimeter touch-up once every four weeks to give it a fresh look.
Sleep with your braids covered with a silk scarf or bonnet. This reduces friction when you sleep.
When you wash your hair, focus on your roots rather than the full braids.
Read Also: Protect Your Hair's Natural Oil With Sulfate-Free Shampoo
Frequently Asked Questions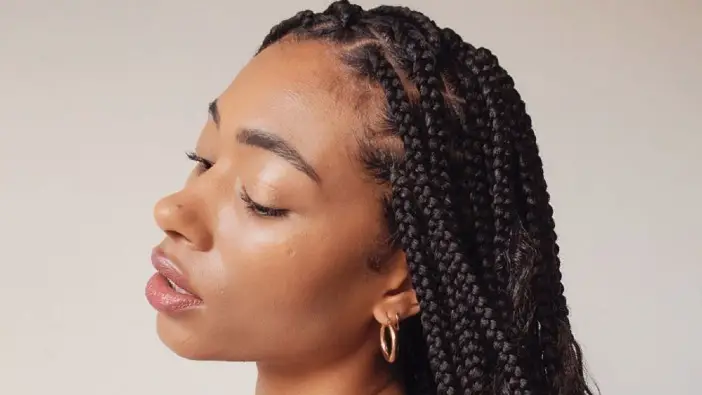 Do knotless braids last longer?
Yes, they do. Knotless braids can last up to two months depending on how you care for them. The style is painless and lightweight, which makes the braids feathered on your scalp. This is what makes it last longer.
Will knotless braid protect my hair?
Yes, it would. Knotless braid uses the feed-in technique where you start your braid with your hair and not a braiding hair knot.
Additionally, the braid does not cause breakage after wearing it for a while. It protects your hair because there is no tugging at the roots. This also reduces the alopecia effect.
Is knotless braid the same as box braid?
No, it is not. Knotless braid and box braid are different. Knotless braid is a variation of box braid.
While box braids have a knot of braiding hair starting at the root, a knotless braid starts with your hair then the braiding hair is fed in in small portions until you have your desired size.
Can natural hair make knotless braids?
Yes, they can. Knotless braids are designed for all types of hair.
Although natural hair could use the help of a slipping product like a gel or wax, it can wear braids. Furthermore, the knotless braid hairstyle is the best to protect tender-headed natural hair.
Read More: See 26 New and Refreshing Tribal Braids Hairstyles You Should Try
Conclusion
Braids are lovely hairstyles. And over time we look for ways to wear these hairstyles without causing damage to our natural hair. This gave birth to the knotless braid hairstyle.
Knotless braid is a variation of box braids. They are the trend right now with African American women because they are painless, lightweight, and protective.
You can wear the braided hairstyle however you want; there are countless creative styles to experiment with.
Nevertheless, the hair wouldn't do you justice if you do not care for it properly. It's basic hair care 101. On the other hand, if you do, you would get the best hair experience and look trendy and youthful with the latest style.
So when you stop at your salon for your next appointment, be sure to show her the knotless braid hairstyle that suits you the most and rock that hair to the next trend.
Thanks for reading.
Africana Fashion provides trendy beauty articles to level up your day-to-day lifestyle.