There is an endless list of ways black men look cute and fashionable. One of which is their hair grooming and styling. And, this is regardless of the hair length. We have seen enough of long hair and haircuts. In recent times, black men are stylishly wearing short curly hair that calls attention.
After a while of wearing braids, a taper of fade cuts; you probably want to chop down the length or grow out your hair a little to get curls. And, I know that is why you are reading this article.
Believe me, whether you decide to wear brushed up curly hair or any textured curly hairstyle, one thing is sure. You'll look flattering. Besides, you do not have to do away with taper and fade cuts. You can have them complement your short curly hairstyles and still look dapper.
See a list of cute short curly hair for men that you can wear all season and for different occasions.
Cute Short Curly Hair for Black Men
1. Short Curly Hair With Fade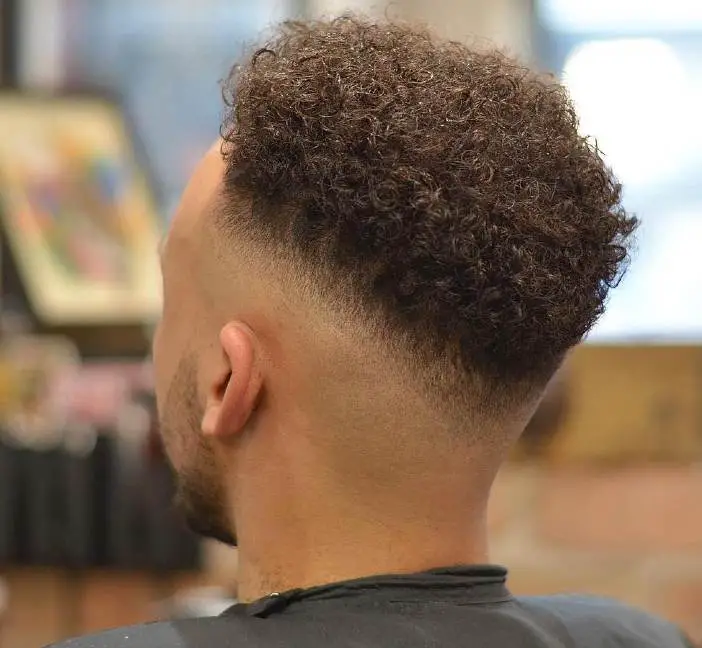 To me, a fade to any haircut speaks volumes already and I think a lot of black men love it. like I said earlier, getting curls does not mean you have to do away with your favorite dressings. One advantage about a fade is, it has become very versatile that almost every barber can do it and you can wear it almost anywhere.
You'll see that short curly hair and a fade are in a mutual agreement. Ask your stylist to give you clean graduation on the sides and back of your hair. It can be a low or high fade. Moreover, you can have the curls tightened or styled into a parting.
2. Short Curly Hair With Tapers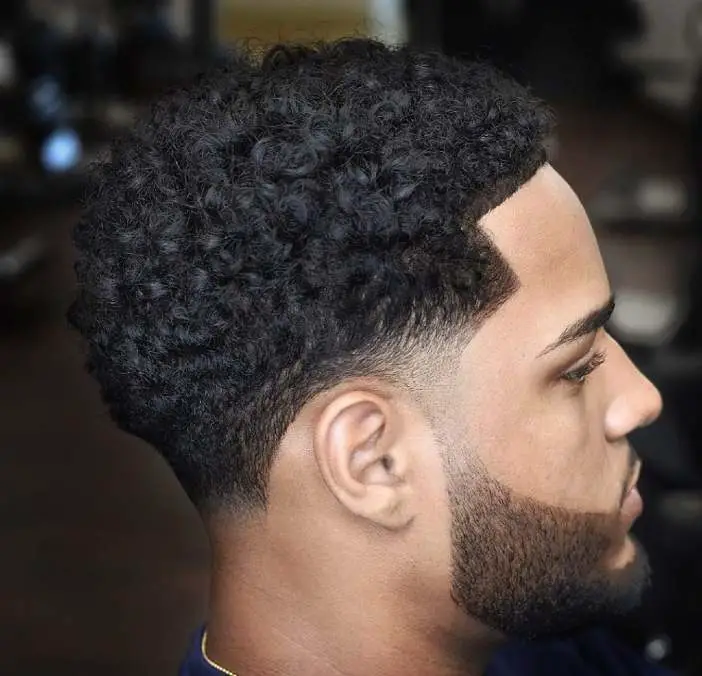 Rather than going almost skinned with a fade, you can retain more hair with a taper. The almost invisible hair length and volume graduation make sure that the extra length atop your hair is clear for all to see.
You can have your taper in layers to spice things up and accentuate your curls. However, regular trims are necessary for as long as you'll be wearing this hairstyle. But the trims depend on how fast your hair grows.  
3. Short Curly Taper Fade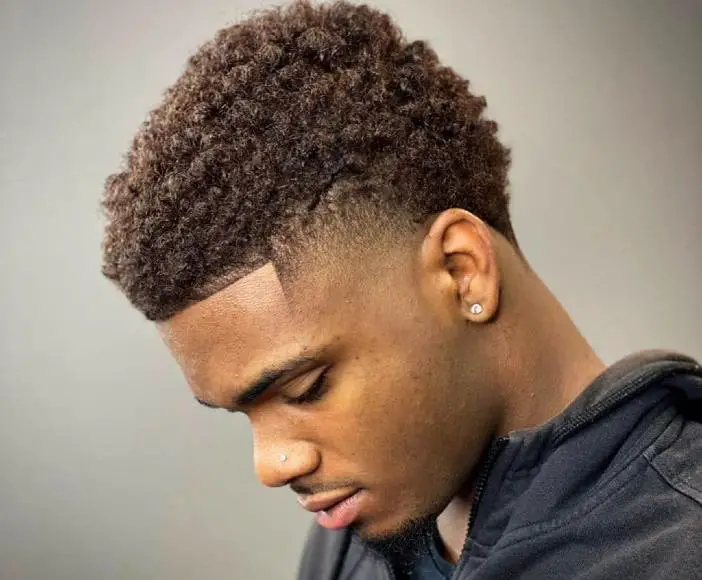 Taper and fade work hand in hand to show hair length and volume graduation. This way, the hair on the top front of your head is longer and it shows off the work that has been put into the curls. This hairstyle looks very sharp, professional, and corporate just by itself.
4. Short Sides + Curly Long Top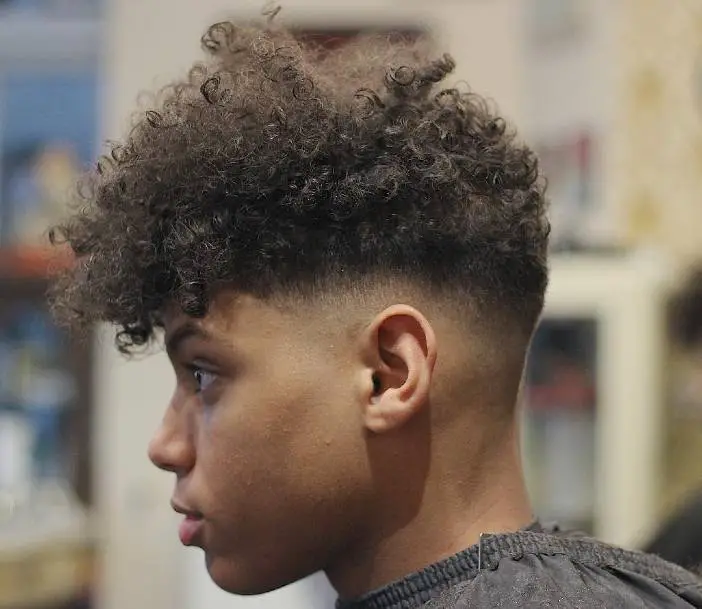 This hairstyle is a classic when it comes to the short curly hair that black men often wear. It features length, volume, and texture contrasts that synergize to make you look flattering.
Accentuate the curly long hair on top with an undercut of fade of any level. Also, you can have all the curls fall to the front or side and your face. You can add a quiff or side part to the hair at the top front of your head.
SEE: How to Get Curly Hair for Black Men: 8 Easy-Peasy Methods That Work
5. Curly Mohawk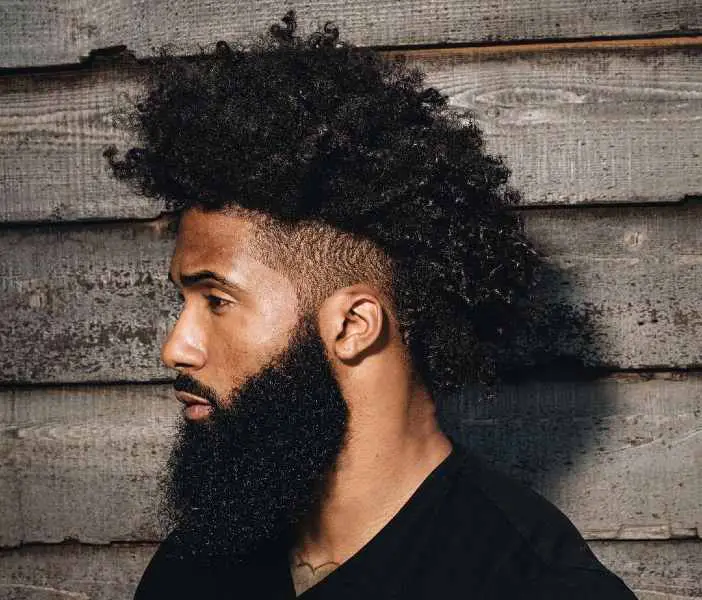 Mohawk is one hairstyle in the short sides and long top hairstyles. This timeless haircut looks like your hair is ridged into a fan or something of the sort.
Short curly hair can get a mohawk cut and you can apply styling gel or mousse to the curls on top. This way, the curls have more volume and texture which are needed to define the mohawk. Additionally, you can add a high fade to your mohawk to perfectly define the contrast.
6. Curly Faux Hawk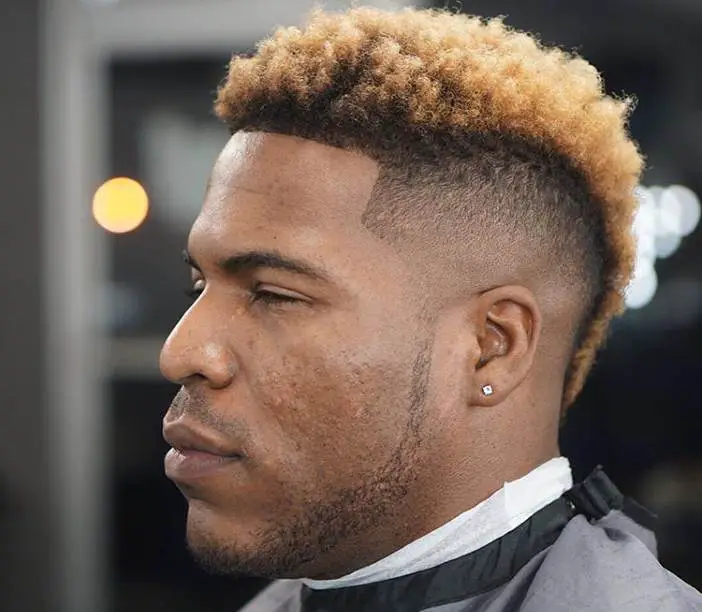 If you do not want the sharp contrast that mohawk comes with, you can have faded hair on your temples and the sides. The resulting hairstyle is a faux hawk. You can call it a modern mohawk that is common among black men of all ages.
Add texture to your curls and maybe a bold color too to highlight your curls and make everyone turn twice.
SEE: Best Haircuts Inspiration for Your Black Curly Hair
7. All-Over Short Curly Hair
Boys and men who have naturally curly hair may not want any compromise on the sides of their hair. It's okay if that is what you want. You can wear soft curls all over and show off your hair's natural volume, color, and texture. Get frequent trims to avoid messy or unkempt locs.  
8. Short Curly Ponytail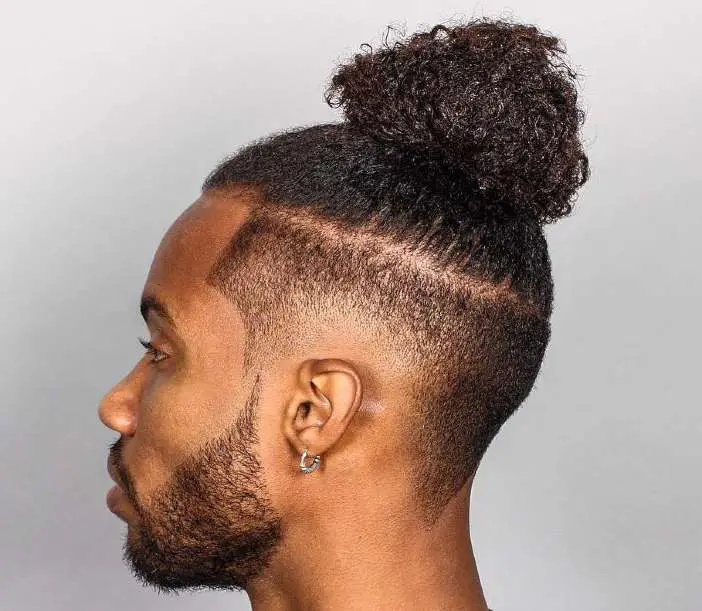 Gather your hair into a ponytail and allow the curls atop speak for themselves. It will take quite some work to get this done. This is because of the short curls that may keep falling out.
Before packing them into ponytails, you can use a curl styler to make your hair sleeky and cooperative. This way, they gather uniformly, and you can perfectly hold them in place.
9. Colored Short Curly Hair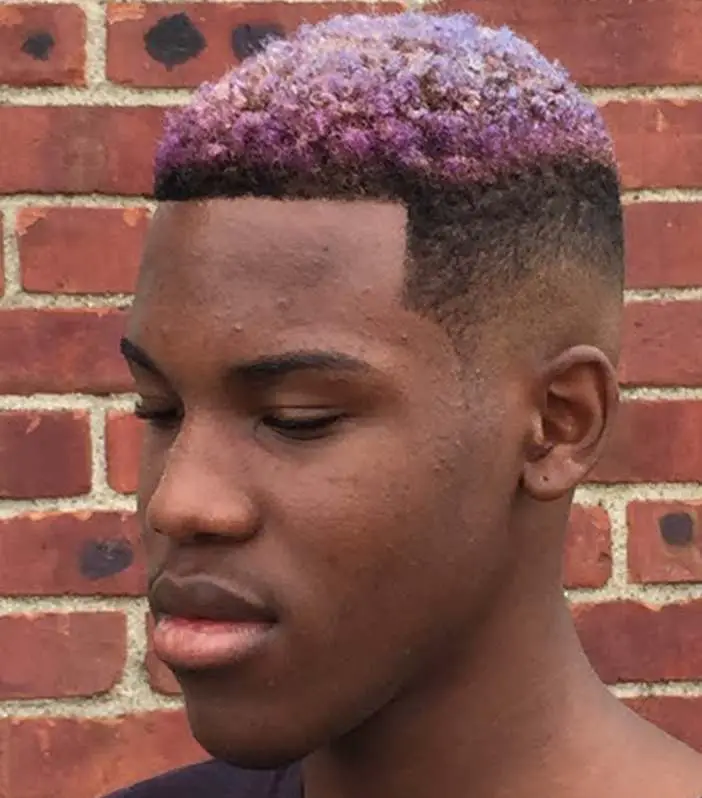 Go bold with colors apart from a blonde. After all the devotion to the sides and back of your hair, focus on the curls. Highlight the top of your curls with bold colors like blue, red, or wine. Furthermore, a neon shade will add an edgy vibe and show your pledge to the unconformity.
However, the color looks better on tightened curls. And, you must be ready to do extra because for as long as the hairdo lasts, you'll be keeping the shaved sides and colored hair in check.  
10. Undercut Fade With Textured Curls
Undercut fades draw all the attention to what you have on the top of your hair. This universal hairstyle perfectly suits both old and young black men with curly hair. The shaved sides highlight your curls and make your face look slimmer and longer.
Use a styling cream, gel, or mousse to add texture to your curls. In addition, you can have your stylist tighten the curls for a more defined texture and maybe juice it up with a side part.
This hairstyle is a great way to project your perfectly groomed beard because I assure you that after your hair, that's the next place they'll look.
SEE: Best Beard Products Every Man Should Have
11. Brushed up Short Curly Hair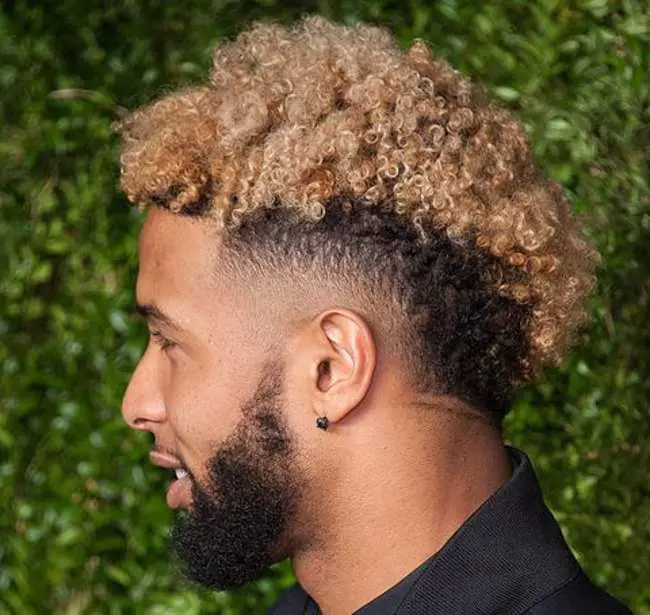 Moving all the curls from all around your head and face and concentrating them on the top of your head indeed is something. And, this hairstyle is almost irresistible. I think it's because of the spiky look it gives you hair. If you love fun and a touch of funky vibes, you'll embrace this hairstyle.
Flaunt your curls by working a styling product into them while they are damp. This product will make them sleeky and oblige as your brush them all upwards. Then, leave the product and the remaining water to dry in the hairstyle.
You can have some curls fall forward towards your face and maybe add a color like blonde to the tips.
12. Short Curly Spiked Hair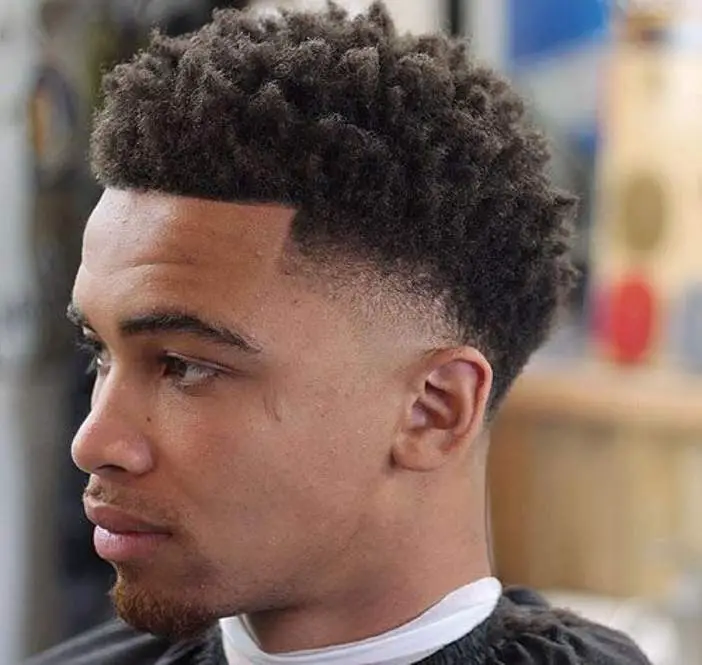 Spiky curly hair is about ridges and well-defined texture. This hairdo perfectly complements all face shapes and hair lengths. Highlight the ridges and texture with color, an undercut with low, medium, or high fade.
Black men of all ages can wear this modern short curly hairstyle. It makes you look sharp, cute, youthful, and professional. The best way to wear this hairstyle is to have perfectly shaped edges.
SEE: Box Braids Styles for Your Short Curly Hair
13. Short Kinky Curly Hair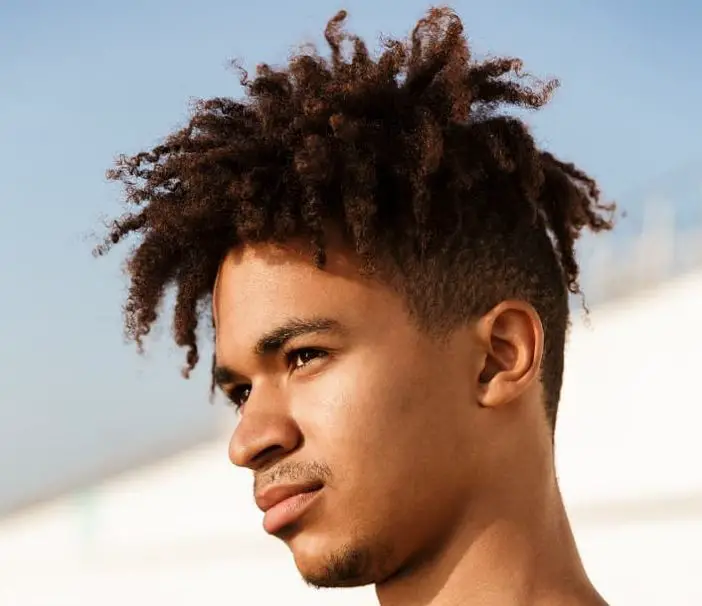 Kinky locs come with a springy look and touch. This works well with short curly hair. You can have the kinky curls styled to stand up and look taut or have them messy.
Kinky curls do very well with blonde tips. Draw all the attention to your colored kinky curls by adding a fade or taper undercut. Moreover, some lines or designs around the sides or back will make a fashion statement.
14. Extra Short Curly Hair
If you already have curly hair and what you want is more relief on length or you just want a new look, here's your option. An extra chop on length should not take away your curls. They will rather look coily but still very cute.
You can complement your extra short curly hair with an undercut fade or taper with a blonde top. Also, you can have lines or something artistic somewhere around the sides or back. Moreover, the shorter length makes it quite easier to maintain and style.
15. Messy Short Curly Hair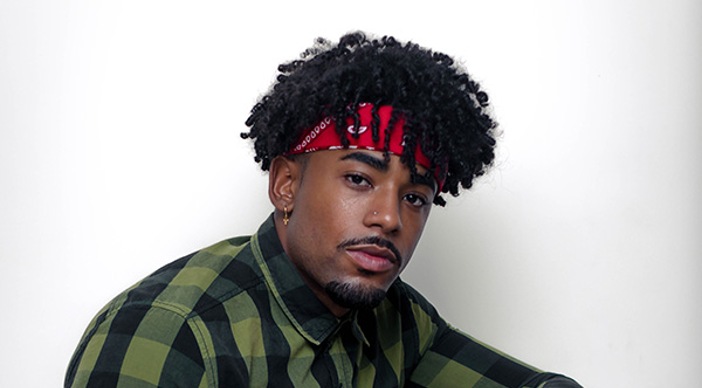 As messy as it sounds, this hairstyle is a great relief from every morning styling. Leaving your curls "out of place" but not unkempt is the way to go. It is quite common to see this hairstyle among biracial men.
However, if you feel you might look too messy, go to a salon to tidy up the sides. You can have a fade or taper with an undercut on the sides and back of your hair. Please, make sure to leave the top messy. A curl styling product will help to add texture and allow them to fall where your style them.
16. Textured Curls With Quiff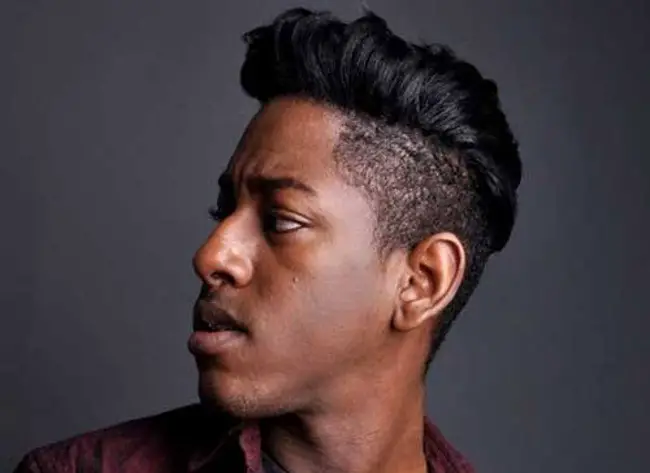 Bring back the pompadour hairstyle from back in the days. A quiff incorporates shorter hair on the sides and back with longer hair on the top front. The top hair is swept backward. This whole accent can perfectly complement your short curly hairstyle and make you look extra dapper.
Just like a fade and taper, most barbers find it very easy to do. Although it may be quite tasking to get short curly hair into a quiff, it can be done. All you need do is dampen your hair and add a styling gel, cream, or mousse to add texture and make the curls styleable.
SEE: How to Make Curls Last Longer: Discover the Secrets to Ever-Bouncy Curls
17. Curly Caesar Cut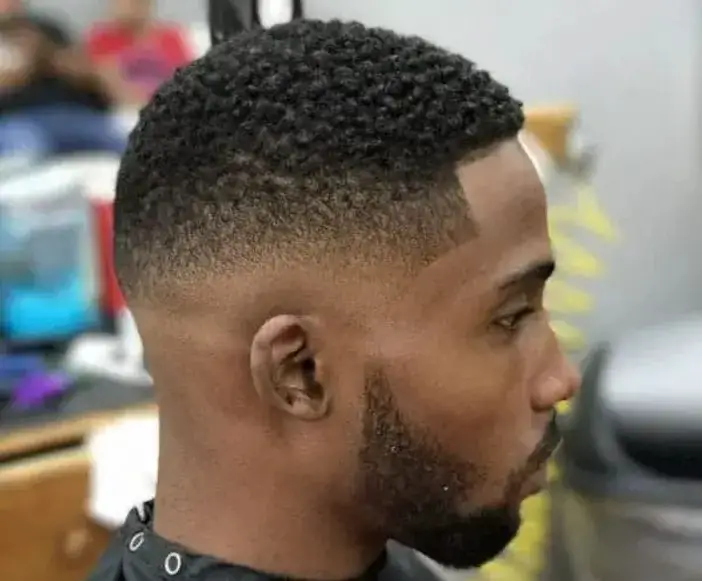 Caesar cuts are timeless classics that have looked good over the years. They are a class of curls-friendly hairstyles curls add texture to the cut. Also, the length keeps the hairstyle neat until your hair starts growing out again.
The way the top hair sits on your head effortlessly makes you look neat, gentlemanly, and dapper for any occasion.
SEE: How to Own Your Scent With These Helpful Tips
FAQs
How should men comb short curly hair?
To comb your curly hair, you should use a wide-tooth comb and brush while it is still wet. If you use a fine-tooth comb, it'll pull at your strands and cause frizz.
Also, you can use your fingers to detangle your hair and this is safer for your curls.
How do I keep my short curly hair in style?
To tame your short curls and keep them in style, you need to create a care routine and follow it religiously. Shampoo and condition appropriately and use the right products too. When the haircut is growing out, get trims and reshape the edges. Also, do not downplay the need for moisture.
Should I style my curly hair when it is wet or dry?
Curly hair compromises better when it is wet. So, you should apply styling products as soon as you're out of the shower. However, it should be damp, not dripping wet.
Detangle carefully and lock in moisture with a leave-in conditioner before you apply your styling products and style as you desire.
Conclusion
We have seen evidence that successfully challenged our doubts that hairstyle trends are no longer an affair for only women. Black men are coming out with cute hairstyles that we aren't getting tired of anytime soon. Among the list is short curly hairstyles that suit black males of all ages.
After years of wearing braids or a haircut, maybe you want to make a switch and rather flaunt your natural volume and texture. You have looked the right way. Choose a hairstyle and I tell you; you'll have them swooning down the blocks. All you need do is maintain the style for as long as you wear it.
Thanks for reading.
Check Africana Fashion for relevant beauty articles for men.