In a comparison of trousers vs chinos, you'll see that these two types of cotton-based trousers share many similarities and a few distinct differences.
Both pants provide a versatile look; they can be dressed up or down depending on the occasion. And their different cuts and materials make them suitable for various styles and occasions.
Understanding the subtle differences between trousers and chinos can help you pick the perfect pair for any event or outfit.
Find out more in this guide.
What are trousers?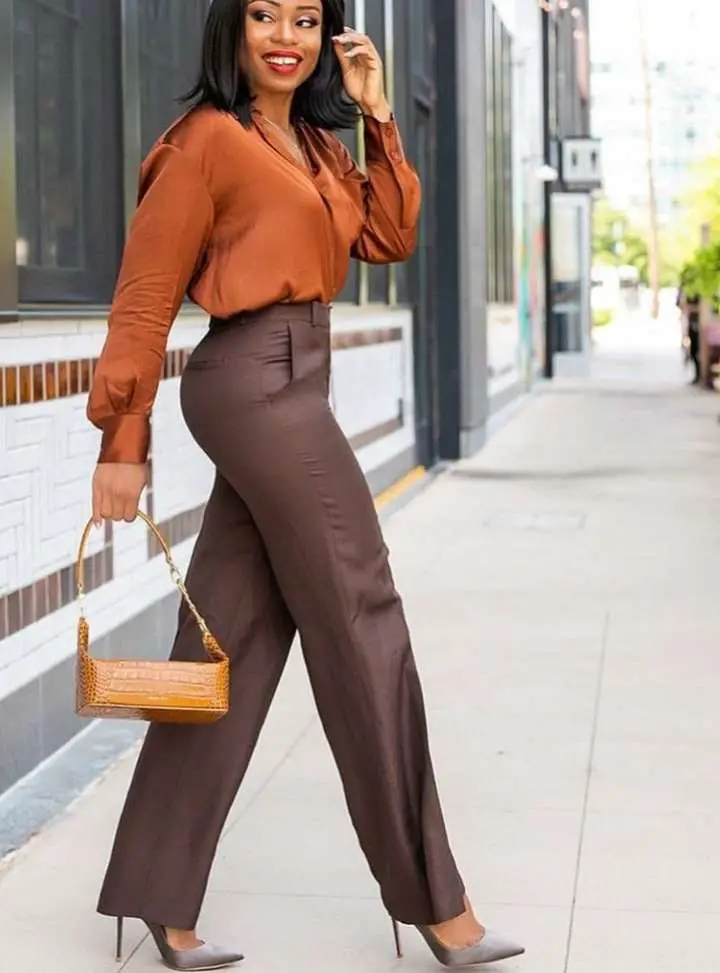 Trousers, popularly known as slacks or pants are clothing items that cover the lower half of the body.
They feature a waistband that helps to hold them up with or without the aid of a belt or button and they extend down to cover the legs and feet.
Trousers are traditionally cut in a straight, slim style with a flat front panel. They are made of thicker materials such as wool, cotton, linen, silk, or synthetic fabrics to provide structure and shape to the pant leg. 
Trousers have pleats in the front, which can be either single or double depending on the style. They are designed to be more formal and are more suitable for business meetings or other formal occasions.
SEE: Do Black Shoes Go With Everything Or Not?
What are chinos?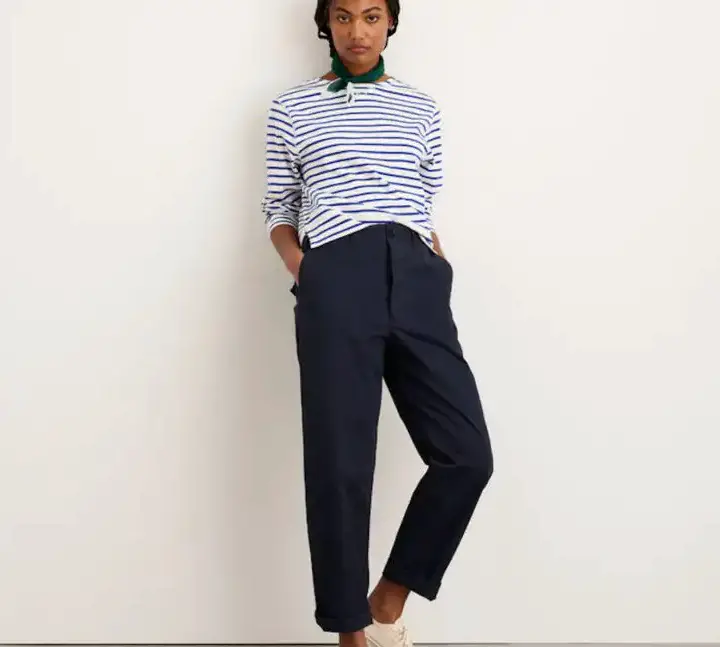 Chinos are gender-neutral smart casual wears that have distinguishing characteristics.
The name 'chinos' is the Spanish word for Chinese. The pants originate from China. However, they became popular for their role in the Spanish-American war when they were first issued by the U.S. Army.
Chinos are lightweight, which means that they offer more breathability than many other pants. Also, they are cotton blended and their core material is cotton twill.
They are a type of khaki pants, but with a more tailored fit, and are available in colors like tan and other neutral shades.
What are the differences between trousers and chinos?
Material
Trousers are often made from heavier fabric such as wool or polyester and have a more structured fit.
They can come in different styles including pleated, boot cut, tapered, straight leg, and cropped. Trousers also generally feature belt loops for added versatility.
In comparison, chinos are made from lightweight fabrics such as cotton or linen and have a more casual look. They feature a tapered leg fit and some styles may also include pleats for extra comfort. 
Waistband
Chinos rarely feature belt loops and instead have drawstrings at the waistband. The drawstring allows for a more custom fit which makes chinos perfect for more relaxed settings.
Conversely, one of the main features of trousers is their belt loops.
Occasion
A comparison of trousers vs chinos is not complete without talking about where you can wear each to.
Trousers are ideal for formal occasions and professional settings while chinos are perfect for a more casual and relaxed look.
And both trousers and chinos can be paired with different tops to create an outfit that suits your style.
SEE: Colors Of Shoes To Wear With Black Trousers
Similarities between trousers and chinos
The main similarity is that both trousers and chinos are designed to be comfortable, stylish, and easy to wear.
Also, both pants are made from cotton or a combination of fabrics such as polyester or spandex for added stretch.
Each has a zipper closure in the front and may also feature belt loops for additional security if desired. Some trousers and chinos are pleated or gathered at the waistband to give the wearer a more flattering silhouette.
In terms of fit, trousers, and chinos tend to be similar in that they are both designed to sit just below the waistline and they often have a regular fit through the hips, thigh, and leg.
Which is better, trousers or chinos?
It depends on the occasion, your preferences, and the dress code of the particular event. 
Chinos are generally more versatile than trousers because they can be dressed up or down for both casual and formal settings. They also come in a variety of colors and cuts, so you can tailor them to fit any look. 
Trousers, on the other hand, are more commonly seen in formal settings. They also tend to be more durable and long-lasting than chinos.
So, if you're looking for something that will stand the test of time in a comparison of trousers vs chinos, trousers may be the better option.
SEE: Similarities and Differences Between Trousers and Pants
How to style a trouser
Styling trousers can be a tricky and daunting task, but with the right approach, it can be done easily. The key is to find the right fit for your body and pick clothing that complements your style.
Find the right fit
When choosing trousers, consider their rise, length, and fit. Rise refers to how high the trousers sit on your waist.
Length is the measurement from your waist to your ankle, and fit refers to how generously or snugly they hug your body.
Once you've found your perfect fit, accessorizing can help you complete the look. Belts, statement jewelry, and pocket squares are all ways to bring a little extra flair to your outfit.
Consider the occasion
Always consider the occasion when styling trousers. For formal gatherings and work events, wear classic colors such as navy or black and stick to classic silhouettes.
For more casual occasions, look for bold colors and patterned trousers that will help you stand out from the crowd.
With a little thought and effort, you can find the perfect trousers to fit any occasion and style.
Styling tips for chinos
Keep it simple
Chinos are a great wardrobe staple that can be dressed up or down, so keep it subtle and avoid going overboard with styling. Stick to classic shapes and colors for a timeless look.
Layer up
Don't be afraid to layer your chinos with other garments for a more interesting outfit. Try pairing them with a blazer, overcoat, or cardigan for a sophisticated look.
Footwear matters
The type of footwear you choose can make or break your outfit. For a casual look, try sneakers or loafers; for something more formal, opt for dress shoes like oxfords or brogues.
Accessorize
Accessories can add a unique touch to your outfit and give it more personality. Think ties, pocket squares, and scarves. A well-chosen accessory can pull an entire look together.
Don't forget the fit
Chinos should be fitted but not too tight. Have your tailor alter them if necessary to ensure they fit perfectly. This will give you a much more polished and streamlined look.
FAQs
Can you wear chinos as casual?
Yes, you can.
Chinos are a great option for casual wear because they are versatile, and comfortable and come in a variety of styles.
They can be dressed up or down depending on the occasion. For example, you could pair them with a polo shirt and sneakers for a relaxed look.
Are chino pants a fabric or a cut?
It is a twill fabric.
Also, it comes in 3 cuts; relaxed, slim and straight fits.
What makes a trouser a chino?
A pair of trousers classifies as chinos if it is made from cotton twill and has a higher waistband than regular trousers.
It should also have a straight leg, with the front and back pockets both sewn down, giving it a neat and clean appearance.
SEE: Get A Chance To Win A Pair Of Shoes Worth $85
Conclusion
Trousers and chinos are two different garments that have common characteristics but differ in design, fit, and fabric. Trousers are more formal and typically made of heavier material than chinos.
Chinos are more casual trousers, often made from lightweight cotton twill with a slightly tapered leg. Both trousers and chinos can be worn for various occasions, from a night out on the town to a business meeting.
So, which is better? The choice between trousers vs chinos ultimately comes down to your preference, as both garments are stylish and versatile.
Thanks for reading.
Found this helpful? Read more fashion guides here on Africana Fashion.