Athleisure describes casual clothing items that serve for both athletic and everyday wear. This fashion trend incorporates fashion items that are comfortable for body fitness and yet satisfy the need for simple and basic fashion.
The 21st century has seen gym wears and accessories come out of the gym. It is quite common to see people wear a pair of matching sweatpants and sweatshirts to a music carnival and even informal work meetings.
Styling athleisure outfits shouldn't be undermined because they come across as simple, easy wears. It could be quite a task to pair them and look fashionable and not too sporty. This class of multipurpose outfits is now worn to corporate settings like the workplace and other semi-formal occasions.
However, to get it right, you should know what goes with what and where a pair perfectly fits in. Ahead, this article will help you dress up comfortably and classy in those regular sport wears.
What Is Athleisure?
Athleisure combines two words "athletic" and "leisure" to define a hybrid class of fashion items. It describes sports clothes and shoes that are suitable for workout and fashion purposes. You can call athleisure a one-size-fits-all fashion trend. And, it's not surprising that people are gladly embracing this style.
Early in the 2010s, athletic wear brand Lululemon started this trend and unlike certain fashion trends, it is still very much around and surely has expanded. It first started among women who wore yoga pants, leggings, and sweatpants occasionally as basic outfits.     
Now, athleisure is being adopted by every gender and so many brands have delved into the market. Athleisure outfits include leggings, yoga pants, sneakers, sweatpants, sweatshirts or hoodies, tanks, and sports bras, biker shorts, bodysuits, sport skirts, and dresses.
The Basics of Athleisure Fashion Trend
1. Leggings
Leggings are one of the most common athleisure basics that are being worn on non-sport days. These pants make sprinting and stretching easy. Moreover, they do not have a tight grip on your thighs that could become uncomfortable as the day goes by.
Make a perfect contrast with a pair of leggings and an oversized long sleeves shirt. You can wear this as a business casual to work and in semi-formal settings. For a very corporate look, slip on a pair of pumps or heeled sandals.
Also, you can go full athleisure and wear chunky white sneakers. This ensemble draws attention to you and your outfit in a crowd of students or colleagues. Accessorize with a simple pendant necklace and studs and you're good to go on your way.
2. Yoga pants
These athletic pants are fasting becoming versatile basic wears. Leggings are made with thin fabrics and are usually skin-tight. On the other hand, yoga pants are opaque and thick. And, they may run from the waist down to the knee or ankle. Yoga pants come in a variety of styles which could be straight, flared, or bootcut.
In the trend of comfortable and simple outfits, yoga pants are off-duty essentials. During this work-from-home climate, yoga pants are your comfiest and best bet. You can pair your pants with plain or graphic tees to enjoy ventilation and warmth.
For corporate job settings, wear a comfortable trench coat or blazer over your pants to look chic. In addition, you can wear lightweight sneakers or wedge sandals to make a perfect match of athletics and fashion.
SEE: How to Stay in Style With Business Casual
3. Athleisure shoes
Sports shoes like sneaker booties, slip-ons, trainers, and lace-up shoes are on the list of fashion items that are suitable for basic everyday wear. Also, flats and sandals fit in this group. Although they look athletic, they match well with the dresses, skirts, and pants that you readily wear to work.
Athleisure shoes are not the best for running. So, they don't have a firm grip on your feet that could be discomforting at work and as you run grocery errands. They make you look fashionable and feel comfortable.
Moreover, they are a great option for a break from the pressure that heeled shoes put on your feet. So, clean those gym or yoga shoes and style them with your everyday work clothes.
4. Sweatpants
Ditch those tight jeans, slacks, and pencil skirts for sweat pants. If you make a perfect match with tops, you will look as dressy and photo-worthy as though you're wearing skirts and jeans. Although it seems it was more common to see men wear sweatpants for out-of-the-gym purposes, women are fast adopting this style as well.
Take those pants out of the gym and to another level by pairing them with either a turtle neck top or crop top. Furthermore, you can layer any of these tops with a denim or bomber jacket to see a game, when you go visiting with friends, and even a casual date.
Additionally, you can stylishly wear sweatpants to work. To do this, you have to remove baggy sweatpants from the list of choices. Wear slim-fitting pants of basic colors like black, navy, or gray. Also, you'll do better with pants that do not have an elastic end.
What you wear atop your sweatpants is as important as what style of pants you wear. A blazer or trench coat over a light fabric blouse and a pair of pumps or flats make a perfect match to give your pants a lift.
SEE: Are Sweatpants The Best Option For Workout?
5. Sweatshirts or hoodies
Seeing sweatshirts and hoodies outside of the gym is not so much of a surprise anymore. On days when the temperature increases, we all seek warmth and turn to these clothes. But there are ways you probably haven't seen them styled.
You can wear any of these tops on a date, in a casual and corporate work environment. While they provide you with warmth, you make fashion statements with an unconventional style. For an evening date in 60 degree weather, a sweatshirt over a midi or mini skirt and slip-on heels make a perfect match for a chic look.
For a work environment, pair a less bulky hoodie or sweatshirt with a leather/flannel skirt or tailored pants to look stylish. This ensemble gives off an air of rest and a desire for comfort. Throw on a blazer or trench coat so you don't look too laid back at work. Enjoy your style with a pair of comfy boots or pumps and minimal accessories.
6. Athleisure tops
Athleisure tops range from sports bras to basic shirts that provide comfort and allow room for stretching during exercise. As part of the athleisure trend, it's okay to see these wears out of the gym. You can replace regular bras with a cross-back sports bra when you want to wear a bodycon dress or reduce cleavage flashing.
Bodysuits, long sleeve tops, tanks, and shirts are fast replacing the blouses we used to wear under blazers to work. During summer, the last thing your body wants is to be saddled with clothes. So, instead of a full camisole or blouse, use your blazer to cover tanks over high waist pants and you're just as good to go as with a blouse.
Also, without a jacket or blazer, you can wear skirts or pants over bodysuits, long sleeve tops, and shirts to work. And, a fitted crop tee over high waist skirts will not put your work style out of place. For weekend outings, you can wear any of these tops to run errands, to see a game, or when you go shopping with the girls.  
SEE: The Coolest Ways to Style Your Flannels
7. Sport skirts
Outside the court, sports skirts look just as cute but with extra sophistication. Since they aren't skirts to provide you with length, it is best to go for skirts that have built-in shorts liners. This way, you remain covered even when they ride up with the breeze.
Athleisure brands have made these skirts look chicer for brunch and games. Rather than the regular plain skirts, you can buy pleated and asymmetric skirts with buttons. For fashion contrast, wear a hoodie over your skirt if the weather calls for warmth.
Otherwise, wear tanks, button-downs, and lightweight blouses on your skirt. Ensure to give detail to your outfit with jewelry and shoes.
SEE: What Is Fast Fashion? All the Information You Need Is Here
8. Athleisure dresses
Athleisure dresses also come with built-in shorts liner and that is what makes them comfortable for workout sessions. Meanwhile, they make a great pair with a blazer or boyfriend jacket for an academic or work environment. These dresses are made of materials that make them stay in place as you walk.
Take these comfy dresses to the next level with a pair of lightweight sneakers or flats. Accessorize your look according to the purpose of your dressing. For everyday wear, you can wear a lightweight boyfriend jacket with sandals or flats and go hands-free with a backpack.
9. Athleisure shorts
Biker shorts provide a four-way stretch that makes you comfortable in them. Enjoy the summer sun with a pair of shorts and a crop tank top. Besides, you can choose to go with a chic, laid-back look by wearing an oversized tee with your shorts and a pair of chunky sneakers.
As long as you won't be in a corporate environment and the temperature is comfortable to bare your legs, you can wear biker shorts anywhere. Besides biker shorts, you can opt for loose-fitting shorts that have drawstrings for a firm hold on your waist. Moreover, they are made of breathable fabric and protect your thighs from chaffing.
Dos and Don'ts of Wearing Athleisure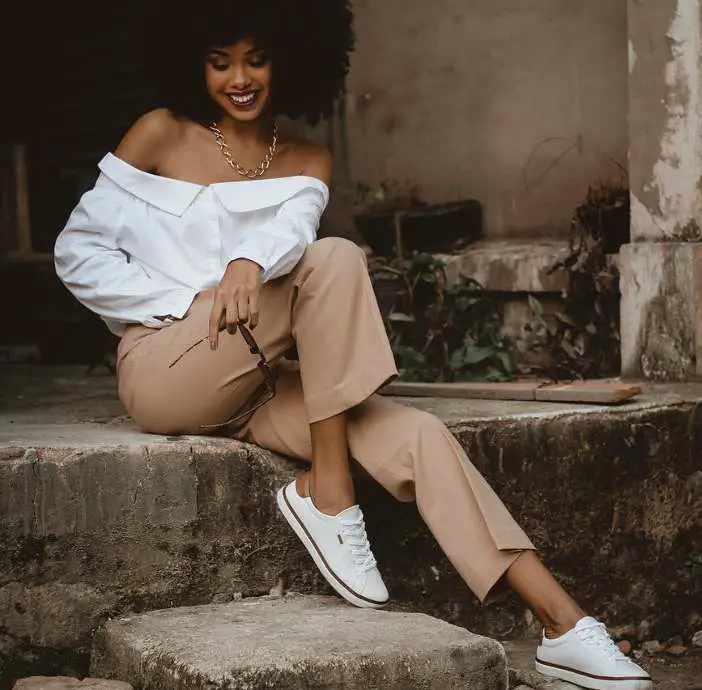 Dos
Mix and match athletic wears with fashion wardrobe items to balance your style
When you wear leggings or yoga pants, wear tops or jackets that cover your butt
To make your style worth the switch, wear clean athletic fashion items
Get creative with mixing and matching fabrics, and layer pieces properly
Dress up with the weather in mind
Accessorize your clothes with jewelry and bags
Do remember that you're dressing up for comfort
SEE: Shopping Guide To Help You Purchase Your Scent
Don'ts
Distressed jeans are a no-no in athleisure
Do not wear too many brightly colored items for workplace setting
You shouldn't mix and match loose fitting clothes
Don't wear a complete sweatsuit
Do not wear chunky accessories
Avoid wearing dressy heels; simple low-heeled pumps will do.
Frequently Asked Questions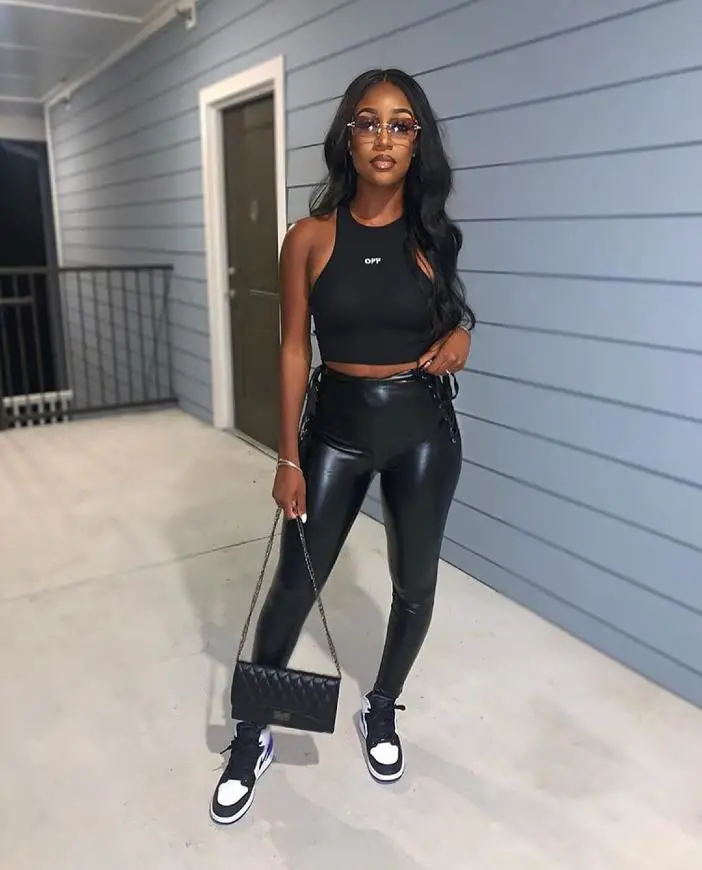 What are athleisure wears?
Athleisure wears are a class of clothes and footwear designed for athletics purposes and everyday wear.
They are comfortable items that you can match into classy and stylish outfits. Athleisure wears include leggings, athleisure shoes like sneakers, sports skirts, yoga pants, sweatpants, sweatshirts or hoodies, athleisure tops, and dresses.
Is Athleisure fashion trend in style?
Yes, it is. Different preferences and lifestyles have found a range of matching athleisure outfits that provide comfort and elegance.  
Moreover, we regularly spot celebrities, fashion enthusiasts, and social media influencers who sport various athleisure brands on different occasions. This sums up to reassure you that this trend remains and promises to be around for long.
Can I wear jeans as athleisure?
Yes, you can. To wear jeans as an athleisure outfit, pair them with a sweatshirt and lightweight sneakers or flats. For your corporate job, you can wear a jacket over a sweatshirt.
Also, you can wear a long sleeve shirt with a collar underneath the sweatshirt. Most importantly, make sure you are not matching loose-fitting or bulky sweatshirts or hoodies with bulky or distressed jeans. Although you want to dress the comfiest, you also do not want to come across as clumsy or ratty.
Can I wear athleisure as business casual?
Yes, you can. You can subtly and stylishly wear athleisure basics like sweatpants, sweatshirts, and athleisure shoes to work in a business casual style.
Make a perfect combo provided you're not wearing distressed or tight-fitting bottoms. Additionally, do not wear baggy sweatpants and those with elastic ends. Also, you shouldn't wear those running shoes to work. Keep your style corporate with neutral colors like black, navy, and gray.
Takeaway
Athleisure is a fashion trend that has been around for a while now and the invasion looks like it has come to stay. And, every gender is gladly embracing the idea of alternating fashion wardrobe staples with comfy sporty clothes. Well, who wouldn't?
A concept that allows you to flex your muscles in bottoms, tops, and shoes brings balance to your daily activities. Mixing and matching athleisure outfits is as tasking as making a pair of your fashion clothes. However, when you get it right, you'll enjoy every hour spent wearing the clothes.
Take note of colors, clothes textures, and the accessories you combine when wearing athleisure. Remember you're merging athletics with fashion and you want to stay stylish and comfy.
Thanks for reading.
Check African Fashion to stay updated with relevant fashion trends.