Afro hair is simply having your own, unaltered hair texture that will be either kinky, wavy, or curly. It is a fabulous hair type that is all vibes and magic, but styling it can be a tricky task, especially if you're new to the women's afro game.
There's a lot of back and forth involved. You might even spend a good 20 minutes trying to style your hair just right only to have your friends or family say that it looks better undone.
This article is for everyone who's rocking their afro hair and wants to learn how to style it in different ways. I've also included some tips to properly maintain your afro and keep it healthy. Read on to find out.
Hairstyles for Afro Hair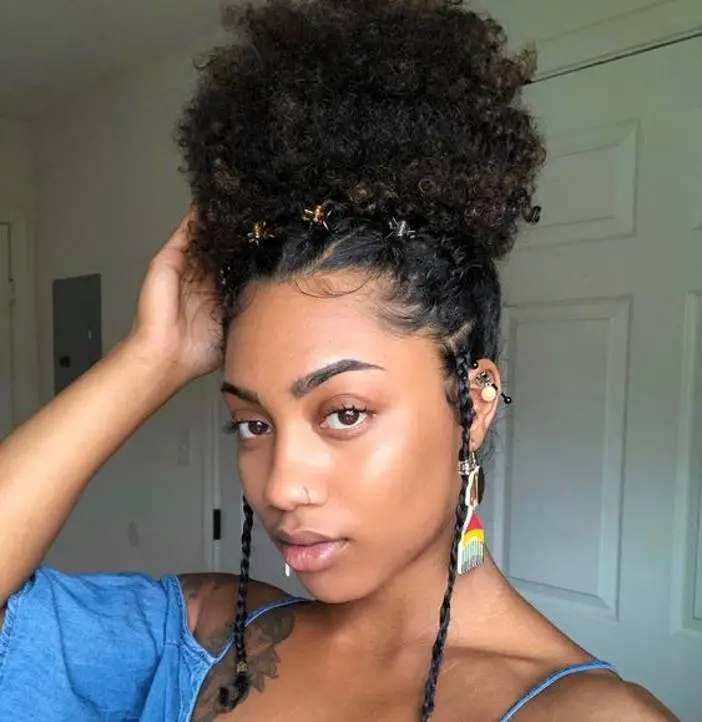 1. Curly High Puff with Braids
Nothing says "I'm on vacation" more than a women's afro updo. And one of the best ways to get that look is with this hairstyle. Start by gathering your curls into a puff at the crown of your head, then braid some of your locks to create a fresh and carefree hairdo.
2. Layered Curls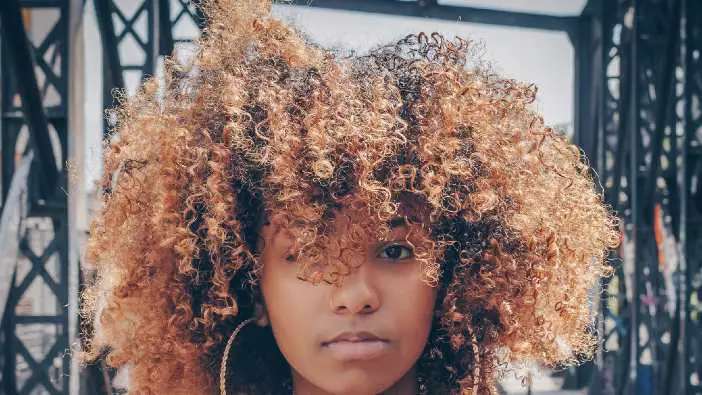 In this hairstyle, your hair is cut in layers, with the longest layer being at the bottom and the shortest at the top. This creates an uneven curl pattern that looks similar to a bob or a bounce. And If desired, you can brush out your curls to give it a lazy schoolgirl look.
3. Half-Up Afro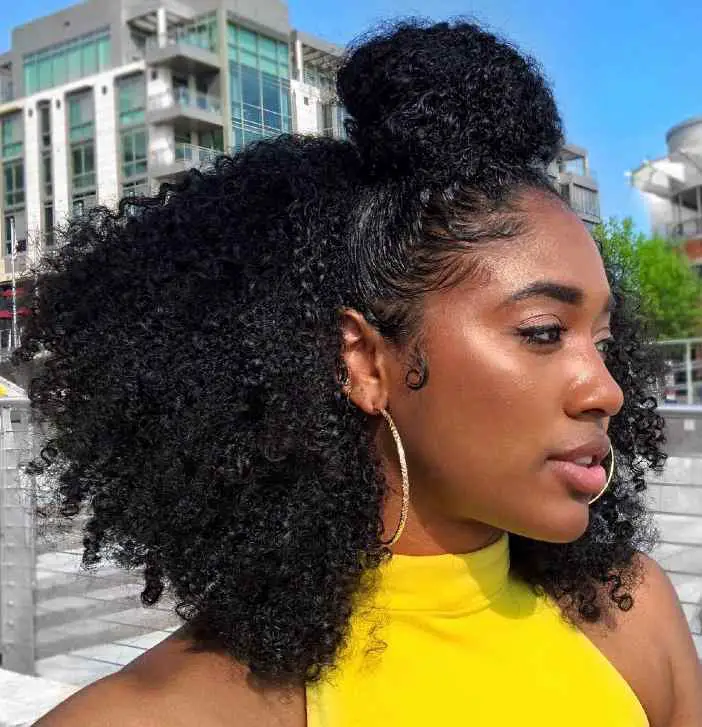 This is a simple yet elegant hairstyle that can give you a fashionable appeal in a matter of minutes. To create this hairstyle, gather half of your hair into a bun at the crown of your head. Then brush out the other half. Finish by adding some hairspray for extra hold and shine.
4. Twist Out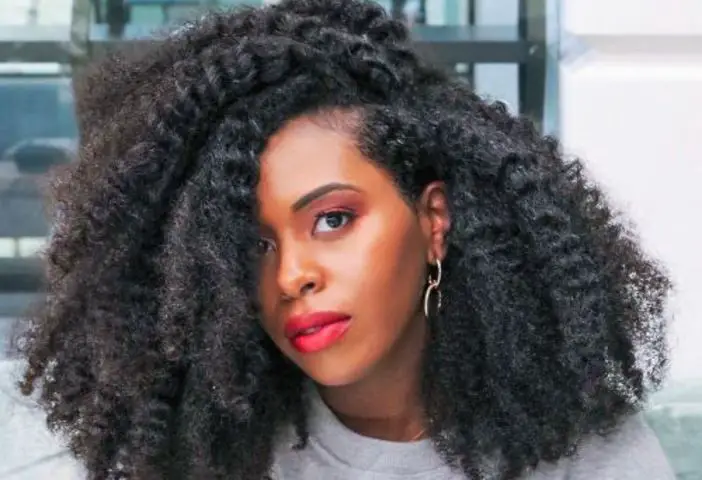 A twist out is a protective hairstyle, and you can create this style by finger-twisting your hair in small sections, allowing it to dry and untwisting it. The result is a natural style that you can wear anywhere, on any occasion. It's also perfect for days when you're not sure what to do with your hair and want something quick and easy.
5. Curly Bob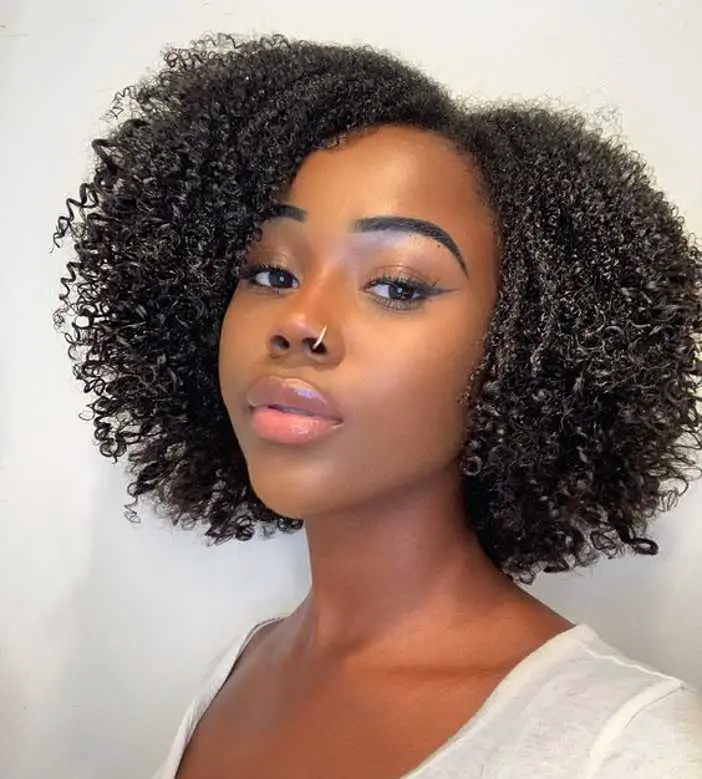 Yes, bobs are not just for matrons anymore. They are popular today with all ages and styles and versatile enough to be cut in various lengths and textures, such as layered or wavy. This is a trendy women's afro style that will leave you feeling youthful and stylish.
SEE: 13 Cute and Youthful Ways You Can Style Your Bob Haircut
6. Sleek Low Bun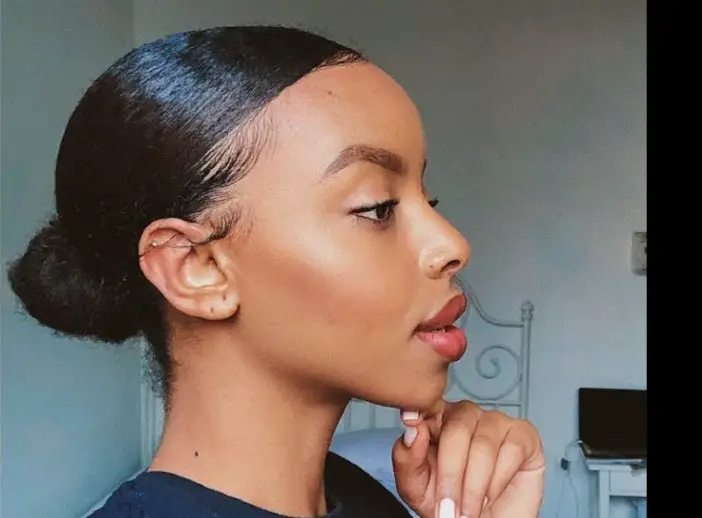 Creating this women's afro style is easy and there are many different ways to style one. Start by brushing your hair into a low ponytail, then twist the ponytail into a bun and secure it with an elastic band. Finally, use a styling gel and hairspray to achieve this sleek look.
7. Space Puffs
Space puffs are a hairstyle in which you pull your hair up on either side, away from your face, and then tie it with elastic bands to create a cute yet stylish look. It's also an easy hairstyle that doesn't require much time or effort.
8. Halo Braids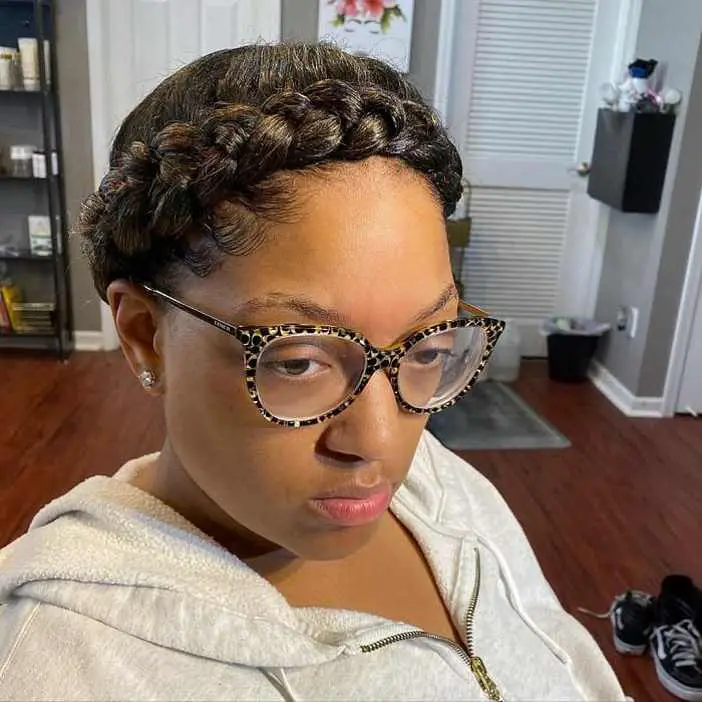 Made popular by Beyonce, this womens afro style is a must-do. You can create it by twisting your hair into a braid, then wrapping it around your head. You can twist each section of hair into a tight ponytail before wrapping and twisting them together around your head.
And you can also pull your hair back in a low ponytail, braid it, wrap it around your head, then secure it in place with pins.
9. Wash n Go
A wash-and-go hairstyle is a popular style that anyone can wear. It doesn't require much effort or time to create either, making it a great option for busy women like us.
Simply wash your hair, towel dry it to remove excess water, then style it with a wide-tooth comb or your fingers so that the natural oils are distributed evenly.
10. Flat Twists
Flat twists are ideal for womens afro because they're quick, easy, and don't require any heat, which could damage your hair. They are also versatile, which means you can wear them in any style depending on your mood or occasion.
Start by taking small strands of hair and twisting them flat on the scalp with no height to the end. From there, you secure the ends with some bobby pins to create the desired look.
SEE: 15 Twist Hairstyles You Just Have To Try
11. Messy Bantu Knots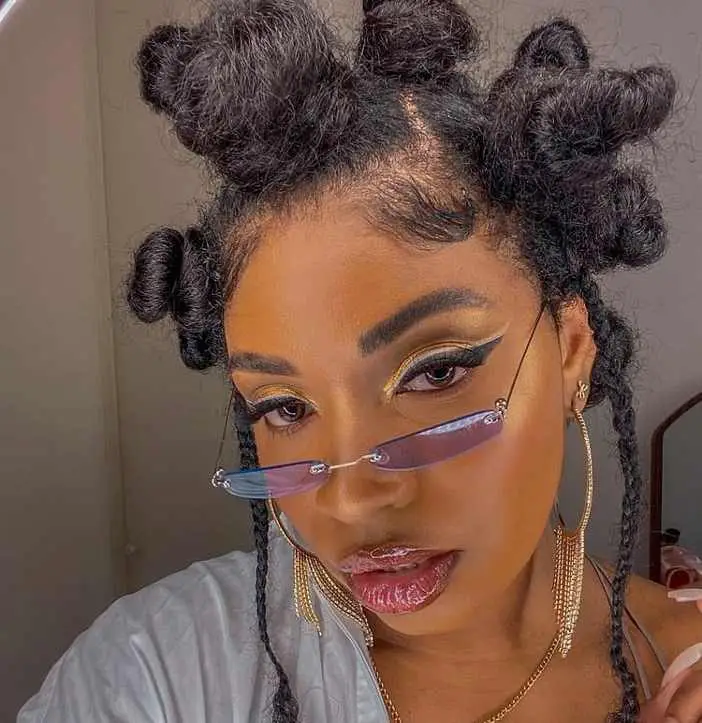 This cute hairstyle is created using small, individual braids to create dense, layered coils on the head. It's a protective hairstyle that can last for days making it perfect for people with natural afro hair.
In addition, this women's afro style is perfect if you want a quick and easy braid hairstyle. All ages and all hair types can wear it. For instance, you could have short hair, long hair, curly hair, wavy hair – it doesn't matter.
12. Pineapple Updo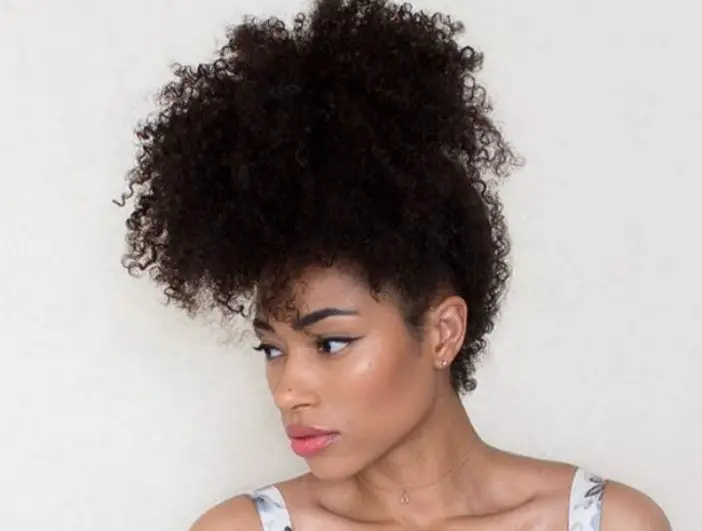 Often seen on the runway, this hairstyle is a go-to for many occasions. It's also a popular formal hairstyle for women with full hair. To create this style, you'll need to gather up all of your hair, secure it with an elastic, then fluff out some hair for more volume.
13. Cool Cornrows
Cornrows are usually long narrow braids that start from your hairline and continue to the nape of your head. They are often created in straight rows, but you can create your cornrows using more unique patterns or styles to create a fuller effect and suit any type of occasion.
14. Roller Curls
Have you ever curled your hair with hair rollers? If not, now is the right time to try it. This is a great way to wear your afro differently and get that bouncy curl that everyone loves.
Put your hair into a roller and secure it with a pin. You can leave it overnight to dry or speed up the drying process with a blow dryer. The result is a classy women's afro style that can be styled to suit any look or occasion.
15. Box Braids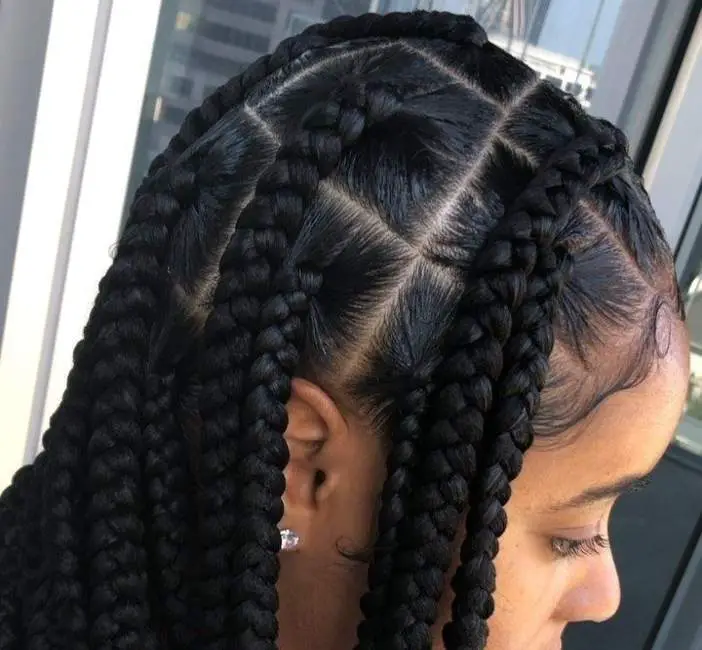 Box braids are a perfect way to switch up your hairstyle. You can wear them as a protective styling technique, or as a way to add texture and thickness to your hair.
This style is flattering to all face shapes, but it's important to style them properly to avoid any unwanted disasters. They're a versatile, bold, yet feminine hairstyle that is perfect for any occasion.
SEE: Hair Braiding Styles: 20 Hairstyles You Should Try
16. Double Braids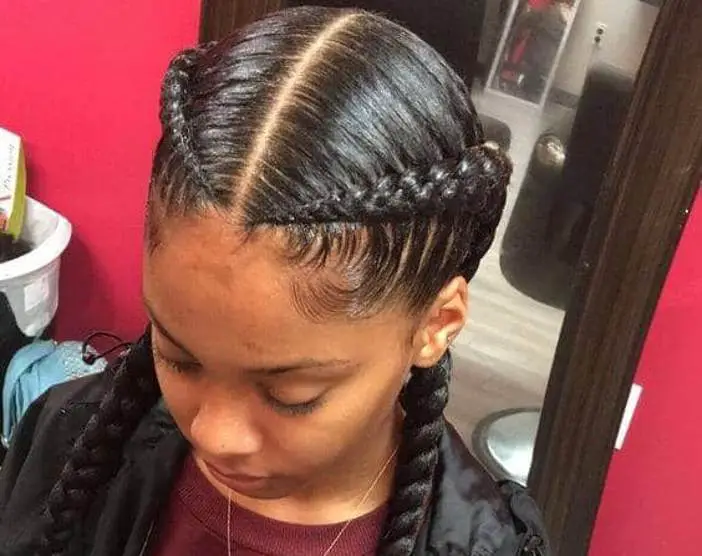 Simple does it and that's the case with this hairstyle. It is one of the easiest hairstyles to create, and you can do it within minutes. From formal to casual, you can rock this hairstyle to just about any occasion.
Be sure to wash your hair and comb it out before dividing your hair into two sections. Braid each section of your hair down to the nape of your neck and that's all, you just created a new look.
17. Braided Low Puff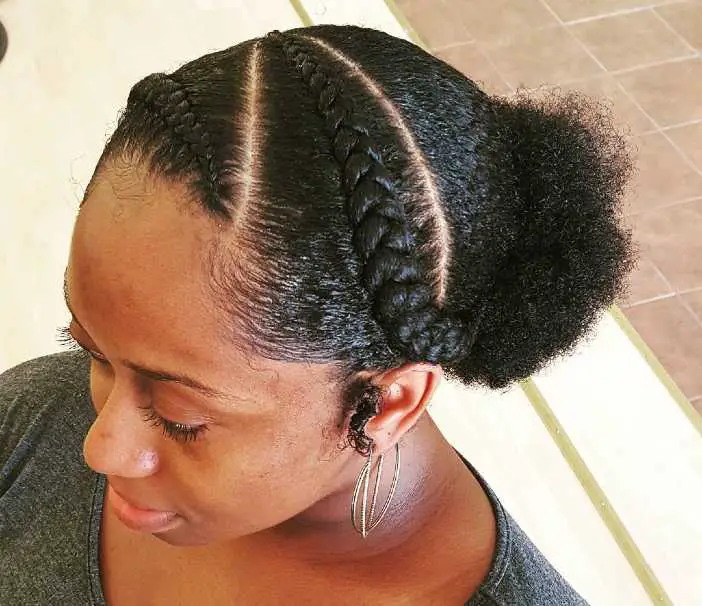 A braided low puff hairstyle is a popular way to wear your afro hair. It typically features braided hair and is pulled back tightly from the face, usually into a bun or puff at the nape of the neck (make sure to secure it tightly with an elastic band).
18. Faux hawk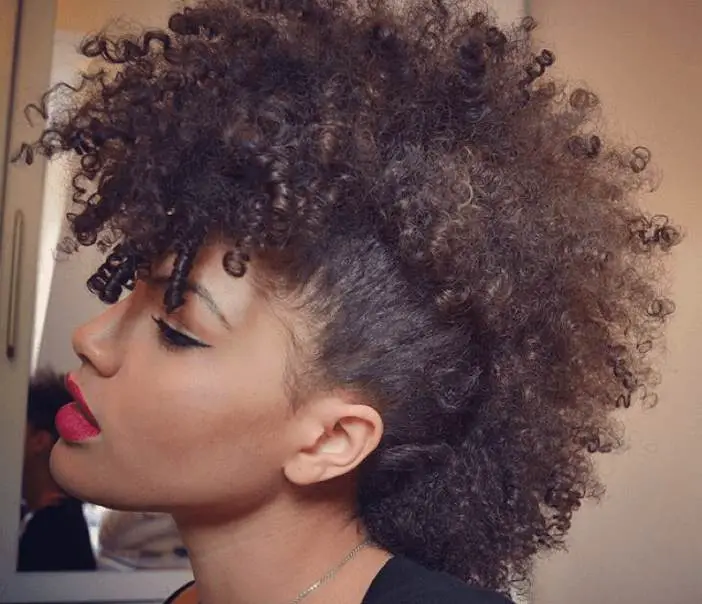 This is a daring women's afro style that is created by combining a mohawk and an undercut. It typically does not involve shaving the hair on the sides of the head, but braiding or pulling the hair on the sides tightly to create a shaved appearance.
You can then style the hair on the top in a variety of ways with gel or wax to create an impressive edgy look. Plus, this women's afro style is great for people who don't want to commit to long hair but still like their edgy looks.
19. Blow Out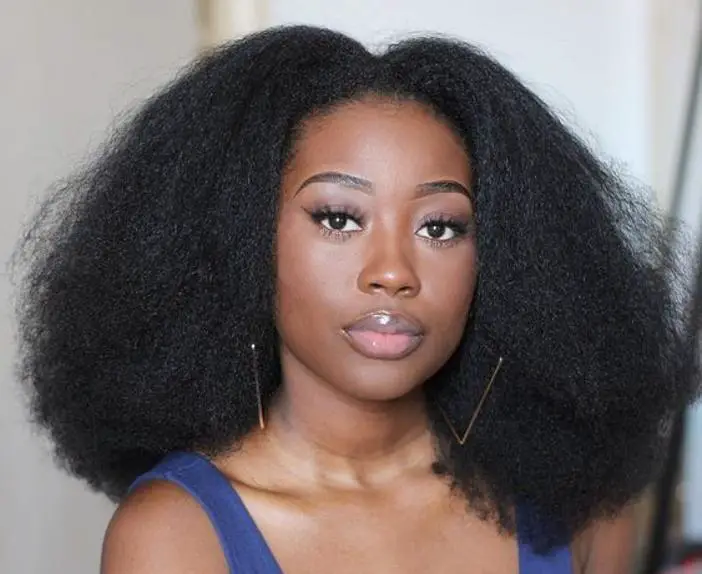 A hair blowout is a women's afro style that involves the use of a blow dryer and a round brush to style hair. From curls and waves to more sleek, straight styles, you can create a variety of looks with this hairstyle.
This afro style is also perfect if you want to make your afro look more voluminous and bouncy for special occasions, like weddings, parties, and even work events. It will significantly improve how your hair looks and make you feel confident.
20. Twists
Twists are a protective hairstyle that you can do yourself at home. This afro hairstyle is also perfect for just about any hair texture, which means that it can work on straight, wavy, and curly textures. Plus, it's just as suitable for short hair as it is for long hair.
21. Colored Afro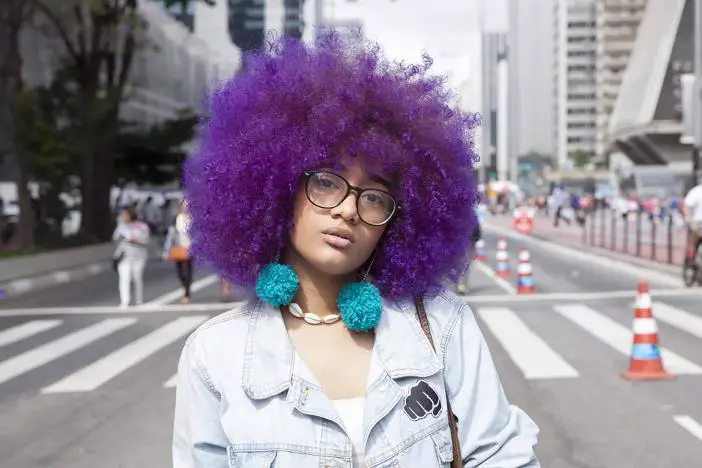 A colored women's afro is nothing short of a fashion statement. It typically features dyeing your afro to your desired color. The result is an elegant hairstyle that can be glamorous or casual depending on how you want it.
SEE: Discover The Best Ways to Style Shoulder Length Hair
Tips for Keeping Your Afro Healthy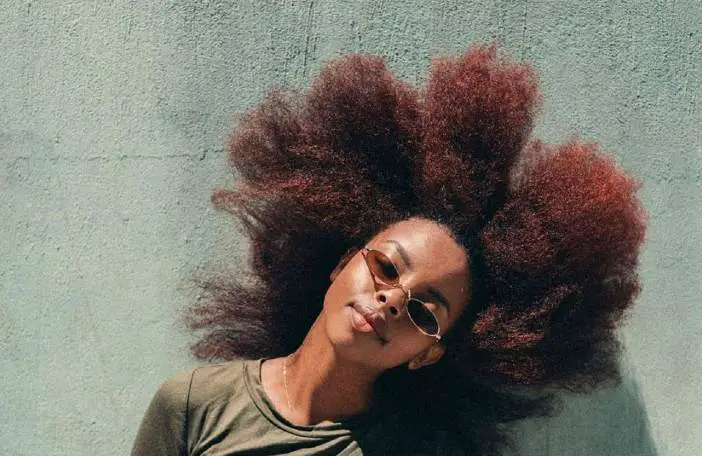 Wash and Regularly
Washing your hair can seem like a hassle sometimes, but there are a lot of benefits to it. When you wash your hair, you are removing sweat and oils from the scalp. You're also removing dead cells and bacteria that may cause scalp conditions like dandruff and ringworm.
Washing your hair regularly also helps to prevent split ends and dryness. The more often you wash your hair, the less often you will need to use any type of styling product like hairspray or gel because your hair will stay in place without all the buildup of oils and dirt!
Protect Your Afro from Heat
Damaging your hair with heat is not only bad for the structure of your hair but also for its color. When you are using any type of heated styling tool, make sure to use a product that is specifically designed to protect your hair from heat.
In addition, you should consider a deep conditioning treatment at least every other week. This will help shield your strands from the drying effects of heat styling, keeping them stronger and shinier for longer.
Get Regular Trims
To maintain a healthy hair routine, it's important to be diligent about trimming your hair every few months. By keeping your ends healthy and trimmed, you remove split ends and damaged hairs that can lead to breakage.
Trimming your hair regularly is also one of the best ways to make it grow because it gives your hair follicles more room to grow and creates new strands of hair for you.
Eat a Healthy Diet
To maintain healthy afro hair, it's necessary to eat a diet rich in vitamins and minerals. These nutrients are crucial for the health of your hair because they help make up the protective outer layer of your hair shaft and give your hair its natural color.
If you're not getting enough of these nutrients from food, then you may want to improvise and look for them in other ways, such as supplements or fortified foods.
FAQs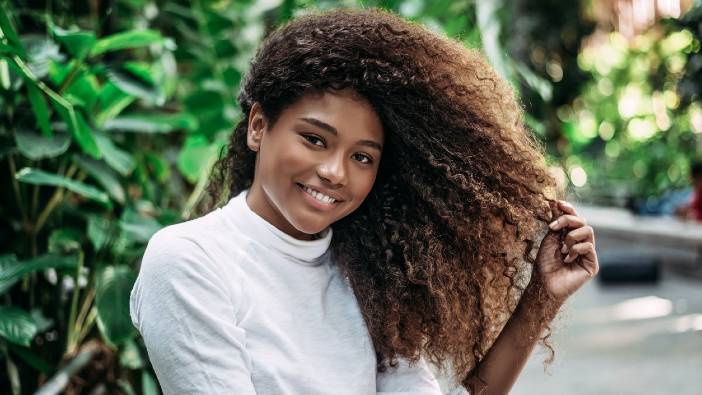 Do I need to wash my afro every day?
No, you don't need to. Washing your hair every day can strip your hair of its natural oils, causing it to become dry.
This might lead to breakage, scalp inflammation, or other hair conditions. A better alternative is to wash your hair once or twice a week, depending on your lifestyle.
Can I use heat on my afro?
Yes, you can. However, you should use products that are specifically designed to protect your hair from heat before using any type of heated styling tool.
Also, make sure you don't go over the recommended temperature when applying heat to your hair. It's also best to stay under 350 degrees Fahrenheit if possible.
Can trimming my afro make it grow faster?
Yes, it can. Hair grows about an inch per month on average, but trimming your hair can speed up this process, hence making your hair grow faster.
Trimming your hair every 3-4 months helps to remove split ends, make your hair thicker and keep your hair healthy and strong.
Conclusion
Afros are one of the most iconic hairstyles in history. From celebrities to the average person, everyone's rocking their natural afro, and it's easy to see why.
However, styling your natural afro hair can be a challenge. It requires taking the time to find a routine that works for your hair type and texture. But, once you find what works, it will become second nature.
With the help of this guide, you can now care for your afro hair and style it in a way that is quick and easy to maintain. From braids and twists to wash-and-go styles, there are so many options.
Thanks for reading.
Africana Fashion provides you with relevant hair articles to care for your natural hair.