In today's society, hitting the gym in a hoodie has become increasingly popular. For some, it may be a matter of comfort or style. Others may simply find that a hoodie is the most practical clothing option for their workout routine.
Hoodies are also generally made of thicker, more durable fabric than most gym shirts, making them ideal for outdoor workouts or for those who tend to sweat a lot while exercising.
As you read on you'll see the benefits and possible side effects of working out in a hoodie.
Does working out in a hoodie help?
Yes, it does. Many people find hoodies a more comfortable and convenient workout attire than traditional gym shirts. However, there are a few things to keep in mind if you're working out in a hoodie.
First, make sure that your hoodie is made of breathable material so you don't overheat while working out. Secondly, consider wearing a hoodie with a zip-up front so you can adjust the ventilation as needed.
And finally, make sure to choose a hoodie in a light color if you'll be working out in warm weather.
SEE: 8+ Things Wearing A Hoodie Can Say About You?
Working out in a hoodie for bodybuilding
Hoodies are most bodybuilders' favorite gym wear. They need it to keep their bones, muscles, and joints warm, so why not. Aside from this, a hoodie may also provide some additional coverage if you're self-conscious about your arms or shoulders.
However, ensure it is not too bulky or loose-fitting, as it could interfere with your range of motion and cause you to overheat.
Reasons why people love working out in a hoodie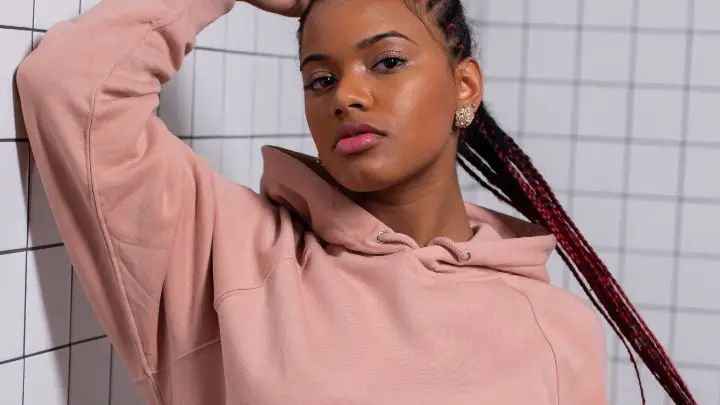 Who doesn't love a good hoodie? Here are some reasons why you're likely to see more people working out in a hoodie.
1. Hoodies are comfortable
A hoodie is the perfect piece of clothing to throw on when you're headed to the gym. It's comfortable, it's relaxed, and it rarely restricts your movement.
2. Hoodies keep you warm
If you're working out in a cold environment, a hoodie can help you stay warm. It's also a good choice for those early morning or evening workouts when the temperature starts to drop.
3. Hoodies are versatile
You can wear a hoodie as a standalone piece or layered over other clothing. It makes them ideal for both indoor and outdoor workouts.
4. Hoodies have pockets
Most hoodies have pockets, which means you can keep your phone, keys, and other small items close at hand – meaning you don't have to bring a backpack with you on your run. This is especially convenient for running or working out at the gym.
SEE: Keep Your Hands Moist With the Best Hand Cream
5. Hoodies are stylish
Hoodies are available in many colors and styles, so you can find one that suits your taste. They're also popular as athleisure wear; you can rock your hoodie even when you're not working out.
6. Hoodies are affordable
Hoodies are typically very affordable, which makes them a great option for budget-conscious shoppers. You can often find them on sale or at discount retailers.
7. Hoodies are easy to care for
Most hoodies are machine washable, which makes them easy to care for. You can also throw them in the dryer, although you may want to hang them up to air dry if they're made of delicate materials.
8. Hoodies make great gifts
If you're looking for a gift for the fitness enthusiast in your life, a hoodie is a great option. They're also a good choice for birthdays, holidays, and other special occasions.
SEE: What to Wear in 60-Degree Weather
Is a hoodie better than a sweatshirt for a workout?
It depends. A sweatshirt is a simpler garment than a hoodie, therefore, may be more comfortable for workouts. However, hoodies have a more fitted design, which can help to keep you warm during your workout.
Some people also feel that hoodies are more comfortable and offer more coverage, while others find sweatshirts less constricting and easier to move in.
There is no clear consensus on whether a hoodie or sweatshirt is better for working out. It largely depends on personal preference.
Pros and cons of wearing a hoodie to workout
There are a few pros and cons to wearing a hoodie while working out.
Pros
On the plus side, hoodies can help keep you warm, which is ideal for outdoor workouts or working out in a cold gym.
You can also pull them up over your head to keep your hair out of your face.
Cons
On the downside, some hoodies can be bulky and hinder your range of motion. They can also trap sweat and make you more uncomfortable during your workout.
If you think a hoodie will help you perform better, then go for it. But if you're not sure, it's probably best to stick with more traditional workout gear.
FAQs
Why do boxers train with hoodies?
It helps their body retain heat, reduces the risk of injury, and helps their muscles warm up better.
Does working out with a hoodie burn more calories?
Yes, you can burn more calories when wearing a hoodie. That's because as you work out, your heart rate increases. However, it's not a healthy practice.
Can you lift in a hoodie?
Yes, you can. However, It's always better to wear a hoodie while warming up and take them off when the training gets intense.
SEE: Here's What You Should Know About Hoodie Weather
Conclusion
While there are some drawbacks to working out in a hoodie, overall, it has more benefits that can improve your workout experience. Wearing a hoodie while working out can help keep you warm, protected from the elements, and comfortable.
Also, hoodies are often made from breathable materials that help wick away sweat and keep your skin cool during your workout.
Thanks for reading.
Visit Africana Fashion for more fashion articles that suit your lifestyle and preferences.