Imagine wearing vibrant socks color with white shoes. This will be an unusual occurrence that will immortalize your name on the wall of fashionistas.
However, the only way to do this and remain fashionable is to wear white shoes with a pair of no-show-colored socks.
Therefore, this article will discuss what color of socks can be worn with white shoes.
What color of socks can you wear with white shoes?
You can wear any sock color with your white shoes as long as they are no-show socks.
Whether you're a man or a woman, these are the type of socks you should wear with your white shoes.
If you choose other sock options that aren't a no-show, make sure they're white so they blend in with the shoes.
Why should you wear no-show socks with white shoes?
White is a distinct color; not every color of socks pairs well with white shoes.
To prevent your outfit from falling off with different colored socks showing above your shoe, make sure they are hidden if you wear socks with white shoes.
What is the most comfortable sock material to wear?
Cotton socks are the best choice and the most comfortable.
Cotton is an excellent material for your feet since it wicks away perspiration and minimizes chafing. This is why they are the best pair for your shoes.
Which sock materials are not the most comfortable to wear?
Nylon or synthetic fabrics are not good sock materials.
They don't absorb moisture as cotton does. Long hours of wearing socks made with these fabrics can cause blisters or chafing if your feet are already perspiring.
Type of socks to wear with white footwear
The good thing about owning a sock is that it can be worn for work, school, or play as they spice up even the most basic attire.
1. The ankle no-show sock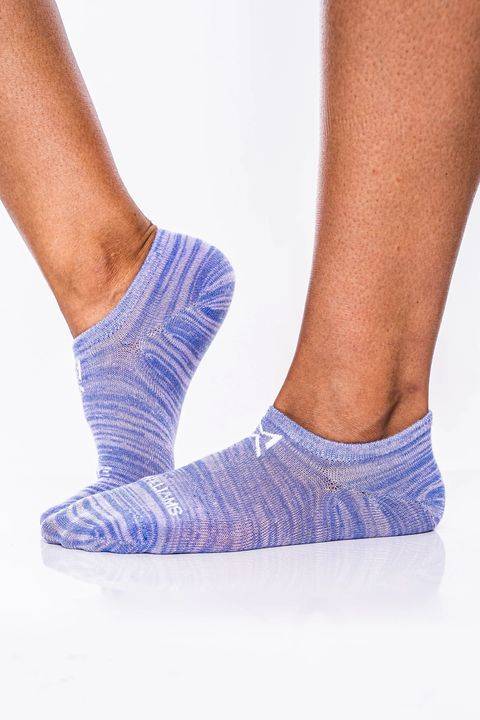 No-show socks are those footie accessories that make it seem as though you're so careless as to wear shoes without socks.
It is a brief sock that comes up just above the ankle. They are very good with low-cut shoes like loafers, casual footwear, or simply something to protect your feet.
The ankle-length socks, as the name suggests, only cover your feet up to your ankles. They are the ideal classy and stylish choice for all of your casual occasions.
2. The crew sock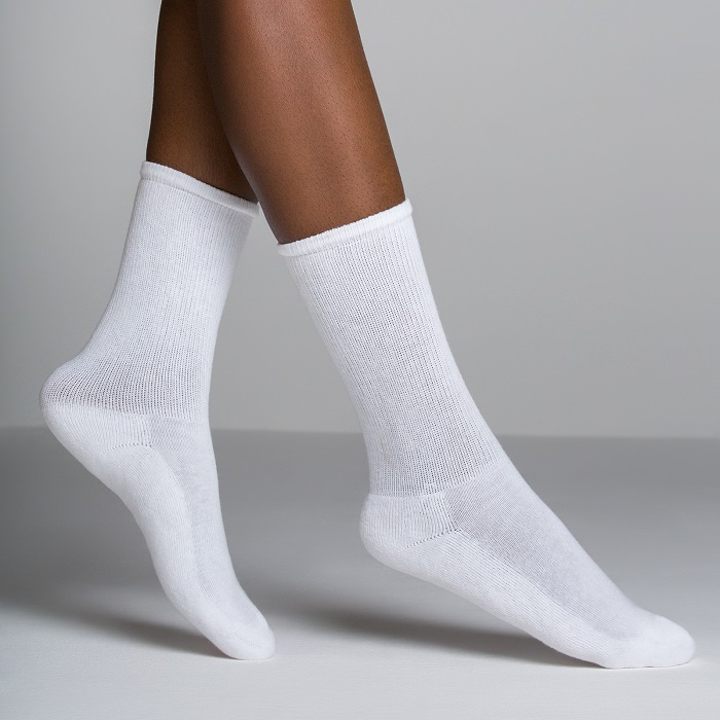 A crew sock is a short, thick, and typically ribbed sock worn by both men and women. This sock keeps your feet and part of your legs warm. Additionally, they are adorable and give your outfit a little extra flair.
Crew socks are a popular accessory worn daily by streetwear aficionados, high-end fashion labels, and celebrities alike.
Wintertime and outdoor physical activities like trekking, running, etc., call for crew-length socks. They can reach your calf muscles because they are between six and eight inches long, depending on the length of your legs. They provide outstanding safety and coverage.
For casual occasions and vigorous activities, pair them with informal or running shoes during the winter.
Are white socks good with white sneakers?
Yes, they are.
White socks pair well with any shoe and any style. As a result, the white sneakers and socks go together beautifully.
FAQs
Is it rude to wear white shoes to a wedding?
Yes, it can be seen as rude.
In general, guests shouldn't show up to weddings in all white. This is because you must remember you're a visitor at a wedding, and you need not outdo or offend the bride.
Can you wear black socks with white sneakers?
Yes, you can.
When pairing white sneakers with jeans, a fundamental choice is to wear black ankle socks. They match your shoes and your pants without looking out of place with any ensemble.
What type of pants pairs well with white shoes?
Chinos or jeans work best with white shoes.
You can achieve a great look by matching lovely dark-shade chinos pants with your white shoes.
Can you wear neon color socks with white sneakers?
Yes, you can only if they are ankle-styled and a no-show. Also, if you are going for an eccentric fashion look or a type of costume, it's okay to wear these bright-colored socks with white shoes.
Conclusion
Socks come in various styles to accommodate our diverse needs based on our activities, appearances, clothing, and other factors.
For instance, slip-on padded socks are perfect for low-cut loafers, shoes, and ballerinas, while mid-calf-length socks are best for vigorous activities. So, get socks that will best suit your needs.
However, when it comes to white shoes, you should always opt for any color ankle socks, or if it's a white sneaker, pair it with nice crew socks.
Finally, choose materials that are comfy for your feet and soft. It is essential that your sock material is comfortable for your skin and allows it to breathe.
Thanks for reading.
If you enjoyed reading this article, check out Africana Fashion for more.