Chino pants are a wardrobe staple, meaning you can wear them for any casual event without feeling out of place. 
But then, have you stopped to consider the real meaning behind the chino pants?
If they have been around since the Spanish-American war which started as far back as the late 80s it implies that there's more to these pants.
Here's everything you should know about your favorite pairs of chinos pants.
What are chino pants?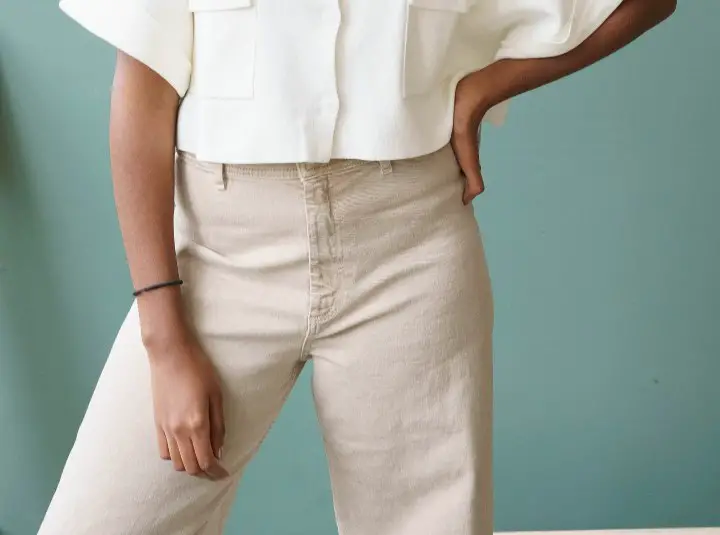 Chino pants are a type of trousers made from cotton twill fabric.
They are sometimes considered to be more casual pants than dressier options like slacks or dress pants. But that also depends on how you dress them for the occasion.
One of the most popular styles of chinos is slim-fit chinos, which have a tapered leg that is narrower than the thigh. This style is often worn by men who prefer a more tailored look.
Chinos are also available in relaxed-fit and straight-leg styles for those who prefer a more everyday feel.
Why are they called chinos pants?
The word "chino" and its meaning originates from the Spanish word for Chinese. And chino pants were originally worn by soldiers in the Spanish-American War.
These pants served as an alternative to the woolen uniform pants that were standard issues at the time.
As a means of conserving fabric, the original chinos were designed to have tapered legs and the trousers didn't have pleats.
Today, chino pants are a popular choice for both casual and dressy looks and are available in a variety of colors and styles.
Is there any difference between chino pants for men vs women?
Yes, there is.
The difference is in the cut of the chino pants.
Chinos for men are cut to have a relaxed and tapered fit in the hips and thighs, all the way down. 
Meanwhile, chinos for women are often designed to be more slim-fitted but a bit wide around the hip region. 
More so, women's chinos have a higher rise around the crotch than men's chinos. However, both styles of chinos are made from the same type of fabric and are available in an array of colors.
Are chinos and khakis the same thing?
No, they aren't. 
The reason is that chinos are a product of the original khaki.
Also, chinos are made to have a seamless and dressier look with a trimmer fit. Meanwhile, khakis have a loose fit and are more casual with noticeable pockets.
SEE: Colors Of Shoes You Can Wear With Navy Pants
Chinos vs trousers
Chinos are a type of smart trousers made from a blend of cotton.
Keep in mind that trousers are a type of clothing that covers both the legs and waist.
They include slacks, or pants, and have two cylindrical-shaped parts that fit into each leg.
That said, chinos are practical and versatile and are in-between denim and dress pants, judging by a casual to formal scale. Also, they are thin and more breathable than pants like jeans.
How to style chino pants
Styling your chino pants shouldn't be hard at all, but if you're unsure how to go about it, here are some ideas: 
One way is to wear them with a button-down shirt and a blazer. This look is perfect for a formal occasion. 
Another way to style chino pants is to wear them with a tee shirt and sneakers. This look is great for a casual day out. 
If you want to dress up in your chino pants, pair them with a nice blouse and heels. This look is perfect for a night out in town. 
Whatever way you choose to style your chino pants, you are sure to look great in them.
SEE: Save $5 on Sneakers at Converse Store
FAQs
Are chino pants business casual?
Yes, they can be. 
Again, this depends on how you style them. You can go over the style tips as a quick reminder.
Chinos have a close resemblance to dress pants and slacks than any other casual pants. They give the wearer a more put-together look and some schools use these pants as part of their uniform.
Can you wear chino pants to an interview?
Yes, you can wear them to a business-casual interview.
To pull off this look, you can wear chinos, a shirt, and a jacket.
Also, choose chinos with neutral colors like brown, black, or grey since they are more likely to compliment your shirt and jacket effortlessly.
Can you wear chinos without a belt?
Yes, you can.
However, it's better to wear chinos with a belt if you're going for a dressier appearance.
SEE: Shades Of Brown Shoes You Can Wear With Grey Pants
Conclusion
Chino pants are a type of trousers, and luckily, you now know its meaning. They are made from chino fabric and are often seen in khaki or beige colors. The term "chino fabric" refers to the twill fabric that these pants are made from.
Chinos are more breathable than several of their counterparts and they have a tapered fit with smaller pockets than khakis.
These pants are considered to be a more casual pant option, but can also be styled for a business-casual look. More so, they can be dressed up or down, making them a versatile option for many occasions.
Thanks for reading.
Need more articles like this? Find them here on Africana Fashion.