Blue is a very flexible color that can be matched with many other colors. On the other hand, shoes you can wear with a blue tuxedo are a different ball game that requires precision.
Additionally, when wearing a tuxedo, you would need to lean toward specific shoe styles that you wouldn't ordinarily wear if the outfit included jean pants or something less formal.
Therefore, for upgraded styling, this article provides a list of sensible shoe options you can and should wear with a blue tuxedo.
Shoes you can wear on a blue tuxedo
If you're going to a formal dinner and want to wear a blue tuxedo, use this list to find the best shoes to go with your suit.
1. Brogue shoes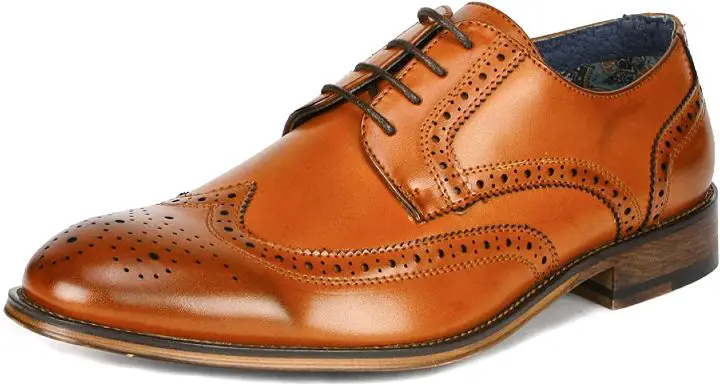 A brogue is a low-heeled shoe or boot style with multiple pieces of sturdy leather uppers with elegant perforations and serration along the visible edges of the pieces.
The most common four-toe cap styles on brogues are the "wingtip," semi-, quarter, and longwing.
2. Monk straps
The medieval era was when monk strap shoes first appeared. It is a pair of shoes with a strap that crosses your foot's top and buckles to secure it.
The shoes are available with single or double monk straps. The single comes with one buckle, while the double comes with two.
3. Bluchers shoes
One of the most admired types of footwear today is bluchers. These shoes continue to be a popular option for footwear because of their beauty and adaptability.
Bluchers are very adaptable shoes because of their open lacing system and built-in tongue.
The bluchers shoes are offered in wingtip, semi-wingtip, and plain styles. These shoes are excellent for formal occasions and go well with a blue tuxedo. For your shoes, you can select any neutral color.
SEE: Essential Shoes Every Man Must Own
4. Oxford shoes
The Oxford shoe is distinctive from most other shoes because of its main distinguishing feature: the lacing system.
Oxfords are typically plain, leather, formal shoes, but they have developed into various styles appropriate for formal, uniform, or casual attire.
It, therefore, makes for a good option for any formal attire, not just a blue tuxedo.
Oxfords can also be made from calf leather, suede, canvas, genuine and fake patent leather, and many other materials.
5. Loafers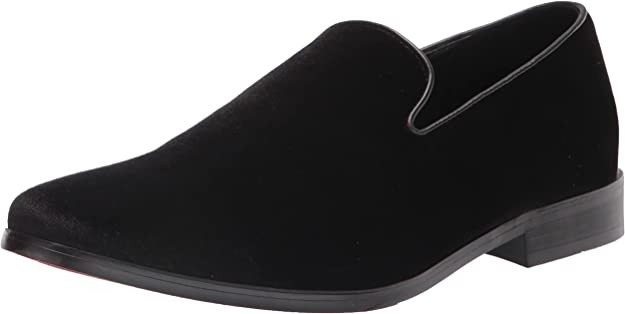 The loafer is a style of shoe that can be put on and taken off without worrying about laces. If you prefer something less formal than the typically very formal brogues and oxfords, loafers are a good shoe choice for your blue tuxedo.
The loafer's other features include no laces, an exposed ankle, a separate sole, a small heel, and an upper vamp that resembles a moccasin.
6. Derby shoe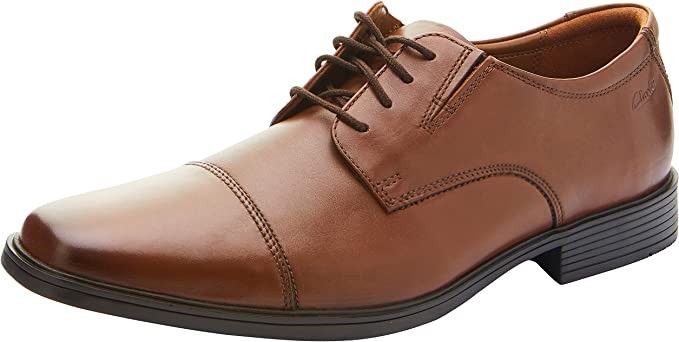 The Derby shoe is also known as the Gibson and, in modern colloquial English, the 'bucks' because the upper part is made of buckskin.
It is also a boot or shoe style distinguished by quarters and shoelace eyelets sewn on top of the vamp.
These shoes are ideal for a formal setting, making the wearer appear professional and respected. They look good together in the blue tuxedo.
SEE: The Difference Between Shoe Sizes [All You Need To Know]
FAQs
What color of shoes goes best with a blue tuxedo?
Navy or white shoes look best with a blue suit.
Adding navy shoes to a blue suit gives it a polished, yet laid-back, tonal look. When worn with blue, white creates a vibrant contrast and looks professional enough for the office.
Can you wear black shoes with a blue tux?
Yes, you can. Black is the most common color used on a blue tuxedo.
SEE: How to Stop Shoes From Rubbing the Back of Your Feet
What shirt color goes best with a navy-blue tux?
Any color of the shirt will go well with a blue suit, except for green and mustard yellow.
Can you wear brown shoes with a blue tux?
Yes, you can.
Brown shoes in either a dark or light tone, including tan or cognac colors and more casual shoe styles, can be worn with light blue suits.
However, always play it safe when dressing professionally by wearing a dark blue suit and dark brown oxford shoes.
What shoe colors go best with a navy-blue blazer?
Brown suede, or any other type of brown dress shoes, goes perfectly well with a navy-blue blazer.
SEE: Get A Chance To Win A Pair Of Vans Shoes Worth $85
Conclusion
A blue tuxedo has the advantage of instantly giving you a formal and professional appearance. So it's not a bad idea to wear less formal shoes, like a loafer.
When you find the ideal pair of shoes, you can also try them on in different colors, including black, brown, burgundy, or even a deeper shade of blue, and a tuxedo.
Additionally, you can try adding another factor to your outfit to make it less formal if you don't want to be too traditional with your tuxedo and shoes.
Thanks for reading.
If you have enjoyed reading this article, check out Africana Fashion for more.