Bikini bottoms keep getting smaller, should you be concerned? With the rise of influencer modeling and social media, it's becoming normal to see women wear bikinis that run small.
For some, this helps to accentuate their curves and allows more freedom and comfort, while others prefer how things were. However the case may be, this guide explains key reasons why bikini bottoms are running smaller and how you can make them work for you. 
What does bikini bottom mean?
The term "bikini bottom" is used to refer to the lower half of a bikini.
It typically covers the area from the waist to the upper thighs, and you can pair it with a bikini top or wear it as a standalone piece.
Bikini bottoms are made of swimsuit material, such as spandex or nylon, which can come in a variety of styles, including high-waisted bikini bottoms, low-rise bikini bottoms, string bikini bottoms, and more.
Some people also wear two-piece lingerie sets that they refer to as "bikini bottoms."
These bottoms are often seen on beaches, pools, and other areas where people swim and enjoy the summer sun. In addition to being stylish, they provide some coverage for those who want a little more modesty in their swimwear.
If you're looking for something to wear on your next beach getaway, a bikini bottom is one to consider.
Why are bikini bottoms getting smaller?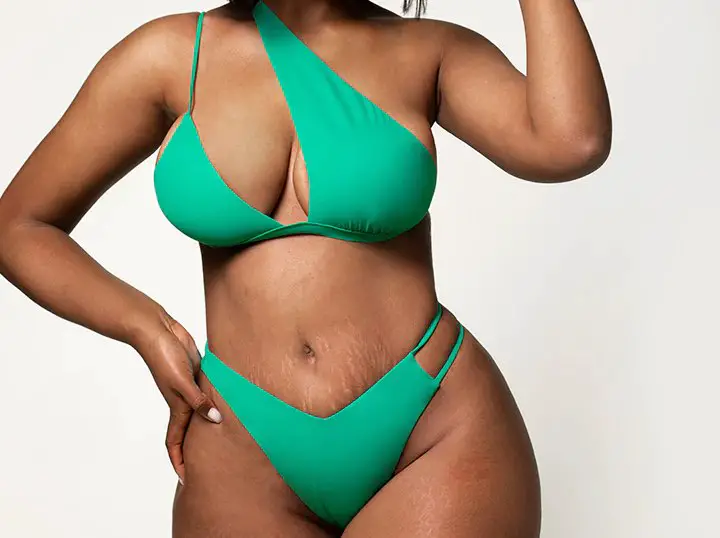 1. Fashion trends
Fashion trends often move in cycles, and over the past few years, there has been a resurgence of very small bikini bottoms, which is the latest trend.
This trend has been attributed to the increasing popularity of skimpy swimwear on social media as well as changing cultural attitudes about body types.
Also, many young women today feel more confident wearing something with less coverage than their predecessors did.
Social media influencers such as celebrities, models, and Instagram stars have made wearing skimpy bikinis an aspirational style choice. By showcasing these looks on their platforms, they are encouraging other women to try the same look.
3. Comfort and confidence
For many women, wearing a bikini with less coverage gives them greater freedom of movement and confidence. The smaller bottoms are also very comfortable on the body, leaving out the straps and wedgies that often come with wide-coverage bikinis.
4. Butt show off
Smaller bikinis are also seen as a way to show off the curves of the butt. A well-fitting bikini bottom can be very flattering and draw attention to a person's butt cheeks, which is why they remain popular among young women. 
How to know if bikini bottoms are too small
Are you thinking of trying out new bikinis? Here's how to know which are too small and which are a perfect fit.
Check the fit
When trying on bikini bottoms, ensure you can move freely in them without discomfort or tightness. They should not be overly snug, as this can lead to unwanted chafing and pinching of the skin.
Look for visible panty lines
If the fabric creates visible panty lines, then the bikini bottom is definitely too small.
Check for discomfort
If the bikini bottoms are cutting into your skin or causing any discomfort, then they are most likely too small, and you should try on a different size.
Be mindful of elasticity
The elasticity of the fabric should be snug enough to hold everything in place. However, it should not be so tight that it digs into the skin. If the elastic grip is digging into your skin, they are probably too small.
How to look great in bikini bottoms that run small
Instagram models have mastered the art of looking great and accentuating their curves by wearing bikinis bottoms that run small.
If you want to jump on this bikini bottom trend and pull off this look like a pro, here are some tips:
Choose a high-waisted or mid-waisted bottom: High-waisted or mid-waisted bikini bottoms offer more coverage than low-rise styles, making them look more flattering and less revealing.
Wear a long top: If at any time you feel a bit uncomfortable, pair your bikini bottoms with a longer top that covers up some of your bottom halves, making it look less skimpy. This look is sexy and will still give you the freedom you need to enjoy the outdoors.
Accessorize: Adding accessories like necklaces or hats can draw attention away from your bikini bottom and make you look more stylish.
Pamper your butt cheeks: Since you'll be flaunting a larger part of your butt in this swimwear, you can as well take on exercises like squats; it gives you a firm and well-rounded behind. Also, eat well and go for long walks to maintain a healthy weight.
Be confident in your skin: Ultimately, the most important thing you can do to look great in bikini bottoms that run small is to be confident. Embrace your curves and rock them out.
FAQs
Do bikini bottoms stretch over time?
Yes, they do.
Some bikini bottoms are made from cotton and lycra, and these fabrics are the most prone to stretch out with wear and washings. So choose a style that fits properly when purchasing a new bikini to ensure long-term comfort and prevent stretch.
Also, wash your bikini on a gentle cycle using cold water and mild detergent, and hang dry if possible. This helps keep the shape and fit intact longer while minimizing any potential damage that may occur from excessive heat.
How tight should bikini bottoms fit?
Bikini bottoms should fit snugly but not too tight.
The band of the bottom should sit comfortably against your body and not dig in or cause discomfort. Make sure that when you move around, there is no excessive bunching or riding up, as this can be uncomfortable and unflattering.
Can you enlarge small bikini bottoms?
Yes, you can. 
To do this, sew an extra piece of fabric to the bottom of the bikini bottoms. Then secure it tightly using a sewing machine. This will add length and width to the area and create a more flattering fit. 
Conclusion
Small bikini bottoms are popular among women who enjoy showing off their curves and prefer the comfort that comes with less coverage.
They run small because of the current fashion trends. Additionally, the influence of social media models whose followers like to depict their style adds to the popularity of the trend. 
No doubt that smaller bottoms are fashionable, but they can also be very revealing. With fashion trends constantly evolving and women wanting to show off their body assets, you can expect to see even smaller bikini bottoms in the future.
Thanks for reading.
Need more guides like this? See them here at Africana Fashion.