Have you ever thought about cleaning your Skechers GO WALK shoes and wanted to learn how to properly wash them? If so, this post is for you.
It has a full description of how to wash your Skechers GO WALK correctly, as well as the preferable washing methods you should use.
Furthermore, it will explain the material used to make the Skechers GO WALK and why you can wash the shoes.
What is Skechers GO WALK?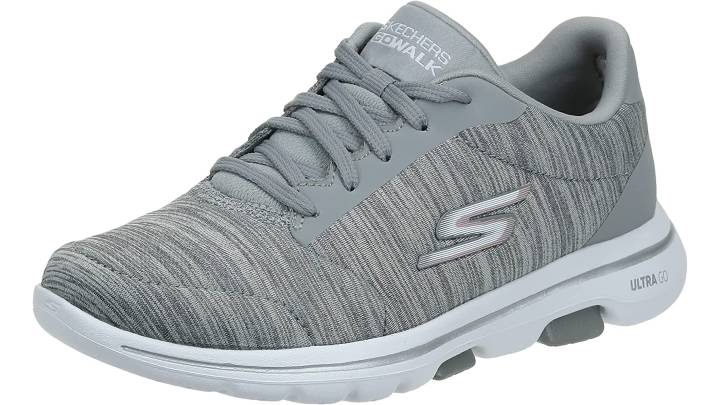 Skechers GO WALK is a footwear line made by Skechers.
It is stylish and functional, ideal for walking and casual wear innovative designs produced by the Skechers shoe company.
It has high-performance technology with materials featured in slip-on and lace-up designs.
What materials are Skechers GO WALK made of?
The Skechers GO WALK has a carbon-infused soft-textured lace-up upper consisting of leather [sometimes synthetic] and mesh.
Can you wash Skechers GO WALK?
Yes, you can.
Fortunately, Skechers GO WAlk is made from materials that make it easy to wash when dirty and unclean.
What technique should you use to wash your Skechers GO WALK?
You can wash your shoes using the washing machine or by hand. Pick whichever works for you.
Skechers footwear offers cutting-edge comfort technology and easy-to-care convenience that can be put in the washer.
How to wash Skechers GO WALK
1. Washing machine
You can wash your Skechers Go WALK sneakers quickly and easily by putting them in the washing machine. To do this, follow the Skechers machine-washable shoe instructions as follows:
Start by putting your shoes in a mesh bag, then wash them in cold water in a gentle cycle.
Half-fill the washer with water and add a small amount of detergent.
Place the sneakers in the washer on their sides and add more water as needed to thoroughly soak them.
Close the machine's cover and wash them.
After washing the sneakers on the delicate cycle, take them out. Be sure to thoroughly rinse them before placing them back in their box.
Then, with the aid of sunlight, dry them by exposing them for a few minutes until they are entirely dry.
To avoid discoloration, never wash both pairs at the same time.
2. Hand wash
You can hand wash your Skechers GO WALK using athletic cleanser gel and a washcloth or brush.
1. Using cleanser gel
If you're using a brush with a cleanser gel to clean your shoes, start by soaking and wringing out the brush before use.
Avoid using a rough brush, rather, use a soft brush when washing to protect the footwear from having marks.
Be careful not to get water into the shoes as you swirl the brush over each pair.
Meanwhile, if you are using a washcloth, spray the gel all over your Go Walk, then gently wipe it down with a soft towel.
2. Using detergents
You can use detergents to wash your Sketchers Go Walk shoes if you prefer a quick and low-cost method.
To use this technique, you must first remove the top layer of filth with a soft, old brush before applying water. You can also opt for a rag or a towel to remove debris.
To avoid accidentally rubbing dirt into your Skechers when washing, brush off additional grime with your hands.
Add a few drops of soap and detergent to a cup of warm water to create a washing solution.
Heat accelerates the washing process, so make sure your water is hot rather than cold.
Then, wash the insoles with a brush or hands in the warm water and detergent solution.
After that, dip a soft towel in the solution, then wash the outside of your footwear. Watch out for any spots on your shoes that are particularly dirty.
The next step is to rinse your shoes with a dry cloth and clean water.
Dry the shoes.
The shoes' insoles should then be adequately dried by air. Place for a few hours in the sun.
One thing you must not do is use bleach or any other agents, as this can be hazardous and ruin your shoes.
Does Skechers Go Walk have arch support?
Yes, it does.
Skechers shoes have good arch support. However, if you want one that is even more comfortable, you can try the Skechers GO WALK Arch Fit.
This particular footwear will keep your feet comfortable and supported throughout those arduous long walks. That's because it has a lightweight ULTRA GO cushioning midsole and a replaceable Arch Fit insole.
Is Skechers Go Walk a good walking shoe?
Yes, it is.
For the majority of people, the Skechers Go Walk is a really comfortable walking shoe. The cushioning is excellent, and the arch support is superb. Nonetheless, you should ensure that the fit is tight enough.
FAQs
Is Skechers Go Walk actually good?
Yes, it is.
The Skechers Go Walk shoe is a comfortable shoe many people love to wear. It comes with great cushioning and arch support.
What is the difference between Skechers Go Walk 5 and 6?
The Go Walk-6 is not as elastic or cushioned as the Go Walk-5. This is the main distinction between the two shoes.
Additionally, the Go Walk 6 can be used for brief periods, but not all day like the Go Walk 5. The Go Walk-5 is especially good for those who have foot issues.
What do podiatrists say about Skechers?
According to podiatrists, the upper fabric and heel counter of Sketchers do not provide enough stability to work in conjunction with an orthotic.
As a result, you will find the orthotic to be unnecessary or, worse still, to be aggravating if one has an ailment. An orthotic is a type of synthetic help or brace for the limbs or spine.
Conclusion
Skechers is a well-known brand in the world of running shoes. They provide the most assistance and adaptability.
However, they become dirty with regular use, so you will need to clean these shoes to prevent premature deterioration.
Shoes like Skechers Go Walk have the advantage of being simple to clean. And not being constructed of genuine leather allows for both hand and machine washing.
However, you must take care to wash shoes correctly to preserve their quality and so that they also look new.
Thanks for reading.
If you enjoyed reading this article, check out Africana Fashion for more.