Knowing your bra size is essential for everyone. People often think fitted band size means wearing the right fitted bra, not thinking about the cup sizes too.
Bra cup sizes, from the smallest to the biggest, should not be far off for you – you never know what you can do with the knowledge.
How to get your cup size measurement might need a bit of calculation, however, knowing some off-head does help. Especially if you are in a body-changing phase.
Moreover, not every woman knows her bra size. 8 in 10 women are wearing the wrong bra cup.
If you fall in any of these categories, you can get the perfect numbers for your bust. And learn how to calculate cup sizes.
Whether it's for you or just to help someone else, here are bra cup sizes, from smallest to biggest.
Bra cup sizes from smallest to biggest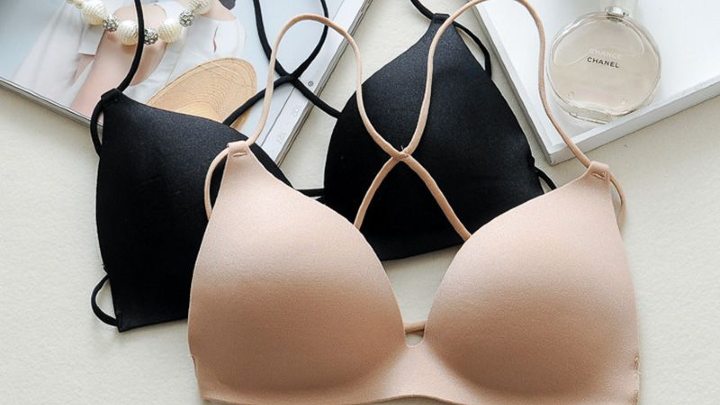 Before you get a list of bra cup sizes, you should remember- cup sizes are not the same as bra sizes.
Cup size is the difference between the circumference of your bust – you measure the peak swell (around the nipple) – and the band.
Meanwhile, bra size is the measurement of the band and cup sizes. That's why bra sizes are a merge of numbers and letters. The band sizes (in inches or centimeters) come first, and the cup size (in letters) is right next to it. For instance, 34A, 34B, 38DD, and more.
The following are the bra cup sizes you have from the smallest to the biggest (US size based):
1. A cup
The cup size is an inch difference between the bust and band. However, for A cup size, you have lesser sizes too. AA and AAA are smaller cups. AA cup is less than an inch, and AAA is less than 1/2 inch.
2. B cup size
A little more common than A cup sizes, B cup is between 1 and 2 inches difference between the bust and band. B cups have a bigger swell and are little visible under clothes.
3. C cup size
These are quite a visible bust under clothes. They are a lot more common too. The difference in band and bust sizes is around 3 inches. This bra cup, like the B cup, does not have variations like CC or CCC. Just C alone.
4. D cup size
This cup falls under the large breasts. The inch difference between the bust and band is around 4 inches. The cup size is also common around the world, especially in the US, UK, and Europe.
This cup size also has variations for larger busts too. You have the D, DD, DDD, and DDDD. However, the variations besides D represent cups higher than 4 inches. So you can alternatively use these cup letters instead of higher cup sizes.
5. E/DD cup size
This cup size has a 5-inch difference in bust and band sizes. You can alternatively call them DD cup sizes too. Several brands and retail stores have the DD alternative instead of E cup sizes.
6. F/DDD cup size
This cup size also falls under the common large bust sizes. The difference is 6 inches between the bust and band. If your bust size falls between these inches when approximated, you can look for an F cup or DDD cup bra in shops.
SEE: Difference Between DDD, E, and F Bra Cup Sizes You Should Know
7. G cup size
Alternatively called DDDD. This has a difference of 7 inches between bust and band. It falls under the common bigger cup sizes. You can find the cup size in retail stores and select lingerie stores that caters to large busts.
8. H cup size
This cup size has 8 inches difference between the band and bust. The breasts with this cup size are on the heavy side and would need proper support to hold the bust properly.
9. I cup size
The cup size is also for those with big busts. This has a difference of about 9 inches. Additionally, this full breast needs support to avoid back pain and chafing.
10. J, K, L, M, N, etc. cup sizes
This fall under the rare and biggest bra cup sizes. Their difference range from 10 inches up to 14. These cup sizes are quite heavy and would need full support from the bra cup and band.
Some of these cup sizes are more common in specialty retail stores for plus sizes or lingerie stores that make custom-fitted bras.
Are bra cup sizes universal?
No, they are not.
Bra cup sizes change based on the country, region, and sometimes, brand. For instance, an H cup in the US is equivalent to a FF cup in the UK.
The sizing chart below shows the cup sizes for the United States, Europe, the United Kingdom and Australia.
Bust/ band
difference in inches
US
cup size
UK/AU
cup size
Europe
cup size
<1
AA, AAA
AA
AA
1
A
A
A
2
B
B
B
3
C
C
C
4
D
D
D
5
E or DD
DD
E
6
F or DDD
E
F
7
G or DDDD
F
G
8
H
FF
H
9
I
G
I
10
J
GG
J
11
K
H
12
L
HH
13
M
J
14
N
JJ
SEE: Why Do People Wear Underwear? 
How to measure cup size
Start with measuring the band first. Wrap the measuring tape around your torso (just below your bust) tightly. Let the tape be parallel to your bra band.
Take note of the number. If your band is in-between inches, round it up.
If the band is an even number and +4, if odd, add +5. The number you get should be even.
Then measure your bust.
Wrap the swell part of your bust (around the nipple) horizontally.
Let the tape fit snuggly around your bust but not too tightly. Get the number.
If the number you get is between inches, round it up. That is your bust measurement.
Then, subtract your band size from your bust size. What you get is your bra cup size.
Find your number on the bra cup size chart.
SEE: What Is The Smallest Cup Size Of Bras For Women?
FAQs
Where would you find the smallest cup sizes?
African and Asian countries.
According to World Population Review, you would find the smallest cup sizes in African and Southeast Asian countries. They have these sizes because of their more active lifestyle.
Is DDDD common in the US?
Yes, it is.
The size is pretty common for big cup sizes. You will find this cup size in retail stores and lingerie stores.
Does breast cup size matter?
Yes, it does.
To get a perfectly fitted bra, you need to know the exact or approximate size of your breast cup and your band size. It makes for more comfortable wear and prevents pain and chafing caused by tight-fitted bras.
Furthermore, you look put together around the bust area when you wear fitted cups instead of loose-fitting bras.
SEE: A Complete Guide On Countries That Don't Wear Bras
Conclusion
When you have bra cup sizes (smallest to biggest) at the back of your mind, picking the right bra, wherever you are, becomes easier. You don't have to memorize the sizing chart. If it's too hard to figure out, you can always look to a bra-size calculator for help.
However, knowing the rule that for every added inch, the cup size also changes will help in remembering the chart guide.
Thanks for reading.
Africana Fashion provides relevant articles to help guide your daily lifestyle.