Are you looking for how to wear a romper fashionably? Do you look forward to buying yourself a new romper? This article will explain how to choose the perfect romper, as well as outline 12 style ideas to help you slay your romper in style.
A romper is everyday clothing that can come in several sizes and styles. It is an outfit that is usually worn during summer. However, some rompers are designed and can be worn in the winter as well. 
If you are wondering what exactly a romper is, I will tell you. It is a mixture of shorts and a top joined together to make just one piece of clothing. The combination of these two pieces is what makes it look elegant and creative. 
All it takes to turn any romper into an elevated, elegant piece is the creative styling you put to work. This article right here is an opening on how to choose the right romper, in conjunction with complimenting ideas on how to style your romper.
12 Flattering Style and Accessory Ideas to Your Romper
Rompers are fashionable clothing you can wear all year long. If you don't own one, you are missing out on this gorgeous piece. They are the perfect must-have for your closet because they can be worn and styled in so several ways.
That being said, let's get right at how to style and accessories your romper. Below is a list of 12 different easy style ideas.
1. Romper + Midi/Maxi-Skirt + Sandals
You can style your romper by wearing a midi or maxi skirt over your romper. Just like that, you have changed your romper into an entirely different look. Now it will seem like you are wearing a tank and a skirt.
2. Romper + Blazers + Heels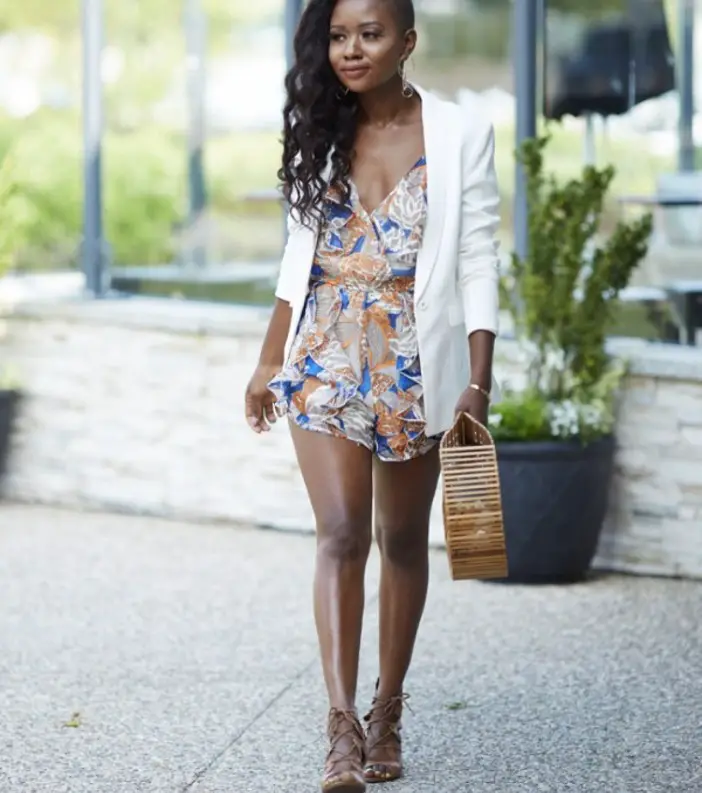 Blazers are one of the best fashion items to have in your wardrobe. You can easily throw them on over just about any outfit to upgrade a look. Wear a blazer on your romper to elevate your look. This style is particularly great for transforming your romper for fall and winter. 
3. Layer a Tee Under the Romper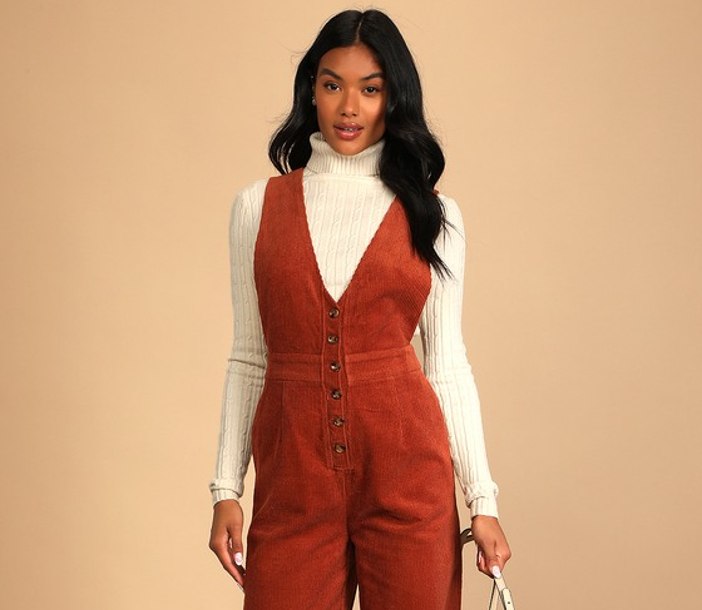 Wear a tee under your romper to alter the look and give it a different vibe. Go for a tight-fitted tee so the whole look won't be bulky. You can choose a long sleeve tee. For this, you can throw on cute sneakers for a cute and casual look.
4. Leather Jacket + Romper
Pair your romper with a leather jacket to achieve an edgy look. You can style your romper this way if you are looking for inspiration on what to wear to a festival show or concert. 
5. Romper + Blouse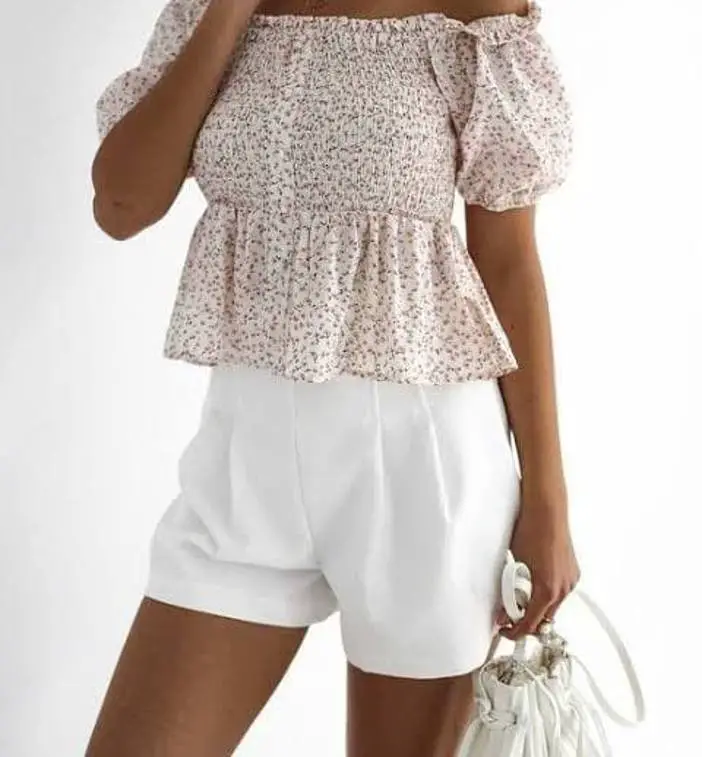 Another easy way to quickly change the style is by wearing a blouse over your romper. Yes, it is that simple. Rock this style with a sandal.
6. Romper + Sneakers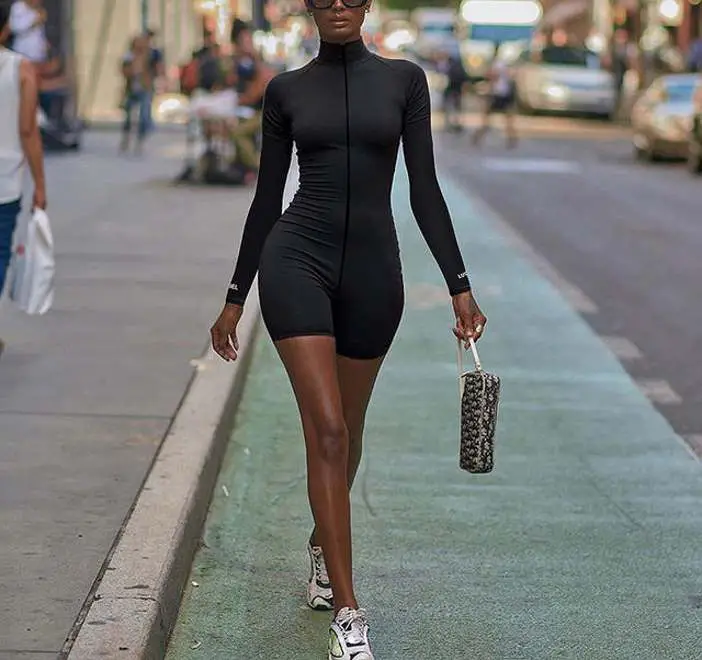 Wear a pair of sneakers to transform your romper into a dashing on-the-go outfit. Style your romper this way if you're going to be walking around a carnival or if you are going to the zoo, museum, or park.
This is a smart way to remain fashionable and comfortable as you walk around. A typical pair of white sneakers will match any style of a romper.
7. Throw a Denim Jacket On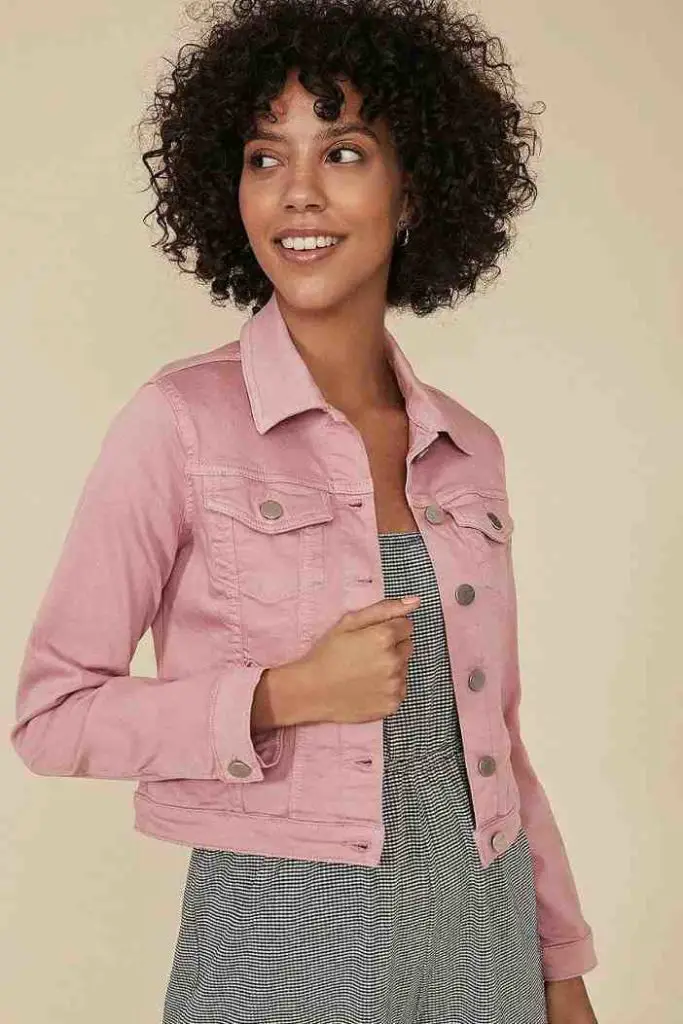 Wearing a jacket makes it easy for you to rock your romper all year long. Denim jackets, like blazers, can be worn on just about any outfit. Denim jackets are especially great for the fall. 
SEE: Best Conditioner Products To Boost Your Hair Growth
8. Romper + Sandal + Bag
You can elevate the look of your romper by wearing a pair of sophisticated metallic sandals. This is an especially great styling idea if you are wearing a floral romper dress and don't want to look too casual.
You can also pair a simple beach romper with a pair of comfortable sandals such as strappy sandals.
9. Polish Your Figure With Belt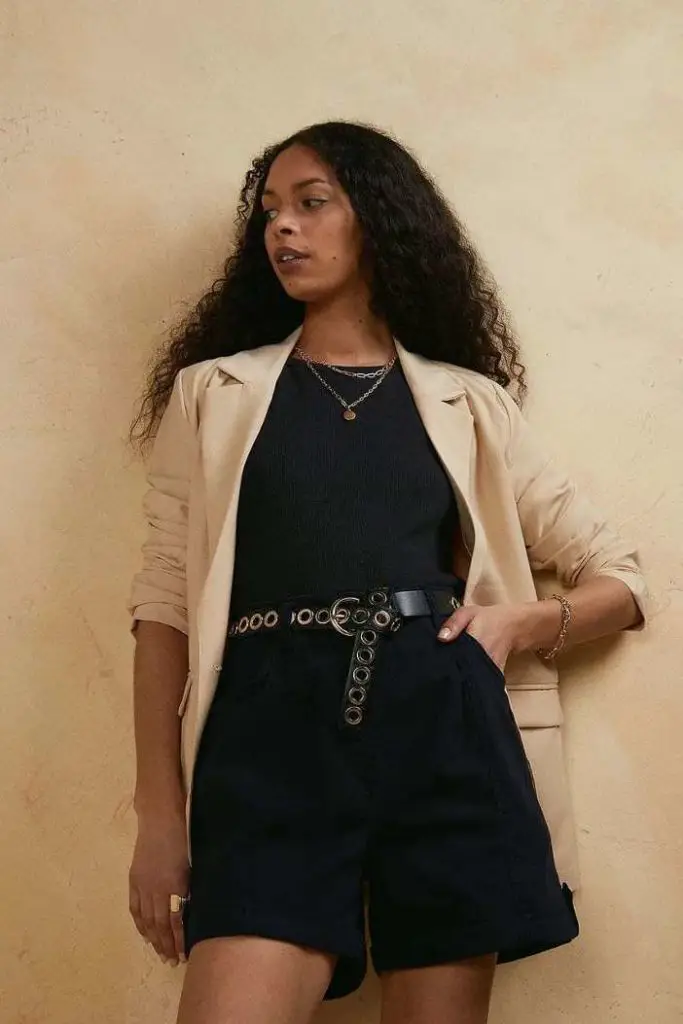 Although some rompers are designed with elastics by the waist, wear a belt around your waist to upgrade the romper a bit. You can choose between a really thin belt or a broad one, it depends on which of them you have in your closet.
You get to also choose between fastening the belt loosely to preserve a cool style or tighten it to emphasize your waist.
10. Romper + Sunglasses + Sandals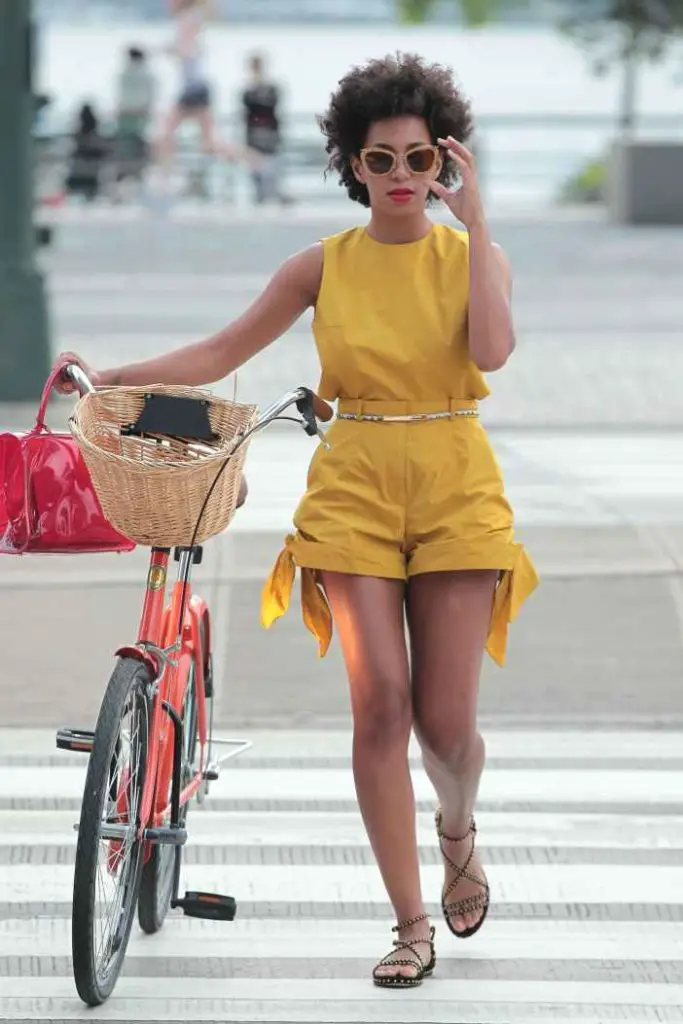 Pair your romper with sunglasses and sandals to achieve a free Bohemian style. You can even style your hair to a wavy look to give rise to that Bohemian vibe. 
11. Endow Your Look With Jewelry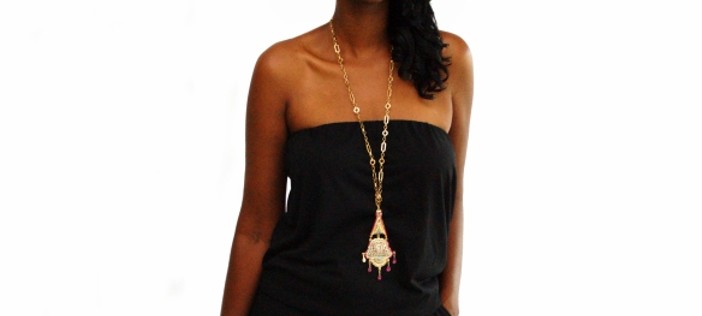 When accessorizing your romper, go for sophisticated options such as layered jewelry. This will help to keep your look clean and smooth.
SEE: What Is Business Casual? The Right Way to Stay in Style at Work
12. Romper + Heels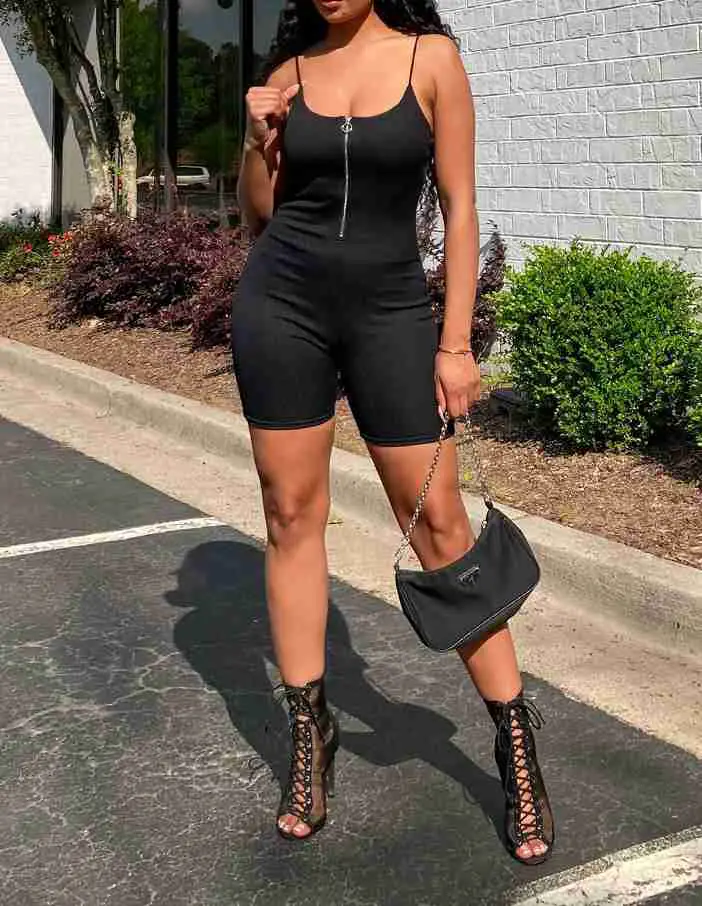 Wearing heels will help to dress up and elevate your romper from basic to glam. Throw on a pair of heels to dress up your romper for any fun event. You can wear wedges or even high heels with your romper, it doesn't matter if it's short or long or wide.
Other Styling Tips
You can pair your romper with pants or leggings for extra coverage or warmth.
The color of your heels should complement your romper nicely. For instance, if you are wearing a black romper, you can pair it with a red heel; this will make you look attractive while adding a fun accent to it. 
If your romper is made with luxe materials, pair it with stiletto heels. 
You can achieve a casual look by wearing regular flip-flops as well as  gladiator sandals, or strappy sandals.
The use of accessories gives more definition to your look.
In cases where you don't want to look casual rocking your floral romper, wear your romper with a pair of nice metallic sandals. 
You can pair your off-shoulder romper with a jacket If you feel too exposed. However, ensure that the color of the jacket compliments the color of your romper. 
The shoe you pair with your romper depends solely on where you are wearing your romper. 
You can also pair your romper with other accessories such as a hat, wedge, sneakers, metal jewelry, and so on.
How to Choose The Right Romper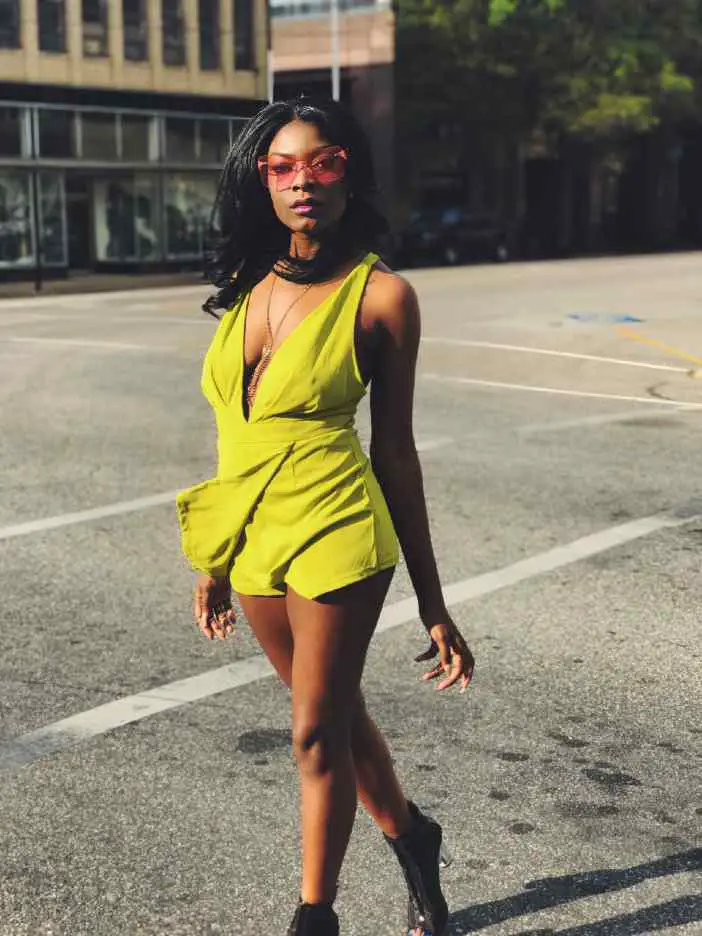 It is important to pick your romper very carefully as this will assist in achieving the elegant look you are working toward. Always buy the appropriate size when shopping for a romper because unlike other outfits that you can rock in one size; rompers are not fashion clothing that fits in one size. 
There are various designs of rompers available in different sizes and measurements. Ensure that you select your precise size, as this is a determinant of how your romper fits on you. 
Also, ensure that you select luxe fabrics, patterns, and colors if you are trying to avoid looking childish. It is best to embrace more sophisticated fabrics, such as silk and satin. To keep a romper elegant and classy, select dressy and luxe colors and patterns
Necessary Things to Look Out For
Check the length of the romper you are selecting if you are tall.
Ensure that the romper is neither too big nor too tight
Make sure that the waist of your romper crashes precisely at the tiniest part of your waist.
Also, make sure that the length of the romper's shorts isn't past your knees.
If, however, you are getting a romper with pants, ensure that the hem falls right on the ankle.
If you are buying at a store that has a dressing room, ensure that you try the romper on before purchasing to be sure that it fits perfectly.
In case you pick one that is loose, you can take it to a tailor for adjustments.
Make sure that the crotch of the romper isn't too high or too low. 
Do away with styles or sizes that are skin-tight.
If, however, you are buying online, make sure you check the size chart for all the measurement details
Go for rompers with long sleeves, lace trim, and dark colors.
As an adult, you should avoid rompers made with fabrics that are commonly used for children's clothing.
You might want to slay a romper to an official event, it is best to go for a mature-looking design.
Look for dark non-patterned rompers as they are always tagged as sophisticated, especially black ones. 
The black color generally gives a sense of maturity. Red, blue, and white are also great options.
Likewise, wearing a long sleeve romper is so classy and will make you look more modest despite the length you choose.
Go for neutral colors such as cream and blush, as they are easy to style and accessorize.
Colors such as pastels and hues of gray are versatile; they can be dressed up or down.
Patterns such as gingham, paisley, and stripes are mature-looking patterns.
Structured fabrics are best for dressy events. 
A gorgeous floral or patterned romper is also nice.
A bright-colored romper is perfect for occasions such as celebrations, Sunday brunches, and summer trips.
SEE: Cool Ways You Can Style a Flannel for Any Occasion
Frequently Asked Questions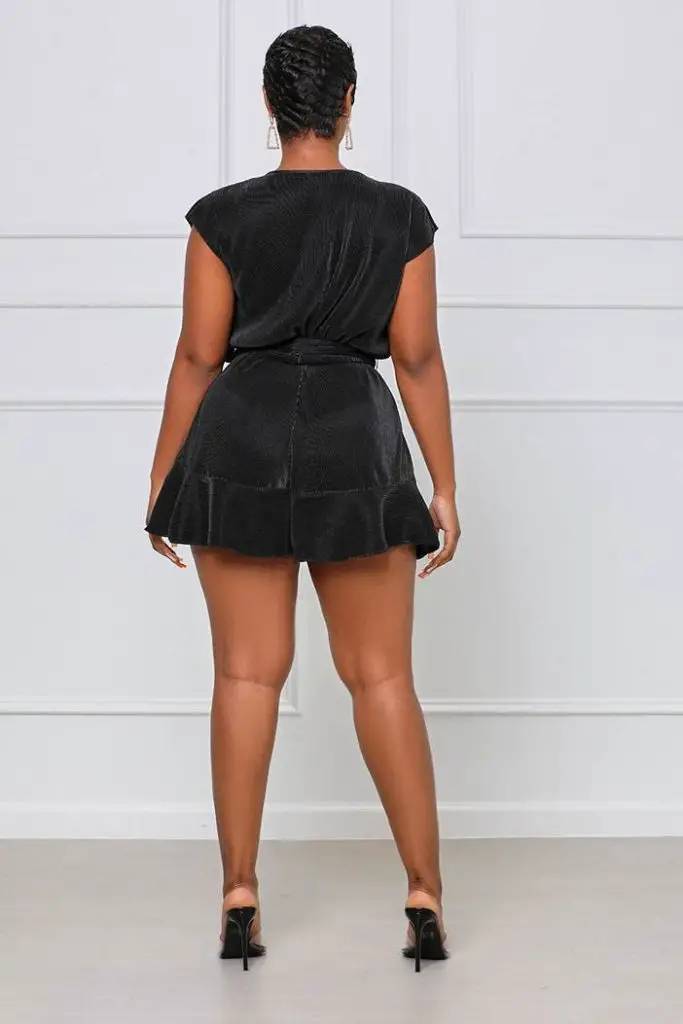 Can I wear a romper with pants?
Yes, you can. You can wear your romper with pants Wear the romper first to see if it will go with pants. I would recommend you fo for a number with wide legs if you want a bohemian style.
How can I layer my romper?
You can layer your romper by wearing it under a tee, a blouse, or a jacket. These would give it an over-the-top look. You can also try layering a romper with a sweater to give it a stylish look.
How do I make my romper look formal?
This can easily be achieved by throwing on a blazer over your romper to elevate your look. You can also pair it with heels. 
Adding some formal-looking pieces like a blazer, heels, or a shirt would elevate your romper from simple to formal. You can rock your romper to a formal event or even to the office if you style it this way. 
Conclusion
A romper is without doubt a great addition to your closet! You can easily dress up your romper for special events just by throwing on the right footwear and accessories. You can even dress them down for casual events and still look fashionable.
The fundamental to creating classy looks with rompers is to always choose mature-looking patterns and materials, and make sure that you get the appropriate size that will fit you perfectly.
Selecting the right romper and properly accessorizing it will make you feel confident and classy in your outfit. Feel free to romp around in your newly acquired style ideas.
Thanks for reading.
Liked this fashion style guide? Visit Africana Fashion for more fashion tips to help you improve your slay-ability.