Business casual is a fashion style that turns conservative everyday work clothes into simple and versatile wear.
Having control over your wardrobe is exhilarating. This helps to create an optimized lifestyle where you make choices on what to wear. If you work from home, you get to benefit from this freedom. If you are self-employed and run the show, you are good too.
However, for people who can't, they are saddled with having to dress to conform, ultimately tanking their style.
Nonetheless, when you are in a corporate setting, the dress code of your workplace matters. But now, corporate workplaces are merging comfort and workplace regulations to make working more comfortable and appealing.
This gave birth to a new style called business casual. It merges formal business work and comfort. This style creates a lovely synergy for those who do not like to be dress conservatively.
Nonetheless, there is confusion about what counts as business casual and what flies across the border into a less standard form of wear. Therefore, I will be defining what business casual is and what it is not.
What Is Business Casual?
Business casual is a broad description for attires that mix traditional/ corporate wears with a relaxed and comfortable style. It is appropriate for a normal office day, a business lunch, an interview, or an office environment.
A business casual attire sets itself apart because it does not only fit in a conventional setting; it also slips into a natural setting where you get to relax your body without having to worry about being over the top.
For instance, if you have a professional occasion like meeting a client/potential partner, an interview, or business lunch, a business casual attire is your safe bet to keeping things simple. This style helps especially if there is no dress code or the industry dress code is dynamic.
Nonetheless, being able to blend the business and casual parts is crucial to getting this style down. After all, there is a thin line between fashionable and out of touch. That's why you have to know attires that pass for business casual, business, and casual outfits.
Business Casual Basics
1. Pants
Pants stand out the most in business casual outfits. They are the crux of business casual. It is ideal to stick to slacks and chinos if you are aiming for business casual. Furthermore, the materials should come in comfortable and neutral colors.
Slacks can be free or form-fitting. However, it shouldn't be too tight or cut too dramatically. You can also opt for materials in cotton, corduroy, polyester, linen, and wool. And if it has loops for a belt, wear a belt.
In addition, the slacks have to fit for the season. You should wear pants that are light and breezy for spring and summer days. Meanwhile, wear a heavy material for fall and winter to keep your skin covered.
SEE: Why Is Underwear Called Drawers? 
2. Shirts and Blouses
Chiffon is heavily favored in business casual. It's a light material that gives your body room to breathe. Cotton and silk – on the light side – are also good choices for shirts and blouses. When it comes to the colors, stick to even-toned and complexion flattering colors.
Moreover, the sleeves and cut are what matters the most when picking a shirt or blouse for your business casual outfit. The sleeves can be any length from long sleeve to short, to cap, or sleeveless. However, a sleeveless cut should be at the edge of your shoulders and not a strap.
Your neckline cut should also be modest and not too revealing. You can also wear a V-neckline that doesn't dip further than normal. In addition, a bra is necessary, and it must not show under your shirt or blouse. Consequently, a tank or camisole is required for sheer blouses.
3. Blazers
This is optional but can become a pivotal piece in your outfit if you are opting for more business than casual. Also, it plays an important role when you are looking to warm you up in the colder months.
Blazers should be cut stylishly but not too fashionably to keep a professional look. Furthermore, your colors should be neutral and tone blending. If you are wearing a light top or camisole, you should go for a tone-cooling blazer.
Similarly, the blazer or jacket you wear should have reasonably stylish prints and patterns. For instance, a checkered pattern, pinstripes, or herringbones are lovely patterns you should fit in perfectly with your professional outfit.
4. Dress
A dress can border between formal and business depending on the cut and style of the outfit. Tried and true styles for business causal dresses are A-lines, pencil, asymmetrical, and pleated hems with a modest slit. Knee-length or slightly below-the-knee gowns are the pillars for dresses in a professional setting.
The colors of your gowns should also be neutral. However, wearing a bright color in a dull setting could lighten up the office. Nevertheless, you can cool the color down with a nice blazer or cardigans.
5. Skirts
Your skirts are also in close with your dress. You need to pick skirts with A-line, pencil, or pleated cuts. Although your skirts should be fitted, they shouldn't be too tight, too high, or too low. They should be the right length, which is on the knee or slightly below the knee.
Naturally, the colors should be neutral too. Dark colors like black, grey, navy blue, forest green, and tan colors like brown and brick red are great colors that can be paired with light-colored shirts or blouses.
SEE: How to Walk in Heels: 13 Tricks For a Beginner's Strides
6. Shoes
You have a wide range of options when it comes to shoes. However, a pick you should avoid is a sandal or sneakers. Unless it's part of your office dress code, you can, but this would defeat the purpose of looking business casual.
On the other hand, shoes like loafers, brogues, flats, wedges, boots, and pumps are go-to for business casual attire. If you are going with heels, go with 4-inches or less. This is appropriate for a professional setting.
Additionally, the shoes should be easy to slip in and out of. For example, slip-on, pumps, peep-toes, and t-straps with a simple buckle are not too demanding.
For colors, dark colors, animal prints on the subtle side, and prints and patterns that aren't too dramatic would blend well with your office setting.
Nevertheless, always wear a shoe that fits the season. You can opt for boots or pumps in cold months and slip-on, ballerina flats, and peep-toes for warmer months.
SEE: Stay in Trend With These 10 Square Toe Shoes for Women
7. Accessories
Your accessories should also be subtle and not loud but make a statement too. You can opt for a statement brooch to elevate your simple outfit.
A necklace with a small pendant and medium-sized pearls are also excellent options. However, stay away from chunky pearls- it can be distracting.
You can also wear scarves as part of your ensemble. A scarf is great for adding an elegant touch to your dress outfit.
Industries Business Casual Fits In
Business casual blends well in some industries than others. You should know where you fit when it comes to wearing business casual outfits.
Public Service
If you are a civil servant working in a ministry or government agency, you can wear a business casual outfit. The working environment does not demand you to put on a suit and tie all weekdays and not just for casual Friday.
Creative Agencies
This includes advertising agencies, digital agencies, publishing houses, and PR agencies. The creative industry is lax in what people wear, but business casual is a norm. You can opt for a suit and tie or just a shirt and slacks if it's part of your style.
Fashion and Entertainment
As the creative industry, the fashion and entertainment industry is lax in dress code. You are free to explore your creative and fashion side. The rules of business casual are bent in these industries.
Your styling factor is guided by workplace dress code and guide (if there is one) and your fashion taste.
Education
Just like public agencies, the classroom is also lax when it comes to what teachers wear. It does not accept jeans and t-shirts; nevertheless, you can wear chinos and simple jeans with blouses. Your range of color is also wider in this setting.
Tech Industry
Business casual leaning more on the casual than professional is common in the tech industry. You can wear anything as long as it optimizes your work speed and output.
Service Industry
This includes retail, transportation, food, and hospitality organizations. While some are required to wear uniforms, others require you to wear business casual outfits. It boils down to the office dress code in such an industry.
For instance, a hospital doesn't have a dress code because some wear lab coats, scrubs, or uniforms like nurses. On the other hand, a help desk or cashier in the same hospital should look presentable in a shirt and slacks or skirt.
SEE: How to Dress For An Interview: Create a Lasting Impression With These Hacks
Dos and Don'ts of Business Casual
Dos
Memorize the company dress code to efficiently plan your closet.
Stay consistent with your style. Avoid dramatic changes that could be inappropriate. In addition, keeping a recognizable image is a selling point.
Dress smartly by wearing fitted outfits. It should be your perfect size.
Wear a camisole or tank top under a sheer blouse.
Dress to fit the right season. For instance, boots are best suited for fall and winter seasons. However, you can opt for boots if there is no required dress code and it matches your style.
Sleeveless shirts or blouses should stop at the edge of your shoulder blade. Avoid wearing straps or tank tops without a blazer or cardigan.
Keep your makeup to a minimum. Everyday and simple makeup should not be too distracting.
Wear comfortable heels rather than fashionable heels.
Stick to the basics for business casual.
Wear wrinkle-free clothes.
Don'ts
Do not wear sneakers or tennis shoes.
Do not wear distressed jeans.
Avoid wearing revealing clothes including deep v-necklines, open tops, short skirts and shorts.
Loose fitting clothes that are not flattering, do not wear them.
Bright colors and patterns that are out of place should be kept for casual occasions.
Avoid materials that show your underwear cuts and shapes.
Avoid clothes with holes and washed colors.
Problem With Business Casual
1. When there is no dress code
The first day on a job can be tasking because you have to fit in seamlessly. This might pose a problem if there is no overt or written dress code. If you are stuck in this situation, you should go for a more professional and conservative look. This is a safe spot.
Then you can adjust your outfits according to how other workers are dressed. Your office might not have a dress code, but there would be acceptable and unacceptable attire. You just have to be observant.
2. Business casual or business formal?
This is a problem with most people trying to decide what is acceptable as business casual. Business casual is different from business formal. However, you should remember that the more conservative you look, the more business-like your outfit is.
3. Business Casual has its limits
Yes, business casual has its limits. As comfortable as business casual is, it does not fit in some occasions. For example, a business meeting with a partner or potential client needs you at your most professional self. Therefore, having a handy blazer with you is a great option.
FAQs
Do jeans count as business casual?
Yes, it does. You can wear cool colored jeans paired with a shirt or a blouse.
The shirt must also be tucked in with a belt to hold your jeans. However, distressed jeans and tie-dye jeans do not count as business casual.
SEE: 17 Amazing Ways to Style Your Denim Jacket (No 4 Is My Favorite)
Can I wear a sundress as a business casual outfit?
No, you can't. A sundress is not a business casual outfit.
The heavily flower-patterned dress does not count as business casual. You can wear a simple pattern with one or two patterns.
Can I wear anything there is no official dress code?
No, you can't. No matter how lax your organization is, it will not accept anything. Except you run the show, which gives you free rein, you have to dress acceptably.
If you are new and at a loss, you can observe the culture of the organization. This gives you an idea of what is acceptable and what is not.
Conclusion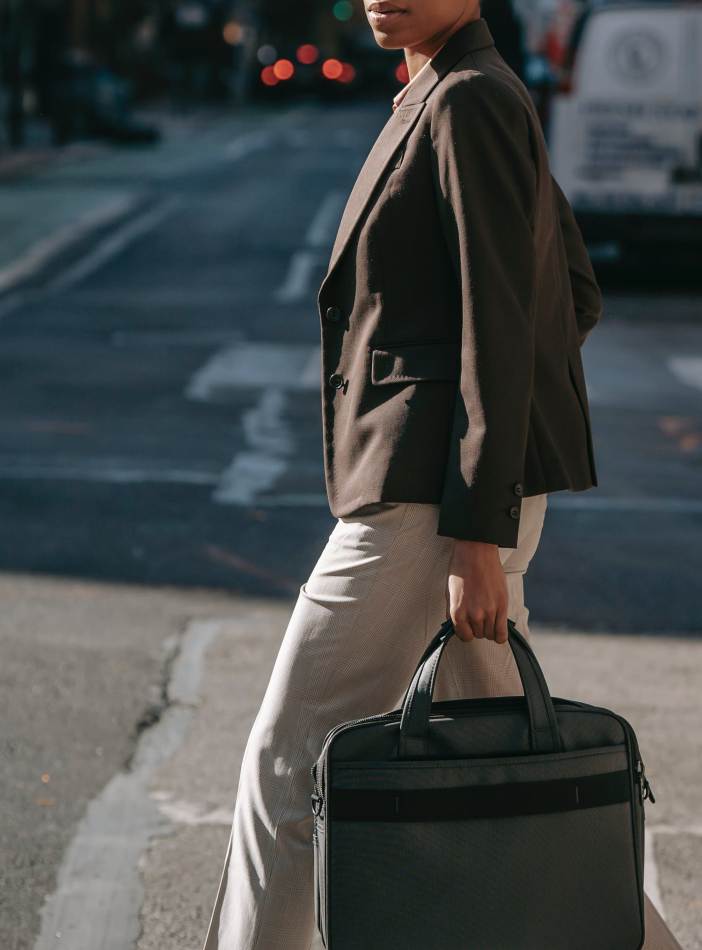 Falling in between professional and casual styles is not as easy as picking anything. It has to be a deliberate construction of style. Business casual is exactly that- an intentional style that makes you look part professional and part comfortable with yourself.
However, there are some tips to keep in mind if you want to stay stylish and professional in this outfit- that is, always keep it simple. The colors, patterns, and cuts need to be simple. Starting with this makes it easier to be versatile in what you wear.
Business casual is a style that can be fashionable as long as you know the rules to keep it professional.
Thanks for reading.
Africana fashion provides relevant fashion tips to upgrade your wardrobe and lifestyle.