It's still one of the most sought-after fashion trends, and it seems like it isn't going anywhere anytime soon. Yes, I'm talking about the square toe shoes for women trend.
I've seen fashion trends come and go, but the square toe keeps getting better with new seasons launching new styles and ways to wear the shoes. We all know shoes for women are important in the fashion industry, and square toes emphasize that.
The square toe shoe is actually a '90s shoe making a comeback. But like the new age, the design is back with a much more sleek and elegant look.
It's natural to want more of this better version. This is why I would be rounding up the best square toe shoes for women. If you want to stay ahead of the game, then glide through to find the best square toe shoes you need.
Best Square Toe Shoes for Women
Fashion brands have made the square toe shoes a cult favorite among women, giving them the retro-throwback with a modern twist.
Moreover, the shoe style has different interpretations. But it will always have the sleek flat edge that gets it noticed. It's the natural feature of the shoe that makes people drawn to it.
If you can't get enough of the trend and still want different types and styles of the shoe, you can get square toe shoes for women to suit your style here.
The selected items on the list are ranked based on sales data collected on eCommerce stores and social media.
1. Best Square Toe Mule for Women
This Square Open Toe Heeled Mule by Vetaste is woven and quilted high heels. The stiletto comes in generous colors that are flattering to the feet. The heels help to lengthen and give a slim figure to the feet with the appropriate length.
The square toe gives the mule a sophisticated look. Besides this, the sandal comes with a skin-friendly quilted strap that adds polish to the feet. The quilt also grips the feet firmly, looking chic and elegant when worn.
If you want an easy slip on and off, then this shoe by Vetaste is the perfect one for effortless wear. You can stay in trend with the mule. And it goes with any outfit. From a dress to low cut jeans and a t-shirt. It is perfect for all styles.
2. Best Strap Square Toe Sandal for Women
The Drop's Women's Avery Square Toe Two Strap High Heeled Sandal is a true-to-size heeled square-toe shoe for women. The sandal is made from 100% polyurethane material with synthetic lining.
The straps have a slip-on closure that grips the feet, keeping them in place. The shoe also emphasizes its concept of '90s minimalism with its thin straps. Furthermore, the heels are of appropriate height with a height of 3.5 inches.
You can wear it in any style and for any occasion. It is casual and formal. And it comes in simple and light colors to contrast against your skin perfectly.
3. Best Stiletto Square Toe Shoe for Women
ISNOM Women's Stiletto High Heel Throng is one of the square toe shoes for women with a unique and alluring design. The sole of the stiletto is made with rubber, with 3.54-inch heels that's comfortable to wear.
Also, the lace-up stiletto measures approximately 3.94 inches, covering the whole leg area. It's comfortable with its flip-flop style. Moreover, the leather insole and rubber sole firm the feet perfectly.
The stiletto can be paired with a dress, a fitted gown, or jeans. It creates a perfect finish for any occasion. It is easily matched, and the color-printed stilettos are unique colors you need to have in your closet if you love square-toe shoes.
4. Best Square Toe Flat Slipper for Women
Juliet Holy Women's Square Open Toe Flat Slipper is the perfect summer footwear you need. The braided slipper is grip-tight and also comes with a rubber sole for firm footing. Asides from this, the faux leather is soft with a durable rubber insole.
The heel of the slipper is 0.39 inches, the perfect comfort size. The slipper is flexible with exceptional traction and grip. It also has an elegant look with a square toe design.
The slipper comes in different natural colors that go with anything, and it is eye-catching. You can pair it with jeans, a dress, shorts, or simple swimwear cover-ups. It is also made for simple daily wear.
5. Best Square Toe Pump for Women
You need a square toe pump like Aerosoles Women's Monday Night Pump for a balanced feel. The shoe is made with a rubber sole for a firm footing. The square toe also gives the pump an elegant look, making the edgy and smooth fabric comfortable to wear.
Furthermore, there is a comfort foam at the footbed, making the padded insole soothing to the feet. The shoe is durable and strong. It doesn't wobble when you wear it.
The inch is the perfect workplace-friendly heel at 2 3/4 inches. You can wear it from Monday through Friday without feeling any discomfort.
6. Best Square Toe Loafer for Women
DanGRida Women's Sweet Patent Leather Square Toe Casual Slip On is embellished with pearls and a bow to make it look feminine.
Made with environmentally friendly synthetic leather, it also comes with a rubber sole with a 1.5-inch platform. The loafer is easy to slip on and wear, giving a comfortable feel at the insoles.
Additionally, the square toe is specifically designed to give the toes room for comfort. It is the perfect everyday shoes suitable for parties, school, dances, or a walk. It can also be paired with jeans, skirts, dresses, and shorts.
7. Best Square Toe Low Heeled Slingback for Women
YDN Women's Closed Square Toe Block Heeled Slingback is great for formal wear. The loafer is true to size and comes in various vibrant colors and prints. The shoe is made from patent leather, which is vegan.
Also, the low heels make it comfortable to wear from casual to workplace footwear. The loafer makes an essential shoe accessory because of the trendy block heel and square toes.
Synthetic leather makes the shoe comfortable. The rubber sole also makes the shoe firm. It is easy to style for any occasion with an elegant result. You would love the effortless slip-on as your pick for a slingback shoe.
8. Best Square Toe Sandal for Women
Franco Sarto Women's Meryl Sandal is simple and elegant. The sandal is made from synthetic material. The square toe sandal is great for women because it is comfortable and stylish.
The front grip is designed like an animal print against a plain sole. Also, it comes with a hook and loop ankle closure, making it easy to slip on and off. The footbed is lightly padded to give the feet a soothing feel.
And with the low block heel, the square toe is comfortable for anyone. It is great for casual to semi-formal occasions. Besides this, it can be paired with jeans, a dress, a skirt, or shorts.
9. Best Square Toe Boots for Women
IDIFU Women's Aliza Fashion Square Toe Short Boots is comfortable with a heel measurement of 3 inches. The shoe is lovely and stylish. It comes in unique designs and colors.
The square toe boot provides all-day comfort and is safe to the feet with an ultra-soft and breathable plush lining that is also slip-resistant. The ankle boot is also flexible and lightweight.
The quality is standard, and you can count on the durability of the boot. It also has a side zip for easy slip on and off.
You have options for endless combinations and pairing. It can be worn for casual occasions, parties, dances, clubbing, or any other special occasion marked in your calendar.
10. Best Square Toe Statement Shoe for Women
Every woman needs a statement heel in her closet, and Yolkomo Women's Square Toe Clear Mid Heel Mule is the perfect statement heel to have. The clear shoe comes in bright and attractive colors that set it apart immediately.
The heels are also comfortable. It comes in 3.93 inches with a transparent heel. If you want to brighten up for style, this is the right shoe. Furthermore, the mule has a soft-padded insole that keeps the feet comfortable.
You can wear the chic mule for any occasion. You can pair it with jeans, dresses, formal wear, or casual shorts and a top. Also, the fit-to-size shoe is perfect for a chic look.
Picking the Right Square Toe Shoes for Women
Square toe shoes are in our faces right now, which makes it hard to pick the perfect one. This is because there are wide options to choose from.
This could actually be a tasking job. I mean, you have to sit at the shoe store trying to decide to go with one or the other.
This is why you need a compass when you shop. I know, this is easier said than done. But you would realize picking the right square toe shoes for women is not so tasking if you have hints to guide you.
1. Style
This is deciding if you want a heel, flats, boot, or a lace-up. Your preference plays a huge role in what square toe shoe type you go for.
For instance, if you are a lover of flat shoes or sandals, it's only natural to go for low-heeled square toe shoes. On the other hand, heel lovers, like me, are always looking for the next uplifting shoe.
You can get whatever style speaks to you and makes you feel most beautiful.
You can also break away from your comfort zone by getting the square toe shoe in a different style you would never go for. It makes the shoe more charming when you have it in a new style.
2. Season
You would go for pumps and boots for the fall season and stilettos, sandals, and open toes for warmer seasons, like summer.
You should buy shoes you can wear during the season suitable for it. And if you are going on a vacation to a warmer place, pack the appropriate shoes and sandals.
3. Purpose
If you are preparing for an event and you need a new shoe – a square toe to be exact – you need to pick the right one for the event. For example, a formal event requires a pump, statement heel, or stilettos.
A fun or casual day would be nice in flats or short heels. However, your styling and fashion taste can also determine how you style yourself for an event.
If you have an edgy fashion sense, you could opt for a boot instead of a pump for your formal event. Or go simple with lovely sandals. It's all about creating the perfect style for the right occasion.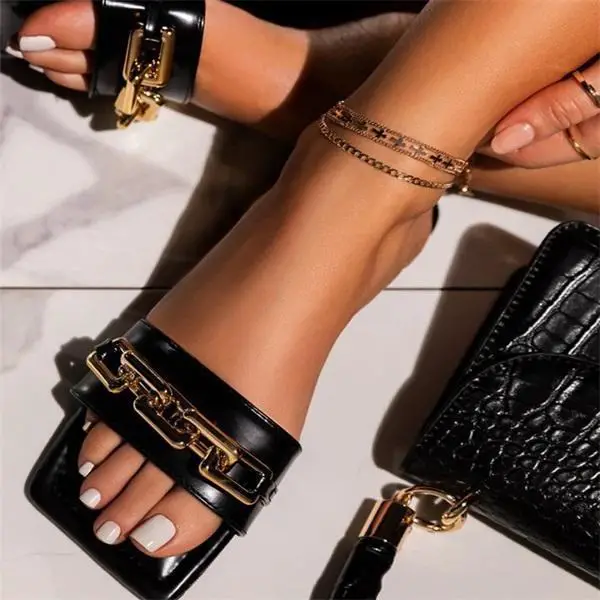 4. Comfort
Growing up, I heard the phrase "beauty is pain". I felt this phrase in some painful ways. And some memorable experiences still live with me. However, I also realized as I grew up that fashion is fluid, and you can represent it however you feel.
In that case, you should go with what you feel most comfortable in. If the shoe you want is smaller or not quite the right one for you, move on. You will surely find the perfect one for you.
Being comfortable in what you wear elevates your confidence. It's nice to take risks, but it's better to take risks with high returns.
On the other hand, it's okay to experiment and fail. You can get it right next time. Life is all about trial and error anyway.
5. Quality
Whatever square toe shoes for women you are getting should be of perfect quality. This also ensures its durability.
Square toes are definitely a trend that would be around for a while, which means you have to get the best quality for your shoes to wear them for as long as you want.
Quality also means high-priced, but it would be worth it at the end of the day. You wouldn't want your shoe to split, or the heel should fall off while you are out rocking it, would you?
Read Also: Find From Simple to Grand Evergreen Gift Ideas for Women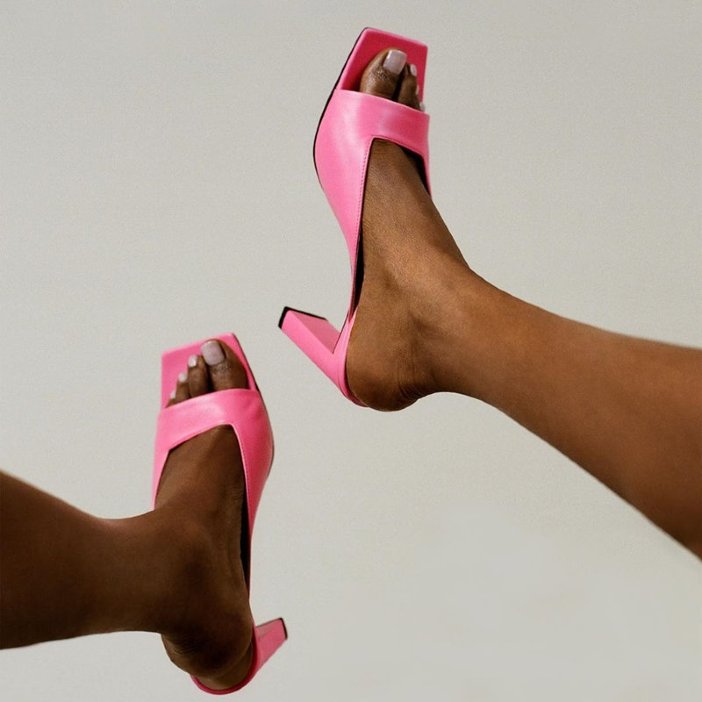 Frequently Asked Questions
What is a square toe shoe?
Square toe shoes are retro shoes that took over the '90s. They have been reinvented into a new trend in modern fashion and are back like never before.
They are flat-edged shoes that are square or broad at the rim sides of the toe area of a shoe. The flat and square toe side makes the shoe look boyish, bring out new angles of a woman's feet. Or showing off the angles.
This makes the shoe less traditional but chic and elegant. In addition, to some retouched designs, the clunky sides characterized by the '90s trend have been redone to make the shoes look different. This makes it retro but new at the same time.
Can I style square toe shoes with anything?
Yes, you can. Square toe shoes for women are not like the traditional curve toes that look feminine. This makes it hard to style for some people. However, it's the complete opposite.
Square toe shoes are quite easy to style and works on anything with the right imagination. It also makes it fun to accessorize. The flat toe and chunky heels make it unique and somewhat tomboyish, especially for the boots and cover toes.
Is a square toe shoe better than a curved toe shoe?
Your choice.
Square toe shoes for women have a tomboyish feel about them. It also brings out the vulnerability of women's feet. The angles aren't what you are used to. However, they make a great shoe accessory.
On the other hand, curve toes are lovely and feminine. They make the feet of women more approachable and slimmer.
You can choose whichever speaks to you and what would enhance your style. But there is no difference between square toe and curve toe shoes.
Conclusion
Square toe shoes for women are elegant and chic. They are a retro fashion trend making a comeback in a unique and redefined way. This is why women are smitten by the shoes because they suit every occasion.
The Yolkomo Women's Square Toe Clear Mid Heel Mule is a great statement square toe shoe. Its color is gorgeous and eye-catching and can be worn for any occasion.
The demure Square Open Toe Mule by Vetaste on the list is simple and classy. It is also great for all occasions, but I think it would go best with denim jeans and a shirt.
If comfort is your true nature, then you should try DanGRida Women's Sweet Patent Leather Square Toe. It is casual, fun, and unique.
I would say my overall favorite is IDIFU Women's Aliza Fashion Square Toe Short Boots. The boot is just perfect with its pristine colors and style. It makes me long for cold seasons so that I can bask in its comfort. But who says I can't wear it during warmer seasons?
Overall, the one thing I have noticed with shoes is their elegant beauty can only be matched with the right style. You have to buy the right shoes for the right occasion, the right style, and of the right quality.
I know buying shoes is not easy when there are many to choose from, especially with the collection of square toe shoes for women that are worth coveting. But you can get the perfect square toe shoes by starting with the ones on this list.
Thanks for reading. You can get more trendy fashion articles that cater to your upbeat fashion lifestyle on Africana Fashion.