If I got a dollar for every second I told people "I love gel nail polish", I would be a millionaire right now. Come to think of it, I just made one more dollar one second ago.
Seriously, gel nail polishes have changed the whole ball game for nail art as a whole. You can get longer-lasting non-chipping nails in awesome and aesthetically appealing colors. The nail art is also authentic and beautiful.
For all nail artists, enthusiasts, and lovers of nail beauty, you need the best gel nail polishes to get your style on like me. That's why the list of the best gel nail polishes is essential in enhancing your everyday life.
Best Gel Nail Polish
Apart from protecting your fingers and keeping you from constantly biting your nails, nail polishes beautify and enhance your style. It also gives you an appealing and aesthetic look.
That's why the best gel nail polishes are essential. These colors and nail polishes are durable and easy to use. Also, they make your at-home nail treatment a fun experience. Even beginners get to enjoy the fun experience without much trouble.
This list is curated based on e-commerce sales data, personal experiences, and social media metrics.
1. Best Gel Nail Polish on Amazon
Beetles Modern Muse Collection is a great collection and a top seller on Amazon. The kit comprises 20 pieces of gel nail polish, 3 wipe bases, and a matte and glossy top coat to complete the set.
The collection is packed with trendy gel nail colors for all seasons and occasions. It also makes a perfect gift for that special someone.
The gel polish is durable and highly pigmented. Additionally, it is a glossy finish that keeps your fingers shiny. However, the soak-off feature makes it only curable with a nail lamp.
2. Best Affordable Gel Nail Polish
Revlon ColorStay Gel Envy Nail Polish is a long-wear polish with a glossy finish. The polish is a formula that won't fade easily and provides a salon-quality impact.
Furthermore, it is formulated with shea butter and oils to help condition your nails. The color selection is cool-toned from white to black.
The glossy gel nail polish is also bubble-free, creating a smooth and clean surface and finish. You can wear it if you want long-term goodness with cool but attractive colors.
3. Best Gel Nail Polish Without Curing
Essie Gel Couture Nail Polish is long-wear and creates an even color coverage on your nails. The polish is designed to create an easy application and drying process with its 2-step system. You don't need a base coat.
You apply the polish and a top coat, then you wait for it to dry. Additionally, the gel nail polish comes with a shiny finish to make the color sleek. Furthermore, it comes in over 100 shades. Finding the right shade of nail polish should be easy.
You can pick from the best colors with no need for soaking or curing and filing. It dries on the go after applying the polish.
4. Best Gel Nail Polish for Nail Art
You need a solid and light color for your nail art. Saviland 6 Color Spider Gel Nail Polish creates a lovely wire drawing design. The polish is highly pigmented with high elasticity.
The polish set is thick and sticky. Furthermore, the simple colors – gold, white, red, blue, silver, and black – are long-lasting. Also, it is made with natural ingredients. It does not contain toxins or an offensive smell.
If you love nail art and would love to try something new, the polish set is suitable for you, even if you are a beginner. However, you need to cure it with a nail lamp to get a long-lasting feel.
5. Best Gel Nail Polish Brand
Deborah Lippmann Gel Lab Pro Nail Polish is quick to dry and known for being beneficial to the skin. The polish also comes in many alluring colors.
Furthermore, it doesn't harm the skin. It is a healthy alternative gel polish if you don't want to damage your nails. Besides this, the nail polish comes with 10 exclusive ingredients to ensure your nails are perfect.
However, you would need a base coat and top coat to soften and smoothen the thick formula.
6. Best Drugstore Gel Nail Polish
If you are looking for a gel effect like no other, then the Nails Inc Gel Effect is a simple polish with no need for soaking off or UV curing.
The polish also provides a glossy and shining finish, highlighting the colors on your nails. It is formulated with plasticizer technology, a revolutionary ingredient in nail polishes.
Furthermore, it is effortless and glides easily on your nails. The highly pigmented polish provides full coverage on the nails and does not harm them. Keep your nails bright and elegant in the bright and silky colors.
7. Best Black Gel Nail Polish
The Beetles Gel Nail Polish in Aubrey Black is an exquisite color polish that is highly pigmented. The polish is a natural best for its long-wear feature. Also, it is a glossy finish.
The color shade is perfect on any skin complexion or type and exudes minimal odor. Additionally, you get to stay safe with its non-toxic formula. It also doesn't have harsh ingredients and adhesives that stick the polish on your nails.
However, you would need to cure the gel polish with a nail lamp or soak it off.
8. Best White Gel Nail Polish
Memeda Milky White Gel Nail Polish with a glossy finish keeps things simple. The polish is stylish and colorful, and it does not contain harsh ingredients or toxins.
Also, the white has a natural tone look. Neither is it too bright to be distracting nor too dull to be unnoticeable. It is the perfect natural-looking white color that blends with the nails.
Moreover, the long-lasting gel polish can last for as long as 21 days, maintaining its perfect shine. It should be cured with a UV lamp to retain its glossy and quick dry finish.
9. Best Gel Nail Polish Color Set
Gellen Gel Nail Polish Set is a 36 color Manicure set. The color set is complete with a top and base coat with a matte finish. It also has colors in pastel shades. And it comes with extra glitter colors for a fun finish.
The colors are long-wear and vibrant rainbow tones for the perfect sunny or warm days ahead. The nail colors go well with any skin tone and can be worn for all seasons.
Additionally, the colors are environment-friendly and have nail-protecting formulas. You can get a fun home manicure experience and a long-lasting polish with up to 21 days' wear.
Keep your hand always in a sunny rainbow with the 36 collection gel nail polish for a simple to extravagant day.
10. Best Gel Nail Polish Kit
Modelones Gel Nail Polish Kit comes with a complete set of gel nail polishes, a nail lamp, manicure tools, nail primer, and a base and top coat set.
The home kit is a full salon at-home experience with its DIY components, making it easy to work and enjoy the experience.
The nail lamp comes with a 48W LED light that is quick to cure. Also, it is very convenient to use and safe. Furthermore, the gel polish sets are elegant colors that are attractive with both a matte and glossy finish.
The kit is compact and easy to use. Additionally, you won't be spending a hefty sum to get the salon treatment with the all-in-one kit. It makes the perfect gift for any occasion.
See also: Get Your Ultimate Professional Finish With the Best Nail Lamp
Notable Mentions
11. Best Organic Gel Nail Polish
RARJSM Holographic Nail Polish with Unicorn Effect is an organic nail polish with a shimmery finish. The polish is a cool-toned set of colors with a spark. Also, the colors are chip-resistant and long-lasting.
The polish is the ideal eco-friendly gift for any special festivities or events. Furthermore, the polish exudes minimal odor, doesn't have toxic ingredients, and is made from natural resin.
Asides from this, the polish is perfect when coated evenly. It does not slip, shrink, or edge. However, you would need to cure with a lamp to get the perfect dry gel nails.
12. Best Hybrid Gel Nail Polish
Meitawilltion Gel Nail Polish is long-lasting with up to 21 days' wear and perfect shine. The polish has a glossy and shimmery finish that comes in bright and solid colors.
Moreover, the nail polish is non-toxic and does not contain harsh chemicals. Rather it is made with natural resin with a high-quality formula and low smell. Also, the polish is lightweight and dries fast under UV light.
It is easy to use and perfect as a gift for any occasion, event, or festivities. If you love hybrid lacquers, then you would love to have this color and others by Meitawilltion.
13. Best Gel Nail Polish for Dark Skin
Sally Hensen Miracle Gel Nail Polish in Shade Boho a-Go-Go 549 is a purple shade that suits dark skin tones. The nail polish color is rich and complements any dark skin complexion.
The gel polish has a glossy finish. However, the gel polish can only maintain its shine and color for up to 8 days. Regardless, the polish is chip-resistant and maintains a perfect salon shine for as long as you wear it.
Also, it is a 2-step gel hybrid that is easy to apply. All you need is your topcoat to keep the shine.
14. Best Neon Gel Nail Polish
The color is a sultry yellow that pops whenever you are out. Beetles Gel Nail Polish in Lala Lime Bright Neon Yellow Color is fantastic for being an out-there color. You need bright colors in your life, and Lala Lime doesn't disappoint.
The color is elegant and suitable for daily routine. It is also free of toxins and safe for your nails. Use a nail lamp to cure it.
How to Choose Gel Nail Polishes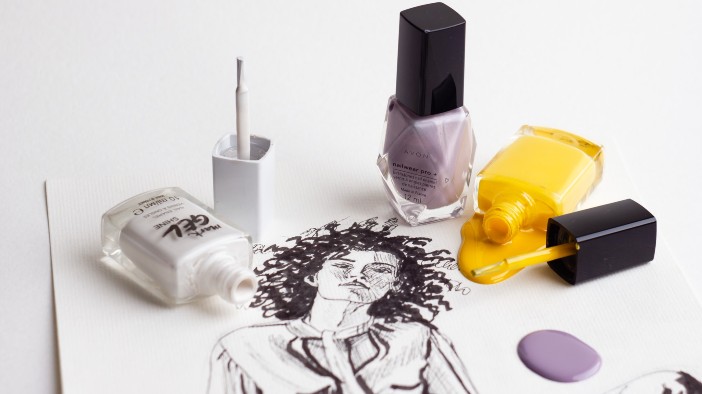 Brand
When you need to purchase your gel nail polish, the first thing that comes to mind is the brand. There are different brands with different qualities and features that set them apart from the others.
You have to know what brand has the best features that suit you. For instance, a brand like Beetles is known to have affordable nail polishes that last long. Also, they have polishes in a wide range of colors.
On the other hand, brands like Essie have a wide range of colors and standout polishes with smooth finishes. However, they are pricey. But this does not stop them from being one of the most purchased nail brands.
Finish
You have to determine what type of finish you want. If you want a smooth and shiny finish, then a glossy polish is your choice. On the other hand, matte finishes are great for providing thin polishes with a clean or even coverage.
When you choose the type of finish that suits your nails, it becomes easier to find the right gel polish.
Compatible Components
This has to do with the polish being compatible with base coats, tops coats, and polish removers. Some gel nail polishes are a 2-step feature.
That is, they don't need a base but only a top coat. Meanwhile, some can provide long-lasting and chip-resistant wear without the base and top coats.
Some gel nail polishes are easy to remove with a gel nail remover of another brand, while others are difficult to remove with another brand's nail remover.
You have to consider if the brand you want to get is compatible with the components of other brands. This would ensure you don't waste money buying a whole new set if that is not your plan.
However, if you want to buy a whole kit, some brands feature everything you need.
Curing
This depends on the time you spend on your nail application routine.
If you are the type of person that can't wait for your nails to dry naturally, a nail lamp should be part of your manicure kit. You should also go for gel nail polishes that can be cured with a nail lamp.
Meanwhile, if you can do without nail lamps and wait a few minutes for your nails to air dry, then you can go for gel polishes that do not need to be cured.
Also, the type of lamp you use in curing your nails matters. Does the polish require a specific lamp or can it be cured by both LED lights and UV light? A good gel nail polish should be able to be cured by both.
See also: Get Your Ultimate Professional Finish With the Best Nail Lamp
Colors
This has to do with the brand or colors offering what would work for your skin complexion. Several colors can go with any skin tone. However, you have to consider your undertone too.
The colors you choose should be colors that go with your skin tone. You can check nail colors that go with your complexion or look for brands with a wide range of colors you can play with.
At-Home Gel Nail Polish Application
When you want to apply your gel nail polish, you can use the following quick guideline or steps to create the perfect nails.
Clean and buff your nails. Also, push back your cuticles.
Apply your base coat in simple strokes. Then you wait for a few minutes or cure under a lamp.
Then you apply your gel nail polish. Follow this with curing under a lamp.
After you apply your second layer and also treat it under a lamp.
Then you apply your top coat and cure under a lamp.
When you want to change your nail polish, you remove it with acetone or a nail polish remover.
Frequently Asked Questions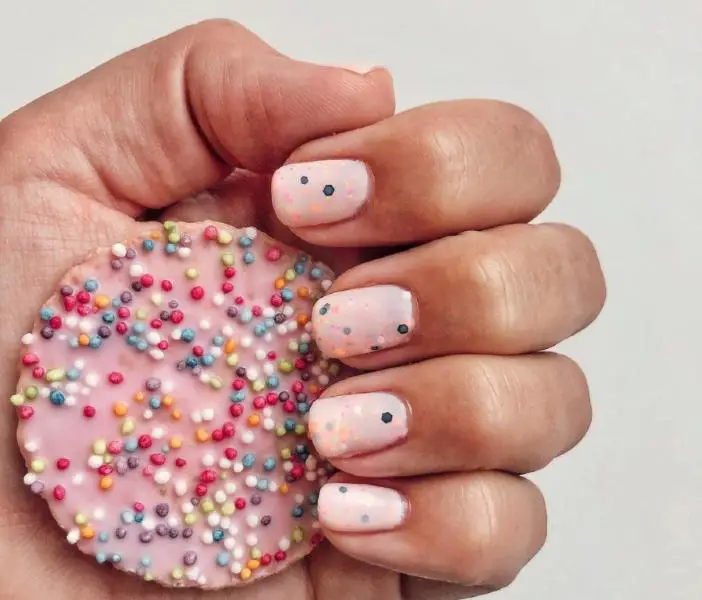 Does gel nail polish peel off?
Yes, it does. Gel nail polishes do peel. However, this is determined by how you apply and the quality of the polish.
A high-quality get nail polish applied the right way would last for as long as the brand says and if not more if you do not do any strenuous activities with your hands.
If you did not apply your gel polish appropriately with its complements, like base coat and top coat, it will peel off earlier than you expected.
Can gel nail polish ruin my nails?
Yes, it can. Gel nails can ruin your nails if you do not care for them properly. You should follow these simple tips to avoid gel nail polishes ruining your nails:
Do not pick on peeling polish.
Let your nails breathe between gel nail polish applications.
Use gel nail polishes with safe ingredients that wouldn't harm your nails.
Use the right nail remover or acetone when removing your gel polish.
Hydrate your fingers and nails regularly.
Only dip your fingertips in acetone.
How do I remove gel nail polish?
When it's time to remove your gel nail polish, use a cotton pad soaked with a nail polish remover or acetone. You need to secure the soaked pads with aluminum foil to each fingernail.
The pressure would let the remover or acetone peel the polish off slowly or gently. Another method is to dip your fingers into a bowl of acetone or remover till the polish comes off.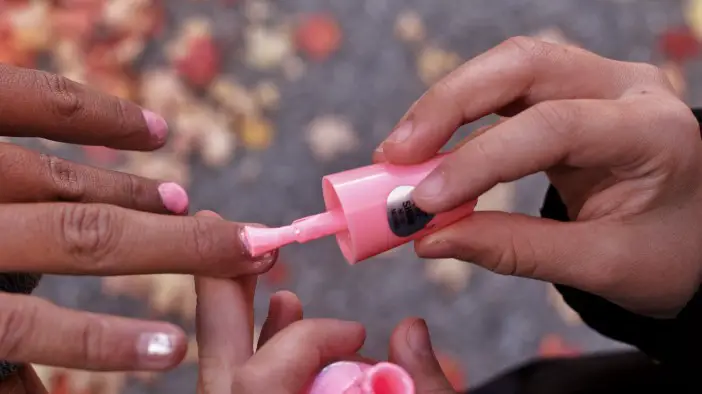 Conclusion
You need gel nail polishes like Beetles Modern Muse Collection for its easy-to-use and wide color feature to spice up your daily life. And if you want a brand you can trust and rely on to give you the best, Deborah Lippmann Gel Lab Pro Nail Polish is the best choice.
I would call myself a rational hoarder. So, a gel polish like Modelones Gel Nail Polish Kit is perfect for the at-home salon experience I desire.
However, the final verdict goes to Beetles. Not only is it the best-selling gel nail polish on most e-commerce stores, but it is also a great and long-lasting polish that you can wear for a very long time.
Gel nail polishes offer long-lasting wear than traditional nail polish. That's why they are the go-to's for nail lovers at the moment. The polish also has a stylish fit on the nails, which makes their colors stand out.
Thanks for reading this article. Africana Fashion provides relevant fashion articles to suit your nail aesthetics lifestyle.