I love Kaftans (caftans) because they are comfortable to wear. Kaftan origin is as vast as the garment itself.
Though modernized, this garment has a deep history that spans centuries and cultures around the world. However, I would try to compress it into an inciting quick read for those who are curious.
History of Kaftan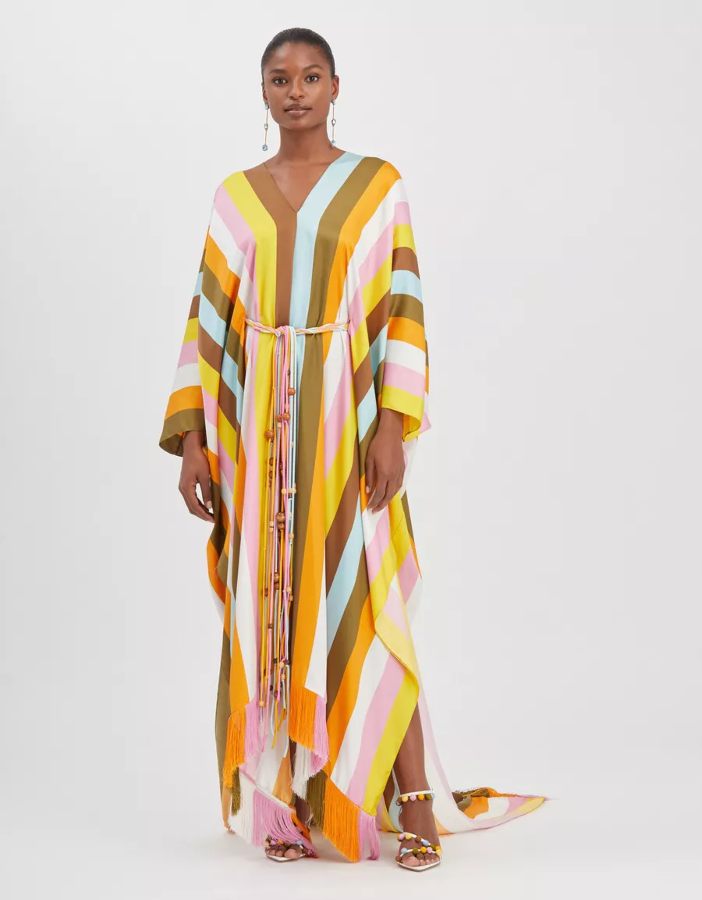 Modern kaftan did not spring up from one from culture. It was influenced by various cultures and this shaped it to be what it is today.
The breezy fabric can be styled however you want it. Also, you can wear it anywhere you want, including that classy formal dinner you have a few nights from now.
But where can we say kaftan origin and history start from? I will be taking you through notable timelines in history where kaftan was most known and which culture made a mark to influence the way we see it today.
Early Kaftan Origin
Kaftan circulated through ancient Persia as a robe-like garment worn by men in the palace. Then it has spread across the Middle East from 600 B.C.E. The name kaftan is said to be coined from the Persian word Khaftan and also the Turkish name qaftan.
Kaftan is said to have originated in ancient Mesopotamia, which includes present-day Syria, Iraq, Egypt, and Turkey. They were a great trend during the Ottoman Empire.
The sultans wore it in bright colors and patterns, with accessories like ribbons, buttons, and gold strings that also served as an indicator of rank and social status.
From the 14th century to the 17th century, the fabrics used by dignities serve as a way of showing class. The garments had full sleeves and narrow robes, and they were mostly worn by the men in power and judges over the state.
The fabric was made from high-grade silk, velvet, and cotton. Also, as the centuries came, the design and patterns on the kaftan reduced to fine patterns and elegantly matched colors.
Kaftan Moves Up North
Kaftan was known to proliferate North Africa around the 13th century during the Marinid dynasty. It was worn by Moroccan royalty and judges. The characteristics of the garment were not so different from the Ottoman Turks Empire.
However, the female kaftan was quite different in style. Rather be widespread at the feet, it was narrow. Women were also known to wear a belt or sash around the waist to accentuate their figure.
Kaftan is known to be worn as a two-piece during the time of Sultan Ahmad al-Mansur. The version of kaftan was named Al-Mansouria, after the sultan. It became a common form of kaftan during his time.  
Also, Kaftan was known to take a common form for the public during the Saadi Dynasty in 1554- 1636 AD. The garment was made in finer silks and cotton for people to wear as everyday wear, while the kaftan with silk and gold trimmings were worn on special occasions.
See Also: Best Ankara Dresses Suitable for All Occasions
Winded to West Africa
Kaftan through trade and nomad migration found itself in West Africa. It is most notable in Senegalese fashion.
It was worn as a pullover robe, a style accessible to both men and women. The style was different from the straight sleeve of normal kaftan wear. Senegalese kaftan had bell sleeves and was ankle-length. Also, it had matching pants called tubay.
This became traditional wear. And later, the kaftan made way for a more modern version called the Bubu, worn by women in most countries in West Africa.
Read Also: 11 Best-Dressed Male African Celebrities You Should Follow
Westernization of Kaftan
Just as kaftan spread through Northern and Western Africa. It became widespread in parts of Europe in countries like Russia, Italy, France, and England.
However, a notable shift in kaftan fashion in Europe was when the granddaughter of Queen Victoria, Alix of Hesse, married Russian royal Czar Nicholas II in 1894.
Instead of wearing the popular cinched corset and curve-hugging dress, Czarina Alexandra opted for the traditional coronation dress. The embellished traditional dress was known to resemble the kaftan of the Ottoman era.
This wasn't actually the starting point of kaftan in Europe, but it is still a notable moment in history.  And the trend of wearing loose-fitting gowns and dresses began to appeal to people.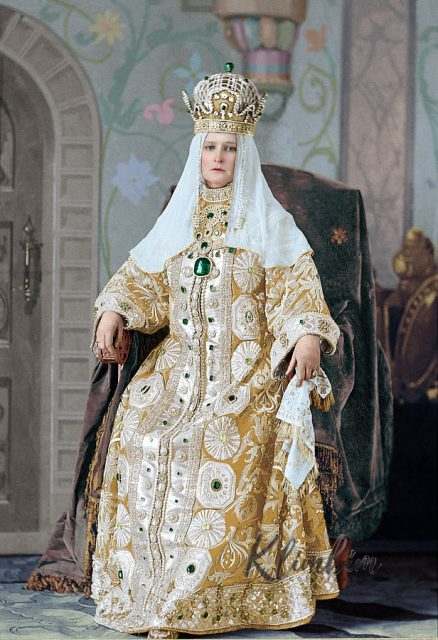 Modern Kaftan Origin
Modern kaftan origins can be said to have truly begun in the 1950s when fashion brands like Christian Dior adapted loose-fitting coat over a dress which sometimes was heavily patterned.
Then in 1966, American Vogue's Editor-in-Chief Diana Vreeland traveled to Marakesh, Morocco, for a shoot. There she fell in love with the traditional Kaftan. She described the garment as "essential for everyone who wants to or is a member of the jet-set."
Other notable people to take inspiration from the kaftan include young designer Yves Saint Laurent, who introduced the "trapeze dress."
Another fashion designer to be inspired was Cristóbal Balenciaga, who experimented with unusual shapes and came up with the sack dress, balloon jacket, tunic dress, baby doll dress, and balloon skirt.
Modern Kaftan Era
The kaftan continued to take different shapes in the fashion industry, with many taking inspiration from bits or pieces of the garment.
During the early modernization of kaftan, mostly heavy materials were used. However, they were ditched for flowing floral materials, especially during the1960s and 1970s, where music and fashion were seen as one. Then kaftan was one of the highlight dresses defining the bohemian style.
Over time other variations like the short kaftan became a thing. But kaftan took a quiet turn after the 70s, playing a major role only in beach wear and casual clothing.
However, this has changed. With high-end brands like Elie Saab, Gucci, Roberto Cavalli, Oscar de la Renta, and Stella McCartney bringing back the elegance of kaftan garments.
The versatility of the garment became a known thing again, and now it is back in the fashion industry, better than before.
The trend of kaftan has changed since then. Being of different colors and prints. And these patterns and fabrics speak of a trend or ideals.
The unstructured fabric is free and not clinging, accentuating the body according to the weather. This is why it has been an interesting part of different cultures. Now the modern kaftan can be worn by anyone wanting to feel free and relaxed.
Best Fabrics for Kaftan
From the olden kaftan in history to the modern kaftan styles, the materials used are what determine how the garment forms. Some of the materials are still being used for today's kaftan.
Cotton Kaftan
Cotton is a breathable fabric that is also durable. Also, the fabric allows for soft colors and can be lightweight on the body, allowing it to flow freely.
Silk Kaftan
Kaftans mostly come in silk.  They are elegant and smooth on the body. The material also flows freely, allowing you to be comfortable. Also, it comes in beautiful colors and patterns.
Silk is most beautiful when it is in a loud and vibrant color. This is why kaftans made from silk are elegant, no matter how vibrant the colors and patterns are.
Wool and Cashmere Kaftans
These are thicker and are meant for cool weather or seasons. The fabrics are durable, soft, and light to the skin. Also, the kaftans that come in these fabrics are great for insulation during cold temperatures.
Read Also: Find From Simple to Grand Evergreen Gift Ideas for Women
Frequently Asked Questions on Kaftan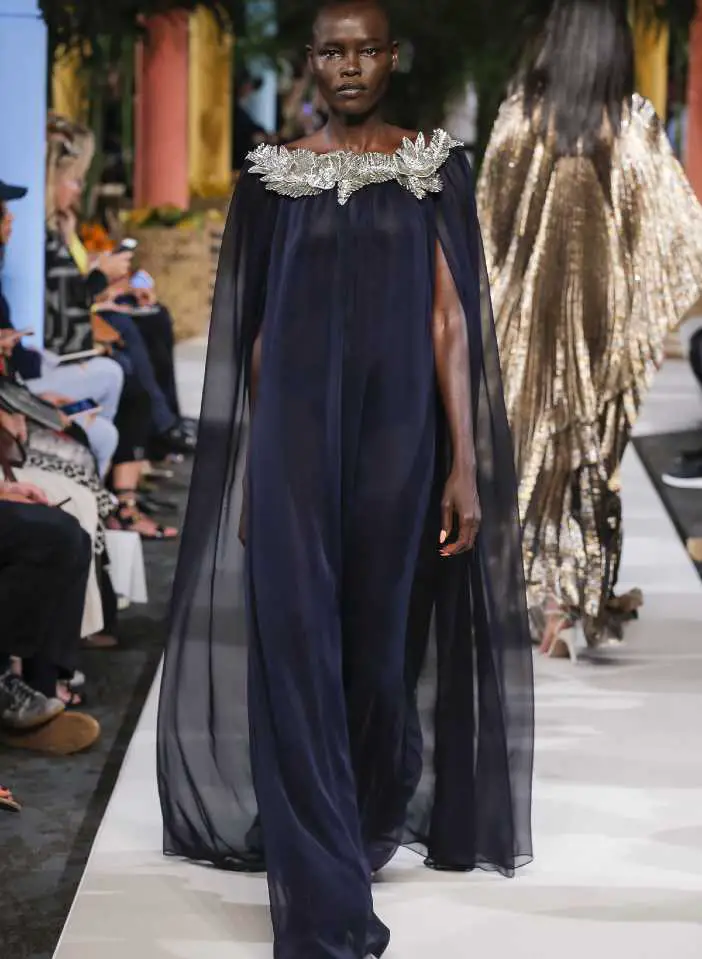 Can I wear kaftan anywhere?
Yes, you can. You can wear kaftan anywhere and to any occasion.
Usually, when you decide to wear a kaftan, what matters is how you style kaftan. You can wear it for formal occasions and social events like weddings. You can also wear it around the house.
How you style the garment is what determines its appropriateness for the occasion.
Are kaftan dresses flattering?
Yes, they are. How you want to see yourself in a kaftan is what makes the outfit flattering.
If you are pleased with your styling choices, the dress would look gorgeous on you. Naturally, kaftan dresses are fun, carefree, and easy, so you don't have to worry about not looking great. It is meant to flatter any body type.
Can I wear kaftan to work?
Yes, you can. You can wear kaftan anywhere.
However, if you want to make the dress your work dress, pick a mid-length kaftan you can wear legging, pants, or jeans on. Using a belt to accentuate your waist will also give it a semi-formal look.    
Conclusion
Kaftan origin story is unique because it is influenced by many cultures over time. The breezy garment has existed for centuries and has changed and developed interestingly.
From the early days in the Mesopotamian Empire to the runway of haute couture brands, the kaftan has shown its versatility and change in style. Also, it has influenced so many dresses of different cultures.
This has also influenced how we see the modern kaftan. Now anyone can wear the dress no matter your cultural background. When you think of kaftan origin, you would look back at what great gift we have been given in the fashion industry.
Africana Fashion provides relevant fashion articles that would enlighten your daily lifestyle and also improve it.