It's no secret that African culture diffusion and importation are increasing in North America. When it comes to music, fashion, and lifestyle, there has been imitation, inspiration, and appreciation from the land of colors and deep cultures. When it comes to fashion, African kaftan styles are one of the exports that are becoming a wave in North America.
This loose-fitting and light material is a cultural heritage that propagated most of North-West Africa. Though kaftan has a reach beyond the continent, when it comes to African kaftan styles, there is a difference.
One of the characteristics of African Kaftan styles in color. It is always vibrant and colorful, giving it a story or an aura that speaks culture and history. The patterns are also unique. It could feel like you are looking at a kaleidoscope that would take you deeper into the realm of wonder. That is how wonderful the prints are.
What most people think about kaftans is limited, like the apparels are only good beachwear, for example. But with African Kaftans, we are seeing elegant styles that can be perfect for any occasion.
How to Wear African Kaftan Styles
It's not hard when it comes to wearing modern African kaftan styles. You just have to know what works for you and what doesn't, especially with colors. But don't worry; they come in splendid colors that would leave you stunned. So how do you wear these styles?
1. Wear it long
This is one of the most common ways you can wear an African kaftan. Most kaftans come in this style. You can enjoy a spring or summer breeze in this free-flowing dress. It's loose, free, and flattering. You won't feel constricted when you wear it but instead, feels like you aren't wearing anything.  That's what kaftans are all about. The allowance.
You can pair long kaftans with sandals or nice slippers. Long kaftans work better with open toes to give it that free boho look. You can also pair them with a nice straw hat, especially if you are vacationing by the beach or in a nice tropical area.
2. Wear it short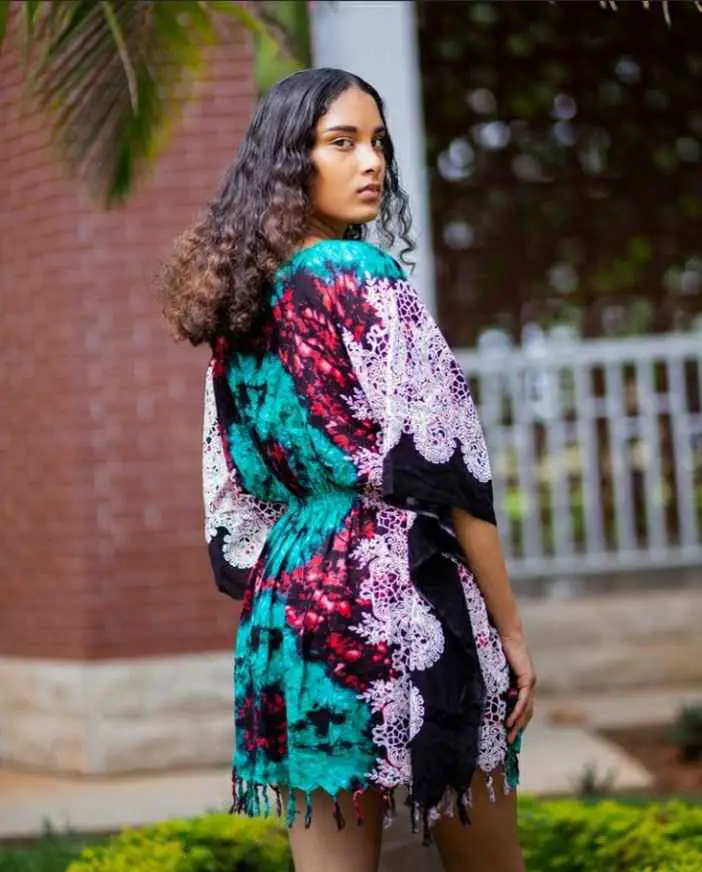 Short kaftans are less formal and can go well with nice jeans. They are good for warm weather and just a free day in the sun. You can pair them with nice statement jewelry like beads or Aztecan pendants; something big and dramatic to match the colors of the fabric.
They are also great in the cold weather. All you have to do is put on a nice coat and you are good to go. If you want to look traditional, you can put on a nice printed headwrap to complement the material.
3. Wear it with stones and beads
This is a new way of changing the simple look. Imagine getting lost in a string of embroidery, but with added shining precious stones to it, you will be seeing the stars. Adding stones to an intricate design to African kaftans are a new rave that is going nowhere anytime soon. Well, they did say women are attracted to bling.
Adding stones is a more modern way of making the ethereal style even more divine. It's even more comforting to know that a stoned or beaded African kaftan adds a classier look that you don't need anything else to stand out. Most times a statement earring is all you need to complement this look. The shining precious stones are already doing all the major attractions for you.
4. Wear it as a sheer
These types of African kaftan styles are mostly made in cotton or silk to give them that light see-through. You can wear a playful sheer kaftan to look nice and fun. The style is always inviting and approachable. They make the perfect beachwear.
For innerwear, you can opt for a nice silk strap gown the same color as the kaftan fabric. You can also go for a nice camisole and shorts. When it comes to sheer kaftans, pairing it with a uniform color underneath is what will bring the beauty out.
5. Wear it fitted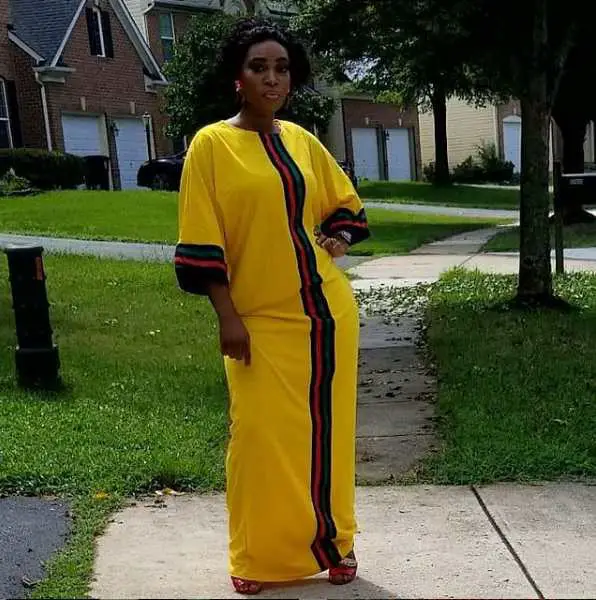 This is another way people are embracing African kaftan styles. Most kaftans are meant to be loose fitting on the body but you can find some wearing it a little fitted to the body. It would still be loose but with a cinched waist to flatter your body figure.
African kaftan in fitted styles offers a more formal look and can be worn on formal occasions. Depending on how you style it, you can draw people's attention to what you are wearing.
6. Wear it like a modern kimono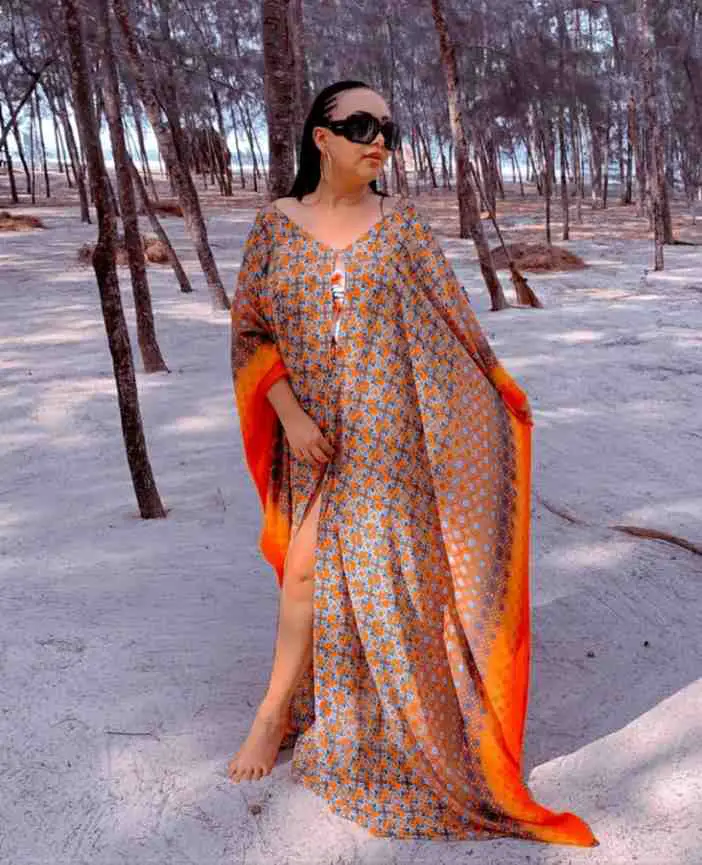 This is a modern African kaftan style with a modern and cultural twist. Well, it's not like open kaftans haven't been in existence but being cut like a kimono is accepted these days. They were mostly used as swimsuit covers in the past. But now they can be cut just like a modernized kimono jacket and worn loosely handing on the shoulders.
This is another lovely bohemian reference and it always gives a causal free and fun look. You can wear a camisole and jeans or leggings under them. You can also wear shift silk dresses underneath or a nice bodycon gown.
Know what's leading the fashion scene by following these 11 African male celebrities with impeccable styles.
African Kaftan Styles FAQs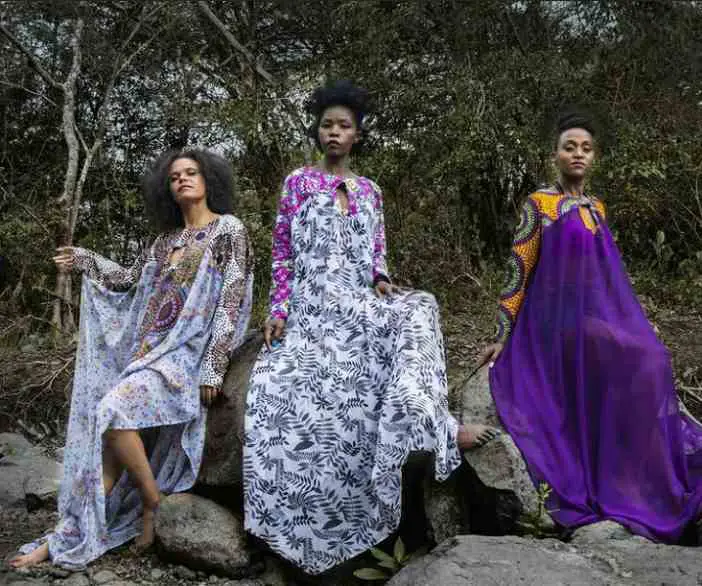 What is African kaftan?
African kaftans are loose-fitting dresses with bold and often exaggerated prints. They are very lightweight long-sleeved tunics with an embroidered neckline but wide sleeves. Their fabrics include silk, cotton, cashmere, or wool. They are good for a hot climate. That is why it is staple wear known in most North-West parts of Africa.
They are usually colorful with different statement patterns that are very Afrocentric. The traditional kaftan is mostly ankle-length but modern designs have reshaped the way they look into different styles.
Kaftans originated in the Middle East but through nomad migration, swept to northern, western, and eastern parts of Africa, where the style was colorized into what we know as African kaftans of today. Kaftans used to signify royalty and class in the early days. And it must be said, they still have the same elegance, royalty, and class characters today.
Is a kaftan good for all seasons?
Yes, it is. Though they are lightweight clothes, some can be worn in the warm seasons and cold seasons. Short kaftans are good for any type of weather or season. Just make sure you have your coat on as a protective layer of clothing before you go out. Long kaftans can also be worn in cold weathers with a stocking or leggings underneath. But also make sure you are not trudging along a snowing road with it.
The fabrics made with kaftan also differ. There are some fabrics made of cotton or cashmere. These types of fabrics also pass for any season.
Does kaftan come only in one size?
No, they don't. African kaftans mostly come in a one-size-fits-all because they are loose-fitting but they also have size ranges from slim to plus size. So they have a size range for every possible body shape.
Do men wear kaftan?
Yes, they do. Kaftan originated in the Middle East during the early Mesopotamian empire. It was mostly worn by men of great wealth and nobles. Then it became a universal style worn by all. In modern days, there are kaftans for men, even in African prints. Men's kaftan is not cut like a woman's, though there are kaftans that can be worn by both men and women.
How do I accessorize my kaftan?
There are different ways you can accessorize your kaftan. You can wear statement jewelry for instance. Large necklaces and earrings give the Afrocentric prints a nice touch, especially when there are no embellishments around the neck.
African-inspired headwraps in prints also go well with kaftans. Or you can try a nice church hat for a good day on the beach. Whatever you choose to wear with your kaftan must be as eye-catching as the material itself. This way it wouldn't get lost in the sea of colors.
Another way to accessorize is by having excellent hair extensions to give your hair the volume and length you desperately need.
Conclusion
African kaftan styles are the rave because of the cultural diffusion going on in North America. There are different ways to wear a kaftan and it all determines what you want. You can wear a nice short kaftan and pair it with jeans for a simple fun day. You could also decide to go for a more formal fitted kaftan if you want to look a little dressed up.
No matter how you decide to style or wear your kaftan, the accessory you want to use must be as vibrant as the fabric, so that it will not get overshadowed by the sea of colors on the fabric.
Africana Fashion provides fashion articles that would improve your fashion lifestyle.