Knowing how to use the right nail colors for dark skin tones is essential for your optimum appreciation.
You might think this is easy because it's nail color after all. You just have to look through your neatly kept pile of colors to pick the right one.  Yes, it might be easy but we know even if we love some colors, it doesn't mean we will love back.
If you are a brown-skinned lady, you don't have to worry, there are a million and one shades in the rainbow chart that your skin can complement and make that nail pop. You don't have to worry about sticking to nude or the RBG (Red, Blue, and Green) undertones to get a standout nail.
There are lots of colors that you can play with and you can start experimenting with these wild and bright colors of your choice.
So push yourself out of your comfort zone and take your pick out of these colors that look incredible against dark skin tones.
Read also: 13 Nail Colors That Perfectly Complement Dark Skin
1. The Classic Red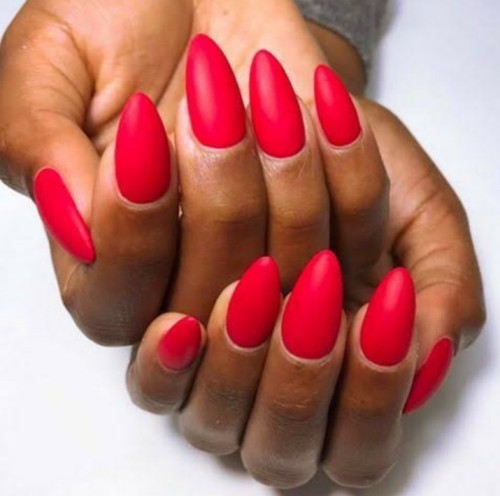 Red is a go-to color for dark skin tones because it exudes elegance and class all the time. It can be worn any time of the year, especially for occasions when you want to make a bold statement.
2. Cobalt Blue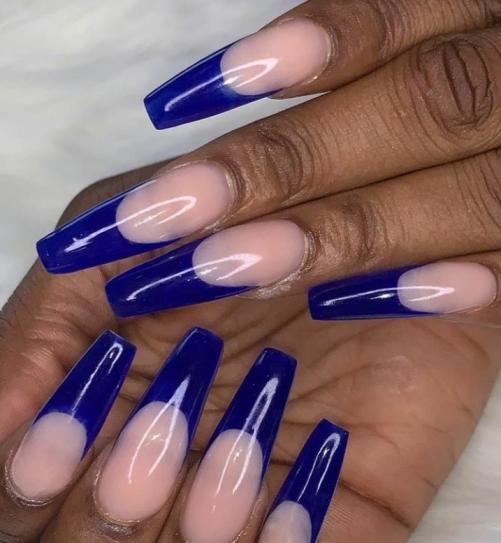 Yes, this is another primary color, but you have to admit bold and bright colors pop out on dark skin tones. It also speaks regal class. Cobalt blue can be worn any time of the year also, especially in spring when colors are in full glow.
3. Chocolate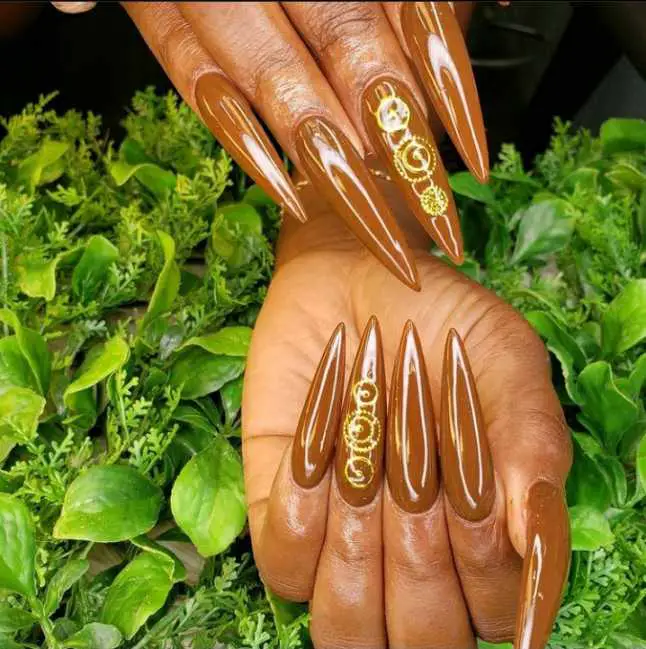 Monochromatic nail polish will still be in trend this year and what best way than to rock it. You can pick a color that closely blends with yours to give it that seamless manicure. Though the nail color won't pop against your skin, it will give it that artistic statement that would turn people's heads.
4. Burgundy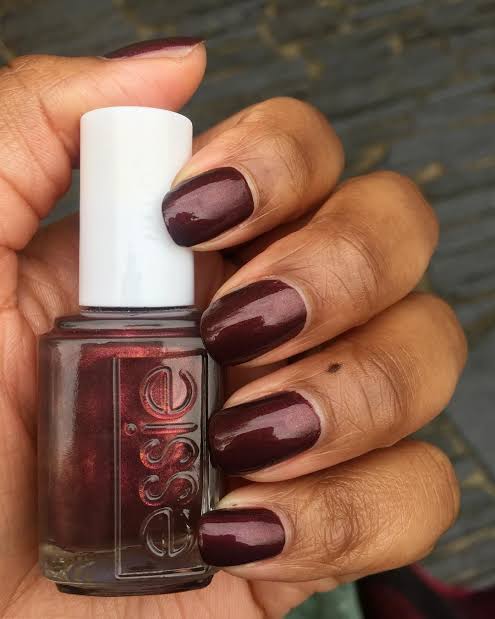 Burgundy is becoming the classy-edgy color to go comes after red. The deep and mellow tones give it a powerful aura that speaks in a room. To get the best effects, you can pair it with a metallic accent.
5. Lemon Yellow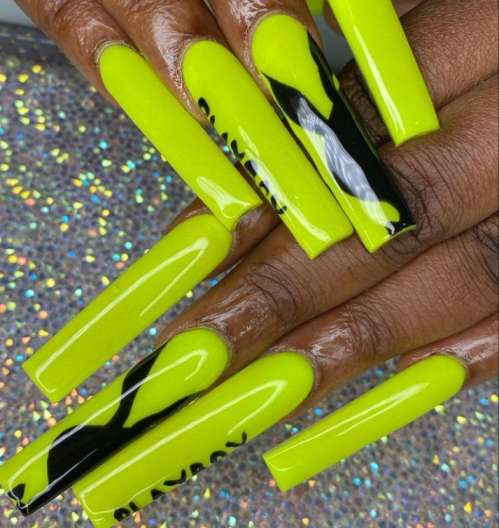 Flashy colors are the rave right now, and what better way to stand out than with a lemon yellow color. The nail color will give an acid-citrusy feel because of its color semblance to the fruit. You can wear it when you feel like going edgy but still with a little class and add color accents to make it pop.
6. Cream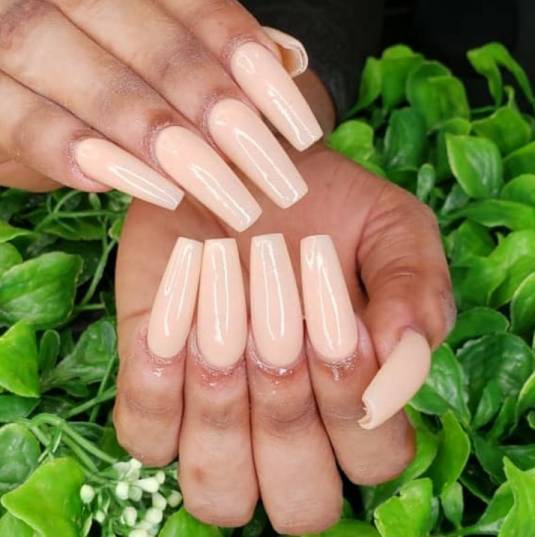 Cream nail polish will always stand out against a dark skin tone. It's a color that will rather than wash out your skin tone, it will emphasize the deep richness of it. It also goes with any outfit, making it the safest choice. Like they say cream and coffee are like five and six.
7. Rust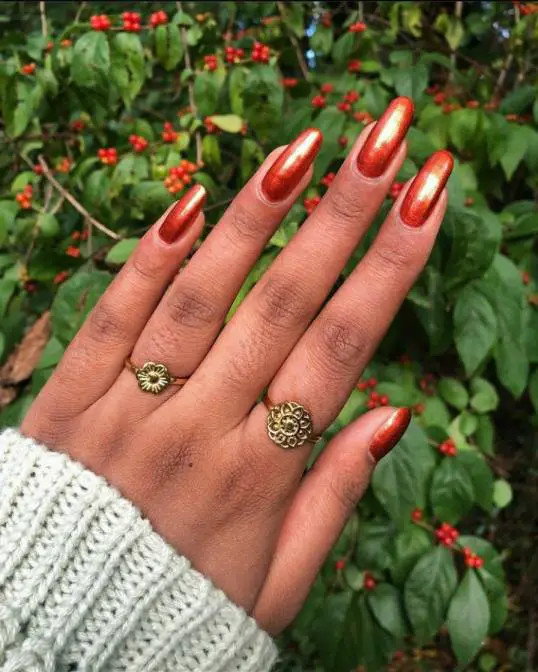 This is another nail color that gives an understated pop. Using rust is really nice to the skin without being too bright to be blinding. You can add sparkling adornments to give you a more edgier look.
8. Neon Yellow
This screams wild fun. The fluorescent yellow acrylic nails will surely draw the attention it is craving. Wearing this nail color will make you look chic and fun. You can wear this on days where you need a confidence booster.
9. Bright-Out Orange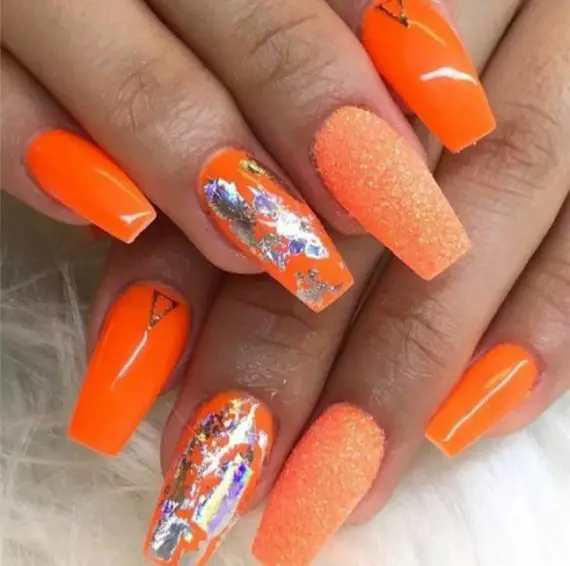 This vibrant color is a dark skin's best friend. The color alone is bound to give you the confidence boost you want. Orange tends to wash out with pale skin but if you are dark-skinned be sure to experiment and see the color bounce nicely off your skin.
10. Metallic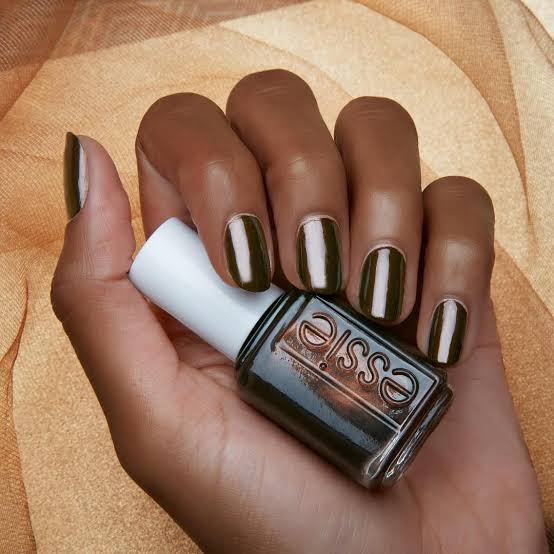 Metallic came into the nail world a few years back and since then it has stayed in trend. Paired with sparkles, metallic is sure to stand out when you wear it. It is good for a night out, the festive season, or any other lively occasion.
11. White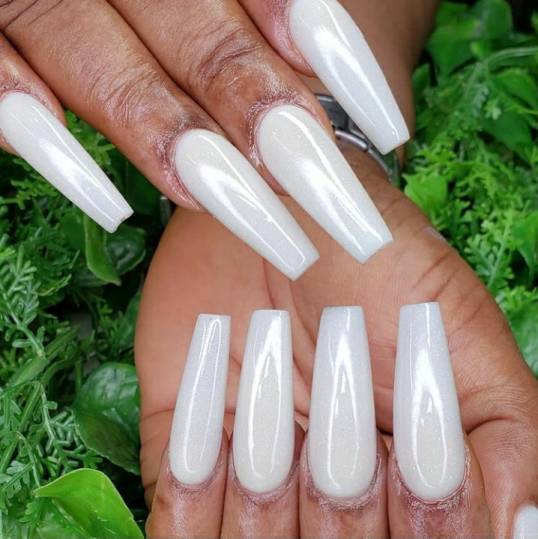 Let's face it, white will forever be a classic nail color for dark skin tones. It is a timeless nail polish color. The bright crisp, clean shade against deep chocolate skin will create a contrast that will stand out anywhere, anytime, and anyplace.
12. Jelly Nails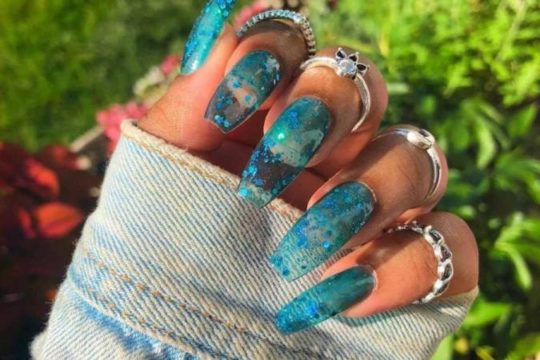 You can try this fun trendy look to spice things up and still make it simple. Jelly nails involve wearing see-through acrylics in bright colors that will beautifully pop against your dark skin tones.  They could be your go-to style if you are looking for exquisite simplicity.
13. Soft Green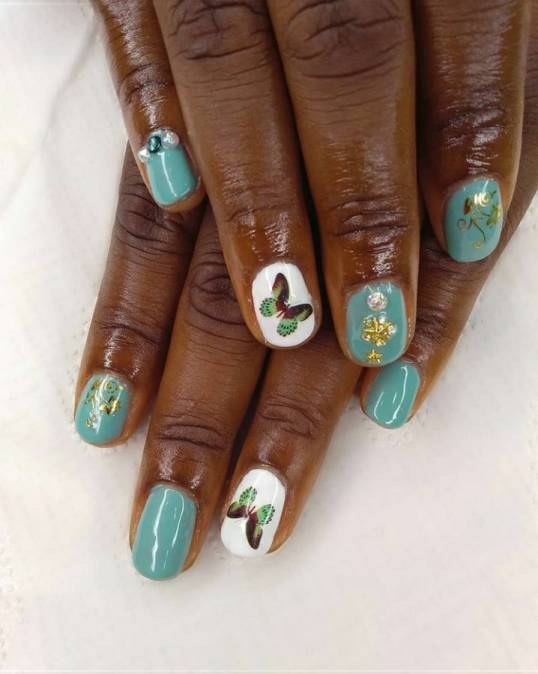 Having a little green accentuated by a bright color like orange, white or yellow is a fun way to show off colors on dark skin tones.
14. Taupe
This brown-meets-gray color makes the top of the list as far as nail colors for dark skin go. Taupe gives a subtler feel on dark skins, just like the cream polish. You can consider pairing it with a gold glitter accent nail for a touch of glitz.
15. Baby Pink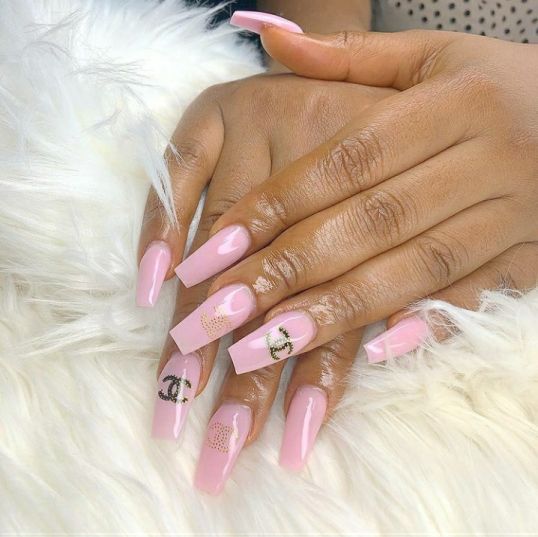 This is another soft shade that creates a beautiful contrast against dark skin tones. The nail color gives a subtle and natural feel when wearing it. You can make it bolder with accents or another brighter color if you want to switch things up.
16. Pastel Rainbow
Having different shades of the pastel hue striking against the skin gives off a natural and exquisite balance, all you have to do is rock it. Don't waste your time and try it out now.
17. Lilac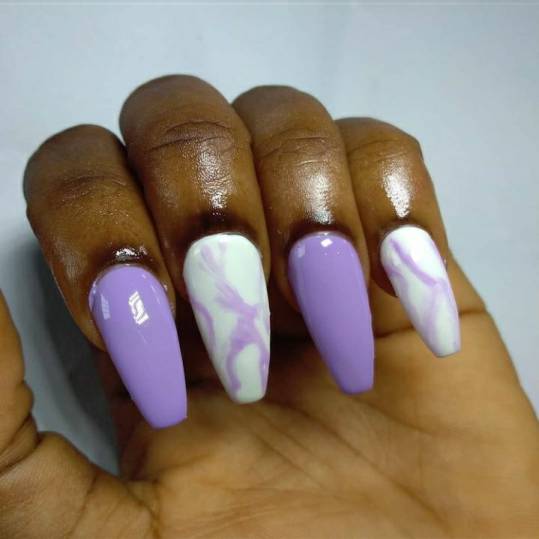 Another pastel hue is the lilac color. Many are a fan of this nail color because it gives a sunny disposition on dark skin tones. You can accentuate it with white to give it the edginess your finger craves or with a sparkling nail finish if you are going for cute.
While you are here reading about nail colors for dark skin, you can also check this article out.
18. Grey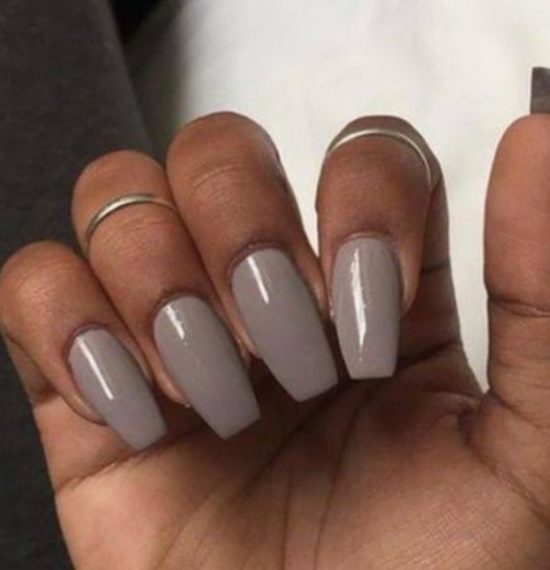 Whether you prefer light grey or dark grey, the varying shades of gray are a great option for dark skin tones. Light gray will create a neutral contrast against your deep skin, while dark grey will further emphasize your dark tone.
19. Gold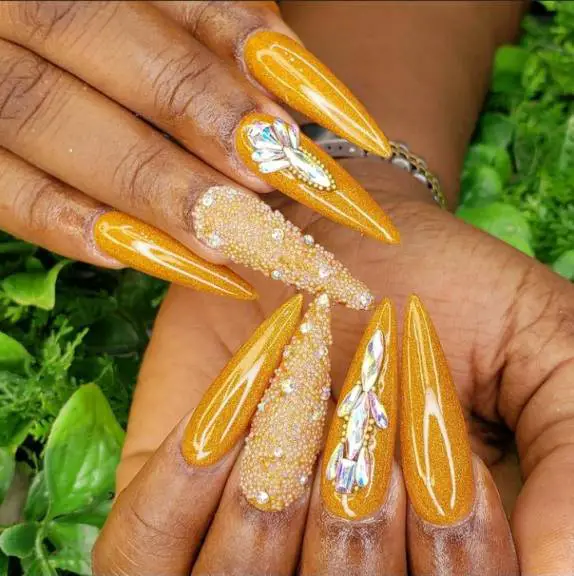 A buttery hue has flecks of gold woven throughout the polish for a standout yet elegant manicure that works no matter the season. Plus, the intricate eye design will have people doing a double-take.
20. Tye Dye Nails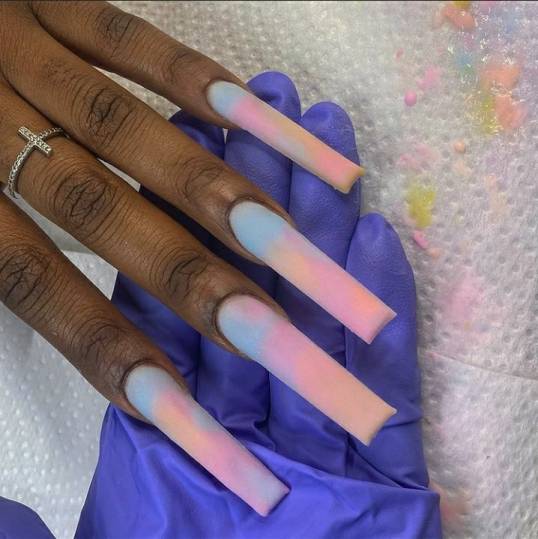 The type dye color gives a pretty contrast to dark skin tones. With the different colors in a kaleidoscope, it will give the illusion that there is more to it than the eyes see.
21. Never-Ending Nude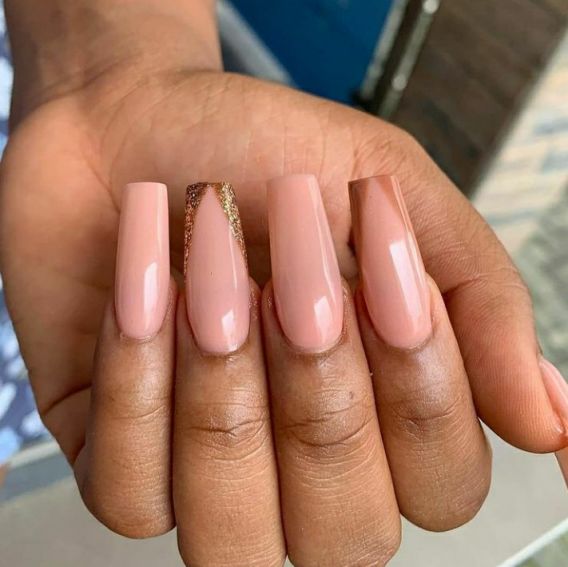 Read also: Get Your Ultimate Professional Finish With the Best Nail Lamp
Nude is another timeless color that is always top of the list. It makes the fingernails look natural and pops it out more with its subtle undertone. If you are looking for a classy and younger feel, the nude nail polish is just for you. And it goes with any season all year long. You can accentuate it with a bright color, sparkle it up, or bedazzle to dazzle. All up to you.
To get the best out of the nail colors for dark skin tones, use trendy nail art designs that would highlight the features of the colors well.
Liked this article? Check other interesting ones in the category.