There is something enchanting about a good well-kept beard. It is sleek, smooth, roguish yet elegant. How you present your beard is how the world will get to see you. That is why beard grooming is essential for creating a perfect look.
Naturally, men need not be taught what beards are. But they need to learn how to go about caring for them. Growing beards is natural and something that happens to every man. At one point in life, you realize you are growing facial hairs, despite your genetic dictates.
A good and nurtured beard gives you the perfect appearance you desire. But it is up to you to decide whether to shave it off and keep a clean smooth face, or you could leave your facial hair to grow, enhancing your facial structure masculinity. What you decide to do is up to you.
If you are a person that keeps up with trends, you would have noticed the increasing popularity of beards and keeping facial hair. Beards are now becoming a lifestyle and form of expression for men.
In whatever form, style, or color, there is always something you will remember about a good beard on a man. It is not only attractive to the eyes, but it speaks of a class, elegance, or way of life.
So, if you are a total newbie and love to get your grooming on but don't know where to start, we got you covered. You will get to know everything there is about this art -yes, it is art – and how it improves your lifestyle.
Beard Grooming in History
Beards have been in existence since prehistoric times. The beard trend had evolved, coming in and out of the spotlight. And for now, we can say it's back full force.
In ancient times, beards were used for protection, warmth from the cold, and intimidation. They were certainly groomed but not as we do in modern times.
For instance, in ancient times, the Babylonians have been recorded to use oils like sesame seeds to treat their long beards. Also, Native Americans used oils like castor, grape seed, and almond oils to moisturize their beards.
In Middle-Eastern empires like Persia, men were known for dying their beards reddish-brown to show class. Egyptian nobles were also known to dye their well-groomed beards auburn.
Many kingdoms in Europe during the middle ages kept beards to show power, masculinity, honor, and nobility. And, you can't think of the Vikings of Norse legends without their wild epic beard styles that conveyed their strength and power.
In modern history, beards took a quieter run as nobles preferred clean-shaven faces to bushy beards. Full beards were seen as scruffy and dirty.
Instead, manageable and quaint mustaches were opted for. And now, beard and beard grooming evolution is taking center stage again, becoming an art that people love to see.
Beard Grooming FAQs
What is beard grooming?
You can describe beard grooming simply as the form of caring for your facial hair – your beard. It encompasses growing, nurturing, trimming, and styling it.
Though, beard grooming is more than this. You can also look at art holistically as a lifestyle. Men who grow and delicately care for beards or stubble are seen as men who pay close attention to their appearance.
In different periods in time, how you wore your beards spoke a lot about your status in life. Though now it's more of a lifestyle choice, beards are still important in conveying who a man is. If you love setting goals for your body or appearance, grooming a beard is a nice challenge.
No matter how you wear your facial hair, you have to care for it so that you won't look unkempt. Some men are blessed with glorious mane but waste the opportunity to create something beautiful with it.
That is why beard grooming is important. It helps to create a kind of alcove for you to experience new things about your face.
Why do I need to grow beards?
You might be wondering why it is necessary to grow beards when a clean-shaven face will still get you the smart sexy look you want. But with the increasing popularity of beards, you wonder what the fuss about beards is.
If you are an aspiring beard groomer or a newbie, you will be enjoying the following benefits of beard grooming:
It is a natural filter
An important benefit of beard grooming is having microscopic allergens that may easily penetrate the nose kept out of it.
A beard serves as a filter from airborne bacteria and allergens for the nose and mouth.
Growing both your mustache and beard will guarantee you a twofold safety net you won't have with a smooth face.
It helps to block UV rays
Another benefit of growing a beard is that it helps to block UV rays. Your skin won't get burnt; neither will your chances of getting skin cancer increase.
A research carried out on beards and UV rays discovered that thick beards are good enough to block 95% of the sun's UV rays. That is a high number in anyone's book.
Beards reduces acne
For acne-prone faces, you should consider switching to beards because they reduce acne. Due to your facial hair growing, bacteria is likely not to spread.
Shaving increases the spread of bacteria on the face, so keeping your beards growing will protect your face from getting blotches that may turn into spots or scars.
Beards help to keep your skin moist
Another benefit of growing beards and grooming them is to ensure your skin looks nice and healthy.
When you shave, your pores are mostly open and exposed, leading them to become dry. And you might get flaky skin during winter, so it is best to keep it covered to protect the moisture in your skin.
Helps to build confidence
With beards, you can become more confident with your looks. Beards give a sense of power and difference.
It acts as of cloak to show people just what exactly you want. You can build your confidence when you have the power to control how people see you.
Changes perception
How you wear your beards will change people's perceptions of you.
As mentioned earlier, you can control how people look at you with your beard grooming. You can look dandy, elegant rugged, positive, mature, attractive, or healthy with the way you wear and style your beard.
There's a sort of power you feel when you can control people's perceptions of you.
It gives you fewer wrinkles
With your beards safely protecting your face's skin, you will be protected from the sun's UV rays.
The sun is the number one external factor that causes wrinkles and dry skin. But with your face covered in a beard, you won't get wrinkles as early as a smooth-faced man.
This is a great incentive to make you grow your beards.
Makes you more attractive
Let's face it, there is a good beard on you that will give you the extra attractiveness and maturity a smooth face won't.
A study has shown that a man with a moderately full beard is the most attractive.
It also found that men with full beards are perceived as better fathers who would protect their children. It's a powerful look that works well.
What is in a good beard grooming kit?
There won't be perfect beard grooming without a grooming kit. Whether you want to keep your beards long, short, thin, thick, cropped or stubble, you need a kit to achieve the look.
A beard grooming kit contains the tools and products you need to keep your beard trimmed and tidy. Some beard grooming kits also contain products to keep your beards looking healthy and shining.
To keep yourself looking dashing you need to have the following tools in a good bear kit:
A round brush
A round brush is versatile and the best to style your beards. It helps to create dimensions, shapes, and volumes for your beards.
You can also use it to curl and curve your beards. You need to pair the brush with a hairdryer to get your curls smoothed to make styling easy.
A boar brittle brush
Boar brushes have scales that are great for plucking grime and dirt from your beards. It is used to distribute products like oils through your beard.
You can also exfoliate your skin with the help of a boar bristle brush. Not only does it remove dirt, but it also brushes off dead skin cells lodging in the skin pores and beard.
With the brush, frizz can be tampered down and circulation of blood is stimulated.
Comb
You need a large beard comb and a medium-sized comb. The combs must be two-sided and versatile when it comes to combing through the facial hair.
It is especially good for medium-length beards. The comb works by gliding easily through the beard without snapping or being caught in your tresses.
A tool that might not be in a kit but is also needed is a pocket-sized comb. This is great for mustaches and shorter beards that are still tangle-free.
Scissors
Scissors for beard grooming kits come in different shapes and sizes but they are essential tools. Sheer scissors are used to trim your beard.
They are one of the most important tools in a kit. You will need scissors to cut out flyaways.
They are usually used before a trimmer to cut out the beard, before using a clipper for precision.
Clippers/Trimmers
A trimmer is a must in a beard grooming kit. With a trimmer, you can trim your beards with precision.
You will also be carving out your edges with a clipper, especially your neckline. In a grooming kit, there are multiple trimmers with different guards.
These pieces are shaped for long, short, thick, and thin beards.
Clippers or beard trimmers are essential because you have to use them to keep your beards neat and prim.
You can also opt to buy a full clipper set if you want to do your serious trimming on your own without having to see your barber.
Beard oil and wax
Beard oil and wax are used to shine and style your beard. They are the last products to be added to your beard. They also moisturize your beards and keep the tresses soft.
Without beard oil, your beards may become dry and brittle. And a wax will help your beard slip into the style you want easily.
You could either buy a specialized oil and wax or use the one that comes with your kit.
The texture of your facial hair will determine whether you need extra care for your beards. That is why there are products to help you give advanced care to your beard.
When you are looking for a complete set, you should try GoldWorld's complete beard kit. It comes with a beard wash, comb, scissors, beard growth oil, brush, and storage.
Also, it adds an e-book on how to groom your beards and also a beard grooming gift. It's the perfect gift for men.
Notable mention
Hairdryer: Hairdryers are for thick and stubborn hair that knots easily. You should use dryers with a small nozzle to work your way easily as you comb.
The heat won't affect you too much even if you focus the nozzle on one part of your beard. And when you are done, apply the cool function to set your beard in place and close your pores.
What are the products I need for beard grooming?
While you have a good beard grooming kit to trim and care for your beards, you need beard products to make them healthy and also grow properly.
Some of these products may not come with the kit, but they are necessary if you want to look dapper with your beards.
Asides from beard oil and wax that usually come with a grooming kit, there are other beard products essential for grooming beards.
Beard Shampoo and Conditioner
Facial hair is just like the hair on our heads, they need to be washed, moisturized, and hydrated. Beards have their own shampoos and conditioners.
But unlike hair shampoos, beard shampoos help maintain oil and not strip the hair of it. Some shampoos come in liquid form, while others come in bars.
With a beard wash set, your facial hair will be able to absorb moisture from other products. A good shampoo and conditioner must be able to cleanse the hair underneath your beards and also condition it to make it smoother.
The beard wash and conditioner set is a hydrating and cleansing formula to help beards shine and stay healthy. It contains natural beard oil that enhances the skin that moisturizes and shines healthy beards.
Beard Balm
Beard balms are packed with natural oils to keep your facial hair nourished. Balms also contain waxes to give them weight when applied to beards and used to style.
They are best for dry beards and winter when the air is dry. The balms also serve as moisturizers to keep facial hair soft.
Black and Bearded formulated organic beard butter to help moisturize and soften facial hair.
It has a peppermint-eucalyptus scent that soothes the nose when it perceives your beard. It is great for all facial hair types and can be used daily to moisturize the beard.
Beard serum
What do beard serums do? They are used for improving the growth of facial hair. They are the concentrated and advanced formulas used in enhancing natural facial hair growth.
If you are experiencing partial or patchy growth, a beard serum on your growing hair will improve beard growth.
Beard serums are also used to make your hair softer and easier to brush and style. They are used to soften facial hair and get them to ease up while brushing.
Your facial hair will grow evenly and generously when you add a beard serum. It is a must-have beard grooming product.
Wild willies' beard growth serum comes up at the top of the best serum chart. It is a treatment that has biotin and caffeine.
The serum is formulated to help grow fuller and healthy beards. the serum is natural and contains no preservatives or fragrances.
SEE: Products for Beard Growth That Won't Break Your Budget
How do I keep my beards groomed?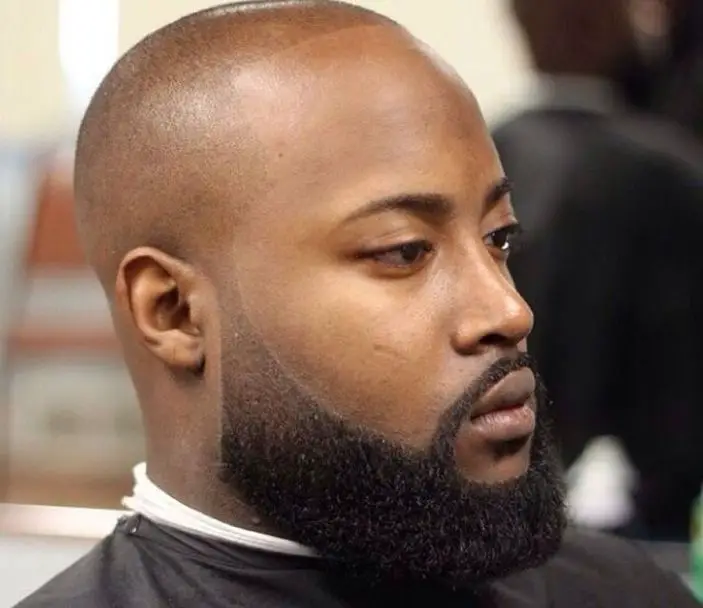 Beard grooming goes beyond trimming it to look neat and shaped. You have to wash, cut, and style it to get the perfect look you desire.
You can learn more about how to trim your beard from our previous article. There are steps to grooming a beard and they include:
First, you wash your beard with a beard wash and condition it. You should only trim when your beard is cleansed.
Dry the beards with a hairdryer if necessary.
Brush the beard out as you dry using a round brush. The hairs will stand out, including the flyaways.
Then use scissors to trim the flyaways and strays. You can trim the hairs till it is even in length. Use a bigger clip guard to trim the hairs so as not to cut too deep.
Also, trim your mustache with a bare clipper. First, you comb the upper lip, and then run the bare clipper on it. You can also use scissors to trim your mustache.
Now that you have trimmed, use your comb to coach your trimmed beard back.
Check for any leftover stray and use scissors to snip.
Wash your beards with water.
Apply your oil, balm, or wax and style your beards according to your preference.
Use scissors again to catch the strays.
Neckline trimming
The neckline is delicate to trim and you have to be careful because it could make or mar your perfectly groomed beard. When it comes to your neckline, you should:
Place two of your fingers above your Adam's apple.
Draw an imaginary line on top of your fingers and up in a curve to your ear.
After drawing the imaginary line, shave everything below the spot you marked with your fingers. The hair above the line should stay. You can fade your beard out if you want or maintain a hard stop.
And finally, clean your tools. A clean tool will prevent your skin from having beard-related problems.
What are the common problems associated with beard grooming?
Beard grooming involves growing facial hair out, so it will most likely cause the same problems the hairs on our heads have.
Dandruff is likely to occur when a beard is not carefully cared for. The skin underneath the beard will naturally become flaky and scaly, resulting in dandruff.
Also, bacteria and yeast will increase if a beard is not properly cleaned.
Another problem that could occur to beard groomers is acne keloidalis. These are bumps caused by ingrown follicles.
These bumps could turn to scars, especially around the neck area. Topical treatments are recommended for such conditions.
How to I grow my beard?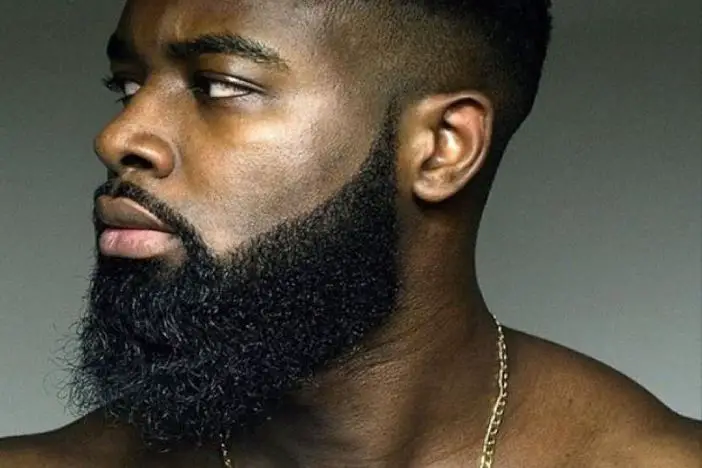 So, you are into beards but you can't come out with the truth, they wouldn't grow as you want them to.
It's not bad that you have sparsely growing hair, you can blame it on genetics, age, testosterone, lack of sleep and stress, or your lifestyle habits (they hinder beard growth). But you can care for your beards to grow as you want.
If you are determined to grow your beards against all odds, you can follow these quick tips:
Set a beard length goal.
Leave your beard to grow out. The average full beard needs at least 3-4 months to grow.
Assist the growth with the use of growth oils or serums.
Trim the edges of your neck above your Adam's apple every month.
Exfoliate your skin with a boar hairbrush.
Trim your facial hair regularly with a trimmer or scissors.
Change your lifestyle habits like smoking or your diet if they are hindering beard growth.
How do I choose a beard style?
No doubt, a beard adds character to your personality, which is why you have to choose carefully the style you want to use to convey such character.
Your beard has to match your facial features and hair characteristics. You might be experiencing a receding hairline, hair loss, or your head is an oval or square shape.
These are the things you have to consider before choosing your beard style.
Facial features are essential when it comes to choosing your beard style. Just as they determine what type of hairstyle, hat, or sunglasses you wear, they also determine the beard styles you choose.
Facial features have five categories and all beard styles fall into one or more of the categories.
Round Faces
Has a softer look, fuller cheeks, and round chins. Men with round faces should opt for beards that give an oval shape. The hair on the cheeks should be cut low, then it gets fuller as it reaches the chin.
Square Faces
They have a square or a wide jawline and chin. Their forehead is also broad. Styles that have a thinner cut on the cheeks and full beards on the chin are best for square faces.
Diamond/Heart Faces
The chin is more pointed. This is the beard shape perfect for all beards styles. They can be styled into any shape as long as it is not too square or round.
Pointed Faces
The chin is pointed and overshadows the jawline. The hair around the cheeks and the jawline should be longer but the length of the hair on the chin should be shorter.
This shapes the face into an oval one. Also, pointed chins can opt to fully grow out their beards to mask the chin.
Weak Chin
This isn't a facial shape but weak chins have the most advantage when they are covered with beards. Just like the diamond shape, any style can enhance a weak chin.
For instance, a goatee will create an illusion effect.
Popular Beard Styles
If you are ready to get your beard grooming moving but don't know where or what style you need, there are evergreen beard styles you can choose from.
These styles are classic and would look great if treated right.
Classic Beard
This is a beard that never goes out of trend. You will see it on many faces of men. It's classic, timeless, and versatile. Weak, diamond and pointed chins can benefit from this style.
It can be adapted into any style or outfit. It goes well with a suit. Also, it goes well with many haircuts, so you don't have to worry about it not being your kind of style.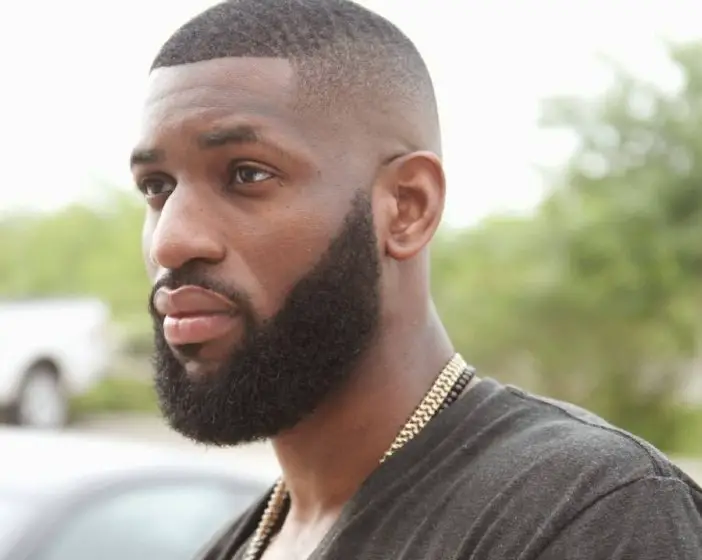 Short Beard
A short beard is not more than two or three inches long. They are no trouble to maintain. They are best for diamond faces.
Men with round faces can keep the beards, but they have to make sure to keep the hair on the cheeks and the jawline lighter than the chin. This way it would give them an angular shape.
You could also try the short beard with a shape up. This is a popular choice that involves creating a sharp line between the skin and hair on the cheeks.
Your face will either look curved or angular with a sharp line. The beard style enhances any facial shape.
Goatee
A goatee is another classic beard style for men. It is quick and easy to grow and it also provides a form of self-preservation for those with patchy facial hair and weak chins.
Round faces are also good with a goatee, as are diamond, square, and weak chins.
Bushy Beards
If you are into a bohemian style, a nice bushy beard will complement your lifestyle. This beard style is wholesome and makes the face look thicker. It is great for all kinds of shapes.
When it comes to keeping full beards, your beard foundation matters.
This is because your facial hair will take time to grow into thick tresses, and if you don't take care of your foundation, you might have a hard time grooming it properly.
Chin Beard
This is an excellent beard style for pointed chins. Facial hair is thicker than the goatee combined with a mustache that is barely shaved.
The cheeks and jawline are smooth, which brings the focus to your chin.
Anchor Beards
Just like the chin beard, the anchor beard style is paired with a mustache but the chin hair looks more like a pointed goatee.
It's edgy and elegant at the same time. It tries not to take itself seriously and just blend. But to blend means constantly trimming the beard.
The beard brings out the edgy side of men with round faces.
Takeaway
We love beards, it's the new rave. But keeping a good beard means you have to groom it properly. Beard grooming is essential to maintaining healthy facial hair.
Benefits you get from grooming your beards include keeping yourself warm, protecting your skin from UV rays thereby having low wrinkles, and just looking attractive and dapper.
Without grooming your beards, you are would look untidy, and that might not be the right image or perception you want people to have of you.
So, you need to groom your beards with the right tools. If you are new at this, you can get tips on how to groom your beards from your local barber or just browse here.
Beards have come to stay and you might just jump on the trend train and challenge your looks.
Africana Fashion is your staple provider of lifestyle and wellness guides to improve your day-to-day living.