Starting your fitness journey is an exhilarating process. You get to plan, research, and get the necessary materials.
Whether you would actively go to the gym or join a yoga class, you need your steady equipment.
For yoga, your preparation is not complete without getting the tools you need, including the best yoga mats.
Yoga is a fitness activity that builds stamina, flexibility, and strength. Also, you will be improving your mental health and overall physical wellness.
And the best part about the exercise, you don't need too much to get started. Yoga mats are one of the few items you need to invest in.
A yoga mat is an essential tool needed to provide enough grip as you slip and slide into your poses. You also need them to hold you firmly as you stand in place. This makes shopping for the right yoga mat a priority.
This is also why you have to consider carefully what type of mat you want and what your budget is.
Also, there is the material used to make the mat. It has to be of the best and durable material to give you the comfort you need.
Yoga mats differ in material, length, width, and thickness. Choosing one might be difficult if you don't know how to go about it. For that, we have compiled the best yoga mats based on your preferences and budget.
Best Yoga Mats
Yoga doesn't need much preparation. All you have to do is pick good tools like your yoga mat, nice yoga pants, top, and have a good set of poses in your alley (if you are not joining a studio).
The list of best yoga mats is based on what the yogis search for in a good mat. Also, if you are on a budget, there are affordable yoga mats you can buy.
1. Best-Rated Yoga Mat
Looking for the best-rated and bestselling yoga mat? Then Manduka's PRO Yoga Mat is the mat taking the spot right now.
It comes up at the top of an impressive rating list by people and is highly recommended. The mat has different variants: standard size of 71 x 26 inches and 6mm thick; thick extra long at 85 x 26 inches and 6mm thick.
It is a high-performing and durable mat with a lifetime warranty. The yoga mats are great for every pose and are soft cushioned to support your body and joints.
Pro: It is durable, thick, and comes in varying sizes.
Con: It is very expensive.
2. Best Affordable Yoga Mat
If you are looking for an affordable yoga mat with pocket-friendly features, then Gaiam Essentials Premium Yoga Mat is your perfect choice.
The mat is a classic mat that is durable and lightweight. It is 6mm thick and 72 x 24 inches in size. The mat comes with additional cushioning to pad your body during your yoga routines.
It is non-slip made from non-toxic PVC but has to be aired 2-3 days before first use. The mat comes with a yoga mat carrier to make carrying it easy.
Pro: Affordable, thick, durable, and thick.
Con: Made from PVC plastic.
3. Best Non-Slip Yoga Mat
Heathyoga Eco-Friendly Non-Slip mat is the best non-slip mat made from TPE material. It helps to protect sore knees with its grippy texture and alignment.
The mat is a double-sided non-slip surface that makes it easy to move on it. It also comes in extra size with a 72 x 26 inches and 6mm thickness.
You can wash it with ease because it has a closed-cell surface. You can maneuver your hands and feet with ease. Also, it has a strap that lets you carry it with ease.
Pro: it has double sides that are non-slip.
Con: It is not durable. It is expensive
4. Best Eco-Friendly Yoga Mat
For $52.95, Ajna organic Yoga mat comes in a natural Jute material that is eco-friendly and non-slip.
The mat is made from premium organic fibers that also repel smell. It is durable with 72 x 26 inches in size and 5mm in thickness.
You can wash it easily by simply wiping the mat down with a cotton cloth. You can also disinfect it with an essential oil spray like eucalyptus.
Pro: Eco-friendly material, durable, and odor-free.
Con: Can only be hand washed.
5. Best Thick Yoga Mat
BalanceFrom's high-density foam material is 1/2-inch-thick (12.7 mm) with the best cushions to make maneuvers comfortable.
Also, it is a double-sided non-slip eco-friendly mat. You can use it for other purposes because it gives a perfect balance. You get an extra strap with the mat, making it easier to carry around.
Pros: It is inexpensive, eco-friendly, thick, and durable. It is also biodegradable.
Con: It can wear and tear after a while.
6. Best Travel Yoga Mat
Another great product by Gaiam is their travel mats. They are 2mm thick with 68 x 24 inches in size. The mats are foldable to 10 x12 inches that are easy to pack in a suitcase.
They are made from PVC materials with a sticky surface to grip your feet. Also, the mat comes in different alluring designs that would comfort you as you practice your poses.
Pros: They are easy to fit in bags. The mats are great for other fitness activities and are inexpensive.
Cons: They are made from PVC and are thin.
7. Best Length Yoga Mat
Here we have Cambivo with the best length with a size of 84 x 32 inches and 6mm thickness. It's specially made with tall men and women in mind.
The mat is grip-tight with a double-sided non-slip surface. It has a wavy underside which prevents your feet and hands from slipping as you hold your poses.
Also, the mat is eco-friendly, being made from TPE material. It is designed to take different functions outside yoga because of its thickness and durability. You won't find it hard to clean the mat. All you have to do is wipe down with a wet cloth.
Pros: Designed for tall and short people; it is eco-friendly; it is easy to clean.
Con: The Padding may feel thin.
8. Best Cork Mat
Cork Yoga mats are eco-friendly and durable. They are perfect mats for hot yoga. This is why people are attracted to them.
If you are looking to buy one of the best yoga mats, a cork mat by Body by Yoga comes as the best on the list. It is designed by experts who know what people look for in a mat.
The mat is made from premium cork material from Spain, which is six times more cork than the standard product.
It is non-slip and cushioned to provide comfort and safety as you practice your yoga. The sizes vary, with the largest size 80 x 26 inches and 6.5mm thick.
You can unroll the mats with ease because of their durable rubber bottom. The mat is suitable for people in different stages.
Pros: It is long; it is durable; can be used for hot yoga.
Con: It smells at the early stages of use.
FAQs
1. What are yoga mats?
Also commonly known as sticky mats, yoga mats are rectangular pads used for traction and cushioning as you make your yoga poses.
They are staple equipment for yoga sessions in fitness studios and also a home product for those who practice at home. They are a sturdy type of mat used to firm the feet as the body weaves into intricate yoga asanas (poses) comfortably.
Most mats come in PVC (Polyvinyl Chloride), TPE (Thermoplastic Elastomer), and rubber. These materials are good for holding friction, making it easier for the feet not to slip when performing yoga poses.
In the early yoga mat days, yogis from India in ancient times practiced their asanas on grass or dirt ground.
But tiger skins and deer skins were used, even though they were rare and expensive. Yoga mats of modern materials became popular when yoga spread to the West from India. 
During the early days of Yoga in the West, towels and rubber mats were used but later in the '80s mats came into existence. Then in the '90s, non-slip mats, which are well-known now, were designed specifically for Yoga.
2. Are yoga mats really necessary?
Yes, they are.  But they are not a requirement. Yoga mat provides important aid when you practice your poses.
Also, some floors are not ideal for yoga because you might slip while posing. Sleek wooden or laminate floors are not ideal because they slip. Plus, you could hurt your knees and hips as you do poses like Bow, for example.
There are other practical reasons why a yoga mat is necessary.  For instance, safety and comfort fall under the primary reasons you need a yoga mat.
This is especially for beginners who haven't mastered their poses yet. They will need a safety net to ease their slip or fall as they move from one asana to the other.
Also, while you try to keep yourself balanced in intricate poses that take time, you need a yoga mat to feel comfortable.
The yoga mats are designed in a way to support your movements. The materials are made from materials to ease gliding through poses without friction.
The mat supports your body without wobbling. Also, it serves as a safe space or fence between you are the next person. If you love being in a studio but don't want people to cramp into your space and you theirs, you'll need a mat.
Furthermore, the mat helps to discipline your moves because you have to do your poses within the confines of the mat.
Also, a yoga mat is a piece of equipment that describes our personality. The type of yoga mat tells a lot about who you are.
For example, a trendy person will go for the latest yoga mat design. And someone who uses a practical mat cares more about functionality than design.
Keep your health a top priority by knowing the best organic food facts.
3. What should I look for in a yoga mat?
When it comes to getting the best yoga mats, there are things to consider. All mat equipment is not the same.
They vary in size, thickness, material, and texture. For you to choose the right yoga mat, you have to consider these factors:
Size
Yoga mats are one-size-fits-all, but some may vary in length and width. A standard yoga mat is 68 inches in length and 24 inches in width for an average height.
But there are other types of mats for taller people. Mats between 72 and 84 inches are available for people on the tall side.
Thickness
Thickness matters because the mat has to have enough padding to balance and provide comfort. A standard yoga mat is 3 mm.
You can opt for a thicker mat which is about 6 mm. This type of mat provides support for inversions, core work, and other postures that require you to lay on the ground.  
Material
A yoga mat's material will determine how thick, sticky, and spongy it is. The popular materials used are PVCs, rubber, and TPE. You can decide to go for an eco-friendly if you are environmentally conscious.
Texture
A yoga's mats main attraction is its ability to have grip. The mat has to be able to hold you firmly even if you are sweaty and slippery.
Traction won't allow you to slip and fall. The mat must also have moisture control to absorb rather than compile moisture.
4. Are yoga mats and exercise mats the same?
No, they are not. There are slight differences in the mats. A yoga mat is designed with a sticky surface to firmly hold you.
Also, they are cushioned to help your bones and joints from feeling fatigued. On the other hand, exercise or gym mats are used for a wide variety of activities.
Yoga mats are thinner, a little less than 1 inch. Exercise mats are thicker, starting from the 1-inch mark to up to 3 inches.
They are used for bodyweight exercises to lessen the impact of a fall. But both mats are versatile and can be used for various exercises.
5. What are the materials used to make a yoga mat?
A mat's material is important when it comes to getting the best yoga mats. There is a variety of materials used in making yoga mats.
Also, some are affordable and some are quite expensive. If you are environmentally conscious, there are eco-friendly mats to cater to your needs.
As mentioned earlier, there are three major materials used in making yoga mats. They are PVC, TPE, and rubber.
PVC (polyvinyl chloride) is a material made from plastic and is highly durable. It provides a firm grip and cleans easily. It's a yoga mat that is inexpensive but not eco-friendly.
A TPE (thermoplastic elastomer) is made of plastic and rubber polymers. It is environmentally friendly but not as durable as PVC.
If you prefer a more natural mat, then yoga mats from rubber are a great option. It is natural, biodegradable, and renewable. Its surface is hard and grips easily. Other natural mats include cork, jute, and organic cotton.
6. Are yoga mats bad for you?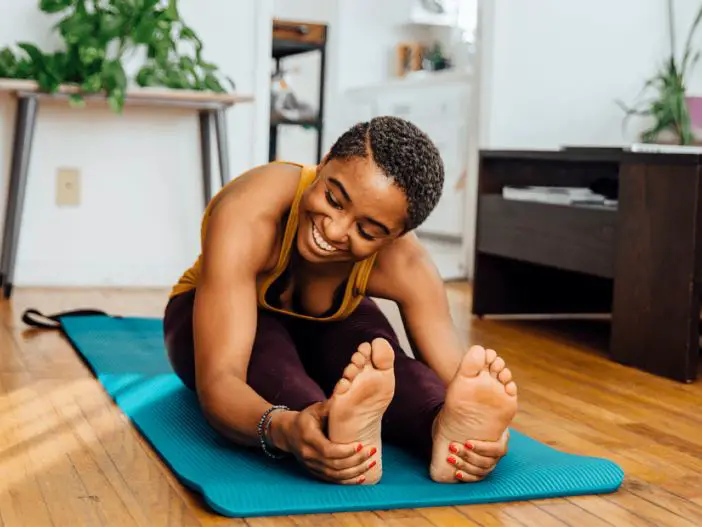 Yoga mats made from PVC are. Wondering why? PVC (polyvinyl chloride) is one of the most toxic consumable plastic in the world from an environmental and health-wise viewpoint. They are the most common material.
This is because they are inexpensive, flexible, and easy to grip.  But they contain chemicals that could be harmful to the health.
Chemicals like polycyclic aromatic hydrocarbons (PAHs) and volatile oil compounds (VOCs) are gases emitted from PVC yoga mats.
Some of the chemicals can cause headaches, nasal irritation, dizziness, liver and kidney damage, cancer, and neurological problems.
Also, these chemicals are dangerous when continuously inhaled, and that is all we do in yoga, breathe deeply.
PVC is also treated with lead, cadmium, and phthalate. Phthalate is a low-medium risk chemical used for different products like hospital flooring, roofs, furniture, and others.
While lead and cadmium and could have negative effects on the body. And the fact that PVC is not recyclable or degradable makes them not environmentally friendly.
Other safe materials that can be used include jade rubber, jute, cork, and organic cotton. These materials are sustainable, breathable, biodegradable, and environmentally friendly.
If you are buying yoga mats, you have to be informed of the benefits and risks it possesses.
7. Can I clean my yoga mats?
Yes, you can clean a yoga mat. It is easy to keep your yoga mat sanitized and clean. To get rid of the sweat and odor, you can use soap and water or sanitizing solutions.
Some yoga mats can be cleaned using a washing machine. But how to do it must be explicitly stated by the manufacturers.
For a simple cleaning, mix water and little drops of dish soap in a spray bottle. Spritz the solution on the mat and scrub with a cloth.
The scrubbing should be light but firm to keep the stickiness of the mat intact. Do this for both sides. After scrubbing and rinsing down, squeeze retained water out of the mat and lay it out to dry.
When it comes to the frequency of washing and cleaning your mats, it is based on how often you use them. If you use it once a week, patting it down with a brush will get the dust collected out.
Also, you can wipe it with clean clothe and water. If the odor is strong, you can wash it using a soap and water or sanitizing solution.
8. How do I fold my yoga mat?
Yoga mats are essential for your yoga practice. Therefore, you would want to keep them safe and as durable as possible. This includes folding them well and properly to keep the top safe. You can follow these easy steps.
Lay your mat flat out. And then you fold the top edges in loosely. Let there be enough air for the edges to breathe.
Then start to loosely fold the mat.
After rolling the mat, there should be an opening at the edges where air would be able to pass through. This will get the surface you work on to stay clean.
Afterward, you can secure your yoga mat in a yoga bag exclusively designed for it.
Folding a yoga mat also becomes a priority when it comes to traveling. Most times it's hard practicing yoga when you are out of town.
You could rent a yoga mat, but for longer trips, you can park your yoga mat for your comfort.
A good travel yoga mat should be compact for travel. You can fit them by folding them in a square shape.
Also, they are thinner and lighter, which makes them the perfect fit. They are comfortable mats made of rubber to provide a better grip.
Conclusion
Keeping fit with yoga is not complete if you don't have the best yoga mat to keep your feet steady and balanced.
These best yoga mats provide support and safety. Also, there are varieties; you have many options. You can choose an affordable one if you are on a tight budget.
If you are looking for the most rated in the U.S., there is a great option for that too. And environmentally conscious people have their selection too.
Choosing the best yoga mats doesn't have to be complicated. Our selection of the best yoga mats is based on user preferences. They have been tested and their feedback is great. You can use these mats to get the perfect poses as you continue your journey to keeping fit.
Keeping fit is essential to living a healthy lifestyle. This is why Africana Fashion provides you with wellness articles to support your healthy lifestyle journey.