Body shapers have become an integral part of some women's life. It is part of their daily and workout routine. That's because the dream to get the perfect, confident body figure is a moving factor to many.
I mean, it's all about getting that flawless hourglass figure. That is why you would seek the help of a waist trainer.
Many celebrities have confessed to using the shaping tool to get their summer body. These and excellent workouts like yoga and a balanced diet are seen as the key to getting a cinched or snatched waist.
So would you like to join in on the trend?
If you are looking for the perfect waist trainers for women to get you started on your banging figure journey, you can start here.  
Best Waist Trainers for Women
It's never too late to get on this trend. However, before you can start you need the perfect waist trainer made for women for you. This would help you achieve your body goals, so it should feel like a best friend than a tool.
That's why I have carefully selected the best waist trainers for women through data collected from e-commerce stores and social media metrics. The list below offers you options you would need in getting the perfect body.
1. Best Corset Waist Trainer for Women
Nebility Women Waist Trainer Corset comes with a zipper and hook and eye closure. This is one of the best waist trainers because it supports posture, gives back support, slims the tummy, and reduces the waist.
It is made from 90% polyester material and 10% spandex to make the slimming corset breathable. The corset is comfortable to wear with its adjustable straps. Moreover, it wicks away sweat and moisture.
The trainer is flexible, stretchable, and comfortable to wear. The U-shape anti-droop breast design snugly fits the underbust and fills in excess fat without creating a bump. This brings out your hourglass figure.
Pros
It reduces waistline
It improves your posture
Controls tummy
Great for postnatal pain and postpartum recovery
Helps in overall weight loss
Cons
It is on the smaller end for sizes
Only firms the waist area and not the hips
2. Best Waist Trainer for Women on Amazon
Yianna Underbust Waist Trainer is the best waist trainer with an underbust cut. The trainer is made from 100% latex material to firm and grip the body. This gives you the hourglass shape you want.
It comes with a 3 column hook and eye closure and is meant for waist slimming. This allows you to adjust the trainer to fit perfectly. Also, It is true to size with sizes ranging from small to 6XL.
The trainer cinches the waist with its 9 to 25 spiral steel boning that is durable and flexible. Furthermore, the 3-layer trainer makes for soft and comfortable wear.
The outer layer is 96% cotton and 4% spandex. The middle layer is 100% latex. Meanwhile, the outer layer is made of nylon and spandex. The 3-layer material makes the waist trainer high resistance and durable.
You can wear it for your exercises like yoga, aerobics, jogging, walking, hiking, and driving. Also, you can wear it for your postpartum recovery.
Pros
It has 3-layer material for flexibility
It is durable
The waist trainer instantly reduces your waist by 3-4 inches
Creates a curvy body
Cons
Small for tall women
The latex material might react on sensitive skins
3. Best Latex Waist Trainer for Women
Ecowalson's Waist Trainer for Women is a body shaper and corset cincher with a steel-bone extender. The fabric is 100% natural latex and stretchable. Also, the fabric sculps the body with a true-to-size measurement.
Additionally, it is fit for long-waisted women with a height of up to 11.2 inches. It also wicks away sweat and moisture. Plus, the fabric is padded with cotton lining to absorb and discharge sweat more quickly.
You can wear it if you want to trim your waist. Furthermore, it can be used for everyday wear and simple activities like jogging, yoga, running, and others.
Pros
Good for everyday use
Wicks away sweat
Suitable for long-waisted women
Made with flexible steel bones
Con
The latex could react on sensitive skins
4. Best Latex-Free Waist Trainer for Women
Hoplynn Sweat Waist Trainer is made from Neoprene material. The fabric is made to control the tummy and improve your hot activity. Moreover, it comes with a hook and loop closure.
Additionally, it comes with a double layer for tummy control. You can use it for active fitness exercises and also reach your goals faster. The waist trainer is also lightweight and flexible on the body.
Pros
Good for active workouts
It has double layer for grip and snug fit
It is a lightweight neoprene fabric
The trainer wicks away sweat
Con
The waist trainer's size is on a small side
Read Also: Reviewers Choice: Top 10 Yoga Pants for Women
5. Best Unisex Waist Trainer
Qeesmei Waist Trainer for Women & Men is designed to support your back, improve your posture, and slim your tummy. The waist trainer has 4 flexible bones for effective support of your back area.
The trainer has a hook and loop belt closure for a firm grip on the waist area. The belt is double-adjustable for sizing accuracy. You can wear it for your weight loss training and postpartum back support.
It is made with 100% neoprene fabric. Also, it does not irritate the skin when you wear it. Furthermore, the belt focuses on the midsection of the tummy, making it the perfect trainer for fitness workouts and waist toning.
Pros
It has double adjustable belt
Great for back and posture support
It is a great tool for waist trimming
It has flexible boning that cinches the waist
Undetectable under clothing
6. Best Long Torso Waist Trainer for Women
Kimikal Waist Trainer is designed to cinch women with long torsos. The brand recognizes that all body shapes are different, which is why this waist trainer is equipped to cater to long-waisted women.
The trainer comes with a hoop and loop belt closure. Also, it is made of natural latex rubber that is smooth to the skin. And it compresses the body without being too tight or unbreathable.
Furthermore, the shapewear has plus-size robust front hooks to hold your skin firmly when you do extreme exercises. And it is stretchy and adjustable with 4 sets of hooks and 9 steel bones to firm the torso area.
The waist trainer is great for everyday wear and controls the tummy. Additionally, women in postpartum recovery can use it to get a slimmer waist.
Pros
Designed for long torsos
A great postpartum recovery tool
Has high compression for exercises
Comes with double front hooks for firm grip
Builds your core muscles
Cons
Does not come with an extender
It might irritate sensitive skins
7. Best Postpartum Waist Trainer for Women
TiRain 3 in 1 Postpartum Belly Support Wrap Band is a waist trainer for recovering mothers. The trainer is one size and comes with a hook and loop closure to tighten the postpartum belly.
Besides, the girdle fabric comes in three belts set as one. It contains the belly belt, waist belt, and pelvis belt needed for the recovery process. You can use the postnatal wrap to restore your body shape.
Also, you can use the waist trainer to ease postpartum pain. Additionally, the fabric is lightweight and comfortable. It also stretches without feeling constricted.
Pros
It comes in a 3 in 1 belt closure for each delicate area for new mothers
The trainer helps to reduce postpartum weight
It is comfortable on the body
It is one size and also adjustable
Provides back support
Cons
Might be small or larger based on your body size
Does not look natural under clothes
8. Best Waist Trainer for Tummy Control
Loday Waist Trainer Corset for Weight Loss Tummy Control shapes and controls the body with its double-layer high compression. Furthermore, it holds the skin tightly and comfortably.
The fabric is also lightweight and high-performing. It can be worn for any activity. You can use it to tuck your tummy and sculpt your waist and hips to your desired hourglass shape.
Moreover, it comes with 4 high-quality spiral boning to prevent the tips from rolling down. And the three hook and hide plus zip closures provide a sturdy compression. It is suitable for hiding bumps and bulges.
Pros
Slims the tummy area
It is invisible under clothes
It has a sturdy and comfortable compression
The waist trainer can be used for everyday and workout activities
Cons
The sizes might be different when selected
It is short for long torsos
9. Best Waist Trimmer for Women
Sweet Sweat Waist Trimmer by Sports Research is a waist trainer suitable for both men and women. The trimmer is designed to provide back support and absorb sweat.
Also, it is made from premium CR neoprene and contoured to fit the waist comfortably and naturally. Furthermore, it is flexible and allows for a full range of movements.
Additionally, it is created to absorb sweat and limit the slipping or bunching of the material during exercise. The inner lining is specifically designed to wick moisture and absorb sweat.
With the hook and loop closure, you can firmly grip your waist and continue with your rigorous workout.
Pros
It helps to trim the body
It provides back support during exercises
The trimmer wicks moisture and absorbs sweat
Con
It does not cover the hip area
10. Best Sauna Waist Trainer for Women
Gaidi Women Waist Trainer Vest is designed with neoprene fabric to help the body temperature. The trainer also absorbs 3x more sweat than other waist trainers. Furthermore, it helps to burn calories.
The sauna trainer comes with a strong zipper in the middle for easy slip in and out. Also, it reduces tummy bumps and removes toxins around the waistline. It efficiently cinches your waistline and tightens your skin.
You can wear the sauna trainer if you want to slim your waist area and for your postpartum recovery process. Additionally, it is durable and flexible. You can wear the vest for a firm grip on your body.
Pros
Burns fat and removes toxins
It enhances weight loss effects
The trainer wicks sweat
Improves posture and tummy control
Con
Runs big if not measured properly
How to Pick Your Waist Trainer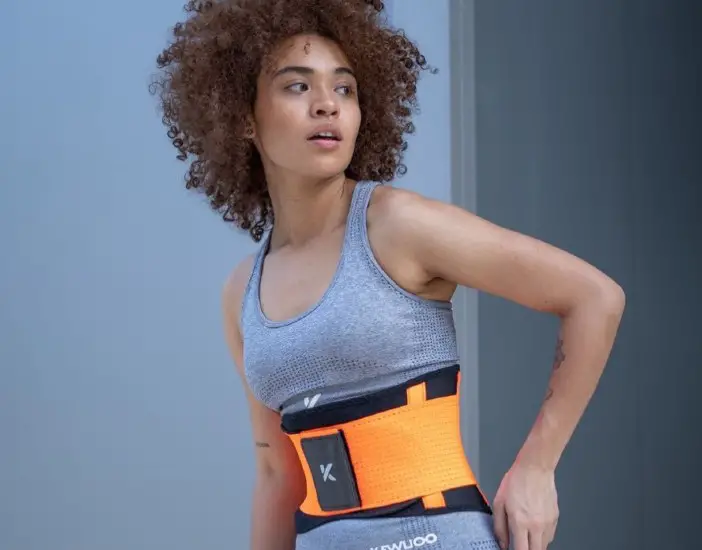 1. Size
This is essential because it encompasses searching for the right waist trainer. Before you buy any waist trainer, you need to consider the size perfect for you.
Measure your waistline and choose from the size list. Also, it is recommended you pick a waist trainer a size bigger than smaller. This would protect your breathing and comfort.
Additionally, a waist trainer must be adjustable with closures for cinching your waist and creating a safe level of tightness. It could be a hook and eye, lace-up, or zip closure.
2. Type
You should also decide if you want a corset or waist cinchers with flexible boning. Corsets have a hard boning made with steel, acrylic, or plastic and reduce your waist by 3-6 inches.
These are the two types of waist trainers for women. But waist cinchers are known to be more flexible than corsets. They can also be easily adjusted to fit for comfort.
If you want an instant waist shave, a corset is a perfect choice. However, I would recommend waist cinchers if you want comfort.
3. Shape
You have two options for shape; over the bust or under the bust. Like the name, they go over or under the bust area. Over the bust has more coverage for body shaping than underbust. Underbust waist trainers start from the waist area to the hips.
You can also choose to go for with straps or not. The straps would help to push the waist further in, emphasizing the hourglass shape.
4. Fabric
The fabric or material used for the waist trainer must be soft and breathable. Waist trainers are mostly made with latex material for a firm grip and compression. Another material is neoprene which wicks away sweat and is breathable.
Moreover, some waist trainers are worn under clothes, therefore, they have to be light on the body. You should go for materials that are light and wouldn't weigh you down.
5. Durability
The material has to be durable. If the waist trainer is not durable you will have to have to change it every year or less. Also, the trainer should have firm stitching that would hold the material in place.  
6. Cost
Waist trainers vary in cost in the market. Your purchasing budget determines what type of trainer you go for. But this should not supersede buying a quality product. Match the features of the trainer to your needs.
Additionally, find if the brand is trustworthy by reading up reviews on the waist trainer. You don't have to break the bank to get the right waist trainer for women. You can start with the listed best waist trainers in this article.
See Also: Starting Yoga: 8 Best Yoga Mats Appropriate for Beginners
Waist Trainer for Women FAQs
Why do I need a waist trainer?
You need a waist trainer to create a cinched and shaped waist. It also helps to tone your body when you exercise for weight loss.
Furthermore, a waist trainer would build your posture and helps you to gain endurance for strength and training.
Are waist trainers for women safe to use?
Yes, they are. You can wear your waist trainer without being afraid.
A waist trainer will not harm the body as long as it is the right size for you. Wearing sizes too small could harm or bruise your skin. Also, it could make breathing, sitting, and eating uncomfortable.
However, if it is too large, it would be ineffective. That's why you have to choose the right size.
How many hours a day should I wear a waist trainer?
6 to 7 hours a day will yield a positive result in at least two months of using the waist trainer. But first-timers should start with 2 to 3 hours.
This has to be followed up with a healthy diet and exercise to keep your body fit and toned.
Can I sleep with my waist trainer on?
No, you shouldn't. A waist trainer snugs and tightly fits the body, keeping your body in a pressured state.
When you want to sleep, your body needs to be relaxed. Moreover, breathing could be difficult if you sleep with a waist trainer on. The discomfort is likely to make sleeping peacefully hard.
Does a waist trainer help me reduce waist fat?
Yes, it does. A waist trainer is used to trim waist fat to an extent. However, it does not make you skinny.
For you to get the desired body shape you want, you have to actively pair your waist trainer with good exercise routines and a balanced diet.
Additionally, the results from waist training are also semi-permanent. If you stop using the waist trainer, your body would likely go back to the way it was.
Conclusion
You need the best waist trainer for women to get the shape you want. It's not easy to achieve but you can get it with the right tool for the right goal.
For instance, waist trainers like TiRain 3 in 1 Postpartum Belly Support Wrap Band are easy and great for postpartum recovery. You can get back your figure by using it.
Also, Gaidi Women Waist Trainer Vest helps to burn fat and remove toxins from the waistline. The trimmer will help you slim down in your waist area.
Waist trainers like Sweet Sweat Waist Trimmer by Sports Research are the best because they fit into any lifestyle and body goal you want to achieve. They are very versatile.
However, Yianna Underbust Waist Trainer is what I would recommend. It is sturdy, comfortable, and easy to wear. You can get your hourglass figure with this.
Waist training is only effective if you exercise and eat a balanced diet. You cannot achieve your goal if you do not take care of yourself. Sometimes it's not the tool, but how you use the tool. So use your waist trainer the right way to get the right result.
Africana Fashion provides trendy and wellness articles to improve your everyday lifestyle.