Kaftan is a flowing garment that originated centuries ago in the Middle East. The dress comes in vibrant colors and patterns which makes it stand out. It also comes in various forms. Kaftan tops are one of the forms of the dress.
Kaftan tops are a modern variant of the kaftan. The top is just as breezy and elegant as the full garment. This is why women pick it as a choice for ageless and timeless beauty.
Kaftan fashion is ever-changing, and if you look at the evolution of kaftan, you would realize the garment has come a long way in centuries.
Now, the kaftan is a modern wear known around the world. There are African Kaftan variants made popular by West African culture.
So if you want to get behind the trend of kaftan, starting with the best kaftan tops is easy integration into the free and breezy design.  
Best Kaftan Tops
Kaftan tops are a must-have in a woman's closet. The fabric is casual, easy, and formal at the same time. When you want a kaftan, kaftan tops are where to start.
To help you make better decisions from the online horde of great kaftan designs, I have listed the best kaftan tops you must have.
1. Best Kaftan Blouse
ATM Tie Dye Kaftan Tunic Blouse Cover-Up by DP Fashion is a handmade plus-size kaftan blouse. The kaftan top is designed to give comfort to the wearer.
Also, it is a handmade top that is free to size and easy to wear. It is simply fitting and creates a draping figure on any shape that wears it.
Also, it comes with a drawstring closure and can be worn for a casual occasion. It is made with 100% rayon, therefore, it is breathable.
The lightweight fabric feels like a second skin when you wear it. However, it only takes hand wash.
2. Best Batwing Kaftan Top
If you love asymmetric tops, then this Italian Lagenlook Batwing Kaftan Top by Texture is exquisite to have. The linen-made kaftan is a pull-on closure with an asymmetric hemline.
The fabric has a nice front pocket to make it flexible. Also, it is a one-size kaftan that fits most sizes. Furthermore, the kaftan top comes in varying colors that are vibrant and playful.
The fabric is also machine washable and does not fade. You can wear the kaftan to work or a casual event.
3. Best Summer Kaftan Top
Peach Couture Summer Women's Floral Kaftan is a 100% cotton kaftan top. The top is also lightweight and can be used as both a bikini coverup and a sundress. Furthermore, you can pair it with leggings, shorts, or a skirt.
The kaftan is made from chic cotton material that is breathable. Also, it has bell sleeves with stylish embroidery at the V-neckline and hemline.
If you love being out in the sun and want free air, then this is the perfect sundress for you. The dress is also true-to-size.
4. Best Animal Print Kaftan Top
Swibe Women's Loose Batwing Kaftan Cover Up is a great option if you are looking for kaftan tops. The top is true-to-size and comes in different colors and patterns. However, the black and white snakeskin print stands out the most.
The fabric is semi-sheer and made from chiffon. Also, it is smooth and comfortable. If you are looking for a simple lightweight kaftan top with a unique print, the top is a perfect choice.
It can be worn for semi-formal to casual occasions. Furthermore, you can pair the top with leggings, jeans, or wear it as a stylish bikini cover-up.
The fabric is super easy and light, it does not need to be ironed. However, it is not machine washable.
5. Best Tie Dye Kaftan Top
SHU-SHI Women's Beach Loose Kaftan Dress is lovely to own. This loose-fitting knee-length kaftan top is a fun summer dress to acquire. The kaftan is great as a coverup and a sundress for a day outside by the pool or the beach.
The flowy soft material is made from 100% rayon fabric and is breathable. The fabric and cut are just about right as it drapes asymmetrically at the sides. Also, it has a plunging neckline, and it is easy to wear.
The tie-dye material comes in unique colors that show the funny taste in tie-dye culture. And it is elegant enough to look feminine on the body.
You can wear it like a short gown. Also, you can wear it as a coverup or pair it with jeans, leggings, or pants.
6. Best Mini Dress Kaftan Top
Bimba's Mini Dress Kaftan Top comes in various brightly colored patterns that are eye-catching. The kaftan sundress is made from poly georgette and is gentle to the skin.
It can be worn as a women's coverup. Also, the lightweight material is an easy fabric that does not stick to the skin. It gives maximum comfort to you when you wear it.
Furthermore, it is machine washable, and it can be washed with cold water. If you want a breezy garment for a lovely sunny day, then this kaftan is an obvious choice.
7. Best Bold Print Kaftan Top
Sakkas Alvita Women's V Neck Beach Kaftan Top is beautiful bold in colors and patterns. The sundress plus coverup is semi-sheer and also bedazzled with rhinestones. If you love sparkling looks and dresses, this will serve you up.
The top comes in lovely and bold colors and patterns that match the tone of a kaftan. The fabric is lightweight polyester and does not need too much attention when hand washing.
Also, the top has a V-neckline that teases what's beneath. Furthermore, it has generous armholes with a relaxed and roomy sleeve.
It is breezy and is the perfect coverup in the summer or just for a simple day in the house.
8. Best Kaftan Tunic Top
Handcrafted with lovely patterns and colors, Royal Store's Tunic Kimono Summer Kaftan Top is versatile and flexible.
Made from polyester, the top has a drawstrings closure and a plunging V neckline. It also has batwing sleeves to give you enough space for your arms.
Also, it is a kaftan tunic that can be worn for casual and evening events. And this doesn't stop you from wearing it as a coverup to the beach.
The top is rich in tribal patterns that are elegant to the eyes, you can't help but be drawn to it. The tunic kaftan top comes in varying sizes for medium to plus-size.
9. Best Dashiki Kaftan Top
A lovely blend is the Dashiki and kaftan. Riviera Sun African Print Dashiki Kaftan is a lovely long top in dashiki patterns and colors. The design is that of a kaftan with classic batwings and drawstrings.
Also, it has a stylish V-neck with enough peek. It's a true-to-size dress that is comfortable and style-defining. You would get admiring stares when you wear it.
It is made for all sizes, from small to plus-size. Also, made from microfiber, the top is the perfect representation of boho-chic.
You can wear the lightweight material to any formal, semi-formal, and casual occasion you have. Plus, it doesn't shrink or bleed when you wash it.
10. Best Cover-Up Kaftan Top
Getting ready for a fun day at the beach and looking for the right cover-up? Then Calvin Klein's Women's Printed Drawstring Kaftan Cover-Up is the perfect sunny top you need.
The top is made from polyester and comes in lovely colors that are eye-catching and chic. Also, it has a pull-on closure with drawstrings that makes the top easy to wear.
How to Choose Kaftan Tops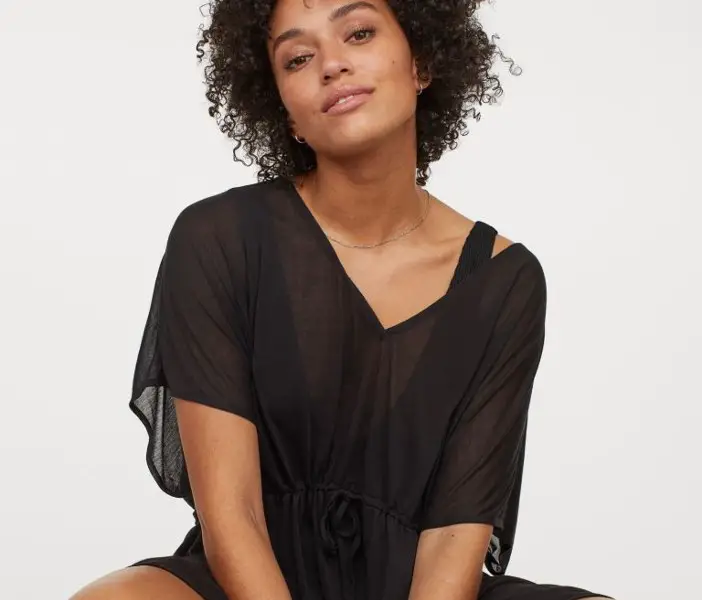 It would be fun to just go to a store and buy anything you want without really looking at it. But we all know that is not possible. To make sure you are getting the right kaftan top for yourself, you have to agree on some factors that are necessary when choosing kaftan.
1. Cut & Design
The design or cut of the kaftan top has to suit your taste. Kaftan tops are usually waist-length, midi, or knee-length. They either have free sleeves or fitted sleeves. You have to decide what type you want.
Also, how do you want the cuts or embroidery around the neckline and sleeves? These are essential questions you need to answer.
Furthermore, the cut and design dictate how the kaftan top looks like. You can wear it for a formal, casual, or evening event depending on the cut and design.
Although how you style your kaftan is important, what matters the most is the design and cut of the fabric.
2. Length
This is also essential. As I mentioned, kaftan tops also vary in length. From short length to midi length, kaftan tops come in different lengths.
The length also determines if you are pairing it with jeans, leggings, pants, or just wearing it bare.
Furthermore, the length determines the accessory that goes with it. For instance, you could wear a belt or sash with it. And you can choose to let the fabric flow freely around you without constrictions.
3. Color
Your choice of color has to suit you and your skin tone. You might be wondering if the color has anything to do with picking kaftan, but it does.
How the colors are mixed and matched will decide where and when to wear your top. For instance, you can wear cool color kaftans during the fall season. On the other hand, you want to go full bright colors for sunny seasons, spring and summer.
4. Pattern
Just like the colors, the patterns of a kaftan are unique and exquisite. They are what draws people's attention.
You would pick patterns that are lovely and in tune with the colors of the fabric. Also, the patterns have to be flattering. For example, asymmetrical patterns are body-flattering and they make you look slimmer than usual.
Again, the patterns could be demure or bold. Pick a kaftan pattern that interests you and would highlight your body's figure.
If you are looking for simple patterns, the colors have to be the exhibition. On the other hand, vibrant patterns are also brightly colored, but the colors should match the pattern's design. It's just about picking appealing patterns.
5. Fabric
Common fabrics of kaftan include silk, cotton, wool, and cashmere. The kaftan fabric has to be of high quality. This way you are guaranteed it would last long.
However, modern kaftans come in polyester, rayon, and chiffon. But this does not change the quality factor.
When picking your kaftan fabric, go for these trusted fabrics. They are breezy and would flow easily around the body. Also, they are easy to wash and don't bleed colors.  
See Also: 11 Exquisite Dashiki For Women You Have to Own
Kaftan Tops FAQs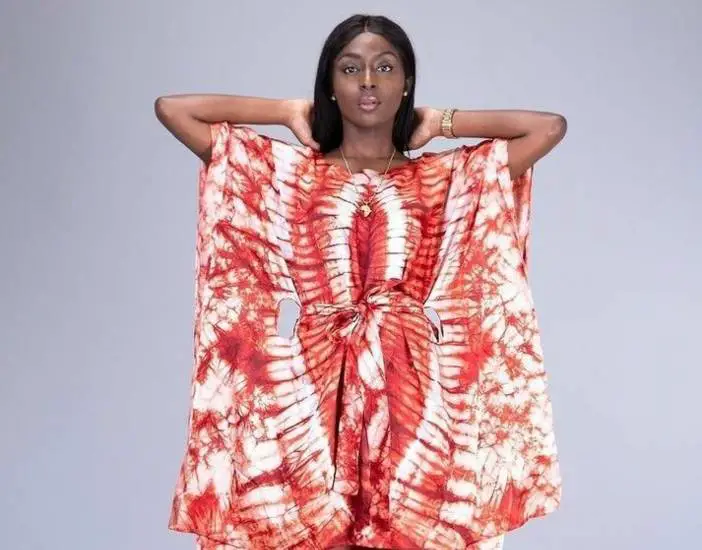 Can I wear a kaftan top to work?
Yes, you can. You can wear kaftan tops to work.
How you accessorize your kaftan top is what matters. For instance, you can pair a short kaftan top with a tummy or slim belt to accentuate your waist.
Also, for a casual Friday, you can wear your kaftan top to work, pairing it with jeans or legging. How you wear your kaftan is what determines how formal or semi-formal it is.
Also, the colors and patterns should not be over the top. You can get away with wearing your kaftan top to work if you wear demure colors.
Read Also: Best Hair Extensions to Change Up Your Style
Are kaftan tops good for any formal occasions?
Yes, you can wear kaftan tops for most formal occasions. As I said, it's how you pair and accessorize your top that would create a passable style.
However, I think full kaftan garments would be appropriate for black tie events. But you can wear your kaftan top for a formal dinner or evening gathering.
Can I turn my kaftan gown to a top?
Yes, you can. You can modify your kaftan gowns to tops.
However, I would advise you to get a seamstress to change or modify the dress. This is because you will be cutting and hemming the modified top.
Also, you will be shedding a lot of fabric, so you need a professional touch on your kaftan. This is just to be safe and get the best outcome from your kaftan.
Can anybody wear kaftan tops?
Yes, anybody can wear kaftan top.
Kaftan is made for everyone, including males and females. Kaftan is flattering on any body shape. It is breezy and non-restrictive on the body.
From slim to plus size, any woman who loves the vibrant colors and the free garment can wear a kaftan.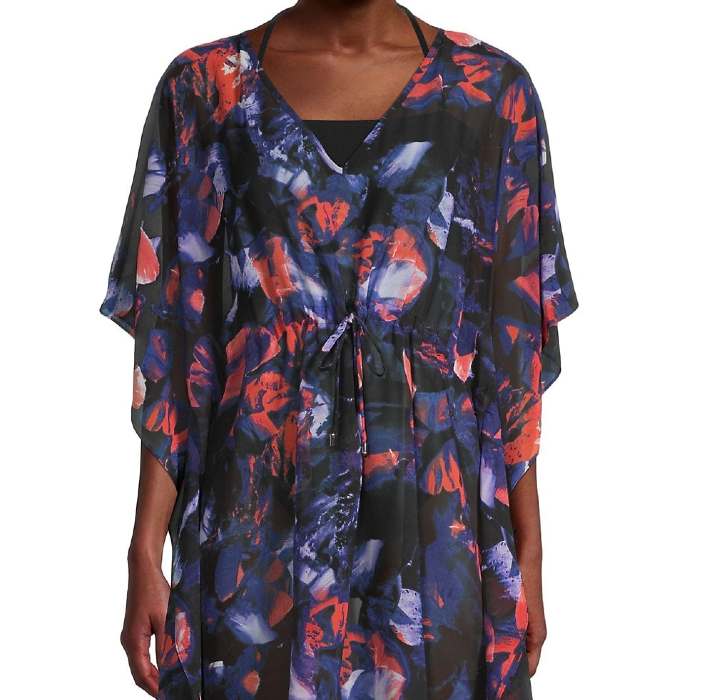 Conclusion
Kaftan tops are flexible and versatile. You can wear them for any occasion with the perfect styling. They also come in elegant colors, patterns, and cuts.
Royal Store's Tunic Kimono Summer Kaftan Top is what I would recommend as a must-have in your closet. It is versatile because you can wear it out or to the beach, or at home.
Also, if you want casual to formal kaftan wear, Texture's Italian Lagenlook Batwing Kaftan Top is perfect for any outing you have in mind. And a day at the beach screams Calvin Klein's Women's Kaftan Cover-Up. The print is lovely without being distracting.
Kaftan tops are lovely wears you should have in your closet. One or two are peeping out of my closet right now. It is breezy, fun, and relaxed. You can also have fun with how you style it.
All you have to do is buy the right one for the right occasion.
Africana Fashion provides fashion articles to help improve your fashion lifestyle.