One of the most iconic wardrobe staples that represent the fashions of western culture is the denim jacket, denim jackets are associated with both men and women all over the world.
It is also the most common streetwear for both genders, and that's because it is suitable for every occasion.
Denim jackets are perfect if you want to look cool, elegant, classy, or you just want to look like a carefree high school grader, and that's absolutely wonderful.
As someone who's crazy about fashion, and has experimented with various denim styles and trends, I have prepared a detailed list with pictures of all fashionable ways to style your denim jacket.
You should note that these styles are perfectly suitable for anyone, so if you're looking for ideas to style your denim jacket, don't worry, I got you.
Grab your popcorn as we explore the intricate world of denim fashion. But first, let's take a brief look at the history of denim jackets and how they got to be so popular.
History of Denim Jacket
A denim jacket, also known as a jean jacket, is a unique type of jacket that is commonly worn by men and women all around the world. It was designed and given the name because it is made from denim material.
Denim is a sturdy cotton textile woven with indigo, gray or white yarn in a twill weaving process, it is also available in several colors, but the most common color is indigo, you probably know indigo denim as blue denim.
Denim jackets first came about when an American businessman, Levi Strauss brought denim over to the United States of America in the 1850s, it began to gain popularity when American tailor Jacob Davis manufactured the first known pair of denim pants.
The Denim jacket originated as a type of protective upper-body garment for working amid heavy dust and debris, they were created as durable garments for engineers, workmen, and cowboys, but this changed with time.
Denim jackets became a public sensation in the 1930s thanks to certain Hollywood films. In these films; cowboys were strong, muscular outlaws who broke the law, got the girl and saved the town, all while taking long strides in their hot-looking denim jackets and cowboy hats.
It became a trend among teenagers and young adults, celebrities like Marilyn Monroe, Audrey Hepburn also joined the trend, giving it more popularity. Over time, it became a fashion statement and a must-have in every wardrobe. 
How to Style Denim Jackets
A denim jacket is perfect to rock with any outfit, It ticks all the boxes; it's cool, comfortable, and stylish. More so, it's just amazing how one piece of clothing can redefine your entire outfit.
Denim jackets are a must-have in your closet no matter where you live. You can also wear them with almost anything, but the best part about good old denim is that it's so versatile and fashionable that you're bound to be on-trend.
I love including denim jackets in all my outfits; it's my go-to piece for any look and today I'm going to show you the various ways in which you can style your denim jackets. 
1. Denim Jacket With Plain T-shirts
Yes, keeping it simple with a classic plain tee is a fashion statement that never gets old. Truly, experimenting with colors and wears is all nice and cool, but sometimes all you need is a plain tee and a denim jacket to go.
This is perfect if you want a casual but stylish look, so pair your denim jacket with a plain tee, and then grab a pair of pants and sneakers to complete this look.     
2. Denim Jacket With Oxford Shirts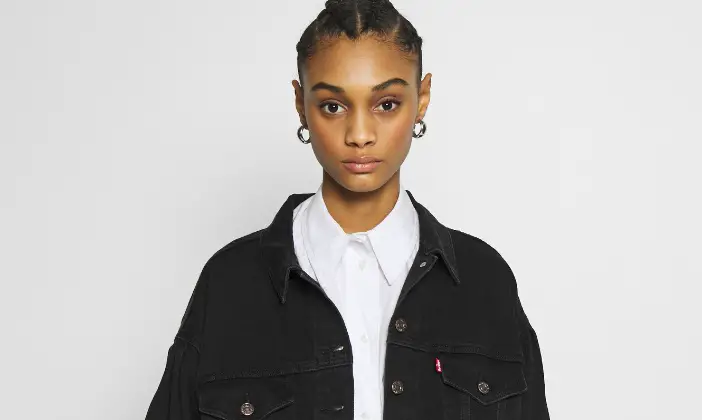 This is an uncommon way to style a denim jacket, but when done right will change the way you look at your oxford shirts forever.
Dress up in fitted pants, an oxford shirt, and a denim jacket to create an intriguing smart and casual look. This outfit is ideal for any type of occasion, be it formal or informal. It also gives a stylish appeal and is mostly perfect for a night out with friends.
Read also: 10 Essential Clothes You Need to Become a Minimalist
3. Denim Jacket With Hoodies
To be very honest, this is my go-to look. Well, that's because it's comfortable, stylish and so easy to put together. It also comes in handy when you don't want to take your hoodie off but still need to go somewhere.
Just change into a pair of stylish pants, add a denim jacket to your hoodie, and you're ready. Pair with artsy sneakers and sunglasses if you want to look trendy.
4. Denim Jacket With Turtleneck
Knowing how to experiment with layers is the solution to having the perfect outfit. Pair your turtleneck with a denim jacket, add some accessories, such as a necklace or bracelet, to change your outfit from normal to fashionable in a blink of an eye.
A classic cut denim jacket with a turtleneck top is a look that will never go out of fashion, it is also an ideal outfit to keep you stylishly warm on cold days.
5. Denim Jacket With Polo
Modern and chic, this outfit is a no-brainer. A suitable polo shirt, jeans that fit, shoes, and a denim jacket are a fashion statement. This is a confident look that won't go out of style.
To keep it simple, stick to some kind of indigo for the denim jacket and pair it with pants to match.
6. Denim Jacket With Crop Tops
For what to wear under a denim jacket, nothing says cool like a crop top. A single layer like your crop top is often all you need under your denim jacket.
It lets the jacket hang freely without restrictions. Pair with your blue jean trousers and accessories for an alluring fresh look.
7. Denim Jacket With Sweatshirts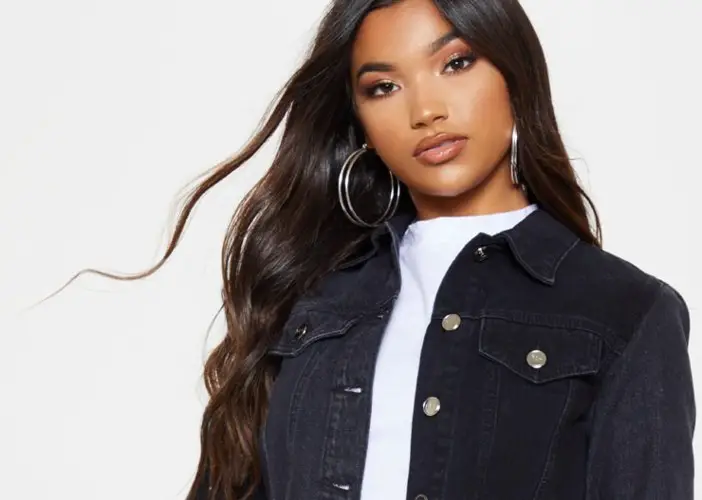 Now that you know that a denim jacket is a versatile piece of fashion that goes with almost anything, you should also know that you can layer it with a sweatshirt to keep you warm while still looking your best.
Layering a denim jacket over your trusted sweatshirt is just what you might need on a Saturday morning grocery run. Throw an oversized denim jacket over your favorite sweatshirt to give you a comfortable yet defined look.
8. Denim Jacket With Mesh
A denim jacket with mesh is a classic staple that is perfect for showing some skin without feeling too bare. Wear a sleek mesh denim jacket over a bralette and pair it with denim pants for an alluring look. A cool hobo bag will take the style up a notch.
9. Denim Jacket With Dresses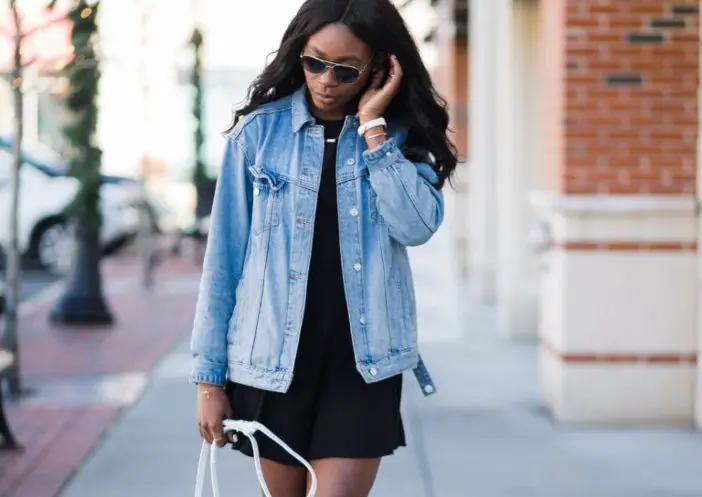 Wearing a light wash denim jacket over a dress is one of my favorite denim styles. It is an ideal outfit for spring, summer, and fall. Personally, I like to wear my denim jacket with a mini dress, but you can choose to pair it with any type of dress depending on your taste.
It doesn't matter if you're wearing a sundress, maxi, or a pinafore, this style is perfect and hits different on all levels. You can also tie the jacket at the waist to create a more defined shape and enhanced look.
10. Denim on Leather
When you have nothing to wear, remember good old denim jackets and leather. These timeless pieces will never fail you. Match your denim jacket with a pair of leather pants or a skirt for a chic fashion style.
For footwear, it really depends on your preference, a pair of heels would be an excellent choice. This is a nice outfit that is all class and ecstatic elegance.
11. Denim Jacket With Jumpsuits
Let's not forget the fact that denim jackets also are a kind of blazer. Just like blazers, you can wear them to achieve a more relaxed and refined appearance.
Do you want a classy yet comfortable look? Keep your outfit relaxed by pairing your jumpsuit with a denim jacket and a pair of plain sneakers.
12. Denim Jacket With Skirts
For a feminine and mature look, grab your favorite skirt and pair it with a cropped denim jacket to mix up the style.
Denim jackets are perfect to pair with all kinds of skirts; it's also perfect if you're trying to tone down an outfit that's too soft or feminine.
See also: Best Ankara Dresses Suitable for All Occasions
13. Denim on Denim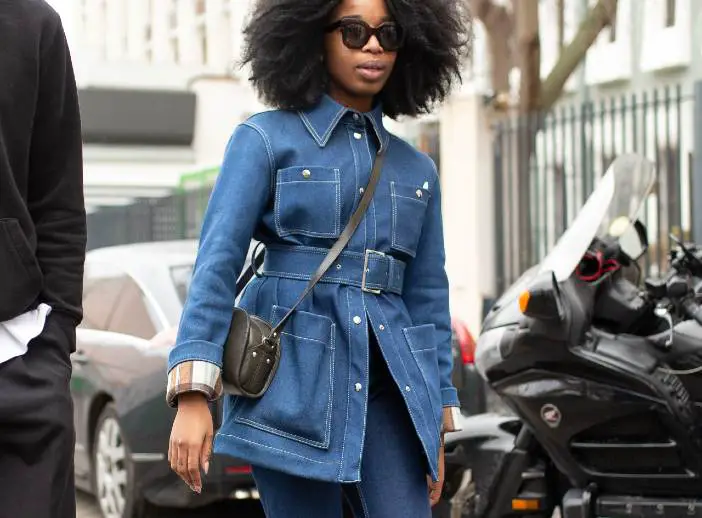 Go for the full package and match your denim jacket with denim jeans to create the ultimate denim style.
A denim jacket on denim jeans is a classic but tricky combination that if done correctly will give you a classy fashion look, but if done incorrectly, this outfit can be a disaster. To nail this style, vary your tones with darker jeans and lighter jacket color.
14. Denim Jacket With Sweatpants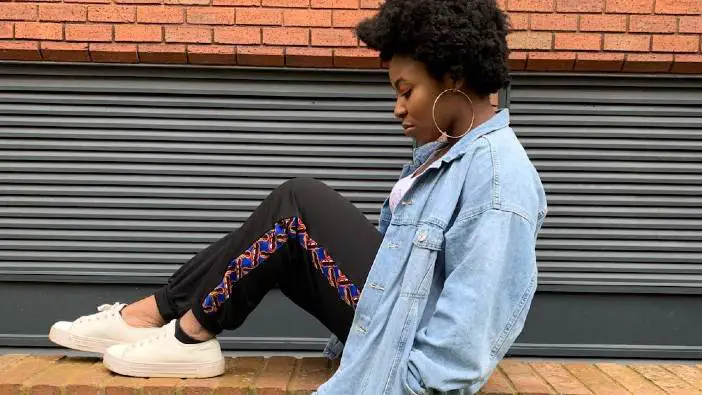 If you're looking for a new way to style your denim jacket, then go for this look. Sweatpants and denim jackets are a great alternative to denim on denim, moreover, pairing your denim jacket with your favorite sweatpants is a smart way to make your jacket more versatile.
Sweatpants are very comfortable, so when paired with a denim jacket, give a comfortable yet stylish look. Not only will you look good, but you'll also feel comfortable as you go on with your daily tasks.
15. Denim Jacket With Shorts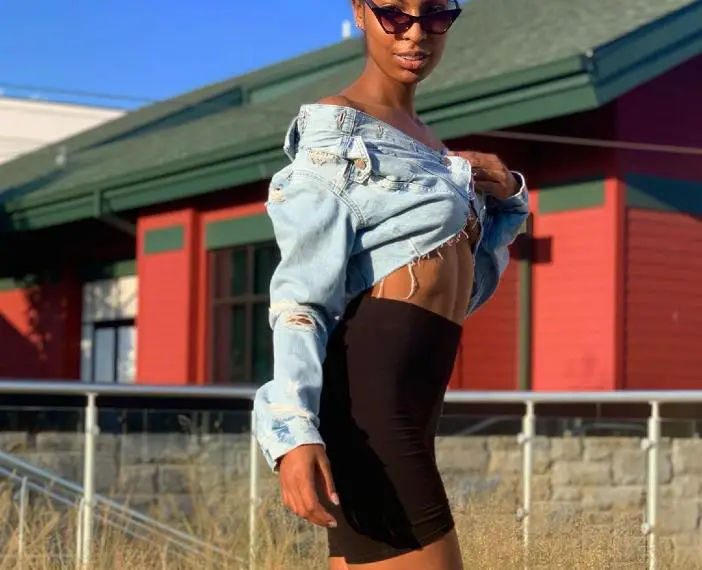 Don't overthink it. Be it bum shorts or cargo shorts, your denim jacket will look fabulous on just any shorts. Pair your denim jacket over a t-shirt and a pair of shorts if you're going after a more street-inspired look.
Be also mindful to make sure the fit of the jacket is perfect and the accessories are in sync. This will ensure you nail this look on the go instead of looking disorganized.
16. All-Black Denim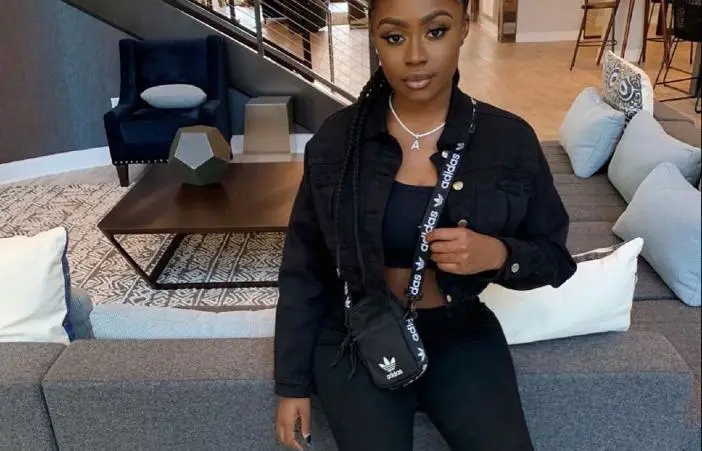 Take a break from the regular blue denim jackets and opt-in for a black denim jacket. The black color is cool and absolutely stunning, an all-black outfit is a look that can never go out of style.
Pair a black denim jacket with a black tee, black pants, and a pair of black leather boots for an all-black fashion look.
17. Denim on Shoulders
Let your jacket do the talking! Show off your outfit by wearing your denim jacket as a cape over your shoulders. Match with a skirt to keep it stylish.
See also: Evolution of Kaftan- How Its Origin Influenced Modernized Kaftan
FAQs
Can I wear a denim jacket with hats?
Yes, you can. Denim jackets are so versatile you can wear them with just about anything and hats are no exceptions.
From fedora hats to baseball caps, there's no limit to how creative you can get. A cowboy hat is suitable for the summer, but colder months; a beanie or beret are great options.
How do I wash my denim jacket?
Turn your denim jacket inside out and wash it in a washing machine with a color-safe laundry detergent to preserve the color. Use a cold setting to avoid damaging the jacket as warm water can cause the denim jacket to shrink or fade.  
Also, remember to wash your denim jacket only when necessary to preserve the material.  
Can I wear white or black denim jackets?
Yes, absolutely. White and black denim jackets have a fascinating appeal when styled properly. You can also pair your white jackets with darker colors and your black jackets with lighter colors for a structured classy look.
Conclusion
A denim jacket is a staple in any wardrobe because it is that piece that isn't kept away when seasons change because of its versatility. Most importantly, denim jackets are so comfortable and can match any look or style.
They are also great because you can wear them in several ways and they look good on just about anything. Truly, there isn't anything you can't wear with a denim jacket…well, maybe a wedding dress, but the fact is, a denim jacket is a timeless piece and a must-have in every wardrobe.
Africana Fashion provides you with fashion, and beauty articles to improve your lifestyle.
Thanks for reading.