As a makeup beginner, it is okay if the use of setting powder for makeup sounds new to you. We all started with regular face powder, eyeliner, mascara, and lipstick. Then, we moved on to the rest; learning how to use one after the other.
You may wonder, "Why do I need a setting powder?" or "why should I know how to use a setting powder?" Okay, let me start with this. Have you ever wondered why some people's makeup finish looks smooth, hydrated, and like it's going to last forever?
Yes, you have. The secret is a super cosmetic that is layered between face makeup products. Now you know. I believe you'll want to get that flawless look during your next makeup practice.
But, before you get to work, there are certain things you should know about setting powder. And, I'll be discussing them in this post. I know you'll find them useful.
What Is Setting Powder?
Makeup artists have called setting powder names like, "the superhero of makeup", "the game changer" and so many other names. I won't say it's too much hype because it really plays these roles.
"Setting powders are loose powders that contain ingredients like talc and silica, which help keep 'wet' products (like liquid or cream foundations and concealers) in place while preventing excess oil production", says Ashleigh Ciucci.
Hairsprays set your curls and hold them in style. In the same vein, setting powders give your makeup a flawless look and long-lasting wear. This cosmetic comes just after the complexion products – foundation and concealer.
Besides, with this cosmetic, you do not have to worry about retouching your makeup.
Types of Setting Powder
Setting powder is largely available in two forms. These forms could be translucent or may have a slight tint of color to match different skin tones. The two major types are:
Pressed Setting Powder
Pressed setting powders are compact, semi-solids. They are the easiest form to use and best for makeup beginners. One of the special benefits of this texture is that with less, you'll get more; but, you really need to spend time blending.
Moreover, if you have dry skin, pressed setting powder is best for you. The oils will keep your face hydrated and slightly cakey (if you don't apply too much). However, if you have acne-prone skin, it may expose your skin to more breakouts.
Loose Setting Powder
In contrast to the former, loose setting powder has a fine consistency. It is oil-free and provides light coverage. In addition, it is lightweight and blends easily.
However, it could be quite messy to use, putting dust here and there. Still, people with oily skins would rather go for this texture. Also, if you would go for a liquid foundation, anytime and any day, loose setting powder is your best bet. 
Dino Dillio, a makeup instructor says, "colorless versions are universal for all skin tones, while tinted kinds are used to warm up or deepen a foundation".
Translucent setting powder matches all skin tones. It cuts down on shine and doesn't burden your face with products, if at all your retouch. If you'd rather want lighter coverage, you should go for a translucent setting powder.
Colored setting powder, on the other hand, should be carefully picked according to your skin tone. Moreover, if you get a perfect match for your skin tone, you'll get extra coverage for dark spots.
Learn More: Best Everyday Makeup
How to Use Setting Powder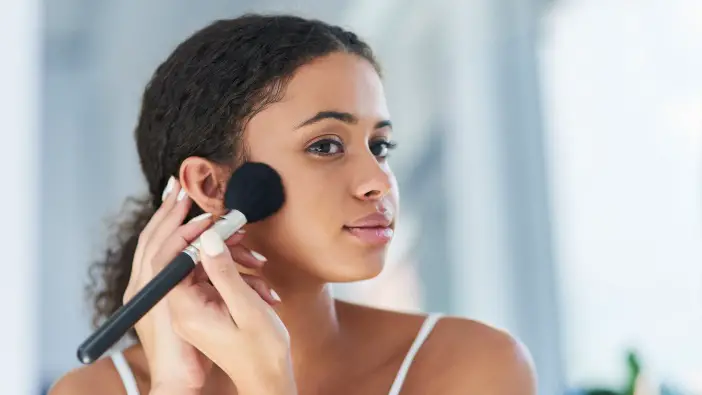 Generally, it reduces the stickiness of a foundation or concealer. Also, it makes it easier to blend in bronzer and/or blush. However, you'll only get the best of a setting powder when you use it the right way.
By now, you already know what this cosmetic is and what you can achieve with it. So, where to apply and how to apply should be the next thing on your mind. This will help you to achieve a flawless, long-lasting finish.
1. Where to Apply Setting Powder
Usually, it comes after your primer, foundation, concealer, and contour. Make sure you have applied all these cosmetics well. After which, you can reach for your setting powder.
For a perfect, seamless look, focus on your t-zone (the width of your lower forehead and the length of the bridge of your nose). Leave out the edges of your face, especially your hairline. Because getting makeup products out of your hair could be difficult. 
The t-zone is the focus because it covers the areas that are most likely to produce excessive oil and grease. When you have applied it here, you can dust some all over your face. On the other hand, the t-zone should be revisited with extra powder.
In addition, you can apply setting powder to any other area that you want a long-lasting result.
2. Choice of Applicator
A setting powder applicator is very important. Your choice of applicator should be determined by the look you want to achieve. This is one of the few cosmetics that you can't apply with a finger.
A makeup sponge will deliver full coverage. A powder puff will complement oily skin with a velvety matte finish. Lastly, a full brush will give you a glowy finish.
When you use a makeup sponge or powder puff, do not apply it in a wiping motion. Rather press and roll the powder onto your face. This way you will avoid moving the already applied makeup.
On the other hand, you can use a brush to wipe. Brushes allow for wider and lighter coverage. Also, they easily buff out the excesses, giving you a perfect blend and seamless finish. You should always go for brushes with a wide surface area and reliable bristles.
However, makeup artists advise that you rather use a brush to apply your powder. Brushes are known to perfectly diffuse makeup products and still give your face a soft look and sufficient coverage.
How to Apply Setting Powder
A tip to get started, makeup experts say the best way to apply setting powder is to press or brush it on while your foundation is still wet. That way, you can be sure that there will be no streaking or breaking.
First, check for excess foundation, concealer, or contour. If any, properly blend it out
After that, coat your applicator with sufficient setting powder
Generously apply some of the product to your t-zone, where it's the greasiest
Then, apply lightly all over your face
If need be, reapply some more powder to your t-zone
Afterward, allow it to blend in for a few minutes
Finally, use a fluffy brush to buff in circular motions. This will get rid of excess product and also give you a seamless finish
You can go on with the rest of your makeup now.
Read Also: Best Makeup Kit in All Sizes You Could Possibly Want
Setting Powder vs Finishing Powder
Ivy Boyd says the difference between the two is a simple matter of function and form. "A setting powder sets your makeup. On the other hand, a finishing powder is often translucent and is used to blur pores, soften texture, and give an overall glow to the skin", she adds.
While setting powder buys you wearing time with your foundation, concealer, and contour; finishing powder is for the final look.
Also, setting powder is an invisible finish that gives hold and cuts down shine from the foundation. Finishing powder is usually the last of the face makeup that makes everything blend well.
Setting Powder vs Setting Spray
It is not uncommon for these two to be mistaken. At face value, one would think, the difference is in their formula or suitability with certain skin types. Though these differences are right; they are not all that there is to it, they are not sufficient.
Keri Blair explains that a setting spray gives your face a soft effect with a less visible texture. As mentioned earlier, setting powder holds your foundation and concealer in place and gives your face a matte finish.
Setting powders, whether pressed or loose, are applied with a brush, makeup sponge, or powder puff. Setting spray, on the other hand, is a liquid that is misted onto the skin.
Although both of them work to keep makeup in place, there is a difference in the time of application. Setting powder is applied in-between makeup applications. But, a setting spray is applied at the end of makeup application.
Setting spray holds it all together. Also, it makes your skin look softer and dissolves makeup into natural-looking skin. Makeup expert, Gabriel Almodovar recommends that you use both setting powder and spray if you want to extend the life of your makeup.
Read Also: Bronzer Dos and Don'ts: Guidelines MUAs Say You Should Know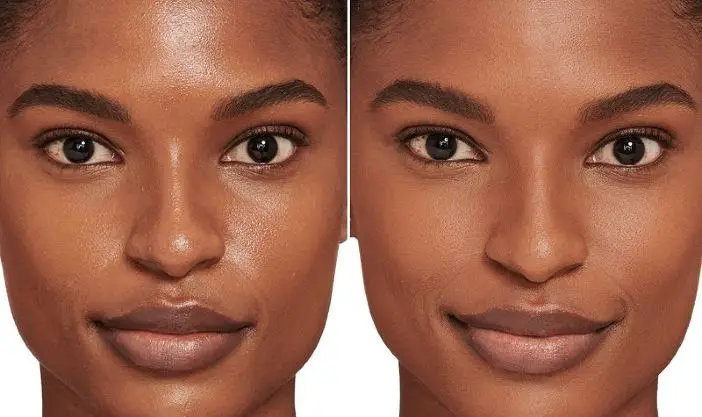 Alternative Uses of Setting Powder
1. To set your lipstick for long wear
The lips tend to get more contact than any other part of the face. For instance, when you bite on a snack or sip coffee, there's a great tendency that your lipstick will smudge.
However, you can avoid this by brushing a little translucent powder onto your lips. Lightly tap your lips, go one at a time.
2. To enhance lashes
This cosmetic could help make your eyelashes look fuller and longer. Here's what to do. In between mascara application, use an eyeshadow brush to apply powder lightly to your lashes. Then, coat the powdered lashes with mascara.
SEE: What Is a Makeup Primer? This Is What You Need for Long-Lasting Sheeny Makeup
3. To set eyeliner
If you love to use cream-based eyeliners but you worry about how it wears out, you can patronize setting powder. After you have made your perfect winged eyeliner, you can lightly apply translucent setting powder atop the eyeliner with a thin brush.
And, if you love to line your bottom lashes, use the thin brush to lightly apply translucent powder before you apply your eyeliner. After you have lined the lower lashes, coat with more powder (light as before).
4. To clear off excess eyeshadow
It is almost impossible to stop excess eyeshadow from falling onto the area just between your eye and cheekbone. And, you have to be very careful when brushing it off to avoid ruining your makeup.
So, to use this trick, generously apply setting powder to this area before you apply your eyeshadow and other eye makeup. After applying eye makeup, use a clean fluffy brush to dust off the setting powder and excess eyeshadow that may have fallen off. 
In addition, it can be used to reduce excess eyeshadow or blend multiple shades of eyeshadow.
See Also: Top Makeup Brands for Dark Skin: Define and Highlight Your Skin With the Best
5. To brighten the under-eye
You can use concealer and setting powder to brighten those dark and tired under-eyes, especially on days you want to go without makeup. Start with applying concealer to your under-eyes. Go from the corners of your eyes and blend outwards.
Afterward, you can lightly brush on some powder. Do not apply a thick coating of concealer or else you'll have fine lines of product on your under-eyes. The end product is brightened under-eyes and you can go anywhere already.
Here's a tutorial video on how to apply makeup for beginners.
Frequently Asked Questions
1. Why should I use setting powder?
If you have oily skin, it can help absorb the extra oil that will be produced on your face when wearing makeup. Also, if you like a flawless, long-lasting complexion, then, you should opt for setting powder.
2. Can I use setting and finishing powder for my makeup?
Yes, you can. You actually should use both if you want long-lasting makeup with little or no appearance of your pores or any wrinkles. Both powders work to hold makeup in place and give your face a seamless appearance.
3. Can I use setting powder alone?
Yes, you can. Setting powder can be worn on bare skin, without makeup. Whether translucent or tinted, a light application is enough to brighten up your face and cut down on shine.
Conclusion
Makeup is beautiful. No one wants to spend time and energy in front of a mirror and have it all melt away or crease into lines before the end of the day. Most of the time, complexion makeup is responsible for this, especially if you have oily skin.
This is one of the secrets to long-lasting makeup. Applied just after foundation to contour stage; it holds them in place and absorbs the oils while you bask in a matte finish. Also, it allows you to skip a midday retouch.
Setting powder is very versatile when it comes to its use. It goes from zapping excess oil to diffusing excessive makeup; and also enhancing the different eye makeup. This is indeed the makeup gamechanger.
Thanks for reading.
Check Africana Fashion for relevant beauty and fashion articles to keep up with makeup trends.