Beauty, we realize, is an essential concept in any human's life. That is why the makeup and cosmetics industry is one of the most booming industries.
In the broader sense, we need these products because they add confidence and emotional balance to our sense of selves. This means we perceive ourselves as beautiful or stunning when we have covered some imperfections with makeup.
Cosmetics is a large construct which makeup is a subset of. Yes, talking about cosmetics has to do with anything that is directly or remotely related to beauty. We have skincare, perfume, body enhancers, nails, contact lenses, hair care, and you name it.
However, when you think about makeup, you can also broaden it. This is because it encompasses so many things. Not just what we use for our daily lives, but we can go further when we think of its aesthetic role and representation in arts and culture. But that is a whole thing on its own.
What I am focusing on is makeup and cosmetics' benefits. Also, I will look at what makeup is for beginners and how to get started with the right products.
1.0 What is Makeup?
When you look at makeup and what it signifies, you realize you have to look at it as a sum of parts. This is because it has to do with the synergy of various products, pigmented or not, used together to create an outstanding outlook.
Therefore, you can describe makeup as a compilation of beauty products used to create an enhanced look.
When you use cosmetics products, you are either covering up imperfections, clearing them out, or enhancing the structure and angles of your face and skin. This creates an illuminating effect that is confidence-boosting.
I mean, they can cover spots, freckles, redness, acne, blackheads, whiteheads, and other types of imperfections. With your perfect makeup combination, you would be looking close to perfect as the day you were born.
Furthermore, these products are also called decorative cosmetics because they transform to a fancier and much pleasing look than before. Makeup is not like other skin or cosmetic care products like moisturizers, cleansers, toners, perfumes, and the likes. It is meant to alter your appearance.
It is an important part of human life, which is why it is such a lucrative business for those involved. This ranges from manufacturing brands to makeup artists and influencers who test the product and provide reviews. Makeup and beauty are deeply intertwined. You can't talk about one without referencing the other.
1.2 Brief Background of Makeup
Makeup has existed in history for thousands of years. Many cultures have recorded how they used pigmented tools on their body and face as a representation of their gender, class, power, and beauty.
One of the earliest cultures to be associated with makeup was ancient Egypt. The men and women wore pigments to enhance their appearance.
For instance, the men and women wore kohl eyeliner to darken their eye area. Also, Queen Cleopatra was said to use lipstick made from ground carmine beetles. Other notable colors from minerals like metal, lead, copper, and ash were worn.
To them, makeup was used to ward off evil eyes. Also, it had health benefits like preventing infectious diseases and bacteria infections.
In European cultures like Greece and Rome, grounded minerals from stones were used to powder their faces, adding color to them.
Makeup took different turns in history in the middle ages. It changed from the use of bright colors to create something that can only be called art to subtlety using makeup to give a soft glow.
It wasn't until the turn of the 20th century that makeup took its more modern forms. Firms like Max Factor, Elizabeth Arden, and Helena Rubinstein, L'Oréal are known cosmetics brands that rose during the early hay days.
Other early brands that joined the industry like Estee Lauder, Revlon, Maybelline, and more capitalized on the growing industry, coming with their original makeup products that expanded the industry further.
Now we have several known and original brands with different products and types that cater to diverse people who love makeup or are enthusiasts.
Some brands created a niche for themselves. For instance, brands that are all-natural or organic. These niches have shaped modern makeups and created a shift in ingredients in a makeup product.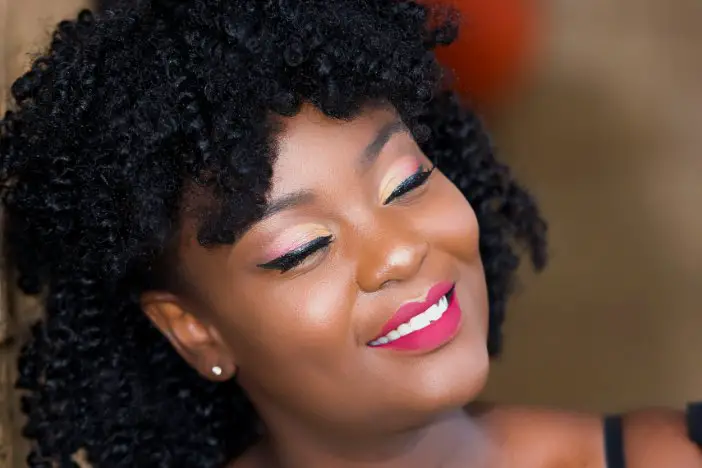 2.0 Benefits of Makeup
Not only women are privileged to wear makeup. It is meant for anyone who needs it. Though different people wear them, they do so to achieve some benefits that you cannot deny makeup helps to achieve.
1. Enhance your beauty
This is why most people wear makeup every day. Even though some people have great skins, they would still love to enhance their facial structures. And with contouring, you can create an illuminating effect where your nose looks thinner, narrower, or straight.
Doing this would make your beauty more poignant. This is because makeup is enhancing your natural features. For instance, there is the lipstick effect. Wearing lipstick is totally different from not wearing one.
There is a change in the facial features whenever you wear lipsticks. Depending on the color, your features can look soft and demure, or your features can look confident, flirty, and bold.
2. Hides imperfections and blemishes
A reason makeup became a hot commodity with people is that it helps to hide blemishes and imperfections. We as women loved to be seen as beautiful and perfect, so some form of makeup is positioned on our vanity tables.
Makeup consists of pigmented products that help to cover our skin imperfections like dark spots, wrinkles, fine lines, acne, hyperpigmentation, eczema, and you name it. Sometimes these imperfections can put a dent in self-esteem. This is why makeup is beneficial to people.
3. Makeup builds confidence and self esteem
One thing about feeling beautiful and looking beautiful is its effects on our self-esteem and confidence. There is a boost when we look the way we want. Whether it is simple or full makeup, the desired effect will get us to appreciate ourselves.
Makeup has the effect of boosting your confidence, especially on days when you need to hide your imperfections.
4. Makeup gives a youthful look
Another benefit of makeup is to make you look youthful and young. Wrinkles, fine lines, and age spots can be covered with makeup. Also, if you have dry and dull skin, it can glow up with makeup.
With the right makeup products, you can look younger than your age. That is the effect makeup has on the face.
5. Aesthetic effect
No doubt you would look different when it's picture time. Makeup is now an essential part of professional photos. Whether it is artistic or just to look nice for the camera, you can't do without touching up before facing the camera.
So, your special events won't have to be dull with makeup on. You can have beautiful pictures that would last for a long time. For your wedding, prom, TV appearance, party, or any other special event you want to save the memory of, your makeup is sure to make you stand out.
6. Makeup is a lifestyle
Makeup has become a much larger thing than cosmetics and colored products. It has become a lifestyle for so many people. I mean, makeup artists are not just working with celebrities now, they are the celebrities that people want to work with.
The growth of the industry has opened many opportunities for artistic people who see makeup as more than painting the face. We can say makeup is a breathing organism that gets bigger with each passing day.
3.0 Makeup Types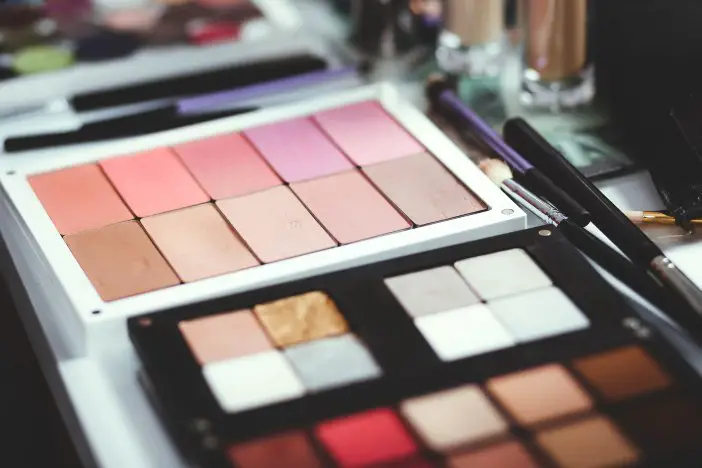 Makeup is not the same. There are different types with different functions that may look close, but they are not. Several makeup products can also be categorized as essential, like when you are wearing even everyday makeup. And some are not needed until you are working on full makeup.
However, when you talk about makeup, these types are always noted in the bunch. You can't do without them in your makeup bag.
1. Primer
Though this is not what comes first on your face, for makeup, this is the first. Primers are formulas that help to prolong the other makeup on your face. You need primers to set your face and make it smoother for other makeup applications. There are different formulas to suit different types of skin and conditions.
Note: There is another primer called the eyeshadow primer. This primer is meant to set the eyeshadow area for the makeup products that would be applied there. It does the same as a face primer. That is, makes the eye makeup last longer.
2. Foundation
Foundations are smooth textured pigment products that cover blemishes and spots. They offer full smooth coverage of the face and neck area. Foundations come in liquid, creamy, solid, or powder forms and are best at evening out your skin tone.
Foundation is essential in any makeup routine and is used after primers. Though there are variants of foundations. The basic thing they are meant to do is clear the skin of any imperfections.
Note: The alternative to a foundation is a BB cream. BB creams are lighter than foundation, but they hide blemishes and imperfections, giving the face a natural look. Most times, people opt for BB creams to a foundation when they don't want to feel heavy-faced.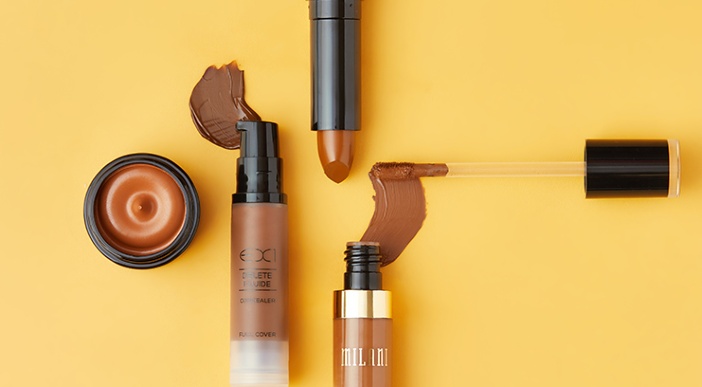 3. Concealer
Concealer is used to hide the discoloration of the skin, like under the eye area or hyperpigmentation. A concealer covers up marks, dark spots, scars, wrinkles, and fills fine lines. A concealer is usually thicker than a foundation and also targeted in use.
Note: CC creams or color correctors work closely like a concealer. They are fluffier and lighter than concealers. They help to correct the skin's discoloration. Though they are not the same as concealers, they work just like one.
4. Face Powder
This is used to add a finish to your other makeup products by matting them down. Also, it is used to unify the lines and edges on your face, making it look set. It usually comes last in any beauty routine.
5. Highlighter
Highlighters are used to glow the skin or particular areas of your face. Highlighters are used on specific areas like the upper part of the cheeks, the bridge of the nose, the middle of your forehead, your chin, under brows, and cupid's bow.
The highlighter attracts light and reflects it off the skin, creating an illuminating effect. It is used to define the dark corners and angles of the face, making it shimmer.
6. Bronzer
A bronzer is used to create a tanning effect. It attracts light, making your skin look sun-kissed. It has a glowing effect too. Bronzers are mostly used on the cheeks, the top of the forehead, and along the sides of the nose.
Highlighters and bronzers are mostly confused for each other. However, they are different. You can learn more in a previous post on their differences.
7. Blush
Blush is used to tint the cheeks to give a more flushed look. It's used to give a more natural look to the makeup.
8. Eyeshadow Palette
This is used to color the eyelids. The pigment is vast, and the colors range from simple neutral colors to bright tones that are defining. It is used to make the eyes pop.
9. Eyeliners
Eyeliners are used to enhance the size of the eyes. With eyeliners, your eyes look bigger or brighter and more alive. Eyeliners define the eye area.
10. Eyebrow Pencils
They define the brow area. They are waxes or gels used to line the eyebrow, making it more visible. The eyebrow technique has evolved over the years, and most people find using eyebrow pencils unnecessary with new alternatives. However, eyebrow pencils are still elemental in makeup.
11. Lipsticks and Lip Gloss
These are used to define and color the lips. You would need lipsticks to create the tone for your look. You can go for natural earthy colors like nude, brown, or beige. Or go bold with bright colors. The choice is yours.
Good lipsticks come in different types and forms. And you can pair them up with lip liners to create a perfect finish.
12. Mascara
This is a thick dark liquid used to elongate, deepen, or thicken the eyelashes. Mascara is used to define the lashes, making them more prominent.
The listed above are the must-have makeup types you need for simple to full makeup. There are other types of makeup optional for your beauty routine. Some of them include:
Setting spray: This is used for making your makeup last long. You need a setting spray to help protect your makeup from melting.
Contour: This is used to create or define the angles of your face, making it more symmetrical. A concealer or bronzer can be used to contour the face.
Eyelash extension: These are artificial lashes attached to the eyelid area with an adhesive. They are meant to give a faux full lash that enhances the beauty of the eye area.
4.0 Makeup Tools
You can't apply makeup without using your tools. There are the right tools for each makeup type and you need to have the essentials, even though it is for personal use.
There are different brushes and tools used for makeup and you need these items to apply your makeup.
Your fingers
Do not underestimate the power of your fingers. They can be alternated with brushes when it comes to applying some types of products (the pasty ones).
The fingers are mild and can work through tight corners. Though you might be left with a messy hand, you will achieve a lot with your fingers.
Beauty blender
A beauty blender is used to apply liquid or creamy products to the face. Its unique design makes it a good choice for working between corners of the face that are hard to get to. The spongy tool is essential when applying foundations, concealers, or any other creamy makeup product.
Foundation brush
This is a brush with dense bristles. It is used to spread the foundation across the face evenly. You need a foundation brush to get your full face coverage.
Concealer brush
The brush is usually small and tapered. The tips are very strong and used to work the concealer on the targeted areas of the face.
Kabuki brush
You need a kabuki brush for wide parts of the face. It has large and dense bristles that can either be rounded or straight and sharp. It's used to for achieving full coverage. It can be used to apply foundations, concealers, powders, blush, or bronzer.
Bronzer brush
A contour brush is used to contour and define the angles of the face. It has angled bristles that are used to create dimensions on the face to create illusions.
Highlighter brush
Also known as a fan brush, it is used to highlight the cheekbones lightly. The bristle is thin and fan-like, making it easy to spread a thin layer on the face.
Blush brush
A blush brush is fluffy and comes in different shapes and sizes. It is used to apply blush without much pressure to give it a natural look.
Powder brush
Powder brushes are fluffy with angled bristles. They are used to apply setting powder or face powder. It doesn't have any pressure on the face and can create a matte effect with the powder.
Crease brush
The oval-shaped brush makes it easy to apply eyeshadow color on the crease of the eyelids. It is small and also has fluffy bristles that work easily around the eye area.
Angled brush
This is a brush used to carve and define the curves of the eyebrow. The bristle is short and firm and used to create clean lines and edges along the eyebrow area.
SEE: How to Organize Makeup: See How to Transform Your Space in Quick Steps
Spoolie
A spoolie is used for the eyebrows. It is a winged brush used to brush the brows. It can also be used as a mascara wand.
Makeup remover
This is used to clear off mistakes or makeup at the end of the day. These come in different forms, either as lotions, pads, or wipes.
These are not all but the essential makeup tools you need when you want to apply your makeup. Some of these tools can be alternated for the other, as long as they have the same features.
5.0 How to Apply Makeup
Now that you know all the necessary things that make up a makeup routine, the next you need to do is familiarize yourself with is how to apply them. Applying makeup goes from simple to advanced, where you spend varying amounts of time, depending on the outcome you want.
But for a full makeup glamour, you would need most of the types of makeup and tools to create your perfect look.
If you are a visual person like me, then showing you would be the best help on how to apply full makeup.
5.1 After everything, it's time to take it off
When you are done for the day or night, you must remove your makeup. This is because makeup staying too long on the face could cause harm to the skin. You have to let your skin breathe.
I know, you are too tired and just want to crawl somewhere and get some sleep. But you have to grudgingly remove those colored products, no matter how tired you are.
Even though removing makeup might look like a chore, it's not hard to take off. It's actually a refreshing step because you feel relaxed after.
Also, there are several ways you can clear the pigmented products off your face. You can use a makeup remover, cleansing wipes, moisturizer, oil, baby oil, or petroleum jelly.
There are also safe ways to remove makeup without being abrasive. Rubbing the remover roughly on your face could make your skin turn red and irritating. You don't have to haphazardly clear the products on your face.
If you would like to remove your makeup gently, you can follow these simple steps.
Start with gently applying the wipe or pad over your eye area. This is a delicate part because the eyes are sensitive. Your eyes must be closed and protected.
Then move to your cheeks, forehead, jawline, and neck.
Then the lips come next. The lips must also not be scrubbed because they are sensitive.
After clearing off, wash your face with water.
Use a cleanser to remove all grimes from your face. Then a face toner to clear the residue left off.
And lastly, apply your moisturizer to keep your face hydrated.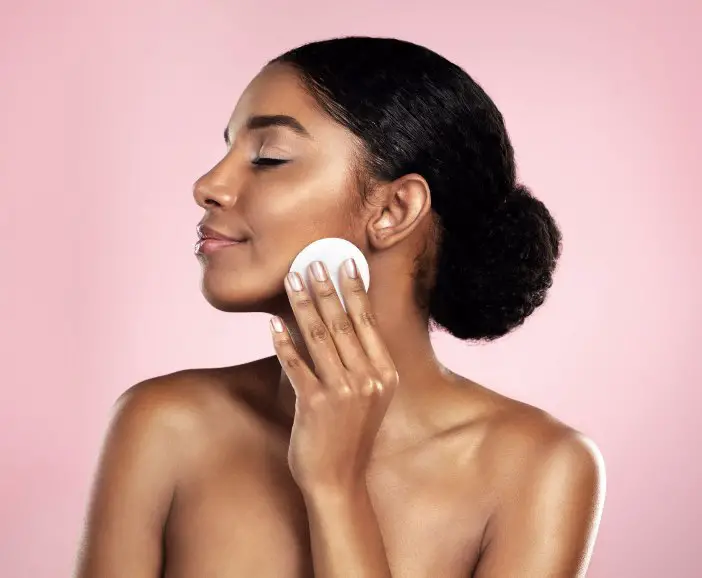 6.0 Makeup Effects FAQs
It might seem strange, but there are side or after-effects from using makeup. Sometimes it could be your body not accepting some of the products due to sensitive skin, or you have allergens to cosmetics.
I would be answering simple frequently asked questions when it comes to makeup and its effects.
6.1 Can I get allergic to makeup?
Yes, you can. There are two skin reactions you can get from wearing makeup. They are irritant contact dermatitis and allergic reactions.
Contact dermatitis is usually caused by your skin's sensitivity level. You might feel an irritation, burn, or itch when you use a particular product. This could actually get worse if continued and might damage the skin.
Allergic reactions are caused by your immune system's tolerance to a component, ingredient, or product. The allergic reactions could cause contact dermatitis like swelling, itching, redness, or even hives.
Both forms of skin reactions are usually caused by ingredients in cosmetic products like parabens and fragrances. The various formulas of cosmetics may have these ingredients in minimal or large doses. Therefore, you have to read the label when buying any product.
You can read the list of ingredients to know if it contains your allergens. Also, if you have sensitive skins, you should go for products that are fragrance and parabens-free.
Also, if you are not sure if you will react to any cosmetic product. Patch test. Patch testing is another way to know if your body can take any product or not.
All you have to do is apply the product to an unsuspicious part of your body. Wait for 24 to 72 hours to see if you react. If you don't, then the product is safe to use.
6.2 Is makeup good for my skin?
This is a yes and no answer. Makeup can be good and bad for your skin for several reasons.
One of the reasons makeup may be bad for your skin is if you are using a less quality cosmetic product. These products are mostly made with harmful chemicals that can irritate the skin or cause skin damage.
Another reason makeup can be bad for your skin is the side effects of using it. Some people experience these effects slowly, and some don't. This is why you have to know your skin type to choose the right product for you.
However, you can get the best of cosmetics products when you not only get the right products for your skin but also use quality products.
Also, many cosmetic products help the skin stay moisturized. Some foundations, concealers have moisturizing formulas that would hydrate the face and protect it. Also, many makeup formulas are not thick as they used before. Brands are now making breathable products, thereby unclogging the skin pores.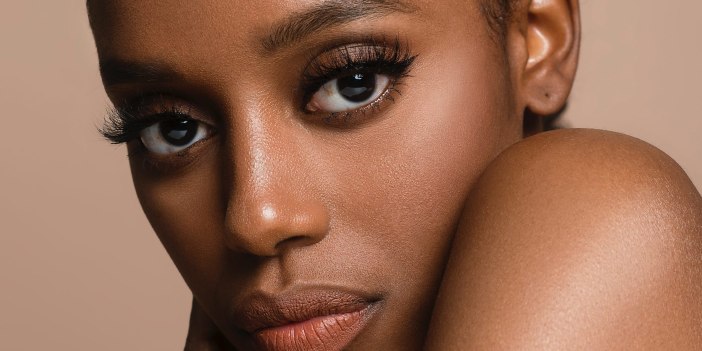 6.3 Are there any side effects from wearing makeup for too long?
Yes, there are. You might get some reactions when you use makeup products. This is why you have to be careful not to wear them for too long.
There are certain side effects of wearing them for too long. Although, these effects can be avoided if you practice some healthy skincare habits. Some of the possible side effects from wearing too much makeup include the following:
Clogged pores
Acne and breakouts
Skin damage from wrong products
Wrinkles
Increased skin vulnerability due to continuous exposure to some components or ingredients
Eye infections
Conclusion
Makeup is essential in the everyday lives of some people. And it is understandable. Not only does it help to create a beautiful aesthetic, but it also helps to build the confidence and self-esteem of the wearer.
And the best part about it is its ability to keep growing. The makeup industry in America has grown so much it has become a living organism, thriving every day. It keeps evolving, with the changes in time and new trends keep emerging.
You can wear makeup for many reasons but one thing that would stand out when it comes to makeup is how it enhances your beauty.
Africana fashion seeks to improve your daily lifestyle with exciting and relevant beauty articles.