It's completely natural if you only want to use top makeup brands for dark skin tones to give you a perfect and stylish face beat.
Makeup is part of a woman's everyday life. You need it to build your confidence and sense of self. However, choosing the right makeup foundation depends on a lot of things. This includes the brands you choose to use.
It took a while before medium to dark skin tone could get good representation and range in the makeup industry. Some brands realized this and created a whole niche in the market targeted at the underrepresented.
They understood that black wasn't just one color, it was a whole hue. I mean, the body isn't one shade of dark. It varies. Once these brands knew this, they were able to create a niche market that helped dark-skinned women with options and varieties, therefore, upgrading their makeup game.
Other well-known brands realized what they were missing and joined in. Now, we have an array of makeup brands for dark-skinned colors of different shades.
However, there are still some brands that are less than perfect when it comes to creating colors and formulas that work for black skin. This is why I am rounding up the top 14 makeup brands for dark skin tones.
Top Makeup Brands for Dark Skin Tones
If you are buying makeup as a black woman and you are going in blind, get ready to be rocked to another world. It might be fun but overwhelming if you don't know what will cater to your skin needs. Moreover, you might not be familiar with brands that offer great products for dark skins.
But here I am, giving you a concise description of the top makeup brands for dark skin tones so you don't have to get confused.
1. Iman Cosmetics
We can't talk about top makeup brands for dark skin without highlighting one of the pioneers. Founded in 1994 by supermodel Iman, the brand has risen to the top with its ability to cater to colored and multicultural women.
It's a favorite of many makeup artists. But the brand is known for its Luminous Foundation that has full coverage. The color shades are very verse, and you will always find your shade in the set. Even after decades, the brand still got it when it comes to black makeup.
2. Fenty Beauty
R&B artist Rihanna started her makeup line with a bang in 2017 and has since taken the makeup industry. Her brand offers 40 different shades of foundation. You are sure to find the color just for you.
The brand is known for its Pro Filt'r Soft Matte Longwear Foundation with an excellent matte finish.
There are also different makeup products the brand produces, all falling into the A-list in their category. No wonder the singer was able to rake in so much money in the first year.
3. Black Opal
I grew up hearing about Black Opal in my household. If you didn't have it, you were missing out. The brand still offers the same nuances to black skin as it did in the early days.
Started in 1994, the brand has created different shades of makeup products that identify with different shades of black skin. The brand is known for its True Color Skin Perfecting Stick Foundation and liquid foundations.
4. Beauty Bakerie
The vegan makeup brand has exquisite products with cheeky names and packages. The brand is known for its Flour Translucent Setting Powder. Beauty Bakarie is growing to become a household name in the colored community.
You could learn to bake your face with long-lasting and skin tone-pleasing natural makeup ingredients.
5. Mented Cosmetics
This is a lipstick brand that shows nude is in different shades. The brand was founded by two Harvard graduates who realized there weren't enough nude lipstick options for dark skin tones.
It is skin-friendly and parabens-free. There are other known makeup products under this brand, but Mented is known for its Semi-Matte Nude Pink Lipstick.
6. L.A. Girl
This brand offers a clean set of long-lasting makeup for women of all colors. It is known for being affordable and of good quality. It's a market saturated and friendly brand.
It's a starter makeup brand for any amateur jumping into the makeup world. The brand is known for its excellent Pro Conceal HD Concealer that offers deep coverage of the skin. If you want a starter kit, L.A. Girl concealer will always be found in it.
7. Cover Girl
If you are a Queen, then you'll love Cover Girl's Collection for dark-skinned women called Queen. The collection line was created by singer-actress Queen Latifah, and it is worth it. The brand focuses on making makeup look natural on black women without the ashy undertone.
The brand is known for having an awesome Queen Collection Liquid Foundation and its Colorlicious Lip Gloss. The products are skin sensitive and easy to use without reactions.
8. Cover Fx
This is also a brand that has a wide range of options for its products. Cover Fx took the global world by force, offering an array of foundation shades that'll speak to you. Naturally, black skin has different shades in the skin, well you can find the right shade of your skin tone.
The Cover FX Natural Finish Foundation is the highlight of the brand, and it comes in different shades with unique undertones. Also, the brand has space for undertones. You will find the right shade for you with the right undertone.
9. Black Up
Although on the high-price side of makeup products. Black Up doesn't disappoint when it comes to elegant makeup shades that speak to the skin undertone. They are known for their perfect mattifying primer and their full coverage foundation.
The brand is excellent for creating unique long-lasting products, especially for oily skins. You can be sure of a satisfying finish with the brand.
10. Black Radiance
The brand is trendy and affordable. It speaks to the younger generation with its sheer natural finishes. There are also popping colors that would bring out your eye area. The products are also cruelty-free, preservatives-free, and easy to blend.
The brand is known for its True Complexion Custom Concealer with two shades. One color-correcting, and the other brightening the skin.
11. Juvia's Place
Inspired to bring vibrant colors to life. This brand helps to create fun colors on dark skin canvases. The brand is organic and uses only natural ingredients to create outstanding products.
The brand is known for its wonderful The Warrior III Eyeshadow Palette, highlighters, and foundation set made for the deepest and nicest dark skin tones.
12. Blac Minerals
Another vegan brand to soothe and protect your skin. Black Minerals uses skin-enhancing ingredients to create natural and safe products. The brand boasts of its all-natural products without the use of harmful ingredients.
Also, it is size-friendly. The products come in small packages for the first-timers, before they commit to the regular-sized packages.
13. Law of Nature
Another eco-friendly makeup brand for black skin tones that wants to help black women stay healthy and beautiful. The brand produces highly organic products that are talc, lead, parabens, and mineral oil-free.
The brand is known for its mineral foundation that is smooth to the skin and breathable when you wear it.
14. The Lip Bar
Lip bar was founded in 2012 by Melissa Butler to give women of color alluring shades of lipsticks. The brand creates rich pigmented products for lips in unique shades that would complement women of color.
The Vegan Liquid Matte Lipstick line is also naturally based. You would find nourishing ingredients like avocado oil and shea butter to nourish the lips and keep them vividly bright.
Notable Mentions
15. Pat Magrath Labs
The brand has an awesome line of makeup products, especially in lipsticks and eyeshadow palettes. The brand is diverse and inclusive to people of color.
16. Colored Raine Cosmetics
As a brand focused on encouraging self-expression and diversity, Colored Raine provides a unique eyeshadow palette and vivid lipsticks to complement deep skin tones.
Frequently Asked Questions
What should I consider before choosing a makeup brand for my dark skin?
Whether you are choosing a foundation or a concealer, you have to consider several things before buying top makeup brands for dark skin tones.
Skin Type
This is important when choosing a makeup brand. The brand should be able to offer the best when it comes to your skin type. There are dry, oily, combination, neutral, and sensitive skin types.
The brands should be able to distinguish these types and give you exactly what you want.
Hues
As I said before, black has different shades. Top makeup brands for dark skin tones are top brands because they can provide an array of shades for black skins. It shouldn't be between light-dark and deep-dark.
There are shades in between that are hard to distinguish, but they exist. A brand should be able to offer a product your shade or close to your shade. The pigment should feel like a second skin.
Blending
A good brand must be able to play well with other brands. That is, it must mix well with other brands. This is the case for some brands. Their products complement each other. The product a brand offers must be able to provide the same finish when blended with other brands.
Undertone
Your undertone is the underlying skin shade. It is either cool, warm, or neutral. A brand should make available what would match your undertone. This might seem not so important, however, a product that matches your skin undertone illuminates it from within.
Finish
A finish is how the whole makeup comes together. You can go for a dewy, matte, shiny or glittering, or a natural finish. The finish is also dependent on your skin type.
Can I mix makeup brands for dark skin tones together?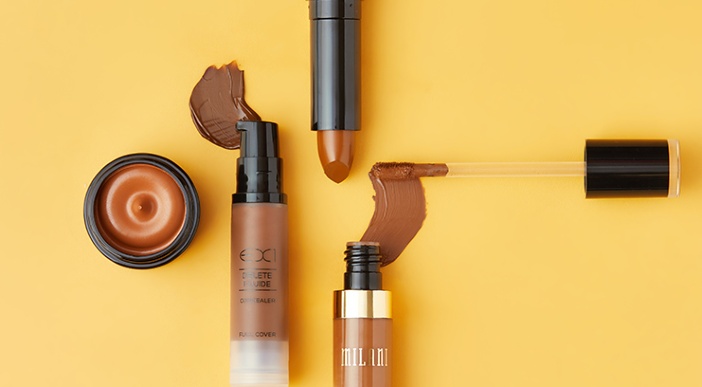 Yes, you can. Mixing brands is necessary when one brand offers a better option for a particular product than the other.
For instance, L.A. Girl is known for its full coverage concealer, while Iman cosmetics is known for its awesome foundation and powder. Although it is advised to use the same brands for foundation and colored powder, you can mix brands if they fit well.
Some brands are best for a particular product, but when mixed or blended with other products, it might become lacking. So you have to know if the brands blend well with other brands before buying.
SEE: How to Organize Makeup: See How to Transform Your Space in Quick Steps
How do I apply makeup?
It's very easy to apply makeup when you know what goes after what. When you want to apply your makeup, you need essential products like foundation, concealer, bronzer, highlighter, primer, and lipstick.
Also, you can opt for simple everyday looks or minimal makeup. The products you want to apply are based on your choice and availability of time.
To show you a simple everyday makeup look, the video below will guide you on the step-by-step phase in applying makeup.
Conclusion
Now you can see that truly there is an array of products for dark skin tones. Nothing should hold you back from getting the best out of the products you purchase. There will be something just right for you.
A brand like L. A. Girl is known for providing excellent long-lasting concealers to hide imperfections. Then you can talk about Fenty Beauty's Foundation that helps oily dark skin with a matte and long-lasting makeup.
And The Lip Bar is known for making the best lipsticks for all skin tones, including dark skins. As you see, there is an array from which to choose from. If you know what you are looking for, then you can make easier choices.
No more wandering around and thinking about what you should get. The options of the best are right at your tips. So have fun getting the best makeup you need to create your perfect face beat.
Africana Fashion provides relevant beauty articles to answer your curious questions.