Black is beautiful, no doubt. To some dark skin tones, it means restricting their makeup color choices to a few. And to other dark skin tones, it means trying everything from bright red to mellow brown. Following makeup tips for dark skin tones, it is both.
You can be careful to select safe colors that would highlight your soft features, at the same time you can go bold with your color choice.
There are different skin-toned people in the world and different hues of colors that have different effects on the tones. In the past, it was hard to find good makeup and colors that would highlight the brown features of women of color.
However, things are changing. Now there are so many makeup combinations that would stand out with a dark skin tone. So how do you utilize these makeup products to give you the best outcome that you want?
This is easy. There are some steps and tips you can follow if you are a dark skin beauty and you want to get the best out of your makeup.
Makeup Tips for Dark Skin Tones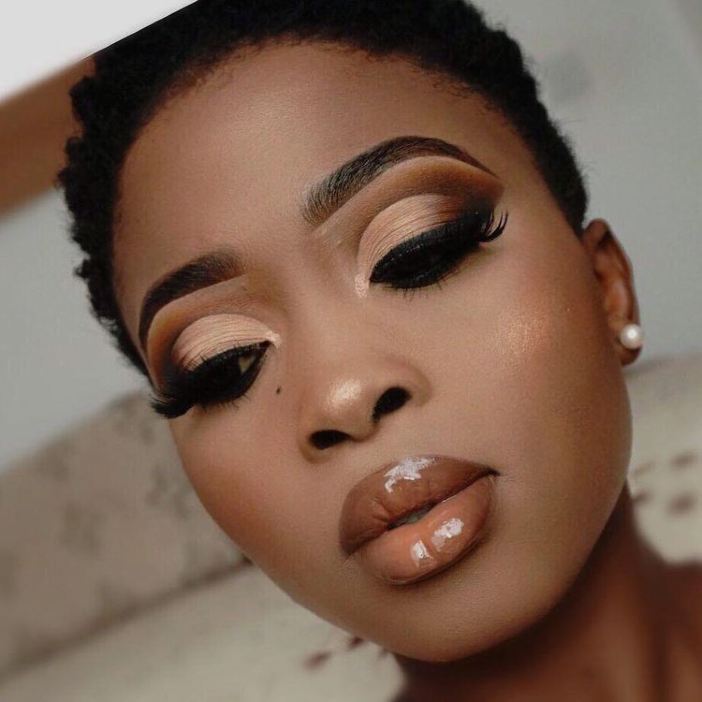 1. Know Your Undertone
When choosing shade matches, it gets hard if you don't know your undertones. Because there are little shade ranges for dark skin, your undertone will decide the closest shade that suits you.
For example, if you find that your skin glows when you wear silver or chrome-colored jewelry, then you are most likely a cool undertone.
If your skin favors gold jewelry, then you have a warm undertone. And if you look good in all kinds of metal, then you are neutral. Knowing your undertone helps makes shopping for makeup products, especially foundations easy.
SEE: How to Choose the Right Foundation for Your Dark Skin
2. Do Not Assume Your Face Is One Color
The truth is no dark skin has one color. Brown skin usually has a lot of depth and it cannot be one shade. The face, for instance, is always darker than the chest. So what best way to tackle this? Mix and match the different shades to get the right one.
You can use a foundation for the lower half of your face and another for under the eyes and another for the top. This will make your skin look multidimensional and not flat.
3. Stick to Tinted Powders
When choosing your powder, stick to tinted ones rather than transparent powder. Transparent powder tends to leave the face with a whitish coating but tinted powder blends well with the skin tone.
Also, you don't need to pile up the powder on your face to make your skin look less oily. Try using blotting paper instead.  
4. Find Your Transition Shade
Dark skin is usually afraid of colors, especially bright ones. But every color works with every skin tone. What makes the colors work for dark skin tones is how you blend them. Finding your transitioning shade is important.
This is the under-color you use for color concealing. Orange is said to be a transitioning shade for dark-skinned beauties. It can blend well with bright colors and brown skins.
5. Use Blush and Bronzer
You don't need to skip blush and bronzer because you have brow skin that would not pop with them. This is not true. There are many blush shades that would look great on dark skin tones.
Use natural red brick color close to coral, as well as colors like rouge satins, bright pinks, and darker dusty rose colors as blush.
You can do better by mixing your blush and bronzer together on your face, which will create a shining look that pops.
SEE: Bronzer Dos and Don'ts: Guidelines MUAs Say You Should Know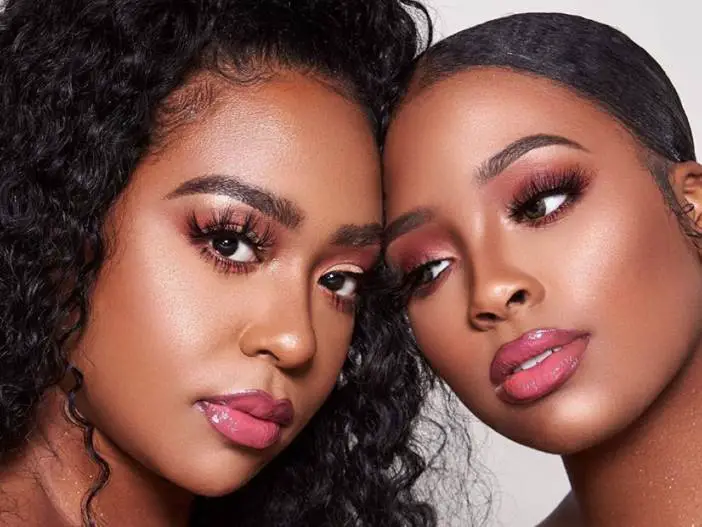 6. Play With White
Always try to mix in a little bit of white in your colors. The contrast between dark skin and white pigments yields ethereal and out-of-this-world results. But when using white, make sure to pack the color in one area so the focus will be clear and vibrant.
You can also use white for your lips and blend with natural or bright colors to make them contrast.
7. Moisturize Regularly
One of the makeup tips for dark skin tones that you must not forget is to moisturize your skin properly. Dark skin tones, especially those with dryness problems, tend to look ashy if they do not apply moisturizer on their face.
To keep your face and body hydrated, make sure to use a good moisturizer before you start your routine, that way you can have clear and glowing skin.
8. Use a Sunscreen
Some people with dark skin tones think they can't get affected by UV rays, but we all can. You have to protect your skin with sunscreen and keep it hydrated. You can choose your sunscreen based on your skin type and make sure to apply it before you put on your makeup, not after.  
9. Bold Eye Equals Neutral Lips
When trying a soft-glam look, it doesn't have to be the same with others. Some might prefer using lighter colors around the cheeks and the eyes, while others are about making a statement with the lips and the eyes.
For a fun soft-glam look, you should try not to be too harsh with your lips. Rather than use heavy-colored lipsticks like red, burgundy, or orange, try to stick to neutrals. This way your lips will even out the bright colors of your upper face.
10. Use Color Friendly Brands
Another one of the makeup tips for dark skin tones is to use products that have been designed specifically for dark skin.  They will have more range for the different shades of dark and their products will be customized to deal with the issues of dark skins, like hyperpigmentation for example.
11. Experiment
As we have said before; don't be afraid to go bold with colors. Your dark skin tone should not hinder you from wearing bold colors. You can wear red or green eyeshadow, or go bold with turquoise. When you wear bold colors, just make sure you don't use more than one brightly colored concept. That way your face will blend well.
SEE: Morning Skincare: Essential Products You Need for a Solid and Fast Routine
Essential Makeup Products for Dark Skin Tones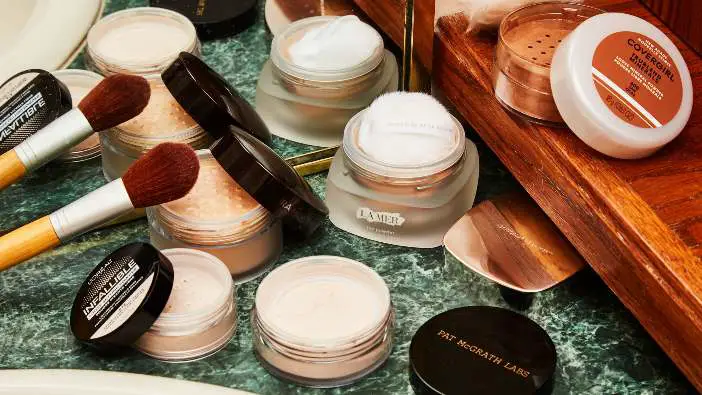 Foundation
Foundations are products that help to cover all blemishes and bring out the natural beauty of the face. There are different options you can go for when choosing a foundation, but they have to be for your skin type.  
Foundations are essential in makeup routines because they add layers to your face and give it a smooth and natural finish.
Concealer
Conceals are color correctors that conceal the face of hyperpigmentation. They are usually used before foundations and are meant to blend the colors in.
For dark skin tones color correction, you should go with orange or red concealer because they neutralize the dark brown discoloration that most dark skin tones experience.
Powder
The makeup powder is used to set your makeup after you are done. It is a finishing touch that helps to make the makeup look put together. Dark skin tones should opt for tinted powder than transparent powder.  
Highlighter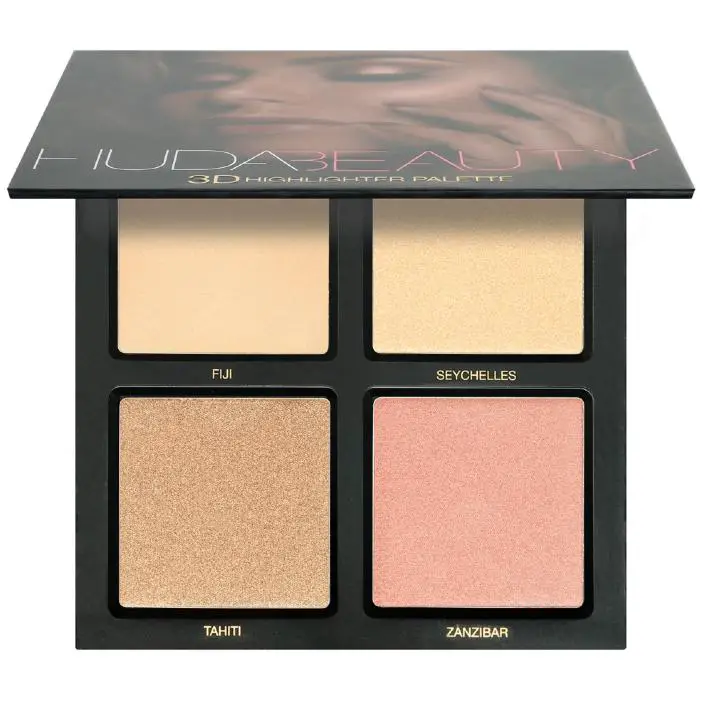 A highlighter is also a pigmented product that highlights specific places on the face. They give the face a nice polish and also make the chin, cheeks, and forehead pop. Highlighters are essential to bring out the angles of your face and not make you look flat.
Dark skin tones should opt for a creamy highlighter to create a smooth look after the application.
Bronzer
A bronzer will make you look sun-kissed and fresh-faced. It would also give you a tan color that will make your skin pop. Dark skin tones should go for a bronzer that is two shades darker than its tan color. For a neat look, you apply to your forehead, nose, and chin using the C formation.
SEE: Organize Your Makeup With the Best Makeup Kit best makeup kit
Blush
The blush is there to give your cheeks color and make them feel rosy. You can opt for shades in corals, rouge satins, bright pinks, and darker dusty rose colors. Don't go for light pink as they feel unnatural to the skin.
Eye Makeup Products
This includes eyeliner, eyeshadow, mascara, and eye pencils. They enhance the look of your eyes and also make them pop. How you use these products together will determine whether you are going for a heavy, soft, or natural concept.
For daytime, you can go with the everyday makeup look that consists mostly of natural colors. And for the evening, you can play with colors to make your eyes pop.
The stable colors for dark skin tones include shades in copper, browns, prunes, blue, purple, and greens.  You can also experiment by using brighter color shades like red or orange.
Lipstick
Lipsticks are heaven-sent. They add not only color to your lips but also enhance your lips and their shape. You can use any color of lipstick you want, but if you are going for bold colors, go for their darker shades than the bright ones.
The best colors for dark skin tones will always be purple, red, burgundy, orange, and neutral colors. Do stay away from frosty finish lipsticks or one that is too glossy on your lips. You can make your lipstick pop by using nice lip liners too.
Frequently Asked Questions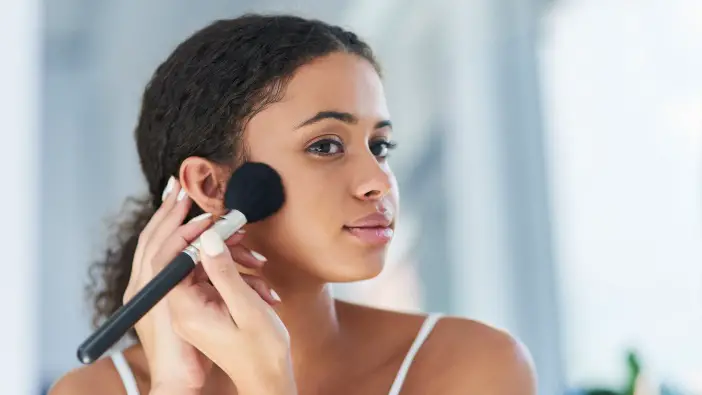 Can dark skin tones wear any color of makeup?
Yes, they can. Dark skin tones can wear any color of makeup. What matters is the shade and the undertones you choose.
The shade must complement the skin tone and shade. Moreover, the undertone makes the foundation matches and looks natural on your skin.   
Can dark skin tones wear any type of foundation?
Yes, they can. Although dark skin tones are mostly between oily and combination skin, they can use any foundation as long as the features of the foundation matches your skin's features.
How do dark skins cover hyperpigmentation with makeup?
Use a foundation or concealer. You can use a concealer to color correct and a foundation to blend and create an even shade on your face.
You can also use a BB cream and CC cream if your hyperpigmentation is little to non.
Conclusion
Makeup tips for dark skin tones will help you melanin beauties in getting a perfect makeup finish. You might have everything you need but knowing the hidden trick behind the products to get the best result is a plus.
Also for those color shy, you can experiment and try on new colors. But be sure to use one bright color at a time. If you go too hard, you might end up looking like a clown.
Makeup has always been a fun love for women of all skin tones because it not only enhances their beauty but also gives them self-confidence. So when you do it right, you feel right. Let these tips guide you all the way.
Thanks for reading.
Africana Fashion provides you with relevant beauty articles to improve your beauty goals.