Introduction
The skin is a very delicate and sensitive outer layer of the body. That is why we have to take care of it. Whether it is during our morning skincare routine or nighttime skincare routine, we have to be meticulous with the way we treat our skin to give us the luminous shade we want.
Let's face it, it's hard to keep up your morning and nighttime routines, because there are so many products that need to be used, but choosing the right one is all about what is essential for that period of time.
For nighttime routines, the aim is to address the skin issues before the rejuvenating process of nighttime sleep begins. That means you need beauty products that would heal and repair damages to your skin.
The morning skincare routine meanwhile is all about the protection and preservation of whatever you have. It is to help you maintain what you have as best as possible. So the products in your morning routine are beauty products that would shield your skin against possible damages, like the sun rays for example.  
The fun thing about the morning skincare routine is that it is fast and easy because you usually don't have time to waste, you gotta go out and battle whatever the day hurls at you. And your skin will definitely need a shield that would protect it.
Morning skincare routine is essential in the beauty regimen because it protects the skin from the fallout of the sun and any other harsh elements that you may encounter. Also, it keeps the skin healthy, clear, and glowing from the regenerating process overnight. So you need this routine to keep your skin's vitality intact.
You can try minimal skincare routine too.
Beauty products for morning skincare routine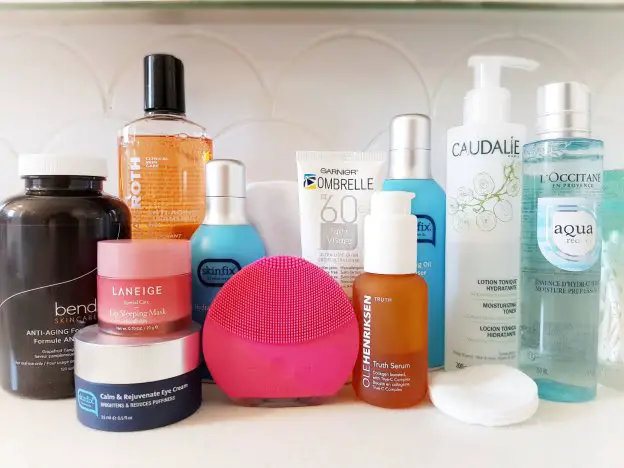 When carrying out your morning skincare routine, you have to be equipped with the right products. You don't need to buy the whole beauty aisle to get that smooth and soft skin, what you need are the essential products that would help protect your skin, especially from the UV and UVB rays of the sun. These products include your cleanser, toner, serum, moisturizer, sunscreen, and eye cream.
You can change up the products based on your skin's needs at the moment. You don't need too many products for your morning skincare. All you need to get the best results for your face and skin is to apply the products in the right order and correctly.
The morning skincare products are arranged in order of how they should be applied.
1. Cleanser
Aside from water, the first product to apply to your face in the morning is a cleanser. This is the first stage. You have to use a cleanser that does not contain harmful chemicals like soaps, fragrances, sulfates, and comedogenic oils.
A cleanser helps to brighten the skin with its glow-enhancing antioxidants. Also, a cleanser removes the remaining products from the nighttime regimen and hard to remove makeup.
2. Hydrating toner
For oily and acne-prone skin, keeping the face hydrated is essential in maintaining a healthy complexion. Most people choose to skip toners because of their presumption that it is harsh and irritates the skin easily.  But that is not the case. Instead, toners help to tighten your pores, decrease oil, and increase hydration in the skin.
3. Serum
The serum is an active product that contains ingredients like salicylic acid and it has the intended effect of brightening and correcting the skin. It also blunts the skin's inflammatory response from UV rays and pollutants. The serum is a highly concentrated and nutrition-dense treatment that could amp up the health of your skin as soon as you apply them.
It is best to opt for a serum filled with hyaluronic acid and antioxidants, which pulls water from the skin and seeps them on the face.
4. Eye cream
You need an eye cream to treat the tragic areas of your face, that is, the area around the eyes. You can opt for an eye cream that brightens the eye area and heals the dark circles and eye bags on the face. If you are worried your eye cream will cause your concealer, use a hydrating gel that sinks into the skin and stays put.
5. Moisturizer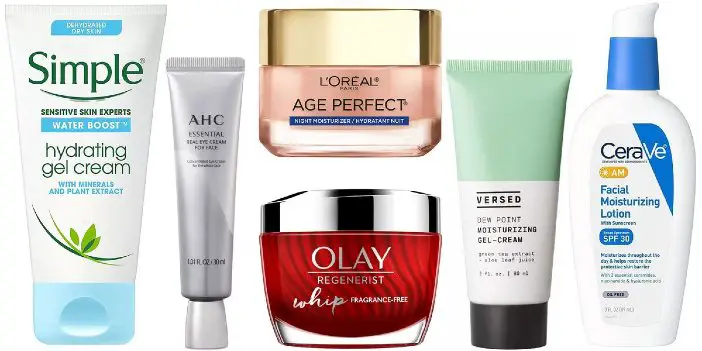 Moisturizers are a must, even if you have oily skin. A moisturizer keeps your skin hydrated and helps to strengthen the barrier of your skin. Since it is the daytime, use a moisturizer that is light to the skin and will not soak in quickly or pile under your makeup.
The moisturizer will also help protect your skin from the harsh weather that could wreak havoc on your skin. The best time to apply a good moisturizer is when your skin is still damp to lock extra hydration with your moisturizer.
6. Sunscreen
This comes last in your morning skincare routine after the first five. Now that you have secured the hydration of your skin, you need to protect it from UV rays that could be harmful.
You have to be careful though when choosing your sunscreen. Opt for a physical sunscreen with zinc, which is safe and effective. And when using chemical sunscreens, go for ones that have moisturizers in them. This is because chemical moisturizers seep deep into the skin.
Notable mentions
Face cleansing oil
Face cleansing oil will help clear your skin, especially if you used cleansing oil at night. This will help to absolutely lift the nighttime products from your skin.
Spot treatment
Spot treatment is also optional especially if you have clear skin without blackheads. If you are experiencing acne breakouts, you can apply a leave-in spot treatment in the morning. The best time to spot-treat your affected areas after you moisturize. This helps the product stay on the spot and not spread across the face.
Primer
A primer is an equal part of skin care as it is makeup. It is optional if you aren't adding and pigmented products to your face like a foundation and BB cream. Primers are good for protecting your skin against sun rays.
Tips to help your morning skincare routine
When it comes to a morning skincare routine, you have to have a strategy and handy tips to help you achieve what you want. You also have to be careful with using products that will harm rather than protect and heal your face. These tips are here to guide how you use the products highlighted above.
1. Start your morning skincare routine slowly
We all know when the alarm goes off all things are forgotten because we are in a rush. It doesn't have to be that way. To have time for your morning skincare, set your alarm 10 – 15 minutes earlier than usual and keep a glass of water by your side to keep yourself hydrated when you wake up.
2. Always wash your face before you start any beauty regimen
That is like the golden rule. Even if overnight skin feels fresh and nice, the skin always renews, and therefore cell production increases. Washing the face with the first natural cleanser, water, will help remove dead skin cells, impurities in the pores, and present to you a balanced and ready ace. Then you can move to your cleanser.
3. Find the best cleanser
Choose the product that works best for you, free from harsh chemicals, and is enriched with skin-boosting ingredients like Vitamin B5. It is best you cleanse with a cotton pad so that you won't wash the nutrients off your face.
4. Time works well
How you use your moisturizer is important. It is best to use it while fresh out of the shower, this way the air your skin draws from moisture is retained in the skin. Also, remember to always add your sunscreen to your skin, whether it is sunny outside or not.
5. Take your routine to the breakfast table
Time is the essence of the morning skincare routine so to optimize all the time you have efficiently, take your skincare as you do other chores like getting ready for work. You can also boost your skincare by eating breakfast that would help protect your skin. You can try a smoothie or any food that is packed with vitamin C, vitamin K, and antioxidant benefits.
Conclusion
Morning skincare routine is very essential to keep your skin brightened and clear. It also helps to protect your skin from the day's pollution and sun rays. Since you are pressed for time, the routine only requires you to use essential products that will do the work. So you can try to improve your skin by using this routine and following the tips to help keep your skin in top shape and health.
Loved this article? You can find more in the category here.