Haircare is so important to women that they are shifting to natural products to help them grow, maintain, and strengthen their hair. Natural oils like coconut oil and their benefits are being utilized as the golden ingredient to get the great hair glow we need.
No more using artificial chemicals and synthesizers in the hair and back to the old ways of using naturally blended ingredients for hair growth.
Over the years, the use of coconut oil has expanded beyond cooking and it has been lauded as one of the best natural products for all users.
But is coconut really good for the hair?
I will look at the benefits of coconut oil and why it is ideal for hair types, especially natural hair.
Benefits of Using Coconut Oil on Your Hair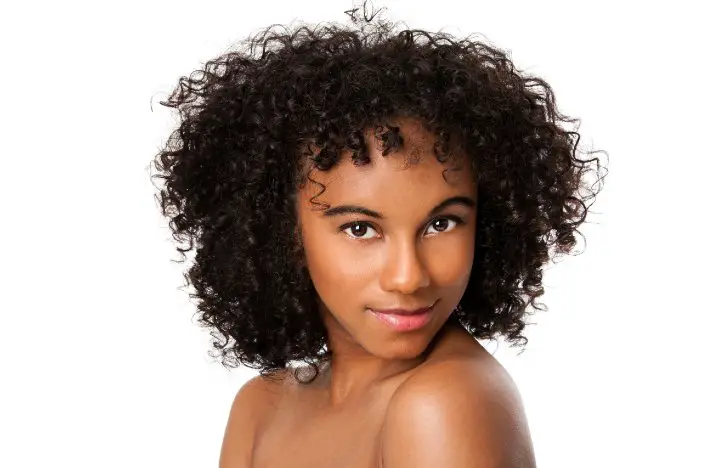 1. It helps to soften and condition hair
Using coconut oil can help reduce protein loss for all hair types. Coconut oil is very rich in lauric acid that would help in protecting the scalp by penetrating the hair shaft and acting as a shield to maintain the nutrients in the hair.
2. Stimulates hair growth
Coconut oil contains essential fatty acids and vitamins that will nourish the scalp and remove build-up from hair follicles. With the hair follicles free, they can easily grow new hair, longer, thicker, and healthier. It also helps with the fast growth of hair.
SEE: Is Coconut Oil Good for Hair Growth? Everything You Need to Know
3. Deep conditions your hair
Deep conditioning your hair is an activity every woman should carry out at least once a week to keep moisture and nutrients in place. Coconut oil helps to lock moisture in your hair.
Just like a normal deep conditioner, you apply it to your scalp and wash it off after a regulated amount of time. You can also use it to detangle your hair.
4. It adds shine
Coconut is the absolute best for natural hair because it adds shine to the tresses, giving it a beautiful glow that makes it look healthy. However, you have to make sure to apply it lightly to avoid your hair becoming greasy.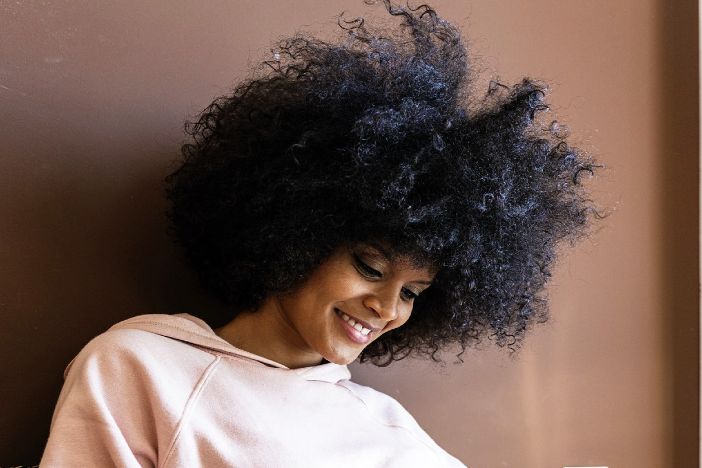 5. Fixes Split ends and frizz
You don't have to run to the salon to fix split ends when you use coconut oil. It is known to fix split-end problems in an instant. With coconut oil, the cuticles of your split ends will become smooth, so that your hair won't look frayed at the end.
Also, it can control the frizz of your hair because it replenishes the moisture in your hair. Moreover, this is not a permanent fix, so you will still have to visit the salon to fix the split ends and get a trim.
SEE: How to Use Coconut Oil for Hair Growth: Here's the Best Treatment Method for You
6. Prevents color-dye damage
If you are the type of woman who loves to dye her hair, well you can feel safe with coconut oil. Coconut oil when used before a major dye will protect your tresses from bleach.
7. Minimizes sun damage
With coconut oil, your hair can stay shielded from the UV rays of the sun. It is a natural SPF that will protect your hair from the sun and minimizes its damage to the hair.
SEE: Best Essential Oils For Your Aromatherapy Uses
8. It reduces dandruff
If you have dandruff flakes in your hair, you can deal with them by applying coconut oil to your hair minutes –like ten minutes- before you shampoo. You continue this routine for a while until your dandruff disappears.
9. Deals with lice
You can apply coconut oil to your hair when dealing with lice. Apply from root to tip as the initial step to kill lice. Then you can use an apple cider rinse to kill the eggs or nits still trapped in the hair. You can also combine it with anise in a spray to be more effective.
10. Calms irritation
Coconut is high in natural saturated fat that helps to calm irritation and itching in the hair. If you feel uncomfortable with irritation from dandruff, heat, or lice infestation, you can use coconut oil to treat the irritation and itching and also treat their causes.
11. Prevents hair loss
Excessively and obsessively grooming your hair can cause damage to the hair and shaft, and in extreme cases, hair loss. But with coconut oil, the damage can be reduced and prevented if used properly.
SEE: Is Coconut Oil Good For Your Face? Debunking The Rumors
How to Apply Coconut Oil
Coconut oil is not harmful to the hair; rather it is how we apply the oil that decides whether we get a good or bad result. There is always a right and wrong way to applying coconut oil to the hair.
A wrong way to use coconut oil is as a moisturizer because it is a sealant. This could lead to your hair drying out if you use it too much. Also do not apply coconut oil on dry hair because the oil locks moisture in and keeps it shining.
Coconut oil is best used for conditioning and then washing out. It must not say too long in your hair. These are the right way to use coconut oil:
As a conditioner: First, you shampoo your hair and then comb coconut oil through your hair, from the midsection to the ends. Wash out after few minutes.
As a detangler: You wash and condition your hair first, and then you rub the coconut oil into the sectioned hair to protect it while you brush through it.
As a hair mask: First, you rub the coconut oil through your hair. And then let it sit for a few hours (or even overnight) before washing it out with water.
As a pre-wash hair protector: You rub the coconut oil through your hair before you wash it. You can apply a night before shampooing.
As a scalp treatment: Before you sleep, massage a minimal amount of coconut oil deeply into your scalp. In the morning, you can wash it off with shampoo. You can combine coconut oil with other treatments to get a better result.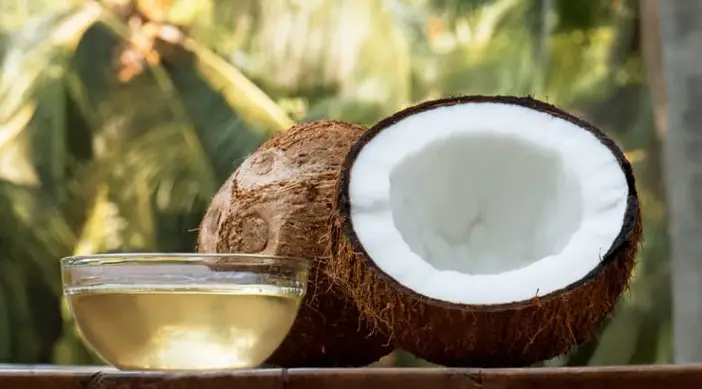 Is Coconut Bad for Hair?
Like any product warns of over or excessive use, the same goes for coconut oil. One thing about coconut oil and oils, in general, is that they lock moisture in our hair, which means nothing can get in or out.
Moisture won't be able to enter your hair and the locked one is bound to dry, causing the hair to dry out with the continuous use of coconut oil. This is why you have to wash the coconut oil out regularly.
Also, no matter the do-it-all wonders of coconut oil, it shouldn't be used as a conditioner, moisturizer, and styling agent at the same time. You can interchange its position from time to time to avoid excess grease and pile-up in your hair.
Coconut oil cannot save severely damaged hair, which would need professional help. Many think slapping coconut oil on their hair will yield results, but that is not always the case.
Coconut oil does help the hair, but mostly for maintaining and restoring, not treating hair damage. You might be worsening the problem if you only use coconut oil for your damaged hair.
Frequently Asked Questions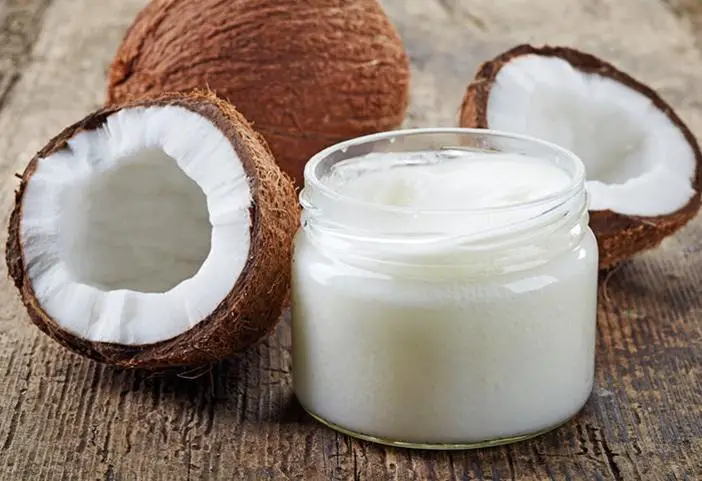 Is coconut oil better at protecting than other oils?
Yes, it is. It has been discovered that coconut oil is better than other oils in some aspects.
For example, coconut oil is the best for reducing protein loss and keeping your hair looking healthy. Studies have shown that coconut oil is the best for protecting hair health; better than other oils like mineral oil or sunflower oil.
Whether you add the coconut oil before or after washing your hair, coconut oil has enough lauric acid that gives the oil a long, straight structure that can be easily absorbed deep into the hair shaft. It makes it easier to coat the hair with this acid.
Is coconut right for every hair?
No, it isn't. As good as the benefits of coconut oil are, coconut oil is not meant for all types of hair.
Coconut oil is rich in lauric acid which is good for hair proteins. This makes coconut oil great for medium hair that lacks little to no natural protein.
If you have dry, stiff, brittle, or coarse hair, it is best you say away from coconut oil. This is because coconut oil locks the moisture from getting in. However, dry hair needs as much oil as it can get.
Your hair could become drier or more brittle if you use coconut oil, especially in the summer. It could also cause your hair to lose elasticity and start to break when combing and styling.
What is best kind of coconut oil to use?
Extra virgin oil. When choosing the type of coconut oil to use, it is best you go for extra virgin coconut oil. Extra virgin coconut oil is pure coconut oil free of chemicals. It is organic and from the best source.
Another type is refined coconut oil, but this type of oil is chemically processed and often contains bleach. So if you want the best for your hair go for the extra virgin coconut oil that reassures it is natural and won't contain chemicals that your hair would react against.  
SEE: Best Professional Hairdryer
Summary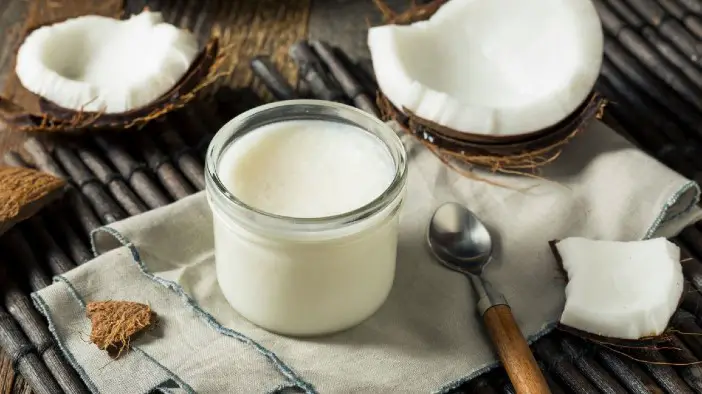 Coconut oil is good for many things like cooking, skincare, and hair maintenance. If you want to reap the benefits of coconut oil, you have to use it properly and make sure it is right for your hair.
Then you can watch as your dandruff disappears, your hair shines, and your hair grows healthier than ever before.
Now that you know the coconut oil benefits and possible damages you can use it sparingly. The trick when using coconut oil, always use it on wet hair and wash it off so that the oil will not dry your hair up.
If you continue to be guided by these things, you will get to enjoy healthy hair with coconut oil.
Africana Fashion provides hair care articles suitable to improve your healthy hair lifestyle.