Passion twist is the trending and newest of the two-strand twists. This hairstyle was created by Miami hairstylist, Kailyn Rogers, The BohoBabe, in 2018. And, she named the hairstyle after her mother, Passion.
Recently, everyone seems to be opting for passion twists rather than the regular hair braiding styles and even its sister twists. I am not surprised because there is a high demand for hairstyles that won't take too long to install yet will be stunning.
I also believe that you have been thinking of what passion twist styles are available for you. To this end, I have compiled a list of stunning passion twist hairstyles that you can wear this summer and even after. 
What is Passion Twist?
We must gather some information about this beauty before we begin to explore the different available hairstyles. Passion twist is a two-strand hairstyle that incorporates Senegalese twists and goddess locs to achieve a boho look.
This protective hairstyle can either be installed directly or using the crotchet method. Although some persons use kanekalon for this hairstyle; most stylists advise that you use Freetress Water Wave hair to get them in a loose, curly, and silky texture.
Passion twists maintenance is at little or no cost and they can last up to eight weeks. Moreover, the twists look better with time. Rogers assures that you can get into the water with passion twists. So, you can enjoy every pool time this summer.
In addition, you can wear your twists in whatever length you desire. And, there is no end to styling these silky twists.
1. Long Passion Twist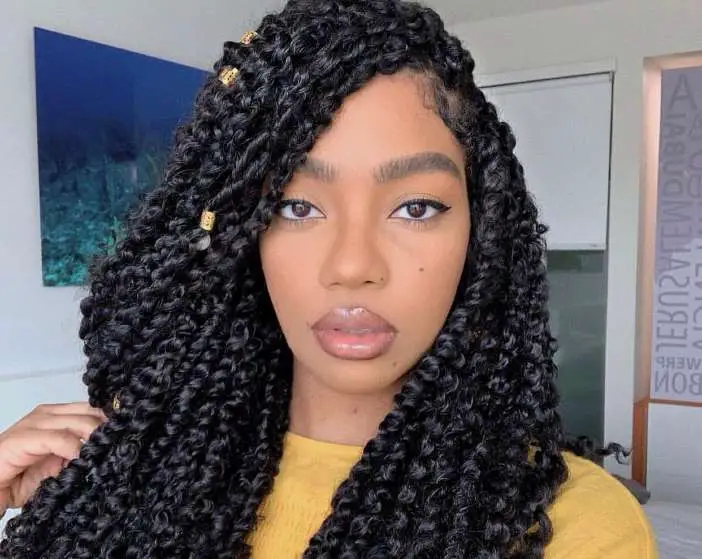 Hairstyles look more profound with extra length. Similarly, long passion twists cannot go unnoticed. The extra length confers more femininity and makes you look very elegant. Also, with these long twists, you'll always have a wide range of styling options.
However, the extra length will consume more extensions and care time. Unlike other hairstyles, the length does not make it heavier. Feel free to experiment with bold colors and adorn the length of your braids with hair accessories like rings. 
In addition, allow your twists to fall down the length of your back; this way they have a lot of body and movement.
2. Medium Length Passion Twist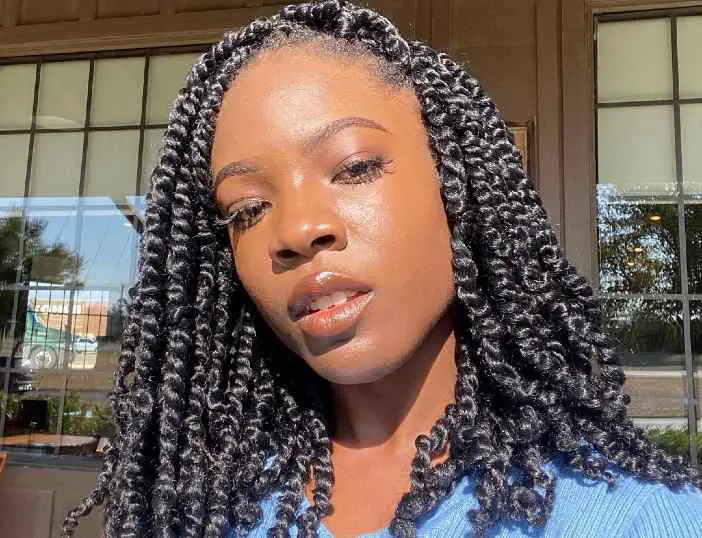 Medium-length passion twist mediates between the long and short passion twist. If you love to wear long hair but you're looking to avoid extra length, you can wear this hairstyle.
Similar to the long variant, you can style this hairstyle in different ways. For instance, you can have it up in a bun or left down. Either way, you'll look chic and feel relaxed. You can also have colored hair for a creative effect.
3. Short Passion Twist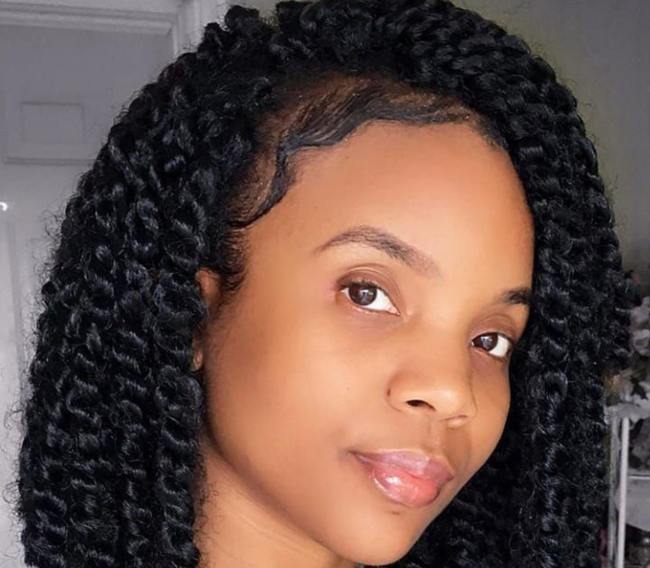 During summer, it could get quite hot and you most likely do not need so much on your head and around your body. Short passion twist is the perfect hairstyle for your comfort. While it looks more voluminous, you do not have to worry about length and extra weight.
Moreover, it is pocket-friendly because you do not need to use as many extensions as you would if you wanted extra length. Plus, it is easy to maintain. You can also ask your stylist to add a little more length and thickness for a bob style.
4. Jumbo Passion Twists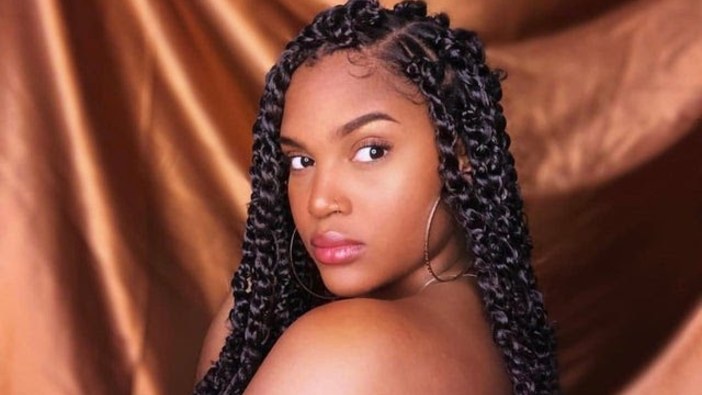 If you like to take hair thickness to the next level, you can give these chunky twists a try. Although it requires more extensions, you'll love the "oomph" look. Jumbo passion twists add some drama to your look.
Moreover, if you have thick hair and do not like to sit for too long, you'll certainly find this hairstyle very handy. With these jumbo twists, less time is needed to style your hair into few strands that will still look elegant.
Also, you do not have to think too much of a perfect hairstyle for summer festivals.
See Also: Best Hair Extensions to Change Up Your Style
5. Small Passion Twist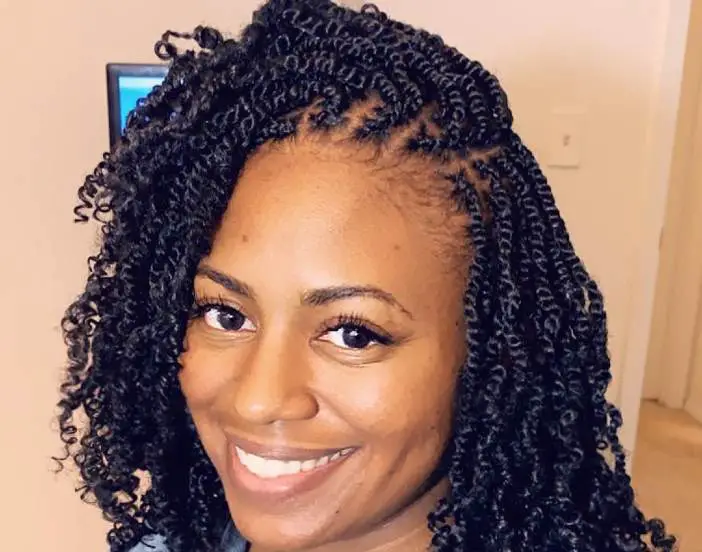 Small passion twist is a great switch for the bulkiness of the jumbo-sized twist (if that's not your cup of tea). I love this style because of the less voluminous feel and how it lays flat to perfectly frame my face.
This hairstylist is a great option for people with thin hair. However, if you want to get this hairstyle, you should be ready to spend some hours at the salon. But, your time will be worth it eventually.
6. Half up-Do Passion Twist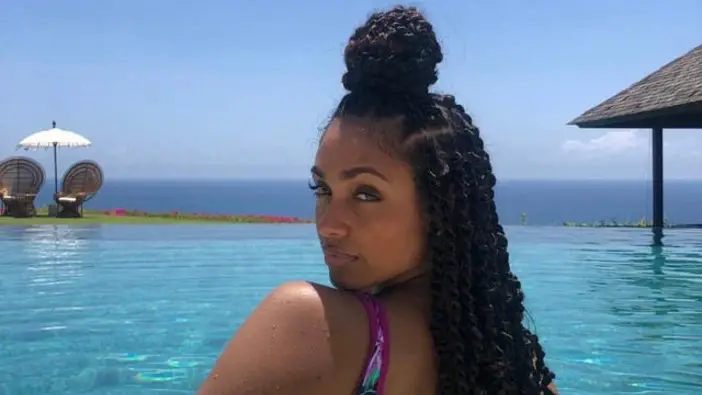 Wearing your twists in a half-up-do style is a perfect way to flaunt your facial features and equally show off your hair. I believe you have spent some extra cents on the length and color of your hair.
Whether it's a professional meeting, a casual hangout, or a ceremonial event, this stunning hairstyle is good to go. You can have the half up-do on any of the various lengths and textures of passion twist.
7. Passion Twist Bun
Still in the summer vibe, you can sweep your twists up into a bun. This hairstyle doesn't just relieve you from the hair on your body; it is also a perfect way to show your face.
You probably have spent some time making a perfect winged eyeliner. The world needs to see that. For your bun, you can have it high atop your head or at the center. Also, if your twists are very short, you can let some bangs fall to your forehead to look like a fringe.
However, try not to wear a too-tight bun or alternate between a tight or loose bun. This way, you are not putting too much tension on your scalp.
Learn More: Protect Your Hair's Natural Oil With Sulfate-Free Shampoo
8. Ponytail Passion Twist
Like I said earlier, there is no end to styling this hairstyle. Just as you tie your regular braids into a ponytail, you can do the same here. Sweep all the twists and use one or two strands or a shoelace to tie them together.
This look allows you to show off your facial features and still allow your hair to flaunt movement. Despite the warmth of the summer, we all still want to look dressy. So, feel free to explore this hairstyle with a high or low-pony.
9. Middle Part Passion Twist
Middle part hairstyles draw attention to your cheekbones and jawline. Both facial features stand projected out of the whole face. You can also enjoy this look the boho way.
This passion twists hairstyle makes your face look slimmer and longer. Besides, it is easy to wear and can still make your nice makeup visible and admirable.
10. Side Part Passion Twist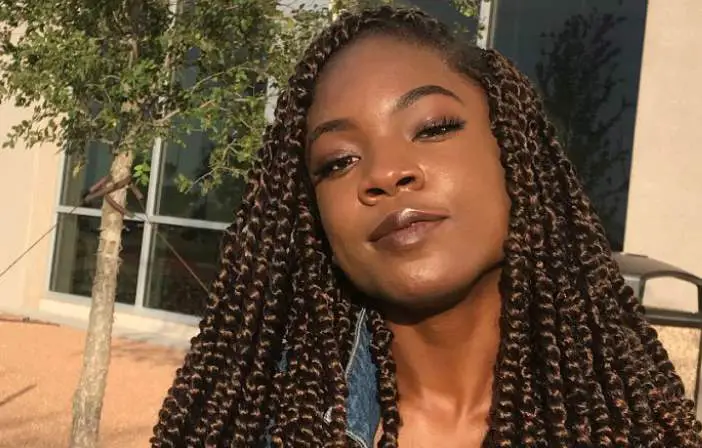 Just like the middle part passion twist, parting your twists by the side is also a good way to keep hair out of your face. This chic hairstyle highlights your cheekbones and jawline.
If you want a creative feel to your twists, you can wear chunky long or medium length twists in a side part. 
11. Box Passion Twist
Lovers of box braids will surely love this hairstyle. Your stylist can section your hair into squares before working the Freetress Water Wave hair into the two-strand twists. As you like, you can have box passion twists styled into a middle or side part.
Also, you can have it in any length and texture, according to your preferences.
See Also: See 26 New and Refreshing Tribal Braids Hairstyles You Should Try
12. Blonde Passion Twist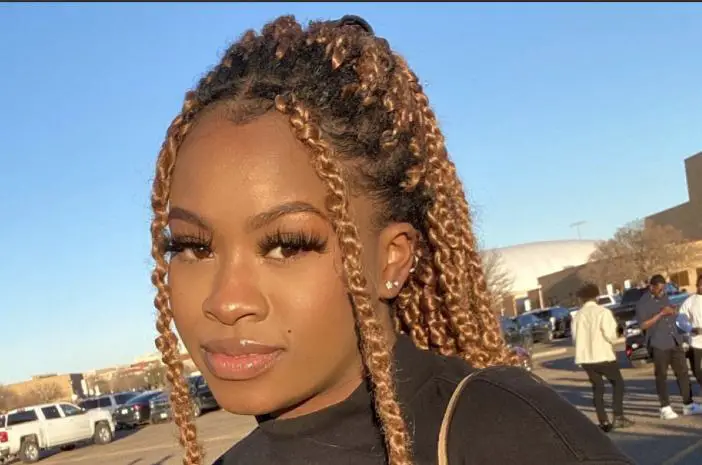 Blonde passion twists are tailored to the preference of lovers of color and adventure. Freetress Water Wave hair comes in a variety of colors you'll love and blonde is one of them. Moreover, it's summer, the season of bright colors.
13. Bohemian Passion Twists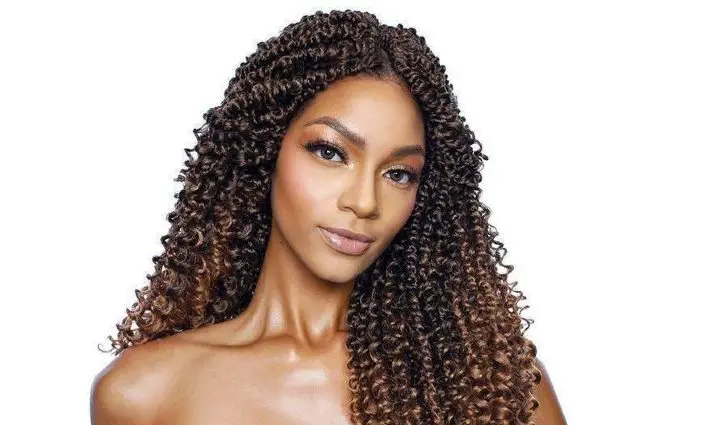 Passion twists can be installed using bohemian hair. The free-spirited woman would love this hairstyle. It comes out curly with a full boho look. Your stylist can also allow some curls to hang loosely from the strands to give your hair a soft feel.
14. Crochet Passion Twists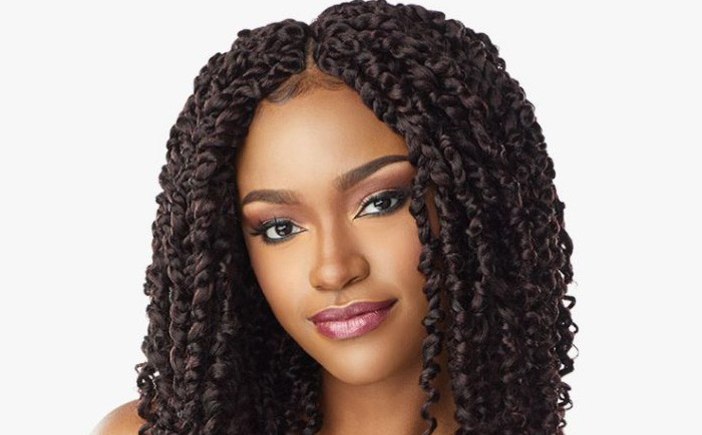 Further on the time-saving hairstyles, you can have pre-twisted passion twists installed on your hair. The number of packs of crochet passion twist you'll need depends on the size and length of length you want.
To get this hairstyle installed, your hair is first made into cornrows. After which, the twists are installed one by one using a crotchet latch hook. You can get this look with this Crochet Braids Hair Water Wave extension.
Read Also: Get Thick Luxurious Hair With These 9 Natural Home Remedies
15. Ombre Passion Twists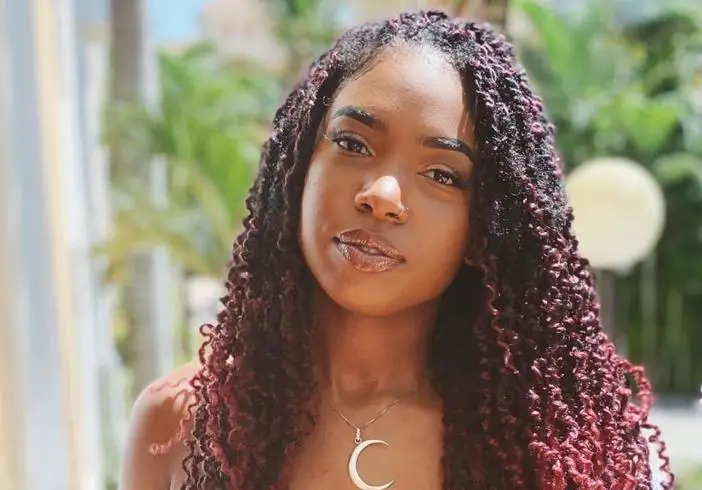 Ombre passion twists is a hairstyle that shows color graduation from the darkest to the lightest. You can have this hairstyle with any color of your choice.
Frequently Asked Questions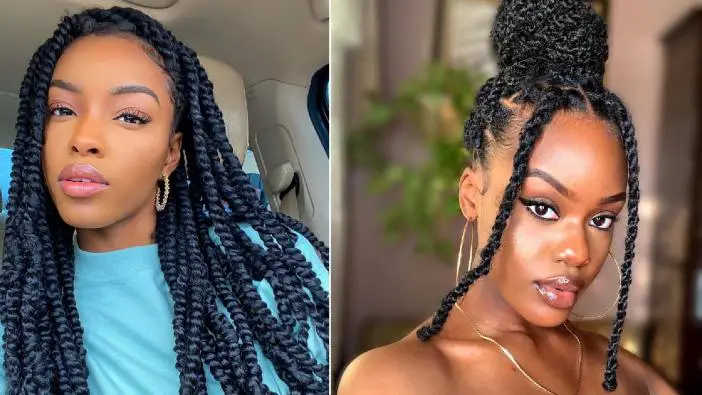 1. How long does passion twist last?
Passion twists last up to four to six weeks. And, if well taken care of, it can last up to eight weeks. However, if your natural hair is prone to frizz, you might want to take it off before eight weeks.
2. Are passion twists safe for my hair?
Yes, they are. Passion twists are protective hairstyles. With this hairstyle on your hair, your hair is untouched for weeks. Therefore, you can be sure that your hair is protected from breakage and tension.
3. Is there a difference between passion twists and spring twists?
Yes, there is. Passion twists make use of pre-curled hair while spring twists use pre-twisted hair. Also, passion twists are thicker and have more weight than spring twists that are smooth and lightweight.
4. How do I keep passion twists from unraveling?
Although they are water-friendly, you need to keep them from too frequent contact with water. When passion twists get too wet, you put them at risk of getting unraveled.
During styling, if you pull or twist them too tight at the scalp, you'll be exposing them to shedding. So, you should watch it there. 
Conclusion
Passion twists are another set of gorgeous hairstyles that come with a lot of flexibility. Based on your preferences and lifestyle, there are a lot of options to pick from. Also, the free-spirit vibes they come with make them a great choice of hairstyle for the warmer months.
Besides, it adds to the range of options of protective hairstyles; which are in high demand now. And, hair length above two inches can get passion twists. However, you should be ready to regularly carry out simple maintenance routines.
Wash and dry them after about 2-3 weeks. Tie them up in a bun or pony and wear a silky or satin bonnet at night to protect them from tangling. Do not pull them up too tight to protect your scalp and hair strands from tension and breakage.
And, feel free to explore colored passion twists and hair accessories this summer.
Thanks for reading.
Check Africana Fashion for more relevant beauty articles on hairstyle trends.