Bob hairstyles are a relief from the sometimes overwhelming feeling that comes with caring for long hair. We all believe that length comes with a wide range of styling options. But, in recent times we have seen short hairstyles like a bob become very versatile and worn in more ways than their original style.
The Afro-textured hair woman understands what it means to cater to curls and the frizz it comes with. So, a short haircut is usually her escape route.
Moreover, you don't have to always wear that blonde bob wig in just one style. You can style a bob in a wide range of options as you would your long hair.
If you're reading this article, I guess that you have a freshly chopped bob or you're contemplating it. And, your thoughts are what is in this switch for me? I bring you news. There's a lot in the switch asides from the relief from extra length.
Read on to see a list of cute ways you can style a bob.
Cute and Youthful Bob Hairstyles
1. Bob + Bangs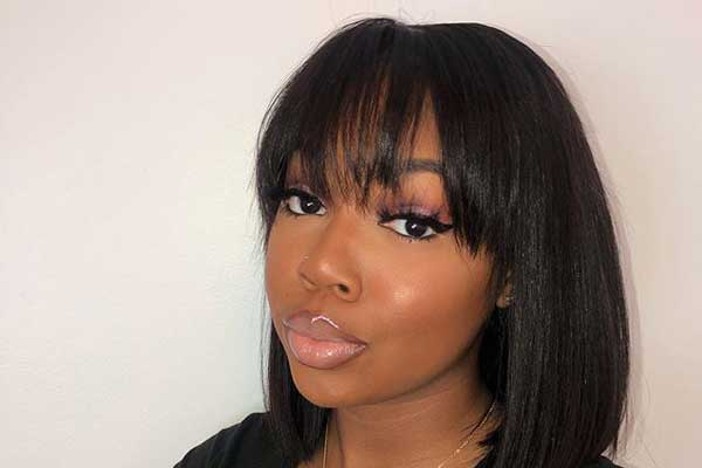 Bob with bangs is a very common bob style with black women. The versatility of this hairstyle makes it suit different preferences and lifestyles. When you have just made the great chop, it is most likely your stylist asks what style of bangs you want.
You can have curtain bangs that fall to the sides of your face, framing out your features. When your bob grows out, you can modernize your look with tousled or rounded bangs. Bob haircuts are low-maintenance hairstyles that you can wear for as long as an entire lifetime; unless it's a wig.
In addition, you can have bangs with a bob of any length. If you'll be opting for this hairstyle, you have to pick your style of bangs with the guidance of your stylist.
2. Bob + Side Braid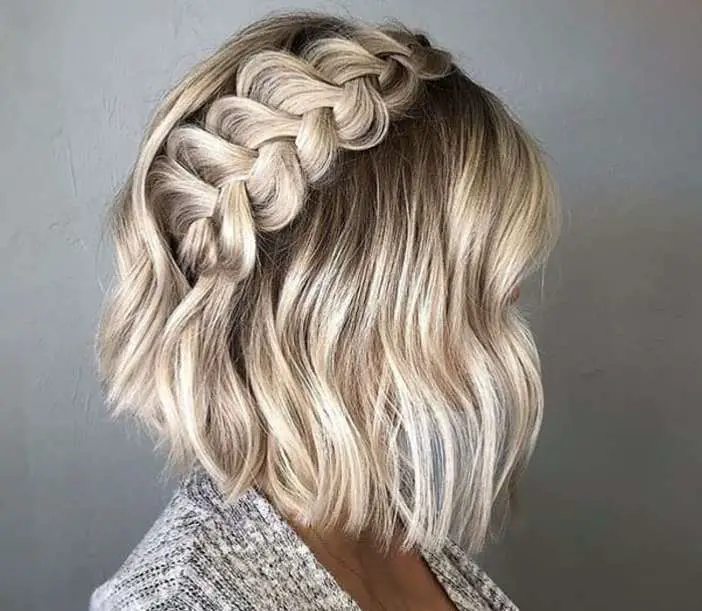 If you love to wear your hair down, it's about time you added a little something to spice things up. Make a part and braid it to the side. The braid may run to the side and towards your ear or it may run over your hair. This allows the other part to fall to your face.
Meanwhile, it creates a contrast that draws attention to your look. So, if you're new to the bob club, you can wear this style to announce your new allegiance. Also, you can go bold with colors like brick red, burgundy, or deep green.
To wear the side braid for longer, apply a styling gel or mousse to your hair before braiding. It cuts down on your morning styling hour. Curly hair should be straightened before you can style it into a side braid.
3. Bob Braids
Bob braids are the perfect choice when your schedule doesn't have a place for working your bob into a different style in the mornings. And, it helps to give your hair a break off too frequent styling which may be putting pressure on your scalp.
You can braid your bob into Dutch or French braids. Also, you can add hair extensions to make your hair into box braids. The box braids can be of any thickness or length. Feel free to adorn the length of these braids with hair rings, cuffs, and beads.  Don't be restricted with color; explore colors like blonde or red.
SEE: Best Hair Extensions to Change Up Your Style
4. Curly Bob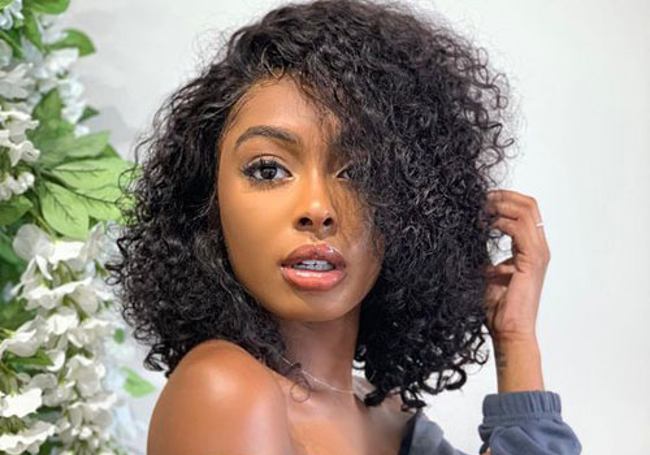 Women with type 3 or type 4 curls will embrace this bob style. Moreover, little or no heat styling is needed. So, you can be sure that your curls are protected from damage. Allow the curls to hang free and natural in a bob.
Somehow it will look as though you have a special kind of hairdo. Bob makes the curls appear more sophisticated and tighter. For natural hair with loose curls, make your hair into tight braids before you go to bed. Loosen the braids carefully so you do not ruin the already formed curls.
However, if you'll like to get it done with a heat styling tool, make sure you apply a heat protectant on your hair before styling. Curls look better with shine. That is to say, be generous with care for your hair. Wash it regularly and apply a suitable essential oil like jojoba oil.
5. Half up-Do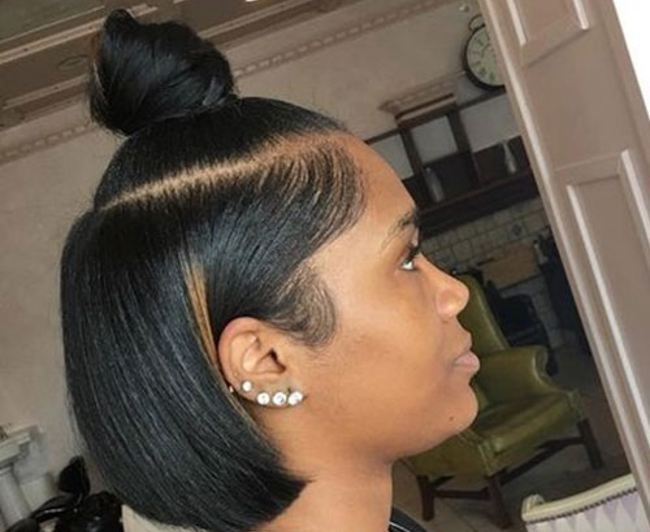 Yes, long hair comes with a wide range of hairstyles that we all enjoy, and that includes wearing your hair in a half-bun. It is a great way to take hair off your face and enjoy the luxury of a bun and ponytail at different times.
Make a horizontal parting on your hair; it may be two halves or not. Work on the top half. Gather the hair together and hold it with an elastic band. You can either leave the hair to hang down in a ponytail or you can wrap it into a bun.
Also, you can style the top half of your bob into space buns. Straighten out and comb the lower half of your hair down to accentuate the work you did at the top. For an angelic look, allow some of your frontal hair to fall to the side of your face and highlight your cheekbones and smooth jawline.
6. Sleek Bob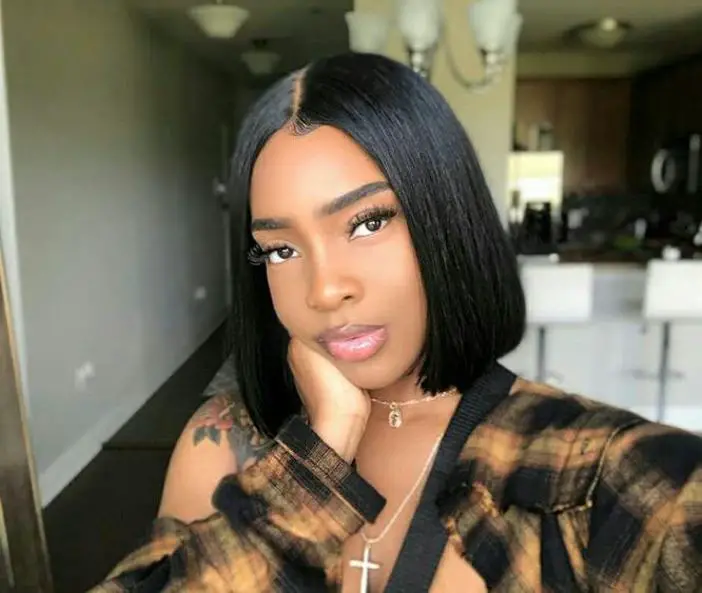 A sleek bob may look like you got your hair wet or in a glossy cast. It's gel. Use a flat iron to straighten your curls. Then, slick it down with a styling gel to achieve the look. Do not limit a sleek bob. Tuck the hair behind your ears today and have them in a part another day.
The glossy look is maintained by regularly spritzing some hairspray for shine. When you want to change the look, make sure you carefully wash the gel off well. I love the sleek bob because it helps to hold all your hairs in place; no straying strands.
SEE: The Best Way to Wash Your Hair
7. Classic Blunt Bob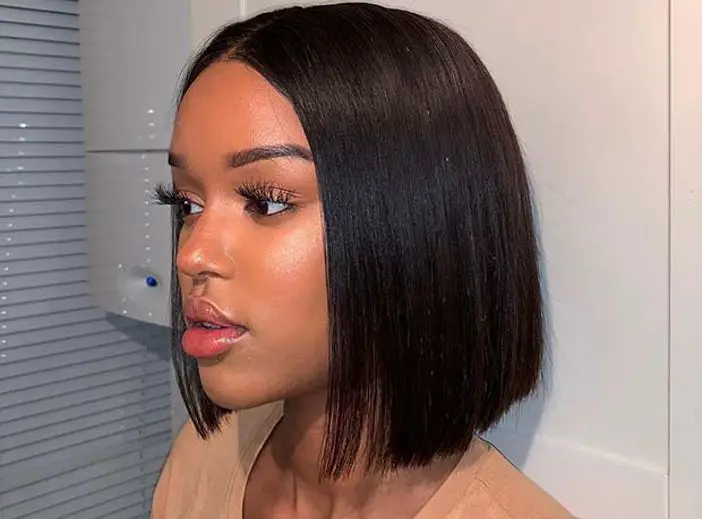 The classic blunt bob is one of the popular ways to style a bob. It is a straight chopped bob that has all your hair in equal length. This hairstyle is suitable for people with fine and medium hair. An even length of your bob adds volume to your hair by making the strands look thicker.
You can have a chin-length blunt bob or a blunt bob with bangs. Keep your bob clean and smooth to maintain the cuteness. Occasionally blow-dry your hair using a hair protectant to keep it straight and lovely.
8. Bob + Side Part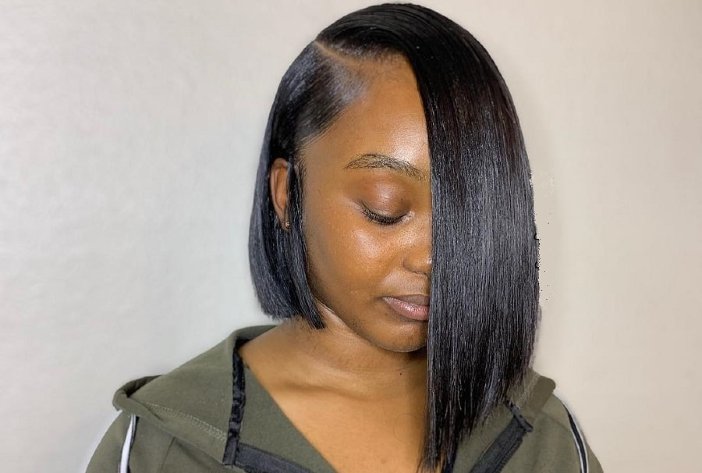 Giving your hair a side part adds volume and elegance to your look. The parting can be as deep as you want it to be. The further the parting, the more volume you get. Whether you retain your curls or you have put a heat tool to it, you can always style your bob with a part to look flattering.
You can accessorize a bob with a side part for a dinner date or everyday wear. Allow the fuller part to fall slightly to your face and tuck the smaller part behind your ear. This way, your style accentuates your face and flaunts your beautiful earrings.
9. Accessorized Bob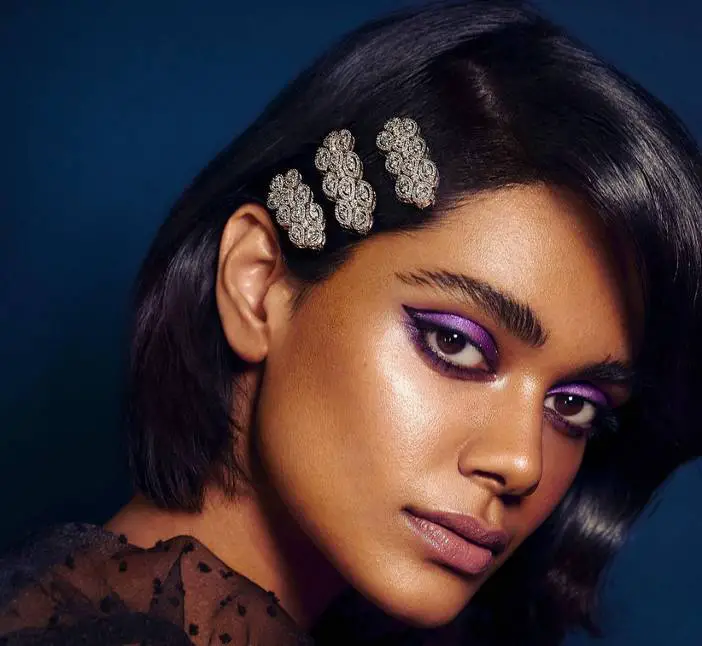 Accessories come with extra cuteness. And, it could take you back to your youthful days. Take your side or middle part, or slick bob to the next level with some hair clips or scrunchie. For a casual look, you can wear a scrunchie to keep all your hair to the back behind your ears.
Hair clips with shiny stones or pearls add elegance to your dinner look and also helps your hold your hair away from your face. This is a perfect way to flaunt your facial features and perfect face beat. These hair accessories are affordable and on certain occasions are just enough for a hairdo.
10. Bob With Colored Ends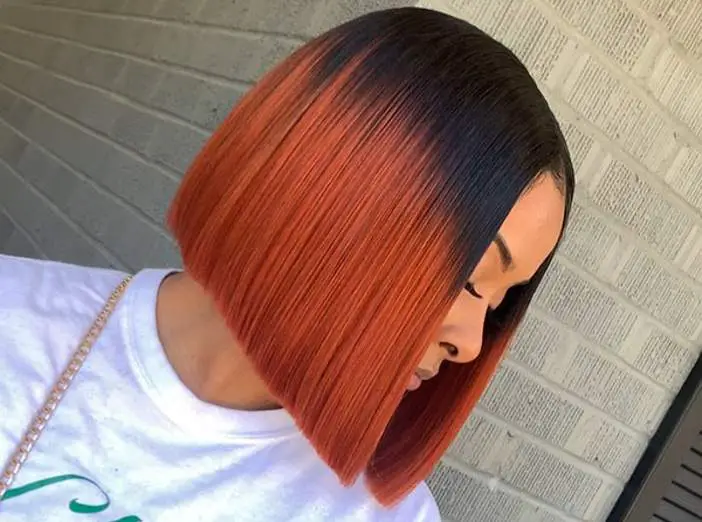 Colored hair will always draw attention. Rather than going a fully colored hair, create a contrast by adding some color to just the ends of your hair. Moreover, a bob with colored ends can serve as a retouch on the old hairstyle.
So, if you already have an all-black bob, switch things up with blonde, red, or blue tips. There's no way you'll get lost in a crowd with this hairstyle. However, you should know that the maintenance becomes different from when you had just black hair.
To maintain the color, use dry shampoo more often than wet shampoo. Furthermore, recolor the tips when the color seems to be fading.
SEE: Hair Dye Colors That Match Your Skin Tone
11. Short Bob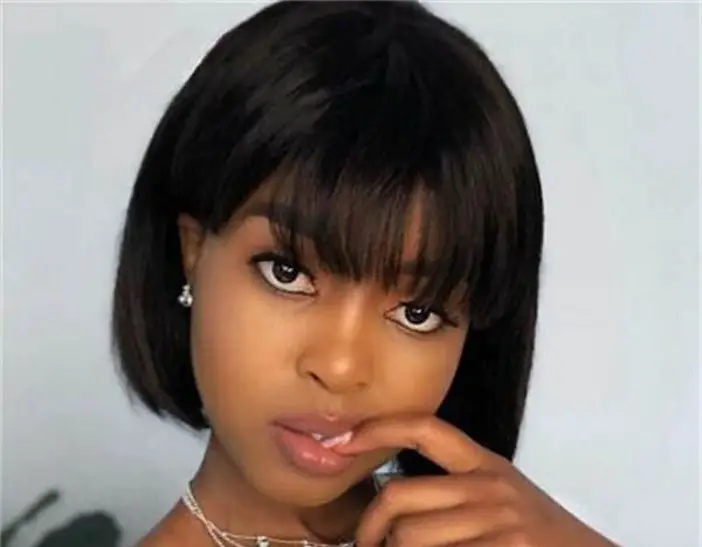 Go extra with a short hairstyle and chop your hair to a length that rests just below your ears and around the nape of your neck. I love how a short bob can make you look like you've got a different hairstyle every day (if you explore the styling options).
If you want to adopt a new look, try a short bob. There's a list of ways to wear your short bob. According to your preference and lifestyle, your stylist may give you an angled, asymmetrical or inverted cut. Besides, you can add bangs or a part to your short bob style; or even slicked down bob.
12. French Bob
A French bob is a short bob variant. This low-maintenance hairstyle incorporates a chin-length bob with brow-level bangs. Some people call it the classic Parisian women's cut. The ends of your hair may be tousled with a flat iron so that they curve inwards.
It is a versatile hairstyle that suits almost everyone. You can play around the texture of your hair and have any of the different styles of bangs. Additionally, you can always switch looks with color.
13. Long Bob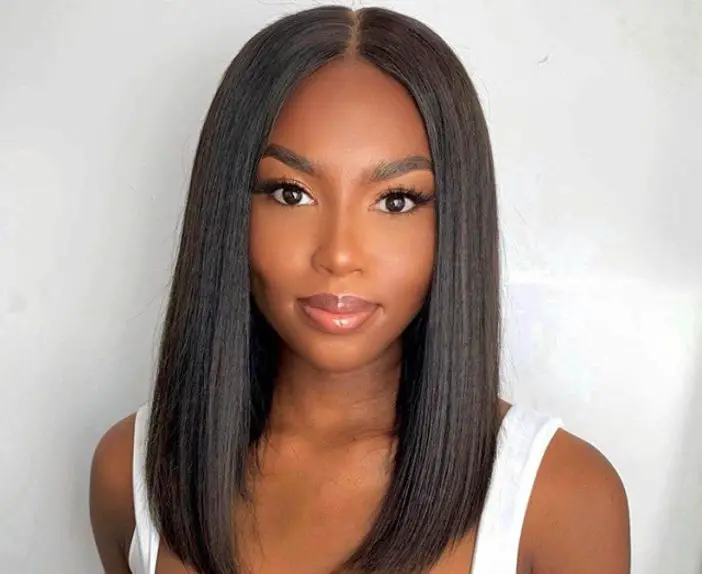 A long bob is also called a lob. With this hairstyle, you don't totally lose your hair length. You can still always enjoy length and body. Lob haircut enjoys a wide range of styling options especially a half up-do. The extra length allows the pony to wrap up into bigger buns.
Explore different styling and color options like a shoulder-length two-tone bob, among many other options.
SEE: Grow and Shine Your Hair With Top-Rated Hair Serum
Care Tips for Your Bob
Use a sulfate-free shampoo and conditioner to cleanse your scalp and hair
You do not need to wash your hair every day otherwise you'll be stripping your hair of its natural oils
If you've got a colored bob, use a dry shampoo to avoid fading the color
Keep your hair from heat and too frequent heat styling. And, if you must do heat styling, use a heat protectant before styling
Add gel to wet hair before you get angled bob styles
Regularly apply essential hair growth oils to add shine and protect your hair from dryness and breakage
Get regular trims to maintain length
Frequently Asked Questions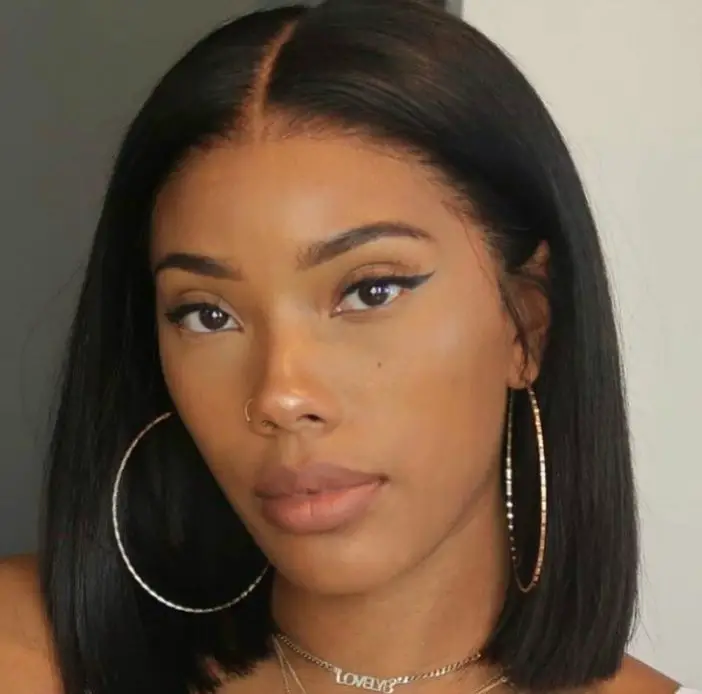 Can I style a bob into a ponytail?
Yes, you can. To style a bob into a ponytail, gather your hair together and hold it with an elastic band. Short bobs need bobby pins to hold them in place to get a perfect ponytail. Long bobs make fuller and longer ponytails.
How do I keep my bob from flipping out?
After about 6-8 weeks, you should get your ends trimmed. However, you shouldn't get trims with razors or clippers. A pair of scissors is the best tool for trimming your bob.
Additionally, the type of brush you use to style your bob is very important. Use a soft brush that won't pull out the ends of your hair and cause flips.
Does my face shape determine how I style my bob?
Yes, it does. Some hairstyles better complement some face shapes. The peculiarities of each bob style make them look different on different people.
Side part lobs look better on people with round faces because the parting balances out your facial features and makes your face look slimmer and longer. Oval-shaped faces can get any bob style to perfectly suit their facial features.
Conclusion
Looking for a low-maintenance hairstyle that you can wear in different ways? Try a bob. Bobs are one of the trendy short hairstyles that you can wear in a different number of ways. Long hair is beautiful but it could be overwhelming sometimes.
Moreover, a bob can be a switch for a new look. Take the limits off your mind and explore the list of options on how to style a bob. So, if you're about to make that chop, you are not going to lose anything more than length. Take control of your look and wear your hair in different lengths, textures, and colors.
Every hairstyle remains beautiful and in place for as long as you take good care of it. 
Thanks for reading.
Africana Fashion provides you with relevant beauty articles that cater to your need for new and trendy hairstyles.