Braids date as far back as ancient times. Over the years, hair braiding styles have evolved. Today, there are different styles to suit your lifestyle, hair type, and to protect your hair from damage.
Wigs are more common among women. However, the monotony of wearing wigs could be boring because they do not come with the luxury of styling them in different ways. And, some women best believe that braids make them look younger.
One of the major reasons why women are reluctant to braid their hair is the time it takes to complete braided hairstyles. While getting some of these hairstyles installed may take the whole of your day, some are achieved in little or no time.
There is no end to hair braiding styles. You only need to choose a hairstyle.
Hair Braiding Styles
The fuzz about braids is not an empty or baseless one. Hair braiding styles have proven to be one of the lowest-maintenance styles around.
The uniqueness of hair braiding styles is in their flexibility; you can let your braids down today, have them up in a bun tomorrow or have them styled how you want. Braids totally make every minute spent in the salon worth it.
Are you ready to satisfy the craving for braids but you do not have many ideas on what styles are suitable for you? or maybe you are concerned about how much time you will have to spend in the salon chair. That shouldn't be an issue anymore, I've got you covered.
Whatever your hair type or hair texture, there is a braids hairstyle for you.
1. Box Braids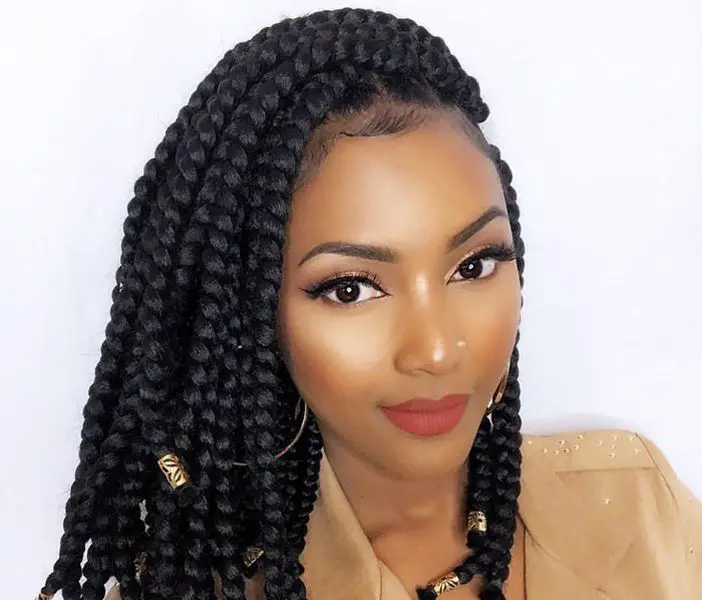 They are one of the most attractive and protective hair braiding styles that do not require a fortune for maintenance.
Box braids can be made into any size and length of your choice using just your natural hair or extensions if you wish.
To get box braids done, your hair is sectioned into squares and individually plaited.
2. Medium Box Braids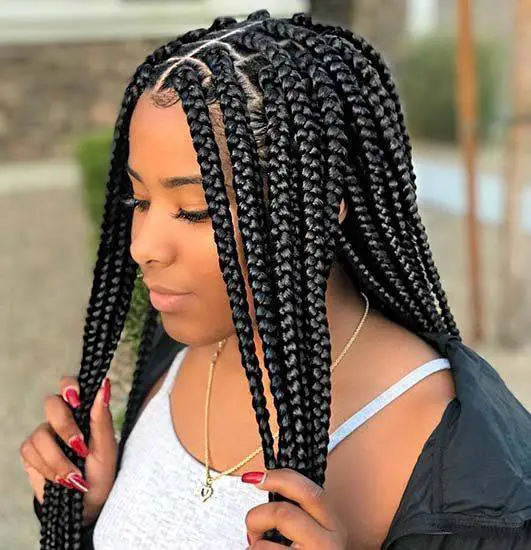 Medium box braids have their squares and locs not too big or too small and are very suitable for women with short hair.
3. Jumbo Box Braids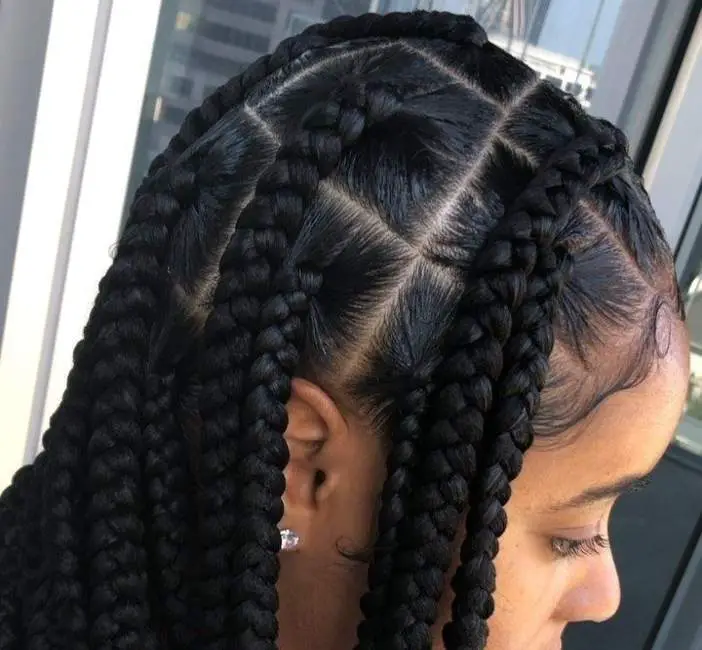 The jumbo box braids have a way of making heads turn. Women with full and thick hair love the jumbo-sized box braids because it doesn't keep them seated for long but keeps their elegance in check.
4. Small Box Braids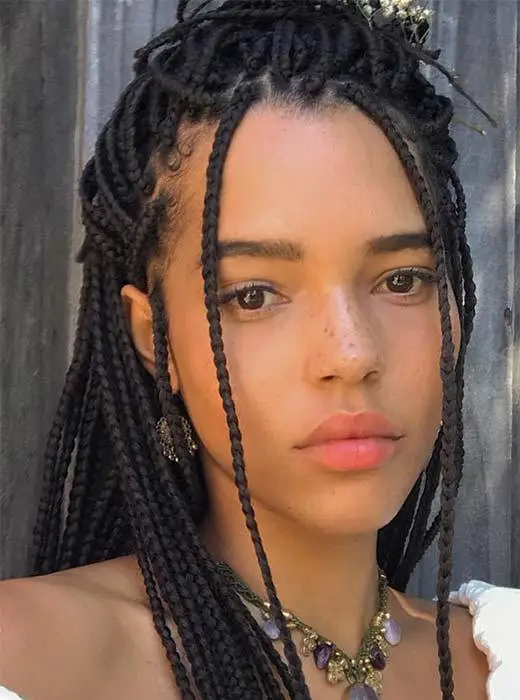 These braids are more ideal for women with naturally thin hair because it reduces tension on their scalp. Getting these braids done can take hours but eventually, it's worth the sweat. Small knotless braids are long-lasting and very easy to maintain.
5. Knotless Braids 
This beauty is another variant of braids. Unlike the box braids, knotless braids do not have small nuts at the root of the hair. Knotless braids are achieved by weaving a little bit of your hair before adding extensions.
Knotless braids are a great option for women with thin hair, as they are much lighter in weight than the regular box braids. Like regular braids, they are also protective and long-lasting.
Read also: Hair Porosity Test: Simple Ways to Identify Your Porosity Level
6. Knotless Box Braids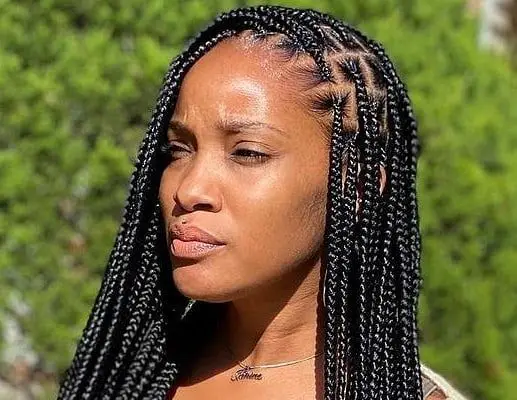 If you're already becoming a braids lover, good for you. You are not outside the box braids family. You can get your knotless braids sectioned in squares into whatever size you want, jumbo, medium, or small.
7. Lemonade Braids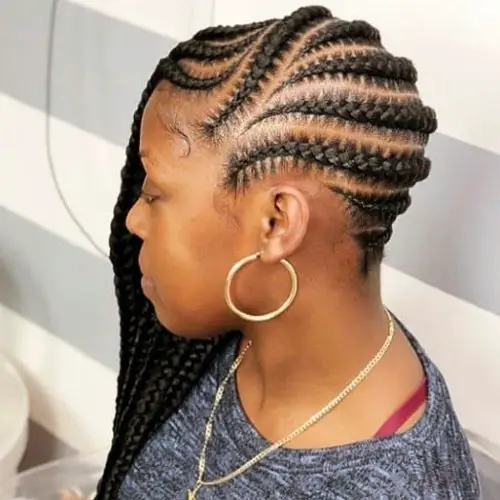 Lemonade braids are back from back in the days. They were formerly called side-braids but got renamed after Beyonce's hairstyle in her visual album, lemonade.
These cornrows are side-swept and may run down past your chest or down your waist, as you desire. For women with thick and long hair, you can make your lemonade braids with just your natural hair.
8. Goddess Box Braids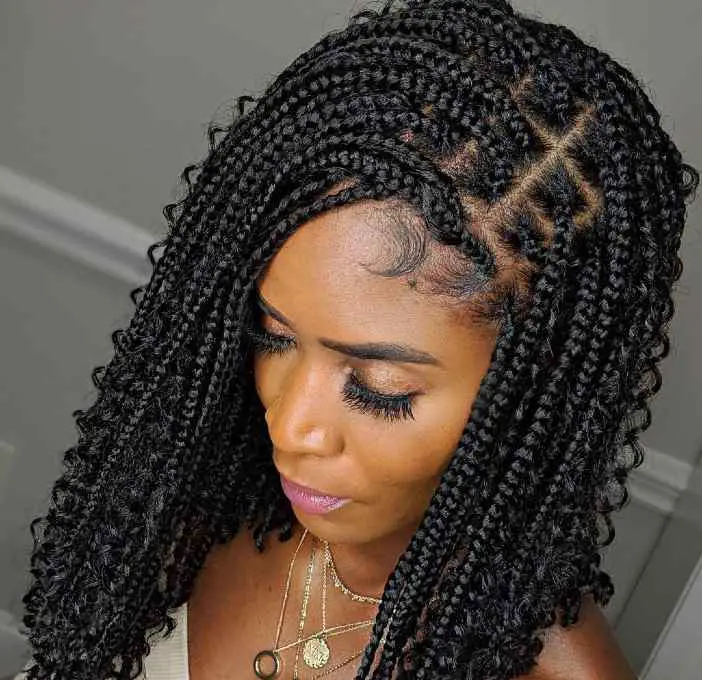 There is a super chic hairstyle that gives you glamour and royalty. They are usually bigger and take less time to install than the regular box braids.
Braided closely to the scalp and very protective but not long-lasting because essentially, they are thick braids that have curly hair braided into the box braids to give it a soft look and feel.
9. Fulani Braids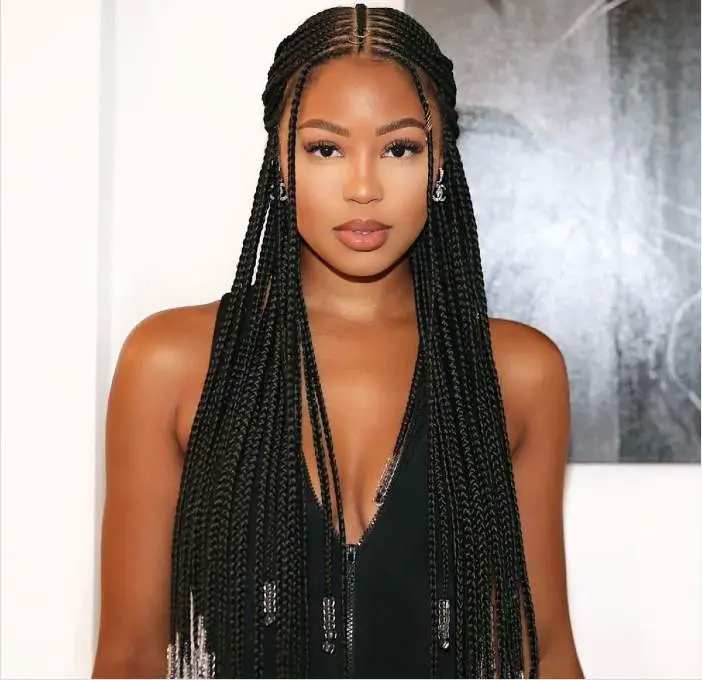 Fulani braids, also known as tribal braids, originate from the Fulani people of West Africa. It is a great option if you're want to try out a creative hairstyle that is time-friendly and easy to maintain.
The tribal braids incorporate one cornrow braided in the center of your hair, one or two cornrows braided on opposite sides of your face near your temples, and the rest of your hair either braided to the back with single braids underneath or up in a ponytail.
They can be beautified using hair accessories like beads just like the Fulani do.
10. African Ponytail Braids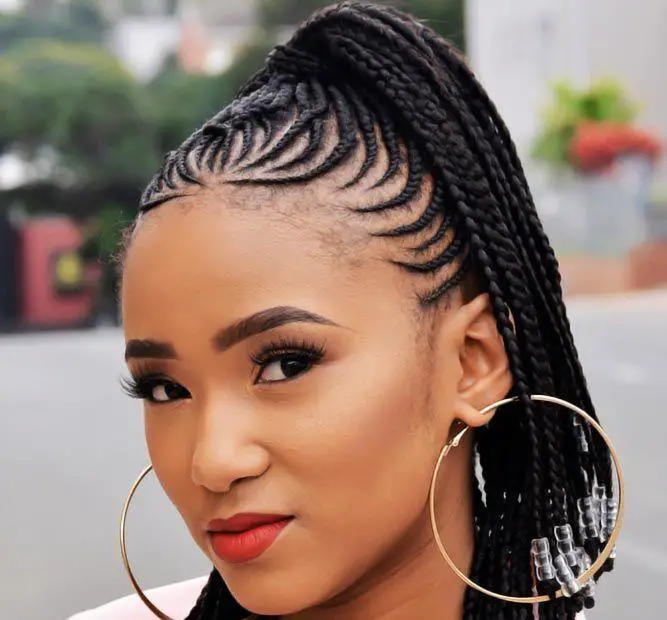 African braids are very common among black women. The African ponytail is one hairstyle that beautifully highlights facial features and for this reason, it has become one of the most preferred choices of braids.
11. Passion Twist Braids
The spring twist happens when Senegalese twist and Goddess locks come together. To get your desired boho look, wavy hair extensions are most suitable.
12. French Braids
The French braids are also known as Oklahoma braids.
These simple braids are made from three sections of hair braided together, from the crown of the head to the nape of the neck to form a flat plait.
13. Dutch Braids
The Dutch braid is an inverted French braid. Like the French braid, Dutch braids run from the crown of the head to the nape of the neck.
14. Kinky Twists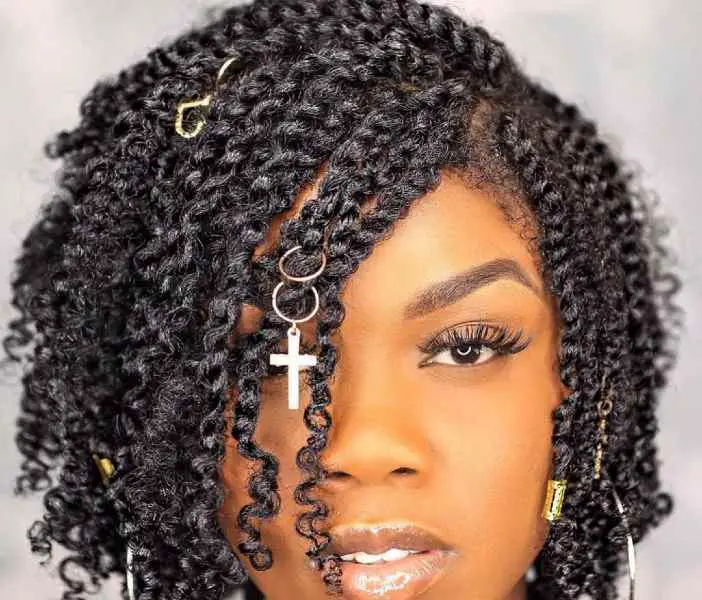 They are one beauty class of braids. The kinky twist is a soft, medium-length twist that lasts very long and is very easy to maintain. All you need to do is moisturize your kinky twist very well. 
15. Crochet Braids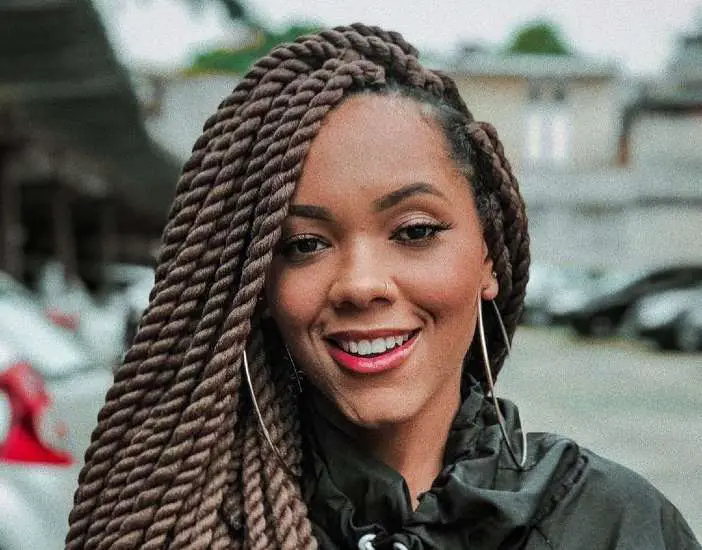 Crochet braids are already woven synthetic hair extensions that are looped through your hair to form full braids. They can be simple braids or twists (Kinky, Senegalese, or Passion Twist).
Crochet braids are one of the easiest and quickly installed braids. These braids protect your hair against the damage that hot tools can cause to your scalp or hair.
16. Senegalese Twists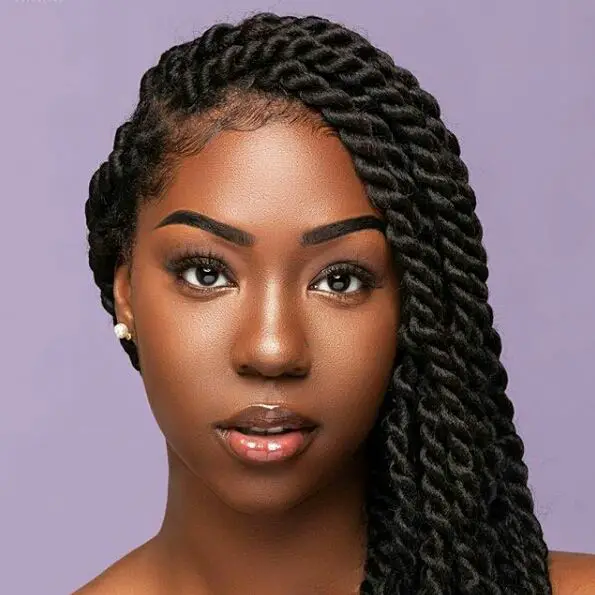 Senegalese braids originate from Senegal in West Africa.
These braids are made by adding your choice extensions to the root of your hair and twisting them with your hair all the way to the end of your hair. 
17. Fishtail Braids
Two strands of hair work out a braid by alternately taking small bits of hair from the outside and working them into the braid.
The name, Fishtail braids, came about because of its pattern that looks like the skeleton of the Herring fish. If you know how to, you can work your ponytail into the Fishtail braid.
18. Cornrows
Cornrows are traditional, simple straight-line braids. But, stylists are getting very creative with cornrows.
19. Micro Braids
Micro braids are the most time-consuming braids and can be worn for up to three months.
20. Ponytail Braids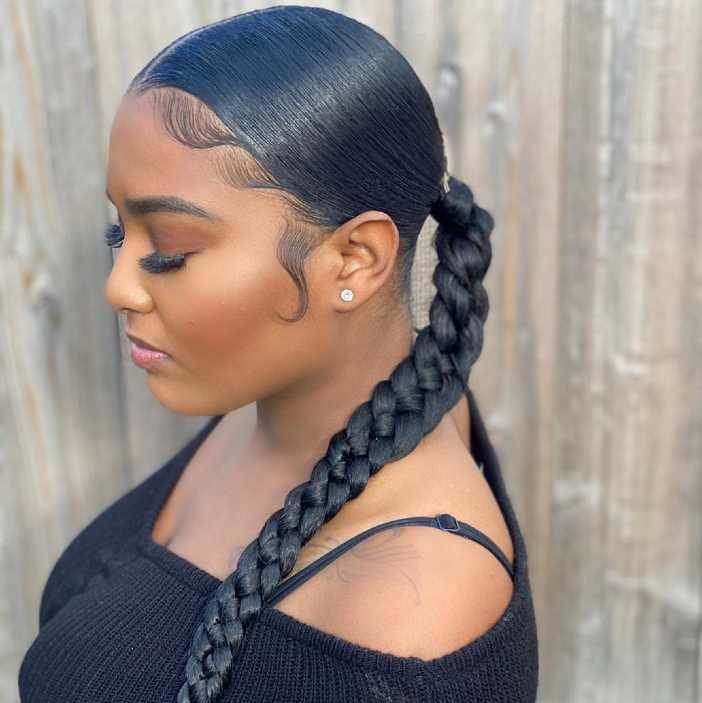 Besides the African Ponytail, there are very beautiful ponytail braids you should try out. You can have your hair gelled up and the tip weaved into a thick braid using extensions.
Hair Braiding Styles FAQs
Can any type of hair get braids?
Yes, any type of hair can get braids. There are different braids hairstyles for different hair lengths and textures.
What type of hair is best for braids?
Kanekalon hair is the most common hair used for braids.
Some stylists will recommend human hair which will give your hairstyle a more natural look and some will recommend synthetic hair, kanekalon. Both are very great choices for braids as they have peculiarities that favor different styles.
Are braids still in style?
Yes, braids are very much in style and they have taken very new looks like being accessorized with beads and different hair jewelry.
What braids styles are best for short hair?
For short hair, box braids, micro braids, and small cornrows are best for short hair.
How short is too short for braids?
Any hair above two inches has length enough for braids like small and tight cornrows, micro-braids, and two-strand twists.
Conclusion
You will agree that there is no end to hair braiding styles.
There are so many beautiful hairstyles to pick from so as to one-up your game. So, all you need to do is make a choice, sit still, and allow your stylist to do the magic.
You need to identify which hair braiding style is perfect for your hair length and type.
Thanks for reading. Find suitable and relatable beauty articles to improve your glam game on Africana Fashion.